ASUS new ZenFone Selfie, just launched last week on 26th September in Singapore, is pretty clear about what it has been designed for. It's name, Selfie, tells you it's all about selfie photos, and with a 13 megapixel front-facing camera with two-tone flash, and built-in beautification mode, it's truly designed for people who love taking selfies!

The first thing I had to try when I had the ZenFone Selfie, of course, was to test out the selfie camera. I don't take many selfies, but I think from the moment I snapped that first selfie shot on the ZenFone Selfie, I became instantly hooked. The photos are of stunningly good quality, and that automatic beautification mode will make you look, erm, better than you actually do. It works just as well with wefies too, of course.
On most smartphones, the main camera is on the back, which will have better resolution and quality than on the secondary front-facing camera. This isn't the case with the ZenFone Selfie. Both cameras have the same 13 MP resolution, f/2.0 aperture, 28 mm focal length, and even dual-tone flash. The only difference is that the rear camera has laser-autofocus.
If you've been struggling to use a rear camera on your smartphone because of its better quality, you don't need to any longer with the ZenFone Selfie. In fact, ASUS has included an innovative selfie panorama mode to take extra wide wefie shots too. It's not just for selfies, this phone will do wefies just as well.
Alright, enough on selfies and wefies, let's get on to the phone itself. The ASUS ZenFone Selfie is an Android smartphone. It doesn't have the best of the top-end specs, but it is no slouch. It has a 5.5″ display with 1080 x 1920 resolution (~ 403 ppi pixel density), covered by Corning Gorilla Glass 4 with oleophobic coating.
Touch capacitive buttons adorn the bottom of the display. They aren't backlit, and the markings are simply printed on. There's a microphone hole and a Micro-USB connector at the bottom. No Type-C there, unfortunately, or not, depending on whether you like getting a new bunch of cables.
There are no buttons or controls on the side of the phone. On the top, you'd find the power button and 3.5 mm audio jack. There's also a secondary microphone there. You can see that impressive 13 MP camera again, along with its dual-tone flash.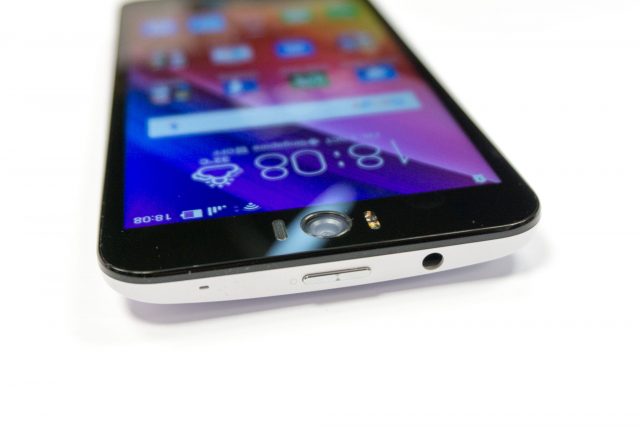 There's the same camera again, on the back, this time with the laser auto-focus next to it. The volume buttons are placed below the camera, and speaker grills are at the bottom.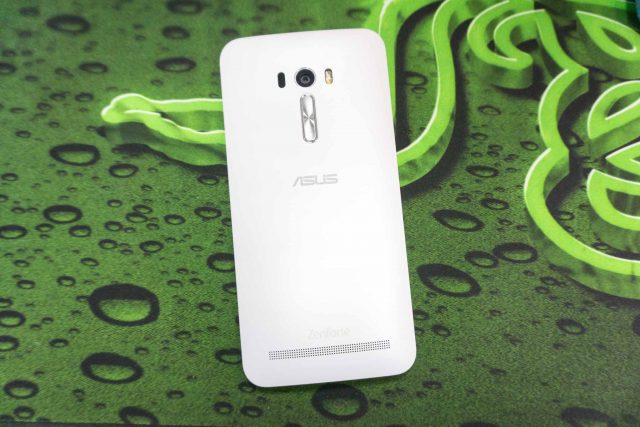 The ASUS ZenFone Selfie is powered by a Qualcomm MSM8939 Snapdragon 615 octa-core processor, along with 2GB or 3GB of RAM, and 16GB or 32GB of internal flash memory. It does have a micro-SD slot for expandable storage.
In terms of connectivity, the ZenFone Selfie is LTE capable, has 802.11 a/b/g/n/ac Wi-Fi, Bluetooth 4.0, and A-GPS with GLONASS. There's also NFC support.
The removable battery has 3000 mAh capacity. Frequent travellers will definitely like the dual-SIM support.
All in all, the ASUS ZenFone Selfie has really capable hardware. On the software front, it runs Android 5.0 Lollipop, with lots of ASUS customisations and applications.
The power button on the top of the ASUS ZenFone Selfie isn't very easy to reach. Fortunately, you can wake the phone up from the lock screen by double-tapping the display. You can also draw other gestures, which ASUS calls ZenMotion, to launch various actions. I found these pretty useful. For example, you can draw an "S" to launch the selfie camera, or "C" for the main camera.
There are numerous other subtle aspects of the ASUS software that help you learn more about the phone. Tips, for example, pop up from time to time to tell you more about the phone's features. Badges appear on icons to draw attention to new features or settings that you've not seen.
The ASUS ZenFone Selfie is available at all ASUS brand stores, ASUS authorised retailers and Qoo10 at $399 from 26 September 2015. From 26 September – 31 October, the ZenFone Selfie will be retailing at a promotional price of $379 with free Lolliflash (usual SRP $17.90) accessory.
Conclusions
The ASUS ZenFone is made for selfies, with a really impressive front-facing 13 MP camera. But it's still overall a really capable Android smartphone for all your other smartphone needs.
Pros:
Impressive front-facing 13 MP camera with dual-tone flash
ZenMotion gestures on lock screen
Cons: