Apple's latest version of Mac OS X, version 10.11 El Capitan, has arrived. Mac users in Singapore should be waking up to find the El Capitan free upgrade available in their Mac App Store. Here's a quick update on what you can expect, and what you need to know, about OS X El Capitan. If you're a Mac user, get yourself ready for the annual OS X update!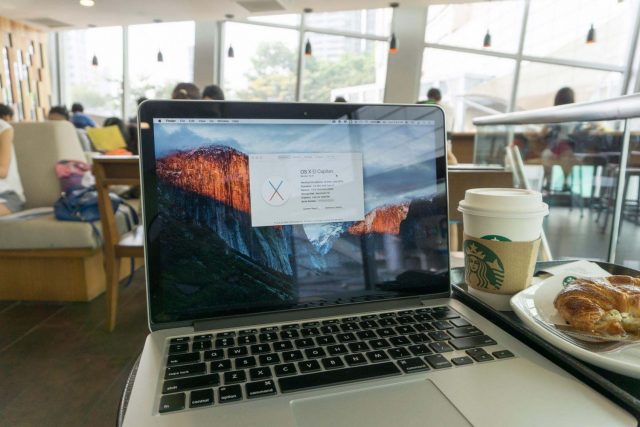 Like the last two versions of OS X, El Capitan is a free download for Mac users. Similar to how iOS upgrades are available free for all supporting hardware, Apple is encouraging Mac users to keep their Mac computers updated to the latest version of OS X.
Apple describes OS X El Capitan as having Refinements to the Mac Experience and Improvements to System Performance. It sounds as if there aren't many big changes, and perhaps that's true from what is visible to the user, but there are some important under-the-hood enhancements that will make the upgrade worthwhile. It's free, after all, so why not?
The upgrade to OS X El Capitan will through the Mac App Store. I'm writing this article using the Golden Master Candidate, which should be pretty much the same as the official release. The El Capitan installer will take care of upgrading your Mac. Just sit back and relax. It's quite hands-free. Remember to do the requisite backup with Time Machine, you know, just in case something goes wrong.
After a reboot or two, you'll be greeted by OS X El Capitan's new desktop. Perhaps many people will not notice this, but El Capitan has a new system font again. Apple had stuck with Lucida Grande since the beginning of OS X, until they changed to Helvetica Neue in the version 10.10 Yosemite last year. This year, they introduced their own in-house designed San Francisco font. San Francisco first appeared as the system font for the Apple Watch in 2014, and then for iOS 9 released earlier this month.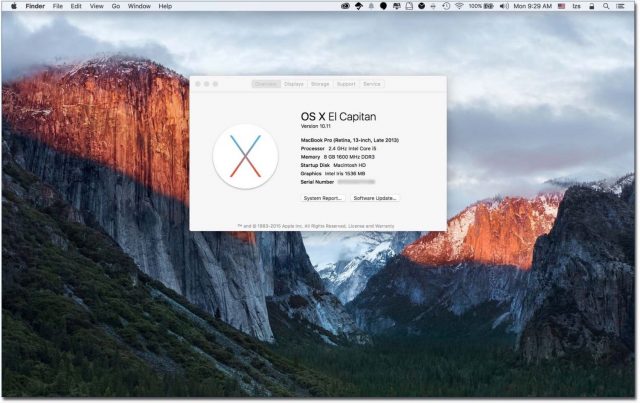 Of course, you didn't upgrade to OS X El Capitan for a new system font. Let's dig in to see what else El Capitan has to offer.
OS X El Capitan has a revamped Mission Control. This is OS X's window management feature. A notable new trick in this area is the support for Split View, which allows two apps to be placed side-by-side on the entire desktop. You could have Mail and Chrome side-by-side. Just click and hold the green fullscreen icon in the top left of the window. The left or right half of the screen should become shaded after a second, then release the button in the half of the screen you wish the window to open into. The other half of the screen will then show other open, non-minimised apps that are Split View compatible. Click on one of them to have that other app occupy this other half of the screen.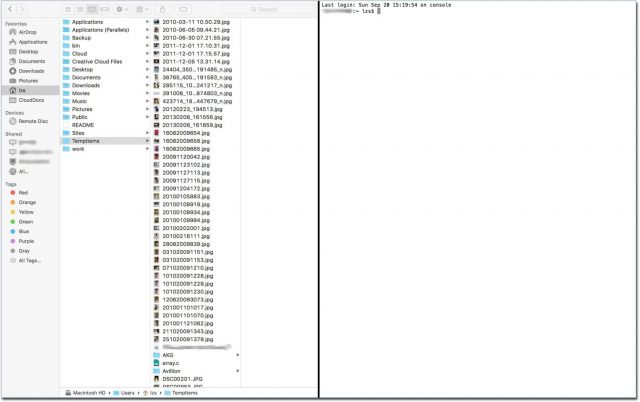 You can also enable Split View through Mission Control. Simply drag another Split View compatible app onto the desktop thumbnail of an  app that's already running in fullscreen. Either way, the Split View divider can be shifted so you can fine-tune the amount of space occupied by each app.
Spotlight search in OS X El Capitan has gained somewhat deeper functionality, including support for more sources and natural language input. For example, I can type "photos from yesterday" to find photos saved or captured yesterday.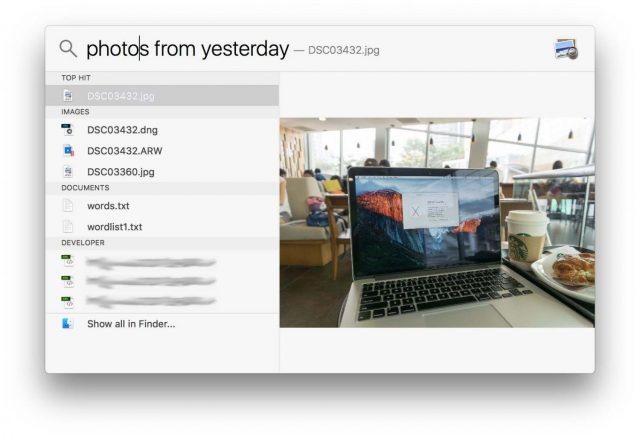 Spotlight not only searches data within apps in OS X, but can also search online for other types of information, such as checking the weather or stocks. There are many new things you can do with Spotlight, and I'll just leave you to check out these 15 Spotlight tips from MacWorld.
The Mail and Photos apps are also getting some updates in OS X El Capitan. First, Mail will support iOS-style gestures of managing messages. For example, in the Inbox, you can swipe a message right to mark an email read or unread, and swipe left to delete it. It's about time that some of the features from iOS are brought back into OS X. Smart Suggestions will recognise names and events, allowing them to be added to contacts and calendars easily. Photos is getting third-party editing tools through extensions installed from the Mac App Store, bringing more capabilities and customisations to the app.
I don't use Mail and Photos, opting instead to use Airmail 2 and Adobe Lightroom respectively. These apps can do much more than OS X's stock ones. But for most users, Mail and Photos are plenty good too.
The Notes app has finally grown up from being a toy. You were supposed to use it to jot notes, but prior to OS X El Capitan there were so many things you could not do with Notes. Now, you can attach photos and videos. You can create checklists, and through iCloud all your notes can be kept up to date across all your devices. It's finally becoming useful.
Apple's Safari web browser has gained a new Pinned Sites feature. Similar to Chrome, this feature lets you keep frequently used websites permanently opened. Their tabs are grouped into the left side of the browser's tab bar, and you cannot accidentally close them. Safari will continue to keep these tabs updated in the background, so whenever you click back to the tab, it's always current. This is great for websites you want to be always opened, such as Gmail, Facebook, or some work related web application.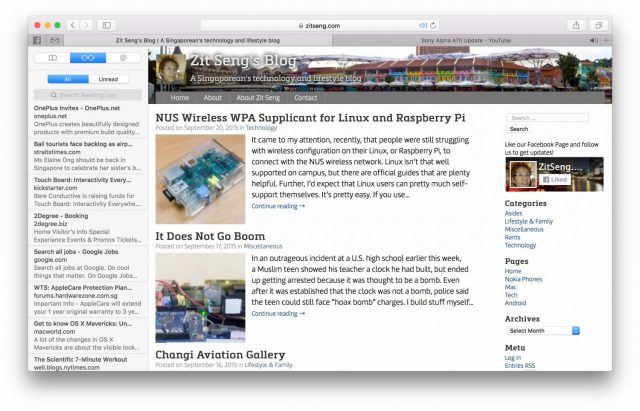 Safari now makes it possible to play some web videos directly to an Apple TV over AirPlay, without needing to mirror your entire desktop. Compatible videos will show an AirPlay icon. A related aspect of videos are about them annoying ones that autoplay and you don't want to hear them. Safari shows an indication in the tab if audio is playing from it, and you can now mute all tabs, or just a single tab, instantly.
There are a lot more smaller tweaks, such as a shake to enlarge mouse pointer, a revamped Disk Utility, and others. Dashboard is marked for deprecation, as it is now disabled by default when installing OS X El Capitan. You can re-enable it manually if you want to use it.
I'm most excited about the under-the-hood performance improvements. With OS X El Capitan, Apple introduces a new Metal graphics core technology that gives games and apps near-direct access to the graphics processor. Apple claims Metal speeds up system-level graphics rendering by up to 50 percent, and up to 40 percent more efficient. Metal will greatly benefit games and other pro apps such as Adobe CC may see significant performance gains.
In other performance areas, Apple claims:
Up to 1.4x faster app launch
Up to 2x faster app switching
Up to 2x faster display of first Mail messages
Up to 4x faster PDF opening in Preview
There are more developer and pro-level improvements, including for example that /usr is not writable even to root, but I'll not go into this area in this article.
To be honest, OS X El Capitan is not hugely different from Yosemite. This is not necessarily a bad thing, because it means El Capitan will remain largely familiar to existing Mac users. The small enhancements throughout the operating system brings welcome conveniences and overall improvements. That it's a free upgrade makes it pretty much a no-brainer, not different from updating to the latest version of iOS on your iPhones or iPads.
Remember to set aside about 45 minutes of your time for the El Capitan upgrade to be completed.