Targus, a brand renowned for their notebook bags and computer accessories,  just unveiled last month a new line of notebook carrying bags, the Grid Collection. The Grid series includes three models of the Grid Backpack and two Grid Slipcases, which all feature Targus' latest innovation in extreme protection. Targus kindly sent the Grid Advanced Backpack 32L for this review.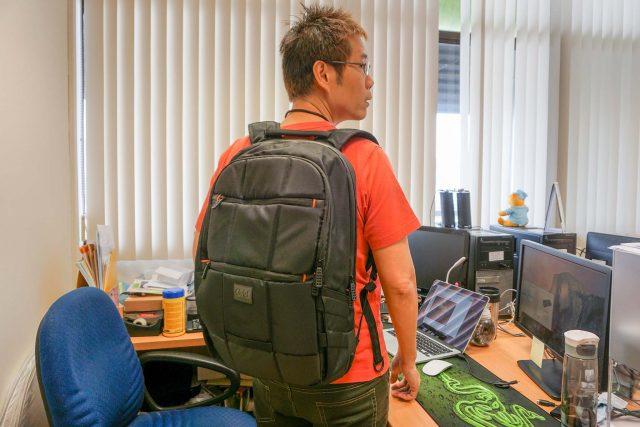 A key feature of the Grid series is the protection designed into the bags to resist harsh environments. These Targus bags will give you peace of mind by offering protection against shocks, abrasion, vibration, moisture and dust.
More significantly, the Grid series protects notebooks from damage even after repeated drops of the bag from a height of 4 feet. It passes the U.S. military standard MIL-STD-810G on that test. You can feel confident battling city crowds, busy commutes, and the occasional drop accidents, without worrying about damage to your electronic gadgets carried in the bag.
The Gird Advanced Backpack is large, at 33.02 x 17.78 x 52.07 cm, but weighing only 0.98 kg, it isn't very heavy. It has a really voluminous carrying capacity, all of 32l to be precise, and is designed with multiple compartments, including separate pockets for a notebook and tablet. Apart from a few orange accents, this backpack is just plain black, with a simply functional design that doesn't draw attention.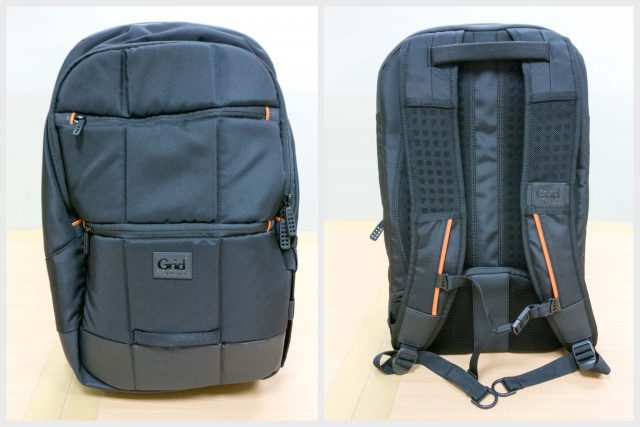 Exteriorly, the Grid Advanced Backpack is covered with water resistant polyurethane, which will help keep the internals safe from rain and water splashes. Thick rubber bumpers, PU/PVC leather, memory foam and nyflex lining come together to help protect contents inside the backpack.
There are two main compartments. The first one, from the back, is for a notebook computer and tablet, with enough space for files, books, and other similar items.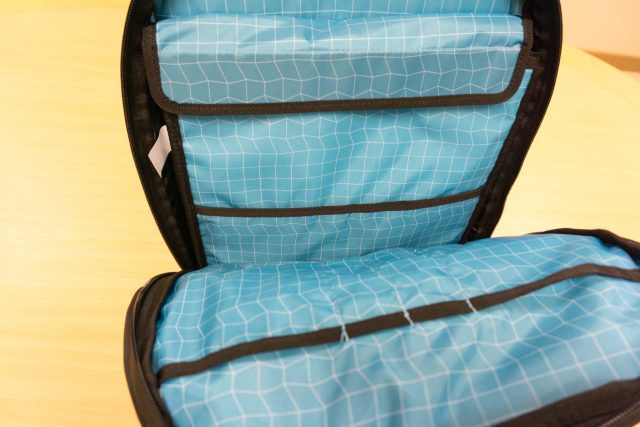 The huge notebook pocket has a flap cover, and is suspended from the edges, so the notebook inside remains somewhat protected from knocks in any direction. The pocket is designed to fit notebooks with up to 16-inch display sizes. In the photo above, my 13-inch Retina MacBook Pro is practically lost inside the large pocket.
The other main compartment has a much larger volume, and will comfortably accommodate bulkier items. In fact, you can pack lots of gear in there, so much I can't imagine using up all that space for my own work needs.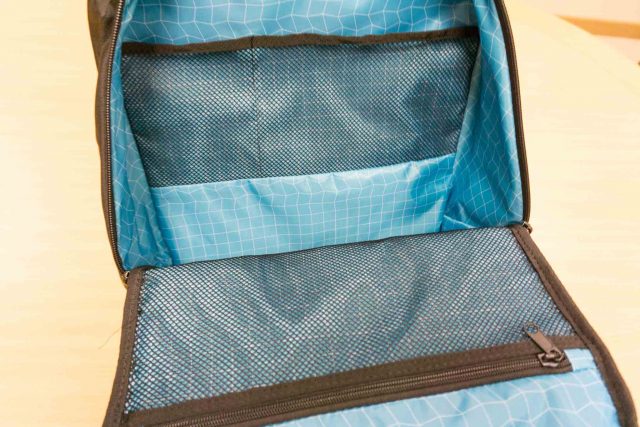 There are also several mesh pockets, including a zippered one, to help you keeps small items, like cables and adapters, properly organised.
Other storage compartments around the Targus Grid Advanced Backpack include two zippered mid-sized pockets on the front, suited for smaller items like earphones. There's also a side water bottle and umbrella pocket.
Last, but not the least, there's a zippered travel pocket on the back where you can stash emergency items.
The Targus Grid Advanced Backpack is very comfortable to carry, even with a heavy load. The wide and well-padded shoulder straps, and the lumbar support on the back panel, help to distribute the weight. Breathable vents on both the straps and back panel also help with comfortable carrying over long periods. A chest strap helps to keep the shoulder straps secure in place.
Apart from the shoulder straps, there's also a comfortable soft carrying handle.
If you need to carry around tons of gear, you will find the Grid Advanced Backpack's generous space really useful. Personally, I find it too big for my usual daily office commute. However, the extra space will come in handy to carry gear for gym or other sports activities after work. Also, the Grid Advanced Backpack may be just right for short overnight travel for work.
The Targus Grid Advanced Backpack is available at S$229.90 from Challenger, Harvey Norman, and other retailers.
Check out Targus' YouTube video below on how the Targus Grid Premium Backpack (similar to the Grid Advanced Backpack reviewed in this post) stands up to some rough handling.
Conclusion
The Targus Grid Advanced Backpack is built to survive busy urban commutes. It's an excellent backpack that can stand up to some harsh handling, including drops, while giving you peace of mind that your notebook and other electronic gadgets will remain safely protected.
Pros:
Excellent protection for notebook and other gear
Water-resistant
Huge carrying space
Comfortable to carry
Cons:
A waist strap would have been nice