I've known the Huawei brand for a long time. It started from their line of Cisco IOS command-line compatible network routers. Today, many people are likely familiar with Huawei because of their smartphones and other consumer communication equipment. The company seems to be growing very well and looks set to take on the industry's biggest names.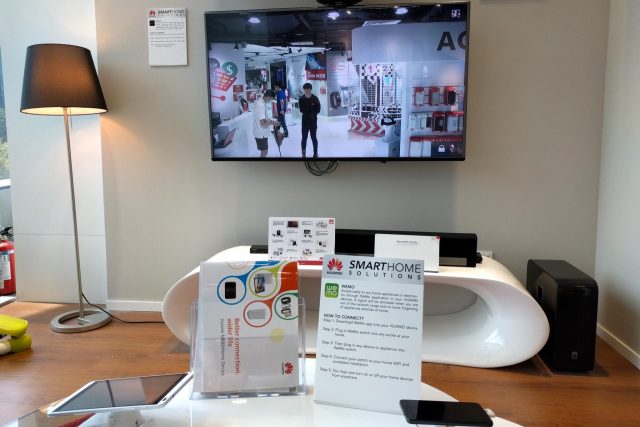 I was recently at the Huawei concept store in Plaza Singapura, where they had, of course, on display a broad range of their smartphones. I must admit that I was surprised at their smartphone portfolio. While many people may think lesser of Chinese smartphone manufacturers, here I saw a few really cool smartphones like the Mate S and Mate 7. Let's also not forget that Huawei makes Google's Nexus 6P, the more premium of the two Nexus smartphones launched in 2015.
Interestingly, the Mate S and Mate 7 bears some resemblance to the Nexus 6P, particularly in the fingerprint sensor located on the back of the device. The fingerprint sensor is squarish on these devices, and it's actually the same as what's used in the Nexus 6P, according to iFixit's teardown. The Nexus 6P's fingerprint sensor appears round exteriorly only because of the round hole cut on the rear case.
The Mate S, pictured above, is a 5.5-inch full-HD smartphone, powered by Huawei's own Hisilicon Kirin 935 64-bit Octa-Core processor with 3 GB of RAM, and 64 GB of flash memory. It includes a micro-SD slot for up to 128 GB of storage expansion. The device is only 7.2 mm thin, and not all that big to hold at 149.8 x 75.3 mm. Although it only has a very average 2700 mAh battery, real battery life seems to be quite satisfactory.
What's really interesting about the Mate S, however, is the support for Force Touch capabilities, which works somewhat like Apple's 3D Touch. Huawei is certainly ahead of other Android smartphone manufacturers in this regard. They also have knuckle control, though it seems to be rather gimmicky. That notwithstanding, Huawei has demonstrated their ability to create and innovate with new features.
The older Mate 7 is also quite a respectable smartphone, at least in Q4 2014 when it was released. It's a big phone, with a 6.0-inch Full-HD screen, packing a huge 4,100 mAh battery in a body that's 7.9 mm thin. I should add that the build quality is really good, and that they also had a great fingerprint sensor back then. The Mate 7 is also powered by Huawei's own processor, the Octa-Core Kirin 925.
There are several other Chinese smartphones sold in Singapore, including the likes of OPPO. It's probably Xiaomi, when it comes to these Chinese manufacturers, that is most well-known, particularly with the popularity of the Redmi and Mi smartphones. As big and successful as you think Xiaomi might be, interestingly in terms of worldwide smartphone vendor market share, according to IDC's report in Aug 2015, Huawei ranks higher than Xiaomi, at third and fourth place, taking 8.7% vs 5.6% respectively.
As a point of interest, Huawei is the largest telecommunications equipment manufacturer in the world.
While many industry commenters were surprised that Google picked Huawei to make the Nexus 6P, perhaps it is no wonder, given Huawei's ability to design, innovate, and manufacture smartphones. The Nexus 6P gave Huawei the opportunity to show to the world just how capable they are at producing a great premium smartphone. This partnership gave Huawei such a boost that it is now rumoured Google will partner with Huawei to make a new generation of the Nexus 7 tablet this year.
Moving forward, we should not be surprised to see more Huawei smartphones getting the spotlight this year. Apple will live in their own ecosystem, so we can't expect Huawei to make a dent in iPhone sales, at least not directly on their own. But it's about time we see a new, strong player, along with the likes of Xiaomi, to rock the Android smartphone space to deliver better value smartphones to consumers.