Along with the OP/TECH Wrist Strap which I recently reviewed, I also have the OP/TECH Utility Strap – Sling. This strap, or sling, whichever you prefer to call it, is quite versatile in how you can use it. My intent was to use this strap-sling slung across my shoulder, just as how OP/TECH had depicted, with camera hanging on one side.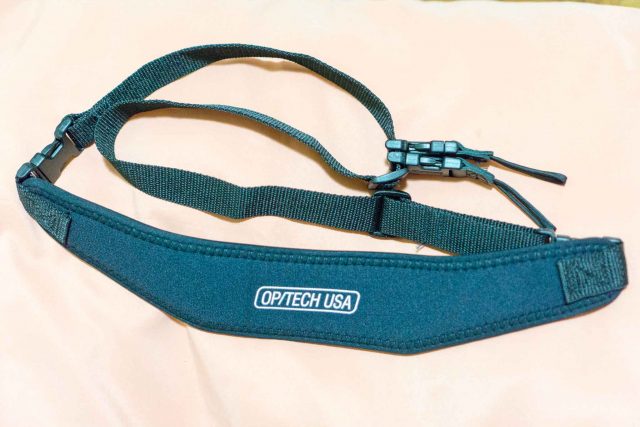 I'm not fond of straps over my neck. Hand or wrist straps are nice, but if you need to keep both hands free to do something else, it may get a little cumbersome having to put your camera down somewhere or back in its bag. Strapping over the shoulder may be a compromise, but neck straps slung on or across the shoulder tend to be not so comfortable to use either.
OP/TECH's Utility Strap – Sling addresses my needs quite well. I can wear it across my shoulder, so it is secure with no risk of the strap slipping off. The camera is attached on one side, with a connector that slides along the strap. This means that while the camera is hanging off on one side of my body, whenever I need to use it, I can simply just slide it up the strap without even having to adjust the strap. More specifically, I can easily move the camera around without the having the move the comfy shoulder pad off my shoulders.
That's basically what I wanted this Utility Strap – Sling for, and what I like about it.
The Utility Strap – Sling quite minimalist in design. It is lightweight, and comes with a comfortable shoulder pad made of neoprene on the inside and Lycra on the outside. The neoprene ensures that the pad stays in place on your shoulder with its non-skid characteristics.
The strap length itself is adjustable. OP/TECH provides two Uni-Loop connectors that slide along the strap. The two mating sides of the connector have a braided cord which you attach to the eyelet on your gear.
With the two Uni-Loop connectors, you can either attach two pieces of gear to the Utility Strap -Sling, or you can simply use them for both sides of your camera, like how it would work with a typical neck strap. The Utility Strap – Sling works equally well as a neck strap, if that's how you prefer to use it.
You could potentially easily reconfigure how the Utility Strap – Sling is used. You see, the Uni-Loop connectors are pretty universal in OP/TECH's line of straps and slings. I'm a bit disappointed that the clip-buckle connectors had the wrong gender orientation, so that I can't directly swap their Wrist Strap with this Utility Strap – Sling, but this can be fixed with gender-changer connectors.
If you like your camera slung on one side over or across your shoulder, this OP/TECH Utility Strap – Sling works very well. The sliding connectors and its versatility make this a really great strap, or sling.