It's often joked about how Wi-Fi is now, in this millennium, a new layer at the bottom of the updated Maslow's Hierarchy of Needs. If you have a Wi-Fi dead spot in your home, it probably frustrates the life out of you, and everyone else at home. Enter Wi-Fi range extenders, like this D-Link DAP-1860, to the rescue.
D-Link's recently launched DAP-1860 is an AC2600 Wi-Fi range extender. It connects to your existing Wi-Fi network, and then extends the Wi-Fi network with up to 800Mbps on the 2.4GHz band as well as 1733Mbps on the 5GHz band, and supports MU-MIMO. It's packaged in a plug-adapter form that plugs directly into a 3-pin power socket, and sports four swing-out external antennas.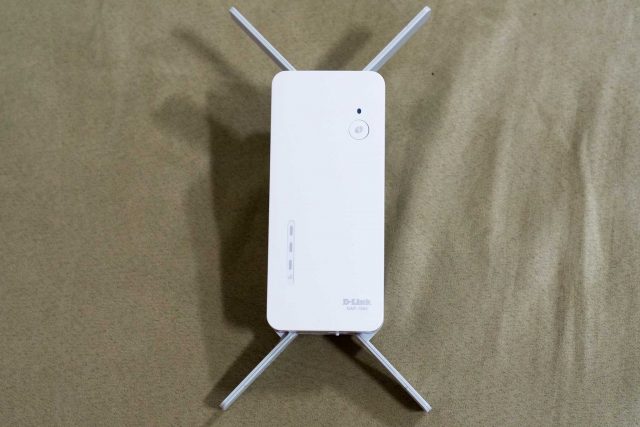 It's easy to see how the DAP-1860 can be useful in many homes. Many people have their fibre broadband terminated in an inconvenient, non-optimal, part of their house. Then, they struggle with having the ONT and Wi-Fi router placed in that same non-optimal place, or figure out a way to cable their Wi-Fi router in a more optimal spot. In the latter case, they'll either have to get Ethernet cables professionally installed, or live with messy cabling around the house.
A Wi-Fi range extender like the DAP-1860 offers a simple solution to extend their existing Wi-Fi network from a new, more optimally located, spot in the house.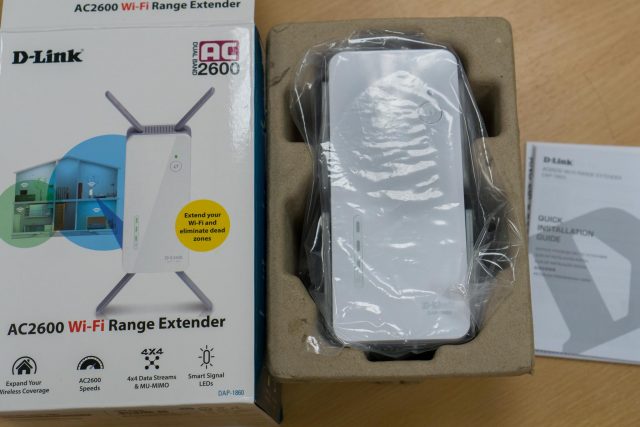 In the box, you get the DAP-1860 device itself along with a few sheets of paper, including a quick install guide and Wi-Fi configuration card. The DAP-1860 AC2600 Wi-Fi Range Extender is surprisingly large. It comes conveniently fitted with a 3-pin plug so it'll work directly in our power sockets. It's a fixed plug, so you can't swap the plug head.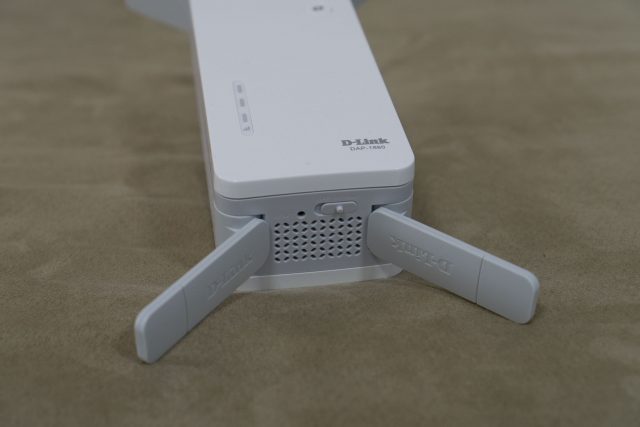 Setting up the DAP-1860 is really easy. Plug the DAP-1860 into a wall socket. Make sure it is turned on. There's a power switch on the bottom of the unit. Next, go to your existing Wi-Fi router and press its WPS button. Then, press the WPS button on the DAP-1860. The LED should have been blinking amber initially, indicating that the uplink has not been setup. Once the WPS pairing is completed, the LED will be solid green.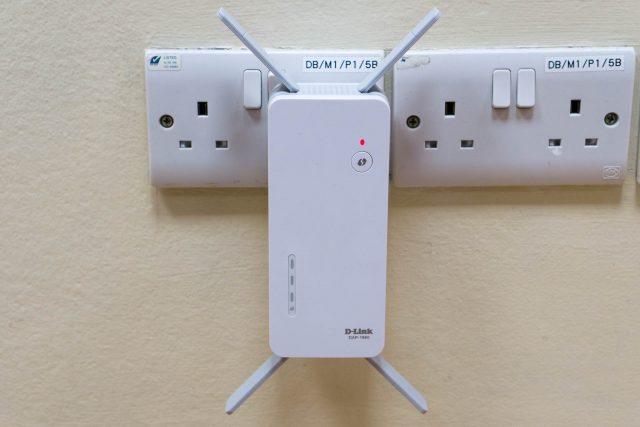 The signal strength indicator on the DAP-1860 provides convenient feedback on the strength of the uplink Wi-Fi connection as you position the unit around your house. All green is the best. You may also see two green, one green, or a single amber, the last indicating a very poor signal.
The DAP-1860 operates as a wireless bridge, connecting your existing Wi-Fi on one side, then creating a new Wi-Fi network for your devices to connect to. The new Wi-Fi network is created automatically from your existing SSID, but with _EXT appended, and uses the same password.
Connecting new devices is also relatively easy if they support WPS push-button pairing. Just press the WPS button on the DAP-1860, then follow-up the WPS pairing on your device.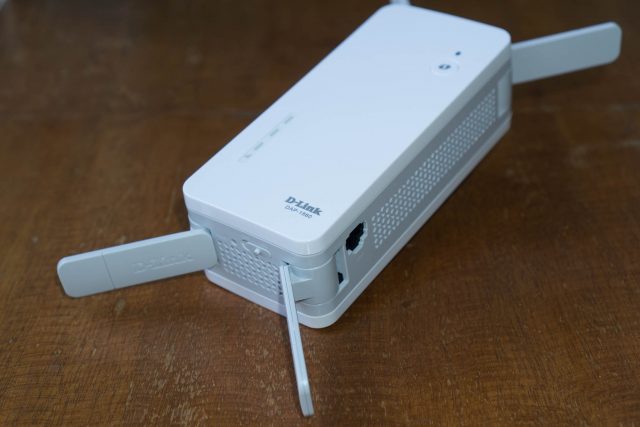 There's a single Gigabit Ethernet LAN port on the side of the DAP-1860. You can use this to connect the DAP-1860 to an existing wired network. You can use this if you already have a cabled connection available from your existing broadband router. The DAP-1860 will then use the wired connection as the uplink, instead of a Wi-Fi uplink. The new Wi-Fi network created by the DAP-1860 will then be bridged to this wired connection.
This wired connection scenario is also useful if you already use some other sort of dedicated broadband router that doesn't do Wi-Fi. For example, I build my own broadband router using pfSense. The box doesn't have Wi-Fi capability, and although I could add a Wi-Fi interface, I thought it was better to use dedicated purpose-built Wi-Fi hardware for superior performance. I recently replaced by Netgear R6300 with the Linksys EA8500. Both of them seems too much of an overkill to just operate in bridged mode. A simpler Wi-Fi AP would more than suffice, and the DAP-1860 fits my purpose at home perfectly.
The DAP-1860 features a number of technologies to improve your Wi-Fi experience. MU-MIMO, or Multi-User, Multiple-Input, Multiple-Output, is a cool feature that enables transmission of data to multiple devices at the same instance in time, thus improving overall Wi-Fi network throughput. It does require all client devices to support MU-MIMO though.
Another DAP-1860 feature is Smart BeamForming, which tracks your connected devices in order to optimise the radio transmission, and thus deliver enhanced Wi-Fi performance.
Finally, there's Smart Connect, a feature that automatically configures both 2.4GHz and 5GHz radio bands, selecting the optimal band channel, and automatically distributes client devices to the best network.
You can access the DAP-1860 through a web browser if you want to modify any settings. Just point your web browser to http://dlinkap.local/ to load the web-based administration interface.
The administration interface is simple and easy to navigate around. There aren't many things you can do, but crucially, you have the opportunity to customise your extended Wi-Fi network settings.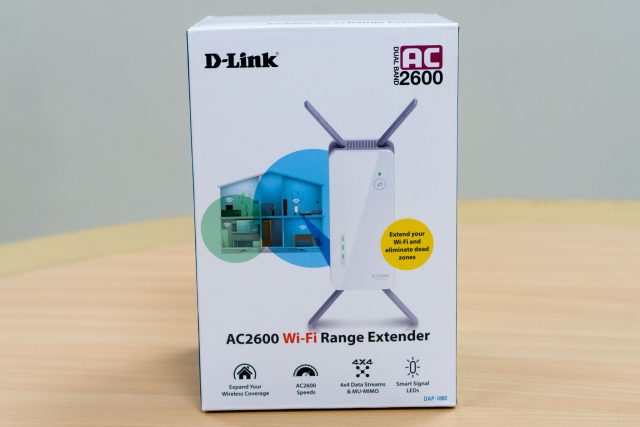 The DAP-1860 retails for S$189.
Conclusion
The D-Link DAP-1860 AC2600 Wi-Fi range extender is an excellent, very easy-to-use, device for extending your existing Wi-Fi network to cover dead spots in your house. The wired connection also makes it ideal to operate in a bridged Wi-Fi AP mode.
Pros:
Excellent dual-band AC2600 speed with MU-MIMO
Very easy to setup
Also works as an excellent Wi-Fi AP for wired networks
Cons: