I've heard about Tyre Pressure Monitoring Systems (TPMS), and had even considered installing them. But they're relatively expensive, and mostly just a nice-to-have accessory, not one that is very important. However, when my recent car wasn't supplied with a spare tyre, I was sold onto the idea that the TPMS can provide important early warning of air leaks.
The main purpose of a TPMS is to provide real-time monitoring of air pressure inside a tyre. Correct inflation of tyres are important for many reasons, including fuel economy, safety, and reducing wear on the tyres.
Prior to installing a TPMS, I would check my tyre pressure only very infrequently, unless it was obvious that something was amiss. It may be easily over a month, maybe over two months, before I'll drive up to an air pump at a petrol kiosk, and then I'll find that the tyres have lost more pressure than I'd be comfortable with, and often at different levels too.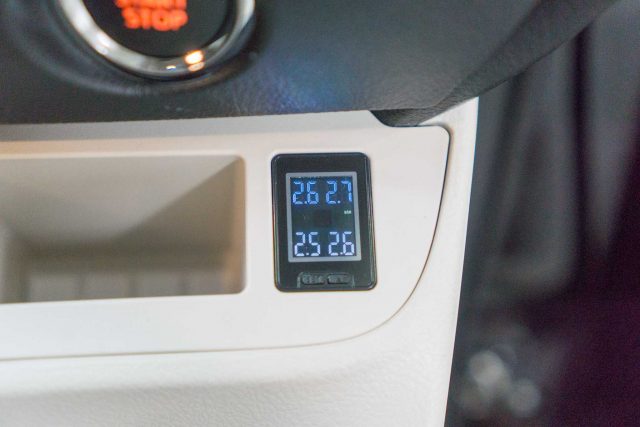 With the TPMS, I can see the real-time air pressure every time I drive. A display unit mounted on the dashboard displays the pressure of all four tyres. It can also display the tyre temperature. The TPMS will give out an alarm if any tyre's pressure is dangerously low (or high).
Some aftermarket TPMS uses special cap over the tyre valve to measure pressure and send the data to the central unit. These are external sensors, easily sighted, and may be prone to theft. While they may have special attachments to make removal difficult, it still remains a theft risk.
The TPMS I have seems to be an OEM model of this Careud U912 found on Amazon. It's designed for Toyota dashboards, and uses internal sensors that are mounted inside the tyre, thus making theft extremely inconvenient. One would have to left the vehicle, remove the tyre, and remove the rim to get at the sensor inside. It would likely be too much trouble. Externally, it's not even obvious that there's a sensor, because all you see looks to be a standard dust cap.
So why does a TPMS come in useful for cars without spare tyres? Well, the idea is that many times, when a tyre is punctured, it doesn't just let all the air out at once. It may instead be a slow leak. With a TPMS, you notice the leak right away and can drive straight to a tyre shop to get the puncture repaired. You don't wait till the tyre is flat.
Now, what if the puncture is serious enough that you have to use a tyre sealant in the emergency repair kit? These are usually provided in vehicles not fitted with spare tyres. Well, it doesn't seem abundantly clear what the tyre sealant does with the TPMS sensor, but it's possible that it may need some cleaning.
Installing the TPMS, especially with an internal sensor, takes quite a bit of work. If you're planning to change your tyres, or even rims, that would be a good opportunity to get the TPMS installed, since the installer has to remove the tyres anyway. Doing so could perhaps save you a little bit on the workmanship charges.
Now with realtime tyre pressure monitoring, I'm hoping to be able to keep my tyres at their optimal pressure at much as possible.