Aztech launched the WIPC411FHD IP Camera in the middle of last year. This is a Full-HD video Wi-Fi camera with pan and tilt capabilities, and pretty much most of the features anyone would need to remotely monitor a home or workplace.
The WIPC411FHD has quite a comprehensive feature set. It supports Full-HD 1920×1080 video resolution. You can use either Ethernet or Wi-Fi. The Wi-Fi is limited to 802.11n/b/g standards (i.e. 2.4 GHz band only). WPS setup is supported. It has 8 infrared LED lights with nighttime visibility up to 8 metres.
The pan-tilt range is up to 355° horizontally and 120° vertically. The 2.4mm focal length lens has a fairly wide 90° angle of view. There is no optical zoom, but 3x digital zoom is supported.
The camera also supports a microSD for storage. The microSD slot is on the back of the camera.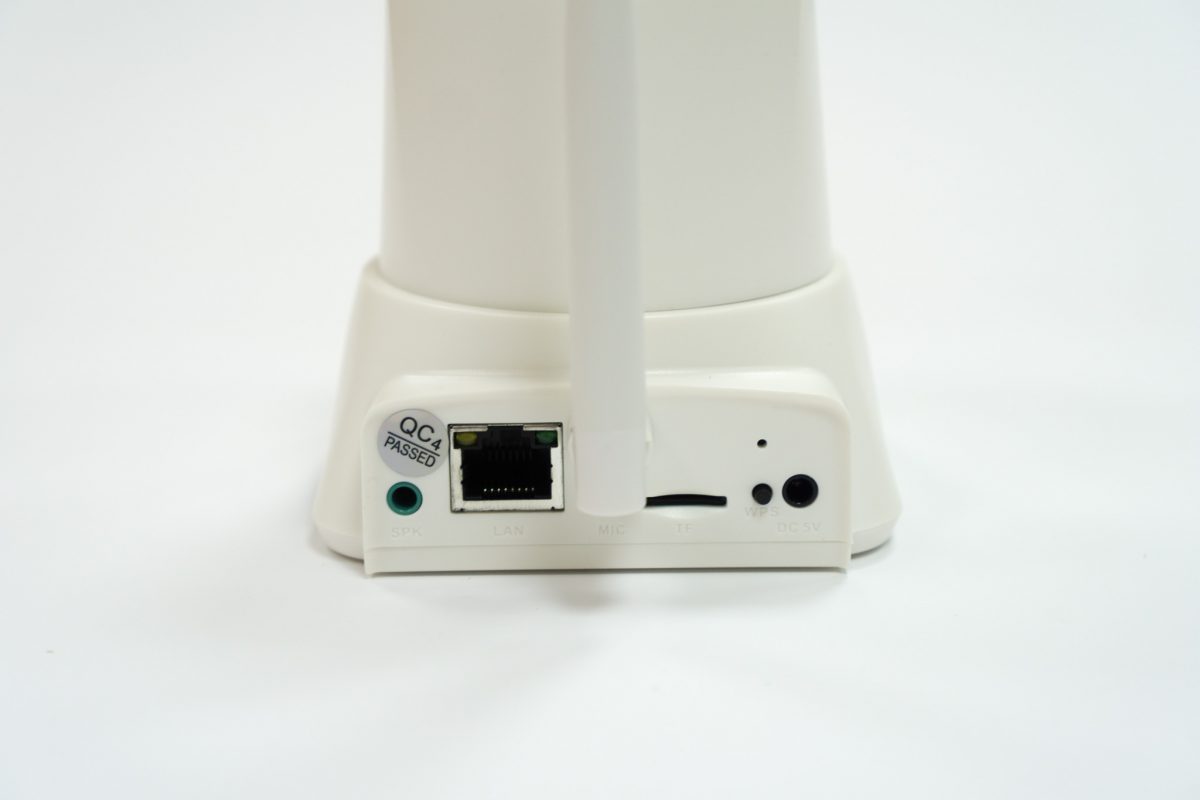 Also on the back is a 3.5 mm jack for external speaker, another one for an external microphone, and the barrel jack for DC power input from the included power adapter. The camera itself already has a built-in microphone, so you don't necessarily have to attach an external microphone to hear audio on the video recording. There is also a WPS button on the back for easy Wi-Fi setup.
In the box, the Aztech WIPC411FHD comes with a wall mounting bracket, wall plugs and screws for mounting, an Ethernet cable, a power adapter and some documentation.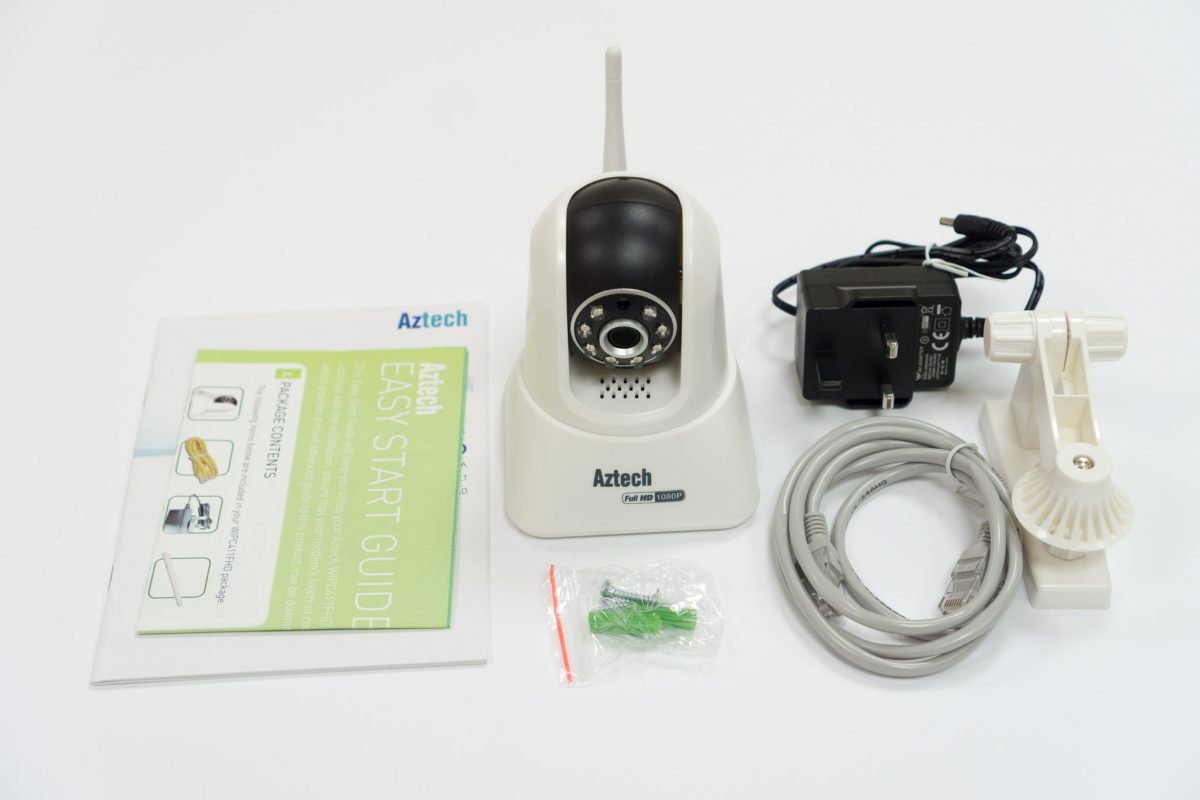 Setting up the camera is relatively easy. You would need to use their mobile app though, available on both Android and iOS. There's also a desktop utility if you prefer not to use the mobile app. You could also configure via a web browser manually.
I chose not to go with Aztech's officially documented setup method, which called for initial setup to be carried out over an Ethernet connection. Instead, I went ahead to setup Wi-Fi right-away. To do that, I simply turned on the camera, waited a while for it to boot up, then pressed the WPS button on the back of the camera, as well as the WPS button on my router. Wi-Fi was setup just like that.
Then, I installed the Aztech IP Cam 2 app from the Google Play Store. The app was supposed to be able to search for my camera automatically, but it somehow didn't work. (I did retry later with the camera on Ethernet, just to be sure, and that did not work either.)
The alternative method to adding a camera involves scanning the QR-code on the bottom of the camera. This worked successfully.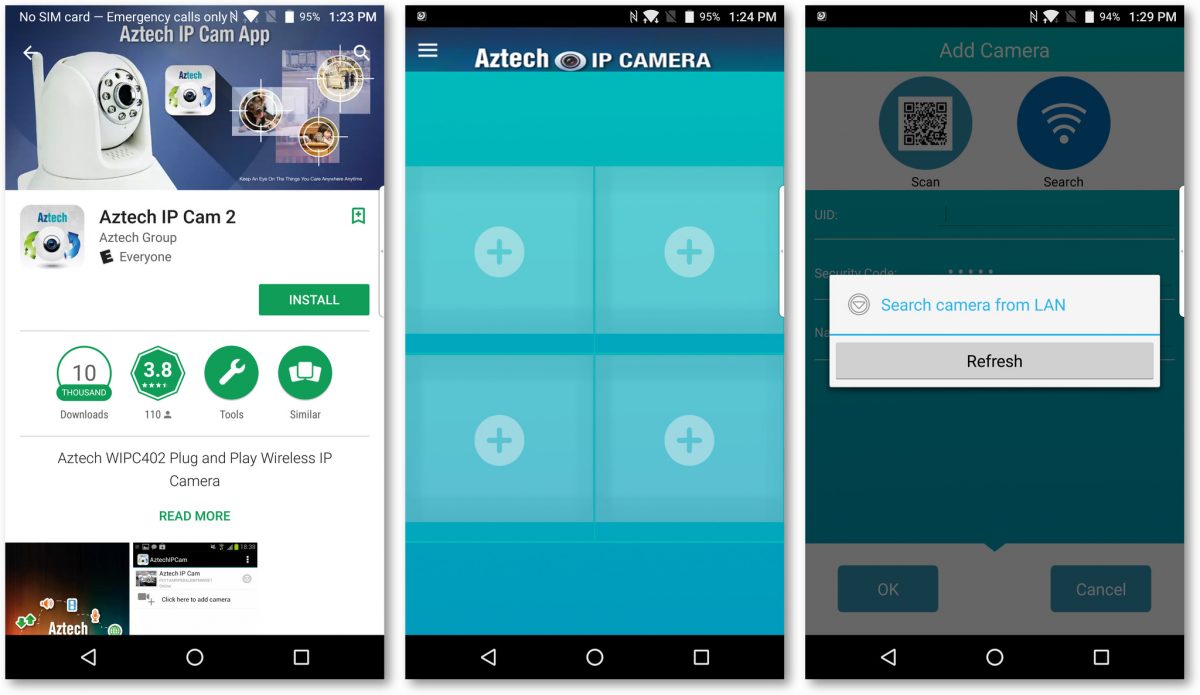 Once setup, the app worked well. Getting to the video stream was quick, and I think the app generally does work better than the D-Link Lite mobile app I'm familiar with (for D-Link cameras).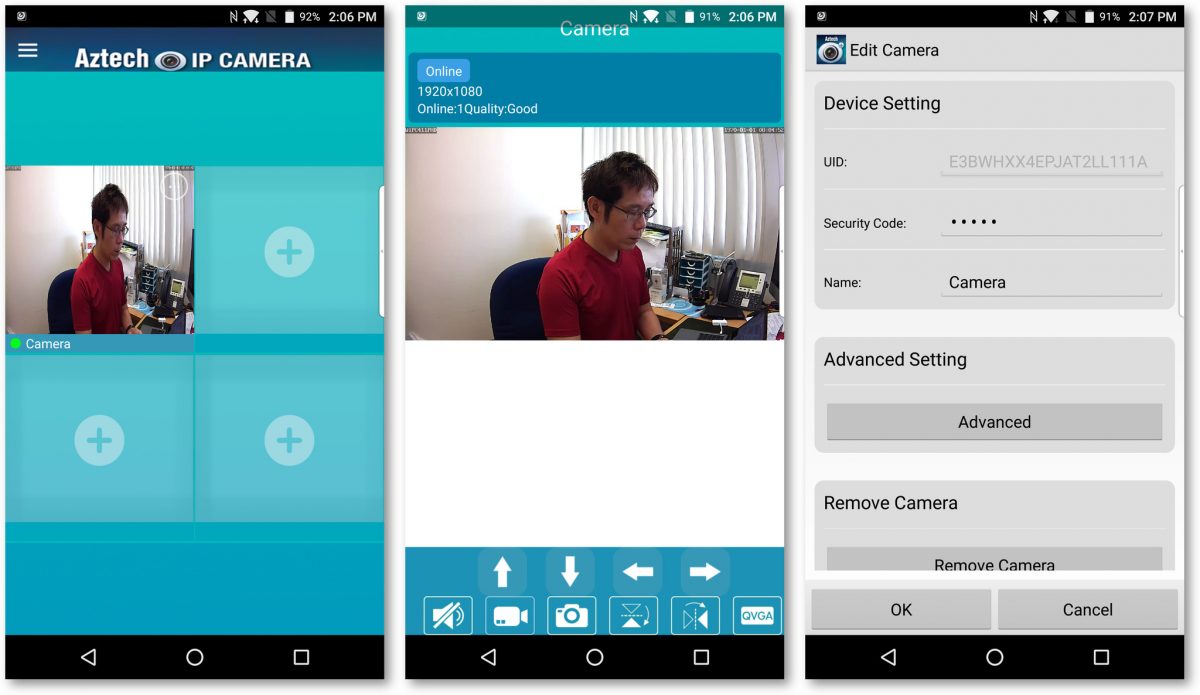 There are some limitations with what you can configure through the mobile app. You would need the browser access to configure motion detection area, for example, as well as trigger settings, streaming options, recording schedules, among others.
If you have more than one Aztech camera, the mobile app does let you add up to four cameras and view their live streams simultaneously.
Video quality is surprisingly good, both in terms of details and colour reproduction. The pan-tilt controls are also quite responsive, even when controlled remotely (i.e. over the Internet).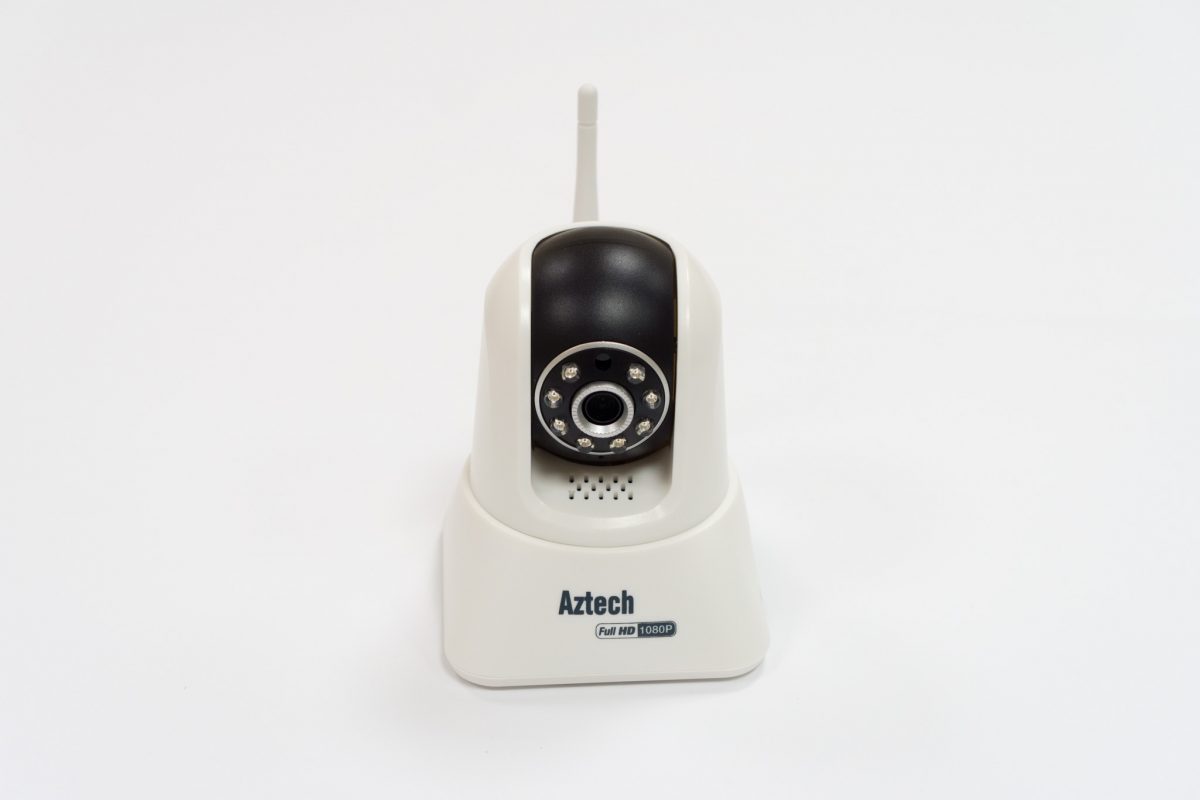 The camera, overall, doesn't really look excellent in terms of its design. Fortunately, it makes up for that with functionality and great video quality.
The Aztech WIPC411FHD IP Camera retails at S$229, and is available from retailers like Harvey Norman and Challenger.
Conclusion
The Aztech WIPC411FHD IP Camera doesn't have great looks, but it is functional, and offers very good video quality.
Pros:
Easy to setup
Video quality is good
Cons:
Mobile app has limited configuration control