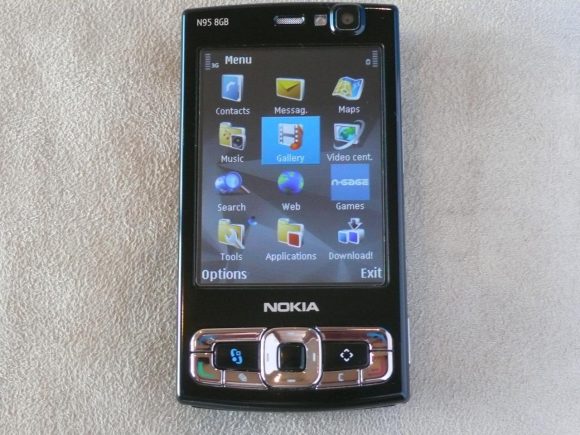 The N95 8GB was officially launched on 29 Aug 2007, just one day shy of 16 months ago. Many technology gadgets don't last very long as they are quickly replaced by a better models in just a few months. Sometimes they are even obsoleted in just months. So it is quite unusual that, 16 months on, the Nokia N95 8GB still holds its own against the many newer phones, be it from Nokia or competitors.
The N95 8GB became available for sale in October 2007. Since then, Nokia has launched many new phones. Amongst the new models like the N96 and the N82, the flagship N95 8GB still remains a worthy contender. Just to recap a little on the N95 8GB specs. It has "the works": Quadband, 3.5G HSDPA, Bluetooth, 802.11b/g, A-GPS, 5 megapixel Carl Zeiss auto-focus lens with LED flash, large 2.8″ display, etc.
None of the newer Nokia models are significantly superior to the N95 8GB. Of course they each have their own advantages. The N82 has Xenon flash. The N96 has DVB-H (digital TV broadcast). These phones will appeal to specific consumer groups. But as an overall package, I feel that the N95 8GB still continues to reign supreme.
For the "business users", Nokia launched the E66 and E71 this year. They are excellent phones with very high-quality builds (physically). But again, as an overall package they are not distinctly superior to the N95 8GB.
What about other phone brands? Well, a significant development this year was the launch of the Apple iPhone 3G. I've blogged a lot about it. I don't like the iPhone (read about it here, here, here and here). It is beautiful. Like the E66 and E71 are rather classy. But I need the phone to be more than beautiful.
Another major development is the launch of 8 megapixel camera phones such as the Samsung Innov8. The marketing people like consumers to believe that more megapixels means better camera or better pictures. Of course, we know that is not the case.
A lot of focus in new phones is on good looks and fanciful user interface. HTC, for example, has been trying to copy the iPhone's suave interface experience. But alas, new models like the HTC Touch Diamond were not impressive to me. If the interface experience was so important, I'd get the iPhone. (Which reminds me… Apple had to face the wrath of the Advertising Standards Authority of UK, not once but twice, for misleading advertisements about the iPhone's functions and performance.)
Of course, I must admit that at the end of the day, what makes a phone "better" depends very much on what is it you want the phone for. Just to put things in context, what is it I want? Well, I want a phone with "everything" (function-wise). When I say "everything", I mean everything mainstream. It is okay not to have DVB-H since it is not very common (besides, what would I watch on it anyway?); But it better have A-GPS since just about any decent phone has it nowadays. I want it to work with my Mac, for syncing and Internet access. I want it to be reasonably compact. In particular, I want reasonably good quality photos and videos.
I was just asking myself… if I am to go get a phone today, which model will it be? I think it will be the Nokia N95 8GB. I'm surprised. Phones get outdated very quickly. I bought my N95 8GB in November 2007. One year later, I still want the same phone.