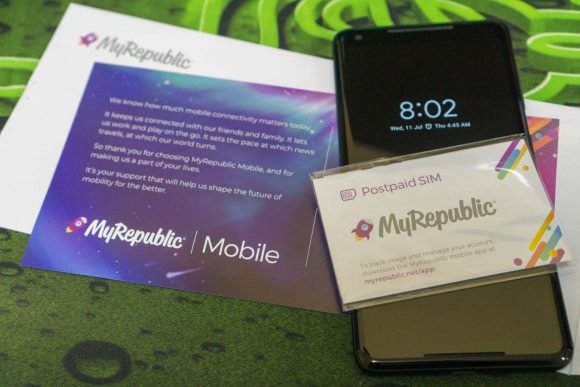 MyRepublic recently launched its mobile services, coming on board as the fourth Mobile Virtual Network Operator (MVNO) in Singapore. This comes after their failure to secure the fourth mobile telco license in 2017. Like Circles.Life, Zero Mobile, and Zero 1, MyRepublic Mobile has attractive plans to woo customers from traditional telcos.
Price, of course, is not the sole consideration. Although Circles.Life seems to be extremely well-received, possibly aided by their head start from 2016, I had some reservations about them. They did not, and still don't, have any decent data roaming offering. They have no phone hotline for voice calls. No, leaving voicemail, while nice to have, isn't the same. Then, I have my own personal opinions about M1, the telco they are dependent upon to deliver their service.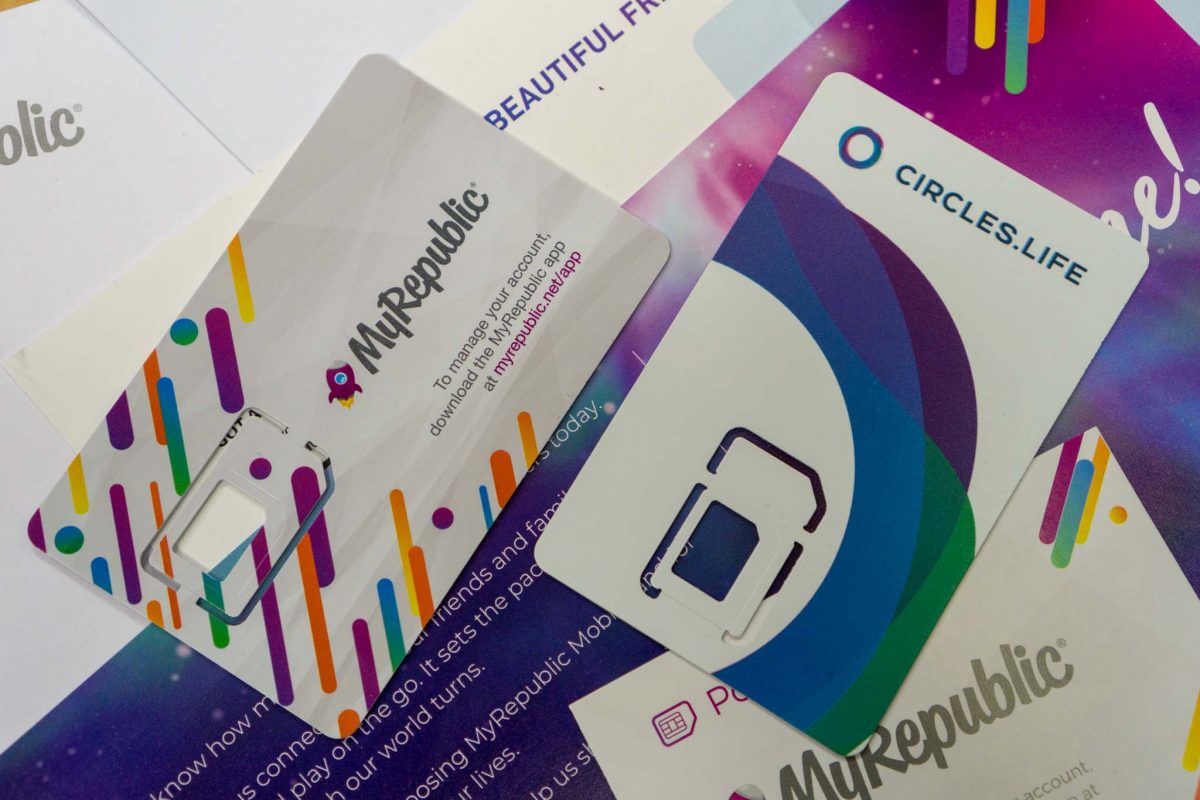 But of course when Circles.Life offered their $0 plan, I took it up. Free, must get, right?
Then MyRepublic Mobile came along with their Uno plan which I thought was nicely priced. Right at the outset, MyRepublic Mobile also had details on data roaming plans. $18 for 2 GB to countries like Thailand, Japan, and Hong Kong, though still more expensive than what StarHub offers, seems reasonable. (MyRebpulic: Your rates for farther-away countries are too high.)
My original interest with MyRepublic Mobile is to get their Uno plan for my kids. I currently have a StarHub SharePlus plan for them, riding on top, and sharing the "quota", of my main StarHub plan. I have to pay $9, plus $5 for Caller Number Display, for a total $14 per line. The SharePlus Plan does get an extra 1 GB data on top of the data allowance of the main line.
However, MyRepublic Mobile's Uno plan is $8 with Caller Number Display included, 1 GB of high speed data, "unlimited" slower data subsequently, and a very generous 1000 mins of calls and 1000 text messages.
I do worry, with plans that have fixed data allowances, that my kids may unintentionally or unknowingly exceed their bundled data limits. MyRepublic Mobile's plans basically allow for boundless data without extra charges. So if someone forgets or doesn't realise that watching a video advertisements eat data, which maybe might not be terribly obvious when you're playing a local non-networked game, there's no cause for panic.
This $8 Uno plan makes a lot of sense for kids. That's enough data for essentials like WhatsApp and Telegram. There's more than enough voice call minutes than most people use on their phones nowadays.
For adults who want more high-speed data, add-on prices are reasonable. You pay $12 for 3 GB, so a Uno plan up-sized to 4 GB of high-speed data works out to $20. There's also the Ultimate plan that gives you 80 GB of data for total $80 per month.
Both the Uno and Ultimate plans are for existing MyRepublic customers (or those with an early sign-up code). The regular public plans are:
Smart 35: $35 per month for 7 GB high-speed data
Mega 55: $55/month for 12 GB high-speed data
Xtra 85: $85/month for 25 GB high-speed data
All plans come with 1000 voice call minutes and 1000 text messages.
MyRepublic Mobile rides of StarHub network, which in my opinion is great, better than at least one of the other two traditional telcos here.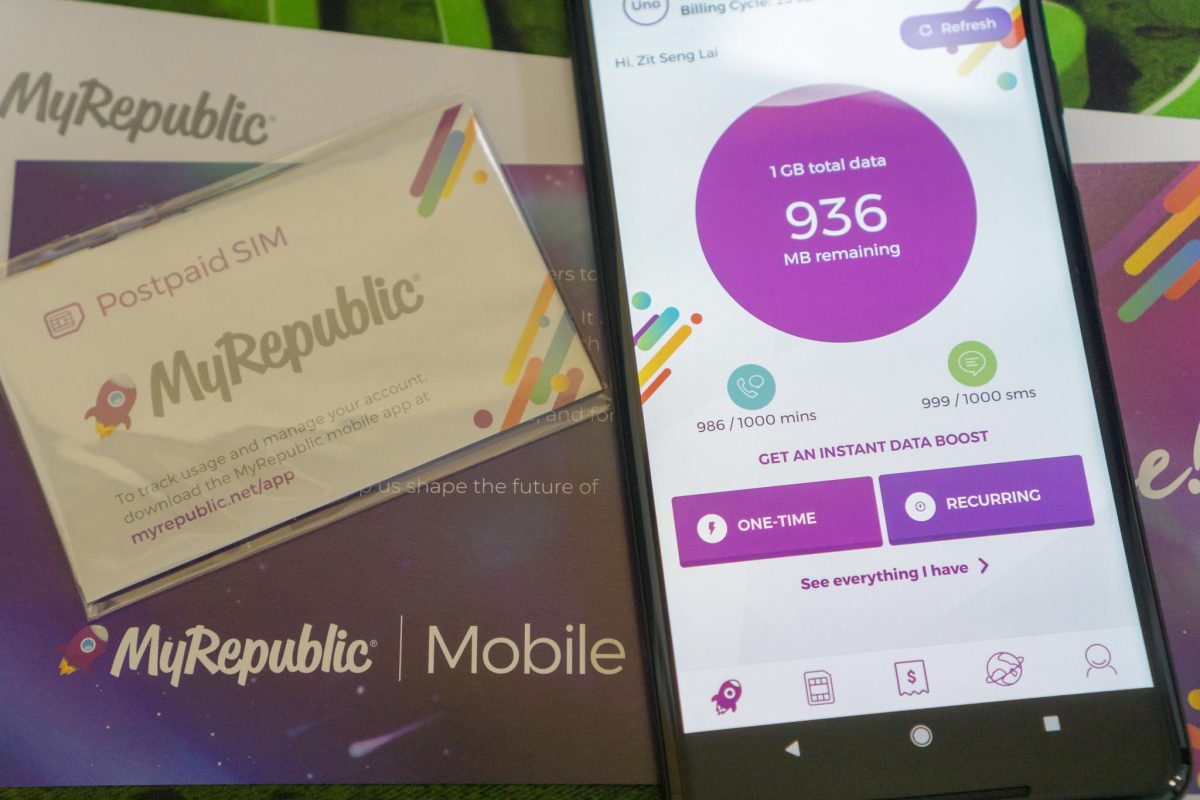 My biggest complaint about MyRepublic Mobile is their ridiculously slow mobile app. The UI looks fine. It's not the best looking, but certainly qualifies as pleasant. However, the app is excruciatingly slow to load up. The time from launching the app, till when the main display shows my remaining data available is updated, can take up to 28 seconds. If I change to another number on my account, that takes me another 16 seconds before the remaining data value is updated. That is simply ridiculous. Checking my account is a painful experience.
You can add data on the app, buy roaming data allowances, change plan, etc. It's convenient. Except, of course, that the extremely slowness is very painful. (MyRepublic: You really need to fix this.)
It's perhaps a blessing for MyRepublic not to get the fourth telco license. By coming in as a MVNO, they have started their service offering very quickly. Let's see how long more before TPG Telecom begins service.