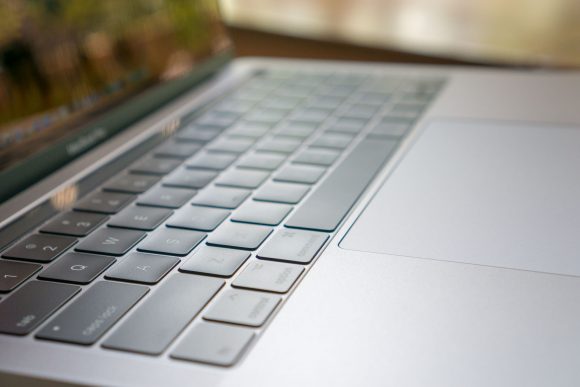 Apple last month admitted their 2nd generation butterfly keyboards problems and would offer free fixes regardless of the warranty status of the device. Not much was said about the keyboards of the new mid-2018 MacBook Pro models announced this week, but it turns out Apple may have indeed addressed the root issue.
According to a teardown by iFixit, the new mid-2018 MacBook Pro keyboards have a silicon membrane under each key which should keep dust and other particles from getting into the actuation mechanism and causing the keys to jam. This discovery was made on a 15-inch MacBook Pro.
It's unclear if Apple believes this solution will actually fix the problems experienced by users of MacBook Pro models that had the 2nd generation butterfly mechanism. Apple did not mention this improvement when they announced the free repair of 2nd generation butterfly keyboards last month.
But perhaps of more interest to affected users is whether they will get the upgrade to this improved butterfly mechanism when they turn in their affected MacBook Pro for repair. At least physically the new mid-2018 MacBook Pro chassis all look identical to those from 2017 and late 2016. So it is possible that the new keyboard could be a drop-in replacement for the MacBook Pro models without Apple needing to redesign the chassis.
The new silicon membrane also softens the "noise" made when striking the keys, hence the "quieter feature" described of the new mid-2018 MacBook Pro models.
I had to turn in my MacBook Pro twice because of stuck keys. I don't have any problem with keyboard noise. For me, the only thing that matters is that the keyboard is fixed, and the keys not to get stuck again. If Apple doesn't think it necessary to issue a recall of all affected MacBook Pro models, I hope at the very least they will upgrade to the newer, presumably fixed, keyboards for those who are finding their keys stuck.