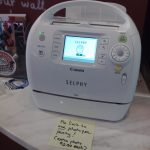 Yes, you can get free photo prints from a Canon Selphy photo printer at Island Creamery. It's a novel idea. While you're there with family or friends enjoying your ice cream, you can snap a photo of your party, then get it printed on the spot. The walls of Island Creamery are also plastered with photos of people having their ice cream at Island Creamery. To prevent abuse, Island Creamery limits one free print per party. Additional prints costs 50 cents each. I guess that's fair enough.
Island Creamery's ice cream is nice. They've lots of exotic local flavours like chendol and pulut hitam. I'm not terribly fascinated with having my ice cream spun off from local desserts. But I like the "normal" stuffs like oreo cookies ice cream.
The printer is supposed to have Bluetooth support. But for some unknown reason, my N95 8GB couldn't find it.
Address: 10 Jalan Serene, #01-03 Serene Centre
Tel: 6468 8859