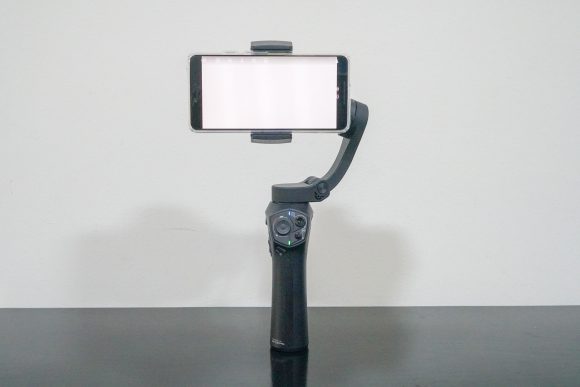 You know some crowdfunded projects fail to deliver. Most deliver, but their products are just okay. Once a while, however, some manage to deliver a spectacular product with awesome value. My Indiegogo-crowdfunded Snoppa Atom 3-axis smartphone gimbal arrived last week and it is amazing.
Snoppa is a Chinese company based in Shenzhen, and over the last few years, they've successfully brought to market several gimbal products. There are devices designed to reduce camera shake while they are hand-held to record video, particularly if you also need to move at the same time.
The Atom is the 4th gimbal from Snoppa, and the 2nd specifically designed for smartphones. It's a feature-packed full 3-axis gimbal that folds into a relatively compact size.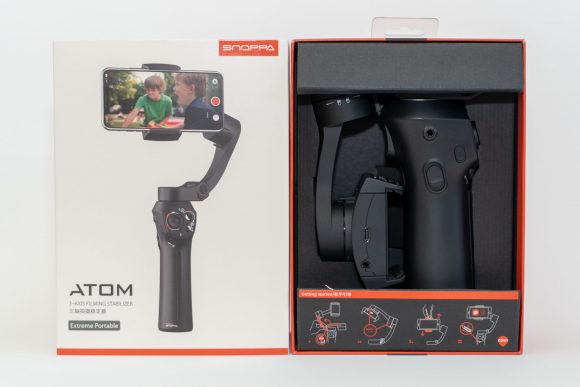 The Snoppa Atom ships in a decent, professional, retail packaging. The gimbal is packed neatly inside. I did wish that Snoppa had provided a little bit more instructions to help new users get started. The pictorials inside the box aren't quite good enough for newbies. There were no instructions to download their mobile app, which has lots of helpful information. I think to get started, users should have been advised to download the Snoppa mobile app.
It did take me a while to figure out how to unfold the Atom. Then I powered it on without a smartphone mounted, resulting in severe motor vibration which I later learnt from the app should be avoided, and that I was in fact supported to mount my smartphone in it first.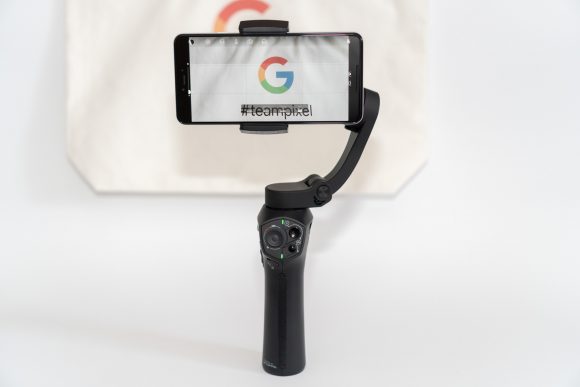 The Snoppa Atom is very well-built. It's lightweight, at 440 grams, yet feels robust. Despite its low, affordable, price, the Atom doesn't feel cheaper than more premium gimbals. The hand grip is comfortable to hold. An added rubber strip on the grip helps to provide some friction and reduce accidental slips. A tripod mount screw hole under the grip can also be used if you prefer to use a tripod.
Setting up the Snoppa Atom is quick and simple. There's one push lock to unfold the arm and free the pan mechanism, and then two more twist locks to free the tilt and rotate mechanism. The jaw grip opens up to accommodate smartphone widths from 55 to 90 mm, and thickness up to 9 mm. This is wide enough for the Pixel 3 XL with a phone case I've used in my tests.
Snoppa has designed the Atom's jaw grip to avoid pressing the buttons on smartphones that may happen to come under the jaw. This gimbal can handle a payload of up to 310 grams, so this can easily include the weight of a phone case and maybe even some attachment lenses.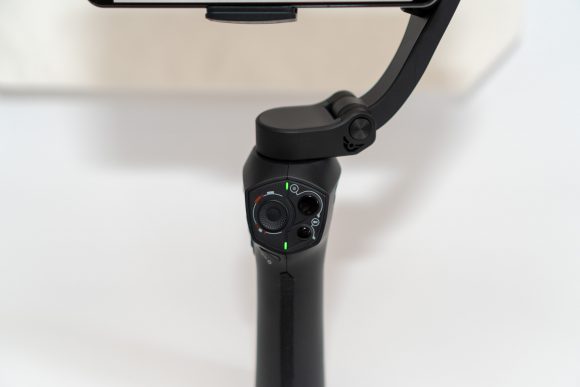 There are plenty of physical controls on the Atom, some of which are configurable. On the front, there's a joystick for motorised pan and tilt control. There are two more buttons to start/stop recording and to call up the app menu.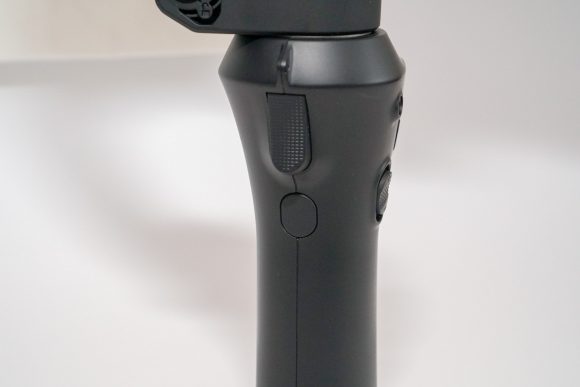 On the back, there's a trigger that accomplishes several functions depending on how it is pressed. It can lock the direction, enable fast tracking, or reset the gimbal's direction. There's also an anonymous button below it, referred to as the "back button" in the app, used to switch between fixed/follow tilt mode, and to turn on/off wireless charging.
Oh that's right, the Snoppa Atom supports wireless charging, so it can be used to supply the smartphone with power. Alternatively, power can also be supplied to the smartphone through a USB Type-C on the side of the jaw grip. Beside that USB Type-C port, there's also a 3.5 mm audio jack to connect to the smartphone's headphone jack, so the Atom an feed audio from its own external microphone port to the smartphone. Unfortunately, the Atom won't transmit audio over Bluetooth to the smartphone. If your smartphone doesn't have a 3.5 mm audio jack, you've got to get an audio adapter.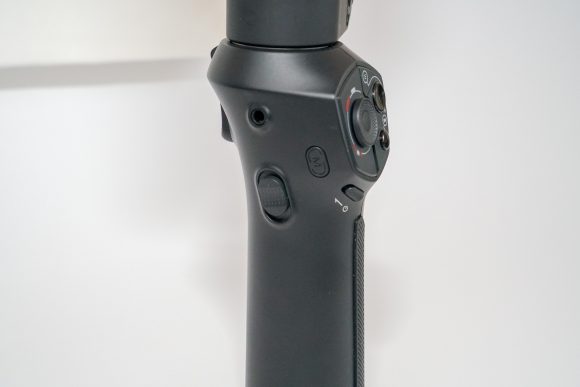 The Atom's external microphone port is on the side the of the hand grip. Below it, there's a slider switch that can be configured to either control focus or zoom. There's a button labelled "M", which you can configure for various functions. The default is to switch orientation between landscape/portrait, and turn around 180° so you can record selfie videos with the main camera of your smartphone.
Finally, there's a power slider switch under the primary front panel controls.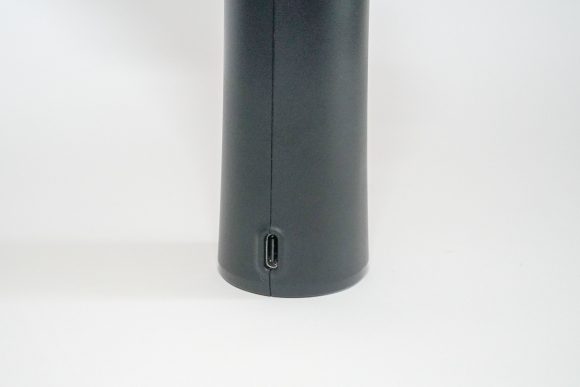 The Snoppa Atom itself is charged through a USB Type-C port. I'm really happy that Snoppa has bothered to provide modern USB ports, when even some bigger manufacturers still continue to use Micro-USB ports for their products. The Atom's battery has 2000 mAh capacity, and Snoppa claims it can run for up to 24 hours, provided of course you don't use it to charge your smartphone.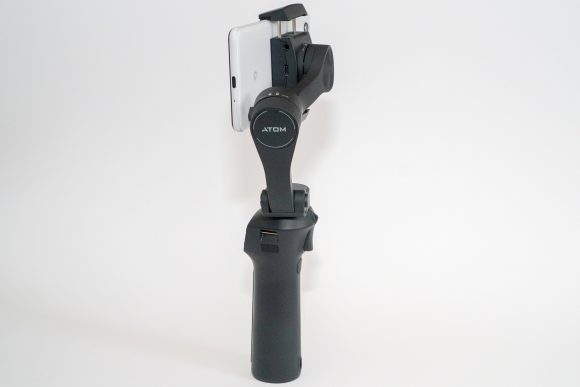 You can use the Snoppa Atom without their app, if you wish. The gimbal will work with any other video recording app. However, the Snoppa mobile app, which is available on both Android and iOS, is needed for a number of functions.
Snoppa's app does a decent job of video recording, and it does offer a number of useful features. The app supports continuous auto-focus, but you can also fully control focus, ISO and white-balance manually. The app provides face tracking and object tracking capabilities. You can record static time-lapse and motion time-lapse.
For still photo captures, the Snoppa mobile app can also record panorama, light field, and night shots.
The Snoppa mobile app also allows you to calibrate the gimbal, and to adjust for drift. Firmware updates are also performed over the air, via the app.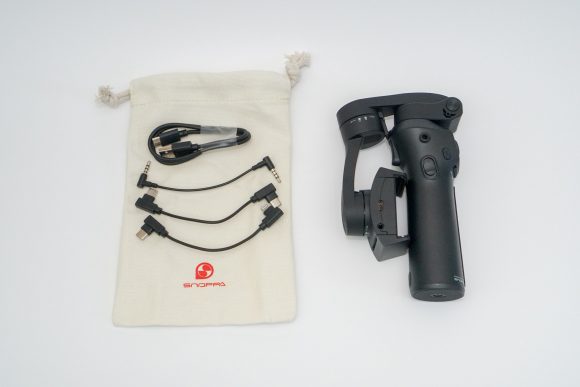 Included in the Snoppa Atom's retail packaging, you get USB Type-C cable, L-shape USB Type-C charging cable, L-shape Lightning charging cable, L-shape 3.5 mm audio cable, and a carrying pouch. The basic bundle also includes a small table-top tripod which is packed separately.
I've used the Snoppa Atom for a couple of hours thus far, and I'm extremely impressed. The gimbal is well-built and works very well. There are a good number of physical controls, some of them configurable. I like that they use USB Type-C ports. The Snoppa mobile app is packed with useful functions.
The Snoppa Atom will rank as one of my two most liked crowdfunded gadgets this year.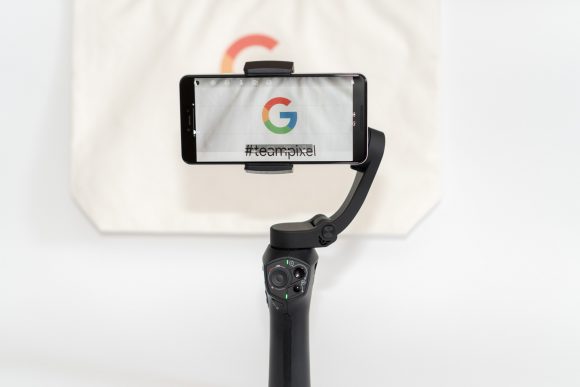 During the crowdfunding campaign on Indiegogo, the Snoppa Atom was available at US$79, plus US$15 shipping to Singapore. Right now, you can still order the Snoppa Atom, with the basic bundle starting at US$139 (inclusive of shipping to Singapore).
Conclusion
The Snoppa Atom is an impressive 3-axis smartphone gimbal that is well-made and works very well.
Pros:
Well-built, foldable, lightweight design
Many physical controls
Built-in wireless charging
Built-in portrait/landscape and selfie orientation change
Multiple tracking modes
Cons:
Can't transmit audio over Bluetooth (for smartphones without 3.5 mm headphone jack)