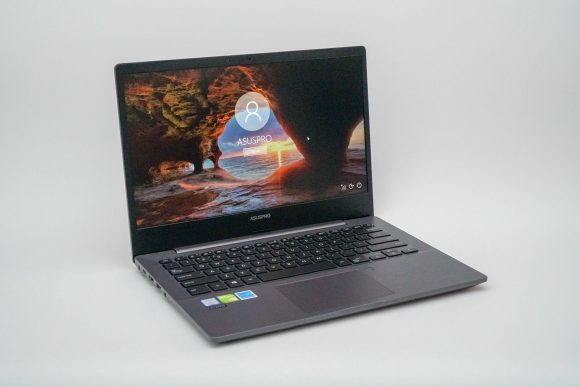 ASUS launched their first business-oriented "pro" notebook under the ASUSPRO name in 2017. I reviewed that ASUSPRO B9440UA back then. ASUS released an updated model one year later in 2018, the ASUSPRO P5440.
Being a business notebook, the ASUSPRO P5440's design is mostly functional, unlike the typically highly elegant looks of the consumer ZenBook series notebooks. That's not to say the P5440 looks bad. On the contrary, it has a pleasant professional-looking design.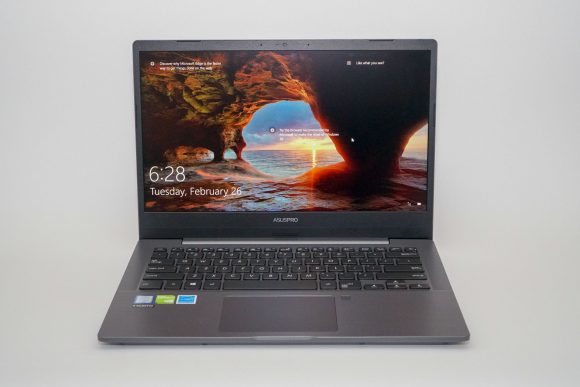 The ASUSPRO P5440 is also reasonably thin, having a thickness profile from 10.14 mm to 18.5 mm, with a form factor of 326 229.3 mm. This notebook is light enough, tipping the scales at 1.22 kg, or just marginally more, depending on options.
Like the B9440UA from the year before, the ASUSPRO P5440 is built to be tough. It meets MIL-STD-810G standards for durability, and it also sports a spill-resistant keyboard. This notebook is designed to cope with the rigours of heavy office and business travel.
The ASUSPRO P5440 has updated hardware specifications consistent with what you'd expect in 2018. I am, however, a little disappointed to find its 14-inch display is only just Full HD 1920×1080 resolution, and is neither pen nor touch enabled.
The display has a nice trick though: it can open up fully to lay flat on the table. I can see this might be useful at small business meetings.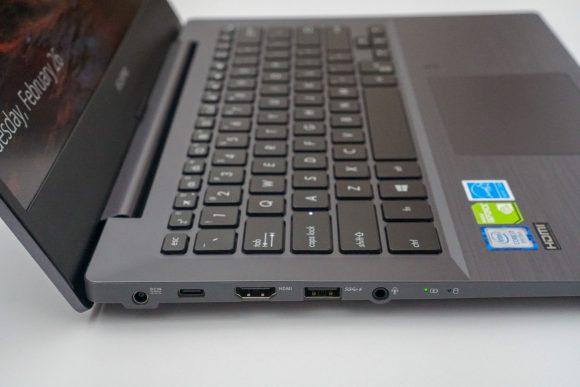 The reasonable selection of ports around the ASUSPRO P5440 should satisfy most business users. On the left, there is a DC power jack, USB 3.1 Gen 1 Type-C port, HDMI port, USB 3.1 Gen 1 Type-A port, and a combo audio jack.
The USB Type-C port supports Power Delivery, so you can charge the ASUSPRO P5440 from any standard USB Type-C Power Delivery charger. The charger supplied with the ASUSPRO P5440 uses the proprietary DC barrel jack. This USB Type-C port also supports DisplayPort output.
On the right side, you'll find another USB 3.1 Gen 1 Type-A port, and a full-sized SD card slot.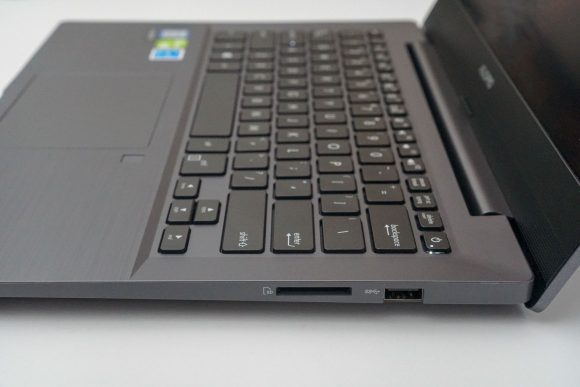 The keyboard deck of the P5440 looks quite unique, thanks to the brushed metal texture on the palm rest.
I am very happy with the very logical, standard, keyboard layout. Too many times many notebooks try to do something clever with the keyboard layout, but end up reducing its functionality. The keys on this ASUSPRO P5440 are back lit. Despite the shallow key travel at just 1.5 mm, typing seems to be reasonably comfortable.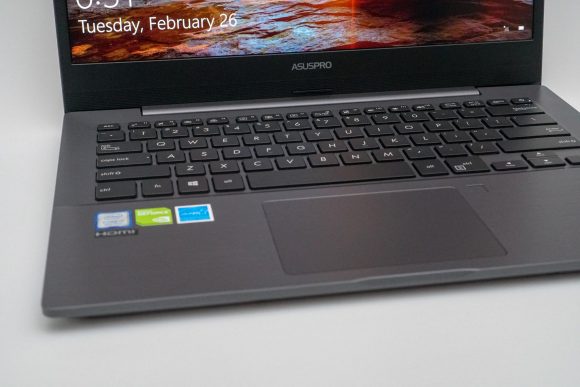 The touchpad is nice to use. There is a fingerprint sensor next to the touchpad, not inside it like in some other ASUS' notebooks, which allows you to use Windows Hello to login.
The bezels around the 14-inch display are thin around the top and sides. As aforementioned, there is no pen or touch support. The anti-glare matte surface greatly reduces reflections. The colours on this display are average, with colour gamut of 98% sRGB, 68% NTSC, and 73% AdobeRGB.
An HD webcam sits atop the display.
Internally, the ASUSPRO P5440 is configured with an Intel 8th generation Core i7-8550U processor, 8 GB of DDR4 2400 RAM, and 512 GB of fast M.2 PCIe storage. There is one free DIMM slot, so you can upgrade the RAM to 16 GB. Rather interestingly, this notebook also has space for an extra notebook hard disk, so you can add additional storage too, if you like.
The ASUSPRO P5440 also has an option for NVIDIA GeForce MX130 with GDDR5 2 GB VRAM. My review unit is fitted with this MX130.
For connectivity, the ASUSPRO P5440 supports 802.11a/b/g/n/ac 2×2 Wi-Fi, and Bluetooth.
On benchmark tests, my ASUSPRO P5440 review unit demonstrated how the MX130 can help pull it slightly ahead of otherwise similar i7-8550U notebooks. The PCMark 10 Extended scores are:
Overall: 2857
Essentials: 6748
Productivity: 5168
Digital Content: 2913
Gaming: 1773
Geekbench 4 scores for this notebook are:
Single-core: 4524
Multi-core: 14051
Compute (onboard GPU): 18321
Compute (MX130): 33108
For battery longevity, the 50 Wh capacity manages to deliver a PCMark 8 battery score of 217 minutes (Home Conventional workload), which is quite middling.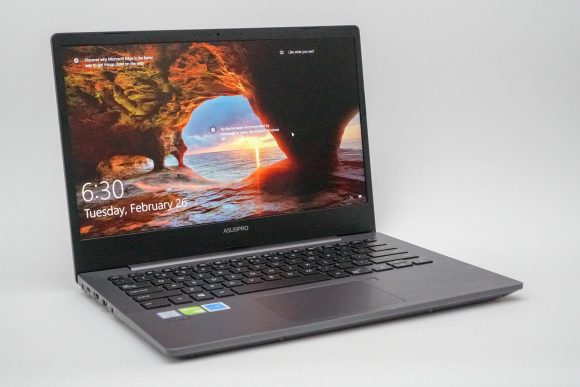 While the performance of the ASUSPRO P5440 is excellent, the battery longevity may be a concern for road warriors. If your typical usage won't leave you far from a power supply for long, the P5440 should work quite well. The MX130 discrete graphics gives a small boost to graphics processing capabilities, but I honestly would have preferred more features in other areas, such as a touch and pen enabled display.
The ASUSPRO P5440 comes in three variants: the configuration I have for this review sells for $2,298. The price drops to $1,968 without the MX130, and drops further to $1,768 when configured with an Intel Core i5-8250U and 256 GB of storage.
Conclusion
The ASUSPRO P5440 is an affordable business-oriented laptop, but with somewhat average features.
Pros:
Business "look"
Compact and light
MIL-STD-810G durability
Good selection of ports
Good performance
Cons:
Just Full HD display, no touch/pen
Middling battery life