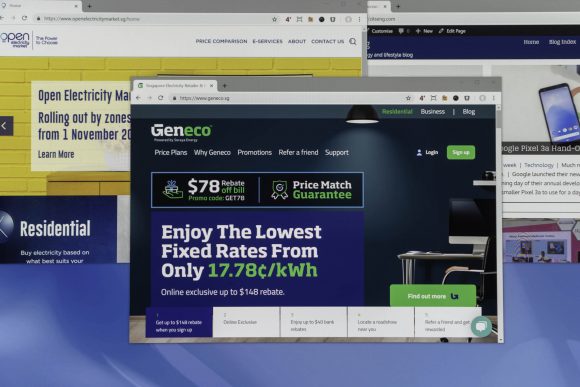 I'm amongst the first residential electricity consumers to embark on the public launch of the Open Electricity Market. With the minimum six months contract already up, I'm perhaps also amongst the first to be wanting to jump ship. I'm learning that there are still many kinks to be worked out.
Back in November 2018, I had decided to sign up on a six months contract with Geneco. I purposely chose a short contract. I figured that by the time my contract was over, electricity retailers would still be keenly competing for new consumers and thus their rates will continue to be attractive. This is indeed the case. Geneco seems to be offering one of the better deals right now.
That hasn't always been the case. In fact, I pretty much regretted contracting with Geneco shortly after signing up. It wasn't so much the rate that I was unhappy about. It was the really very lousy customer service experience I received. It is almost impossible to talk to a human on their telephone hotline, and my emails will go unanswered for many days. In fact, it takes a ridiculous amount of time to get anything done with Geneco, even to just get started and activate my plan with them.
Nevermind all that in the past. I had set my mind to get out of Geneco when my contract was up. In April, Geneco started sending emails to remind me that my contract was ending. This is how their message reads.
Dear xxx,

Your contract will expire on xx/xxx/xxxx .You can renew with us on any of our plans via Self Service Portal.

If you do not make any selection, when your existing contract expires, you will automatically be placed on the default plan at our prevailing rates which are guaranteed to be lower than SP rates.

Thank you.
This is an auto-generated message. Please do not reply to this email.
From reading Geneco's email, I assumed that no action was needed on my part since I intended to take my business elsewhere. I assumed my contract will just lapse, just like how it would work with broadband or mobile phone subscriptions.
It's not good that Geneco was ambiguous about what that default plan is about, but I reckoned that would be okay in the interim before I witched to a new retailer.
I was so wrong. Geneco re-contracted me automatically for another six months.
Let me digress a little bit and talk about that original plan I had been on. I signed up for the Give Us A Try six months contract with a fixed discount off the SP regulated tariff. Now checking the contract details, I realised that Geneco had indeed specified that upon expiry, my contract would be auto-renewed.
Is this my fault for not reading the contract?
I don't think so. The expiry reminder email did not remind me that my contract will be renewed. I was simply being put on a default plan. There was no mention of a contract. Surely it would be a sensible point to mention, if you're already going to be sending an email, that the contract would be renewed automatically.
To be fair, I had also logged in to Geneco's website to check out my options for getting out. There were none. In fact, there were also very limited options about what plans I could renew on.
Some people may think it's ultimately my fault for not reading the fine print. I don't think that's a fair picture of the case. You see, I had read Geneco's Fact Sheet on the Give Us A Try plan. Fortunately, I saved a copy of it, because the current version of it reads differently. In the version from last year, the item on contract renewal reads "lease refer to contract details" (typo there is theirs). However, I don't get to see the final contract until after signing up and checking it in my account. This is not fair, right? I'm asked to refer to a crucial detail that is not available to me until I've already committed. A reasonable person would not assume that contracts are auto-renewed.
Nevermind that. In Geneco's contract, the one I can only read after I'm already committed, they themselves say they will notify me of the renewed electricity rate at least 10 business days before the date of expiry of the existing contract. That above email which I've quoted was the only email I got from Geneco. They did not tell me the electricity rate.
I only found out that I was on a new contract after it had already commenced. At that point, Geneco finally informed me that I have been put on a new plan which they call Repower 6M DOT. This plan is so secretive that it is not on their website. For a six months contract, this ridiculous plan offers me a miserly 5% discount off SP's regulated tariff.
Here's a summary of how ridiculous Geneco is treating their existing customers:
They don't tell you that your contract is going to be renewed;
They don't tell you what the new electricity rate is, even though they are required to;
They don't tell you what the new plan is about until after it has started;
The plan they put you on is so secretive you can't find it on their website.
I tried to reach Geneco's customer support. I knew from experience it would likely be very hard. It was terrible last year. It hasn't much improved this year. Phones ring without humans answering. Emails don't get answered. You really need a lot of patience. Eventually, I managed to communicate with a human to vent my frustration about the situation.
Geneco would allow me to terminate early, but the customer support representative needed to seek a waiver of my early termination penalty. Wait, what? The contract does provide for early termination without penalty within 30 days of a new contract, but it requires me to sit out a 30 days notice period. Geneco had breached their own contract, but they still expected me to abide by their terms.
After a really frustrating week, the mess is being cleaned up now. There's both some good news and some bad news. I got to terminate early, without having to serve the 30 days notice. But I still have to wait. I still need to sit out two weeks on the ridiculous 5% discount rate.
The lesson for anyone signing up on Geneco: start your exit planning early, and save copies of the fact sheet and contract. You probably need to give them 30 days notice to terminate, so do that 30 days before your contract expires.
While trying to work out my problems with Geneco, I found out a few things:
Ohm's customer support works. Humans will answer phones within a reasonable time.
SP Group's customer support is surprisingly good. Humans not only answer phones in short time, they are very prompt in providing follow-ups, even to call simply to say they needed more time.
When you want to jump retailer, the new party needs to "pull" you over from the incumbent. This is like how mobile phone number porting works. However, if you want to return to SP Group, the incumbent needs to "kick you back to them.
Why would you ever want to return to SP Group? Oh… they can sell you electricity at Wholesale Electricity Price, that's why.
The Open Electricity Market is still going through some teething issues residential consumers. Retailers too, perhaps, like Geneco, also need to get their act in order to give better clarity to customers.