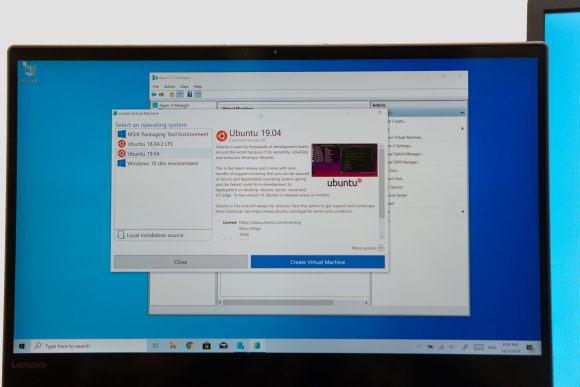 Windows 10 users always had the option of running Linux in a virtual machine inside their PC. Some editions of Windows 10 ship with Hyper-V included, and the Hyper-V Manager's Quick Create makes it very easy to install Ubuntu with minimal effort.
Windows Subsystem for Linux (WSL) is perhaps the easiest and most convenient way to get a Linux environment inside Windows 10. I blogged about WSL previously. Setting up WSL is easy, but while it is convenient, it may not be an entirely legitimate Linux experience that some people may need to have.
A truer Linux experience can be gotten by installing a Linux distribution in a virtual machine. For that, you can use VMware, VirtualBox, or Microsoft's Hyper-V. If you have Windows 10 Pro, Windows 10 Education, or Windows 10 Enterprise, you have Hyper-V. You may have to turn it on via "Turn Windows Features on and off" to see Hyper-V.
Microsoft has made the installation of Ubuntu even easier in Hyper-V. The Quick Create feature downloads, installs, and completes a few post-install steps to deliver a full Ubuntu 18.04 desktop session running in quick order. You get Ubuntu 18.04 LTS with XRDP pre-configured to support "Enhanced Session Mode", which is Hyper-V's version of VMware Tools or VirtualBox Guest Tools. Enhanced Session Mode allows many useful fetures:
Rediect physical computer resources to the VM, such as audio, clipboard, drives, printers, etc.
Desktop resizing
Seamless transfer of files between VM and physical computer
Seamless mouse sharing
If you prefer a more cutting-edge Ubuntu, this year's release of Ubuntu 19.04 is also available.
Apart from the pre-requisite versions of Windows 10, Hyper-V also requires:
64-bit CPU with Second Level Address Translation (SLAT)
CPU with VM Monitor Mode Extensions
Minimum 4 GB of memory
Creating Linux virtual machines in Windows 10 Hyper-V is quick and easy. If you need a Linux environment, this is a great alternative to Windows Subsystem on Linux that will deliver a truer, more complete, Linux experience.