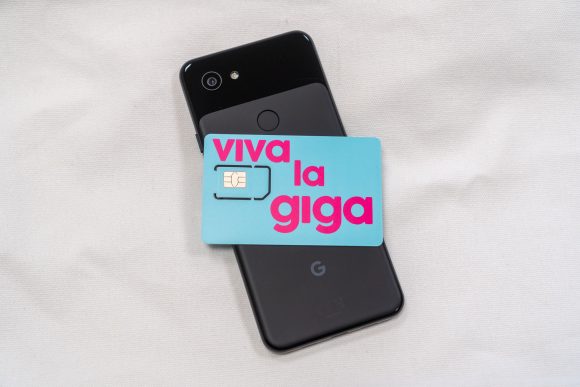 Hot on the heals of SingTel's sub-brand Gomo, StarHub has also launched their own Giga mobile service last week. The plan on its own is quite enticing, offering 25 GB, 1000 mins, and 1000 SMS, for just $25 monthly. During the launch promotion, you will get the first month subscription free.
Giga is Singapore's 10th telco, or the 6th mobile virtual network operator (MVNO) if you discount those who don't own physical infrastructure. Unlike the usual MVNOs, however, Giga operates as a sub-brand of StarHub, an existing major telco company with their own physical infrastructure. This is similar to how Gomo operates as a sub-brand under SingTel.
Gomo's plan sounded good, but not good enough to entice me to switch from MyRepublic. I was initially a little bit skeptical about Giga. After all, StarHub's recently launched SIM-only plans at the end of 2018 weren't fantastic. They were good, but again, not good enough to entice me to switch.
Giga, however, seems to have a better value proposition. They only have one plan, and there's no contract on it. For $25 a month, you get:
25 GB of data
1000 mins of outgoing voice calls
1000 SMS text messages
Free Caller ID
Rollover of unused data to the 2nd and 3rd month
Roaming data at reasonable rates, albeit only to 14 countries
For data hungry individuals, this 25 GB of data allowance is quite attractive. It is even more so when your unused data can be rolled over. In principle, if you use no data in your first month and second month, you would have an allowance of 75 GB of data in your third month. Correction: The maximum allowed rollover at any time is 25 GB, which means, in any month, you can get at most 50 GB of data, comprising 25 GB from the month's allowance and 25 GB rolled over from one or two months earlier.
The 1000 minutes of calls is something nice too. I know we don't really have to make voice calls all that much anymore, and you could very well also call via WhatsApp, Skype, or other Internet messaging or calling apps. But I do occasionally find myself needing to make long calls, and because of work needs, there could be spikes in calling activities on a seasonal basis. 100 minutes isn't enough. 200 minutes will leave me worrying about exceeding quota. With 1000 minutes, I don't need to think about that call minutes limit.
On the matter of data roaming, Giga offers 1 GB over 5 days to 14 neighbouring countries at just $5. This gets you as far out as Japan. The roaming plan only starts when you connect overseas, so none of the roaming time is wasted in Singapore even when you activate it locally.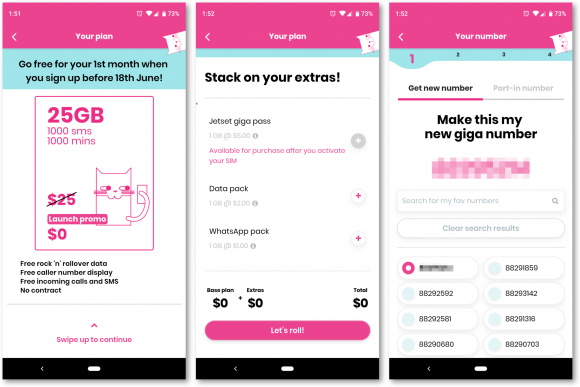 As an all-digital operator, all interaction with Giga is online. Sign up is only via their mobile app, and it is a really cool experience. Your NRIC is scanned, and your identity is verified by taking a selfie shot, similar to how self-check-in is performed at Changi Airport Terminal 4.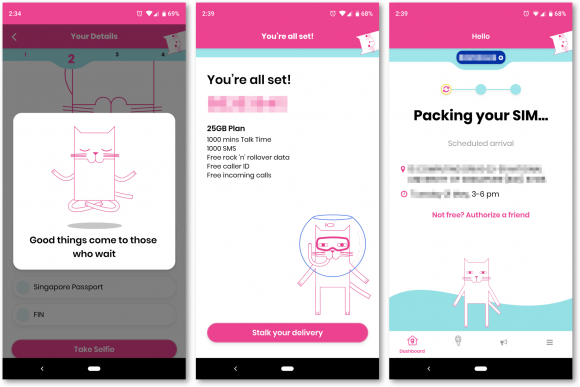 Giga's SIM cards are delivered by Gogovan (thank goodness not SingPost). When I signed up in the afternoon of a non-working day, I could still pick delivery slots at any time the following working day. The experience is simple and hassle free. Gogovan delivered the SIM card well within my selected time slot.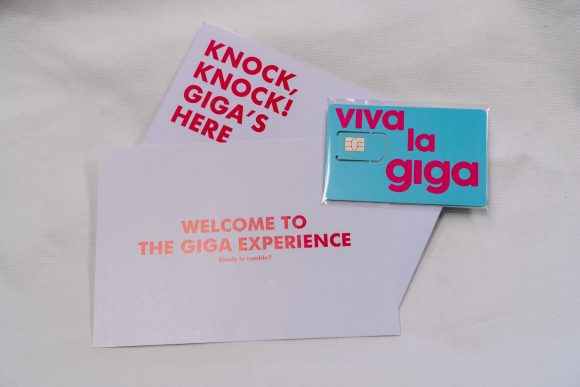 Activating the SIM card, however, wasn't as simple as I expected. I thought it was about the APN that needed to be configured. However, I subsequently realised even calls were not working. The problem however, can mostly be attributed to people like me who don't read instructions.
Giga provided instructions in the package that the Giga app needed to be used on Wi-Fi to activate the SIM card. I.e. put the SIM card in the phone, turn on Wi-Fi, launch the Giga app, and follow the in-app instructions to activate. You also need to configure the APN as directed, otherwise data will not work.
I've used my Giga line for several days now and everything seems to work fine. I get the same expected speeds like on StarHub network. The app works smoothly, without lag, unlike the immense slowness in MyRepublic's mobile app.
The only thing I'm left to worry about is the means to reach out to Giga. There are many online ways to contact them, but there is no telephone channel. I'm usually apprehensive about the lack of a telephone hotline, but I hope this will not become a problem in my experience with Giga.
At $25 for 25 GB data, 1000 mins, 1000 SMS, and other benefits, I think this is probably the best all-round no-contract mobile plan.