You've probably seen, perhaps also used, automated immigration clearance gates at Changi Airport. However, when you travel with a young child, you probably had to use the manual counters. How can your child use the automated gates?
The requirement to use the Enhanced-Immigration Automated Clearance System (eIACS), as it is officially known, is a machine-readable passport with biometric fingerprints registered in it. Any passport made since around 2006 is already capable of registering biometric fingerprints. However, our Immigration and Checkpoints Authority (ICA) will only enrol Singaporeans aged six and above.
This means that if your child had his or her current passport issued before they turned six, then no fingerprint was registered, and you still can't use eIACS thereafter. The fingerprint isn't in the system at all.
However, you don't have to wait to make a new passport, or purposely make a new one ahead of time, to have the fingerprints added. As long as your child has turned six, you can have their fingerprints registered in their existing passport. ICA's website has information about eIACS, but it just isn't very easy to find.
Although you can register the fingerprints at some of the departure checkpoints, it's probably best to do so ahead of time at ICA Building. Do note, however, that you cannot just go to ICA. The fingerprint enrolment at ICA Building is strictly by appointment only. Making that appointment is yet another elusive exercise. Instead of expecting this to be listed as a citizen service, this is listed under Visitor.
For the service needed, look under Visitor for Application for e-IACS.
Remember to use your child's identification.
The eIACS fingerprint enrolment is done at Level 4 of ICA Building. It seems a bit unusual since Level 4 is mostly for services related to non-citizens. Do be punctual for your appointment, and bring along your appointment letter to scan the barcode at the queue number machine. You'll get to skip the long manual queue. Just like passport collection by appointment, there's not much waiting to for the eIACS fingerprint enrolment.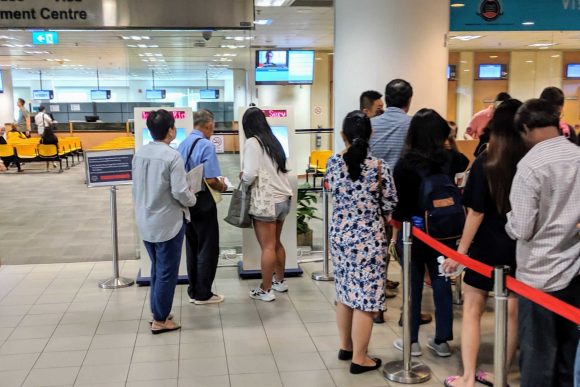 I was next to be called for the eIACS fingerprint enrolment, and the entire process at the counter was completed in just 5 minutes. I was in and out of ICA Building in literally under 10 minutes.
The car park situation on a Saturday morning before 8:30 am seems alright. There were sufficient lots available, just in case, like me, you are wondering. I haven't been to ICA Building in a long while, since in recent times passport applications can be made online and collected from post offices.
Using eIACS will expedite immigration clearance at our departure and arrival checkpoints, and avoid the dreaded long queues at manual counters especially during peak periods. With the June school holidays coming up soon, I hope this information can be useful to some families in their travels.