Most people know Synology as the network storage company. The company, however, started to make consumer broadband routers in late 2015. Their latest router product is the MR2200ac Mesh Router. This is also their first mesh router product.
The Synology MR2200ac was initially launched in Taiwan in October 2018, and it arrived on our shores last December. This tri-band mesh router has one quite notable highlight in its feature list: WPA3 Wi-Fi security support. This is the latest standard in securing Wi-Fi connections. Client-side support for WPA3 is becoming more easily available, especially since it is supported by Windows 10 version 1903 (May 2019 update).
Synology's routers have mostly been quite plain looking. The MR2200ac is especially so. It is a so nondescript, you might not even know it is a Wi-Fi router, especially since it has no external antennas. The tall-standing form factor allows the internal antennas better reach for expanded coverage.
The front has some ventilation at the bottom, some branding, and a lighted Wi-Fi symbol that serves as a rather ambiguous status indication LED.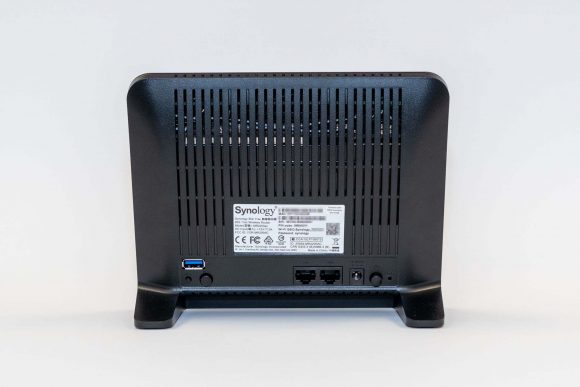 Around the back, you'll find a reset button hole, power button, power input jack, two RJ45 Gigabit Ethernet ports, a USB 3.0 port, Wi-Fi button and WPS button.
One of those RJ45 Gigabit Ethernet port is for your WAN connection. That leaves just one port for a LAN device. That's a little too few for my comfort. Many people may not find the need for a wired Ethernet connection anymore, so the MR2200ac may work just fine for them. If you have more complicated needs, you may find yourself needing an extra network switch.
The MR2200ac is a tri-band router. You can get up to 400 Mbps on the 2.4 GHz band, and up to 867 Mbps on each of the two 5 GHz band, the aggregate giving you the AC2200 rating. One of those 5 GHz band is used as a dedicated back-haul, so router-to-router traffic won't compete with bandwidth needed by your devices.
Apart from the aforementioned WPA3, the MR2200ac has the MU-MIMO, beamforming, and automatic band steering support. The USB 3.0 port can be used for connecting storage devices or printers.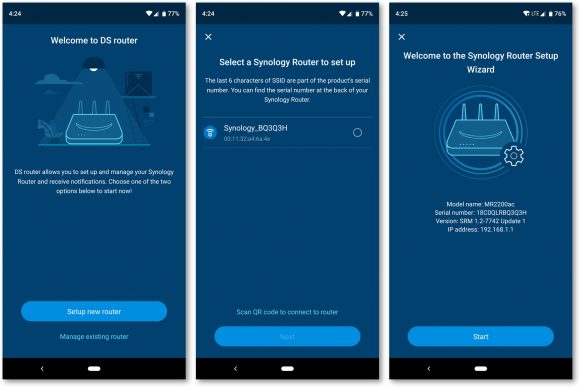 Setting up the Synology MR2200ac is straight-forward. You can use the DS Router mobile app, available on both Android and iOS. Since each MR2200ac is sold individually, you have to pair the mesh units. That is easy to do, just follow the instructions in the included setup guide.
Synology says each node can cover 2,000 square feet.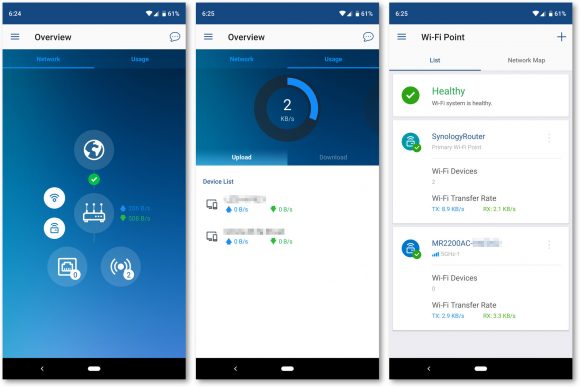 You can also setup and configure the MR2200ac via its web interface, if that's what you prefer. The DS Router mobile app, however, is mighty convenient. The dashboard provides an overview of all Wi-Fi points and devices, and shows how they are connected.
The MR2200ac supports Guest Wi-Fi, and allows you to configure the 2.4 GHz and 5 GHz bands individually. A nice bonus you get with this mesh router is that if you already have an older Synology RT2600ac router, you can add the MR2200ac to extend the latter's coverage.
For families with younger children, you can create user profiles to limit Internet access hours, as well as setup web filters and SafeSearch features. You can also limit web access to only white-listed sites. Furthermore, you are able to see when they are online, and the young ones can submit requests to you to unlock websites if needed. You can also give them time quotas to access the Internet.
Most mesh routers tend to have rather basic software features. The MR2200ac, however, is as feature-rich as what you'd expect of full-fledged standalone routers. In fact, I'm quite impressed with the parental controls available.
Oddly enough, the mobile app doesn't quite have everything organised in the same way as on the web interface.
One feature that some advanced user may look out for is bridged mode operation. I'm pleased to see that Synology supports this in the MR2200ac. This is useful when you want to add the MR2200ac via a cabled connection to an existing broadband router.
I used the MR2200ac for about a week as my main Wi-Fi router. I didn't have any problems with connections, coverage, and speed. It isn't the fastest mesh router, but its overall performance is reasonably good. The dedicated back-haul helps ensure that connections from the remote Wi-Fi point doesn't suffer performance degradation.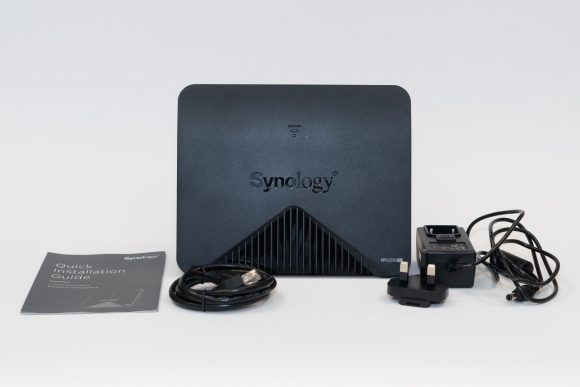 In the box, the Synology MR2200ac comes with an AC adapter, Ethernet cable, and a quick setup guide.
Synology's first mesh router is most impressive for its capable software features, as well as support for WPA3 Wi-Fi security. The parentel control features are especially useful for families with younger children.
The retail price of the Synology MR2200ac is S$199. Units are sold individually, so without any bundle discounts, the costs adds up quickly when you need multiple devices.
Conclusion
Synology's first mesh router, MR2200ac, has plenty of software features, capable parental controls, and support for the latest WPA3 Wi-Fi security. Its parental control features, in particular, make this an excellent mesh router for families with younger children.
Pros:
Comprehensive software features
Very capable parental controls
Simple and easy to setup and manage
WPA3 support
Cons: