When it comes to active noise cancellation headphones, Bose and Sony are the brands that come to mind. Beyerdynamic wants you to know they're now in the game too, bringing to the table the Lagoon ANC headphones, their first with active noise cancellation. We'll see what the Lagoon ANC has to offer.
The Beyerdnamic Lagoon ANC is a premium pair of headphones with modern specifications for discerning travellers. It is an over-ear, closed-back design. It tries to do a lot of things. Some of them are good, while others seem to be there to one-up the competition. It seems to do its job well, sounding good while cancelling out noise.
Although mostly made out of plastic, the Lagoon ANC seems to be quite sturdy. The cushioning under the headband and on the ear cups is soft and comfortable. The ear cups articulate around the yoke for a comfortable fit, and rotate enough to lay flat on the table or to stow for storage, or to simply rest in front of your shoulders whenever you want to take a break from listening.
All the controls are on outer edge of the right ear cup. From back to front (left to right in the photo below), you'll find the ANC slider control, the on-off and Bluetooth slider switch, the 3.5 mm audio jack, USB Type-C port, and a microphone hole.
The face of the ear cup itself is touch sensitive. You can tap once to play or pause music, double tap to accept or end calls, and tap-hold to summon your phone's voice assistance. You can also swipe in various directions to skip tracks forward or backward, fast forward or rewind, or to control volume up and down. It's not hard to remember all the gestures, since they are all fairly logical.
The ear cups themselves have some lights embedded around the inside circumference. Beyerdynamic calls these the Light-Guide System (LGS). They're only useful when you're not wearing the Lagoon ANC, since otherwise you wouldn't be able to see the lights. The lights are supposed to provide a variety of status indications, and they do look cool. Unfortunately, trying to remember what the different colours and patterns mean is almost an exercise in futility.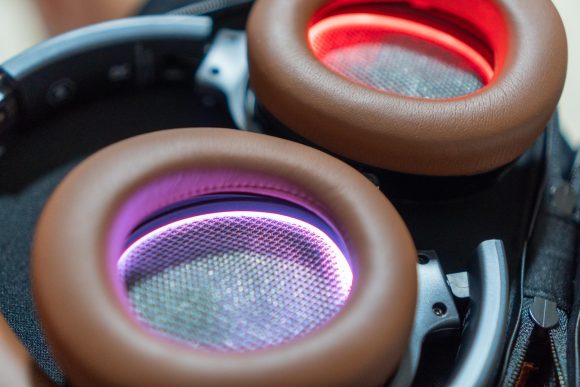 In pairing mode, the left and right ear cups alternatively flash blue. When pairing is done, you get a fading blue light. But what is it with red and white on the right and left ear cups? Orange? Pink? Green? Yellow? Yup, LGS has really nice rainbow range of colours, and they are all documented, of course, but good luck trying to recall what they mean.
The Lagoon ANC supports NFC pairing, or you can setup Bluetooth pairing in the conventional way easily enough. It supports Bluetooth 4.2 with up to 10 metres wireless range.
A really odd thing to find in a modern headphone is that the Lagoon ANC supports only one device connection at any one time. This seems somewhat inconvenient these days when many of us expect to use multiple devices at the same time.
On the positive side, you'll find aptx, aptX Low Latency, and AAC codec support in the Lagoon ANC. These codecs give you better quality audio than the standard SBC codec traditionally used over Bluetooth connections. With aptX Low Latency, you'll find audio-video sync kept in check, thus ensuring that movie entertainment and even PC gaming works well.
I wished that Beyerdynamic had taking the Lagoon ANC a step further to support high-resolution audio formats such as aptX HD and LDAC.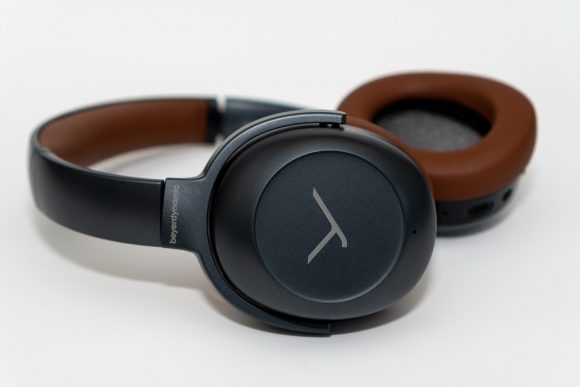 The Beyerdynamic Lagoon ANC sounds great. I did all my sound testing with ANC turned on at level 2, since this is likely what you'd do if you got an ANC headphone. The bass is tight, slightly energetic, but not overpowering at all. The mid-range is clear and detailed, allowing you to easily make out individual instruments in the mix. The highs are slightly bright, mostly pleasing, with no hint of any sibilance. Soundstage is about the best you can expect out of a closed back headphones. Overall, the Lagoon ANC's sound signature is easy to like.
Do know that the Lagoon ANC sounds a little different with ANC turned off. The highs sound brighter, and the bass appears to sound less forward, for example. I much prefer how the Lagoon ANC sounds with ANC turned on.
Beyerdynamic has a trick up its sleeve to customise the Lagoon ANC to suit your hearing. They call this Mosayc sound customisation, and you use the MIY mobile app to build a sound profile customised to your sense of hearing.
You are asked to take a sound test to what your ears can year. A profile is then applied whenever you use the Lagoon ANC, or other supported Beyerdynamic headphones, which presently includes the Aventho wireless, Amiron wireless, Xelento wireless, Blue BYRD, and Blue BYRD ANC. You can control how much this profile adjustment is applied.
Now, let's talk about active noise cancellation. There are two levels to choose from. I haven't had the chance to test the Sony WH-1000XM3, but I think the Lagoon ANC with ANC set at level 2 comes close to the Bose QC35 II. I've heard feedback from others that it's quite on par with the Sony too. The ANC will work quite well to drown out engine noise on any flight. For people who don't like too much ANC, they have the flexibility to dial back to level 1.
You can take calls on the Lagoon ANC, and call clarity is excellent. People on the other end of the line said they don't hear much background noise.
Beyerdynamic says you'll get 46 hours of battery use out of the Lagoon ANC with ANC turned off, and 24 hours with ANC turned on.
Overall, the Lagoon ANC is an excellent performer. It sounds great and noise cancellation works very well. I don't think the LGS is very useful, but I suppose there's no harm with it being there. The ability to build an individual sound profile customised to the listener's hearing is nice.
The Lagoon ANC comes with a semi-hard carrying case. Also included is a 3.5 mm audio cable and a USB charging cable.
Beyerdynamic offers the Lagoon in two colours: an all black version which they call the Lagoon ANC Traveller, and one with brown cushioning on the ear pads and head band which they call the Lagoon ANC Explorer.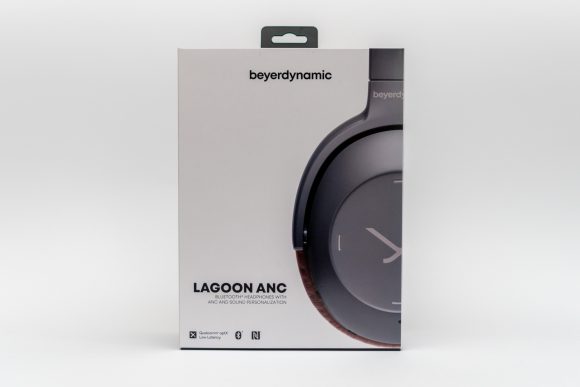 Both the Lagoon ANC Traveller and Explorer retails at S$599, and you can get them from local retailers like AV Intelligence, Challenger Stores, Musica by Challenger, Robinsons Heeren, TANGS Orchard, Stereo Electronics, and online stores such as Lazada (beyerdynamic flagship store), Headphones.sg, Shoppee and TREOO.com.
Conclusion
The Beyerdynamic Lagoon ANC, with excellent sound quality and noise cancellation, brings a veritable challenge to the premium ANC headphone competition.
Pros:
Excellent sound quality
ANC works very well
Adjustable ANC levels
Customised sound profile to suit individuals
Cons:
Connects to only one device at a time
No aptX HD or LDAC