This year, everything there is to know about Google's Pixel 4 smartphones, at least about their specifications, were all leaked before the launch event itself. But of course, once we got the Pixel 4 smartphones in our hands, there's still quite a lot more to talk about them.
I've the larger of the two new Pixels, the Pixel 4 XL, in black colour. Here are some very quick comments about the the Pixel 4 XL:
Having gotten used to carrying around the Pixel 3 XL the last year, the Pixel 4 XL does feel noticeably heavier, even though at 193 grams, it's only just 9 grams more.
The display is really good. It's not just the buttery-smooth 90 Hz refresh that is so mesmerizing to watch, but also the sharpness, crispness, and colour of the OLED panel. This screen absolutely deserves the A+ rating from DisplayMate.
Face Unlock works, though not as quick as I expected it would. I noticed, unlike how other YouTube videos of the Pixel 4 XL's face unlock appear to work instantly, mine seems a tad slower. I don't know, but perhaps the Google's face recognition algorithm has some hesitation with my face.
Battery life is good. It's actually amazing in synthetic tests, though in real life use, I can only say it does better, not amazingly better, than the Pixel 3 XL.
I'm disappointed that there still isn't dual-SIM support. There is e-SIM, but I, as do many others in this part of the world, prefer two physical nano-SIMs.
No more free original quality photo storage in Google Photos.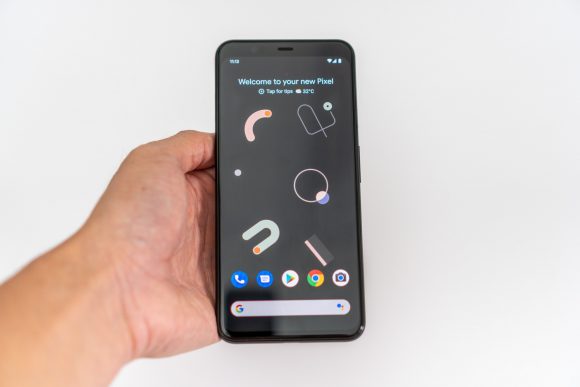 As a new smartphone, a 2019 flagship from Google, the Pixel 4 XL has all the upgrades that you'd expect. The Qualcomm Snapdragon 855 is as expected, and thank goodness for 6 GB of RAM.
I've used the Pixel 4 XL for a few days now. The display, and that 90 Hz refresh, is absolutely amazing. I sort of miss the fingerprint sensor on the back, and while I still would prefer one there, I've gotten used to the idea of having to properly look at my phone in order to get it unlocked.
Face Unlock is, generally, fine. It works, although as mentioned earlier, there is a slight delay. The bigger problem, however, is that apps aren't yet updated to support Face Unlock. Practically all the banking apps I use, which worked with fingerprint unlock just fine on the Pixel 3 XL, now need to be unlocked with a PIN or password. As ironic and illogical as it would be, I am tempted to greatly simplify my various wallet passwords so that it would be easier for me to use them.
I hope all the respective apps will quickly get themselves updated to support Face Unlock. If Enpass, the password manager I use, can get this sorted out quickly, it will already help me a lot, since I can simply use it to supply passwords whenever needed.
A perennial highlight of Pixel smartphones is their amazing camera. This year's Pixel 4 smartphones does more magic than Night Sight: Astrophotography. Of course, you might not get very far with astrophotography in Singapore's bright and cloudy skies. That aside, I like the new camera app. It's fast and responsive, and you get to see your HDR+ result live in the viewfinder, not after the shot has been taken. There is also dual exposure controls to get better, erm, control over difficult lighting conditions.
The Pixel 4 XL finally comes with two cameras on the back. The main 12 MP camera sensor is accompanied by a 16 MP telephoto camera, so you get true 2x optical zoom. The Pixel 4 XL's camera supports up to 8x zoom with Super Res Zoom feature that first arrived in the Pixel 3 smartphones.
Last, but certainly not least, Motion Sense is a big new thing with the Pixel 4 XL. Using radar sensor technology, the Pixel 4 XL can sense gestures. The idea is that you can gesticulate at your smartphone, without actually needing to touch it, to get it to do things. At present, the Pixel 4 XL only understands left and right swipes, which can skip music tracks backward and forward, or to snooze an alarm. In future, the same technology can be used to add other gesture recognition.
Motion Sense is also used to wake the phone and prepare for Face Unlock so that it works more quickly. The Pixel 4 XL also uses the radar to sense presence, so if you are not around, the always-on display will shut off, and automatically turns back on once your presence is detected.
Of course, everything said about the Pixel 4 XL applies to the Pixel 4 too, except that the latter is smaller, and hence has a slightly smaller screen (5.7-inch instead of 6.3-inch), and a smaller battery (2800 mAh instead of 3700 mAh).
The extra camera, the extra RAM, and the Face Unlock, has brought the Pixel 4 and Pixel 4 XL more on-par with the competition in terms of technical specifications. The clean Android experience is certainly a big plus, especially considering you get direct updates from Google and upgrades to new Android versions. However, the lack of original quality photo uploads to Google Photos is a let down.
There's some good news when it comes to pricing. The Pixel 4 XL costs less than the Pixel 3 XL at launch. Prices start at S$1,319 for the 64 GB storage option, and S$1,469 for the one with 128 GB storage. The smaller Pixel 4 cost $1,119 and $1,269 for the 64 GB and 128 GB storage options respectively. The new Orange colour Pixel smartphones are only available in 64 GB storage capacity, while the Black and White variants are offered with both 64 GB and 128 GB storage capacities.
If you order from the Google Store before 24th October 2019 23:59 hrs, you get a S$200 discount voucher to use towards a later purchase.
Look out for a more detailed review soon.