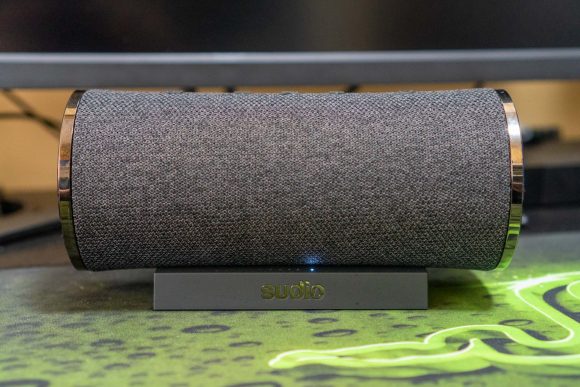 Swedish manufacturer Sudio is more commonly associated with their headphones and earphones. They do have one Bluetooth speaker in their product line, the Femtio, which was launched early this year. The chic-looking water-resistant speaker just came by recently for this review.
Sudio's products are known for their elegant Scandinavian design. The Femtio is no different. This speaker isn't just about putting out good music, but it is designed to be good to look at. This fabric-covered cylinder sitting atop a stand is stylish, beautiful, and looks good as a centrepiece on your table. There are large drivers sitting at both ends of the cylinder, with a contrasting, metallic industrious look.
Weighing 675 grams, and having dimensions measuring 82 x 94 x 191 mm, isn't that tiny, nor is it terribly lightweight. It doesn't really have to be, since this is probably the kind of speaker that you'll likely just use at home, or in the office, and only occasionally take it out.
There are five buttons on top of the Femtio. The buttons aren't highly visible, a good thing when you don't want them to be seen. The tactile bumps are quite distinct though, so they aren't hard to locate.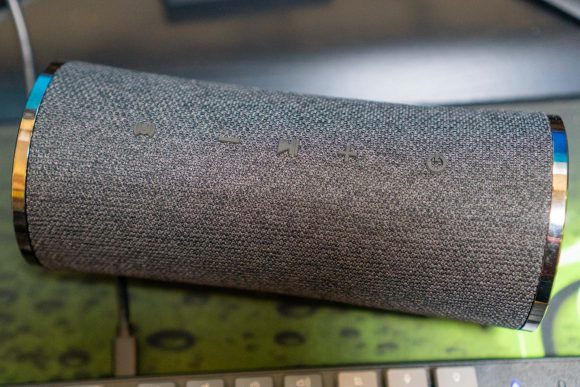 There's a dedicated button for power, volume up, play/pause, volume down, and Bluetooth control. The Play/Pause button can be used to answer and end calls, or with a 2-second hold, reject calls. Holding the same button for 2-seconds during a call will transfer audio from speaker to phone, and vice versa. Google Assistant or Siri can be activated by holding the Play/Pause button for 2 seconds at other times. Jumping to next or previous track can be done by holding the volume up or down button for 2 seconds.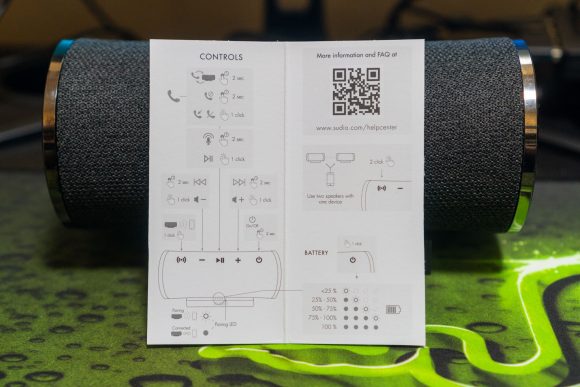 There are 5 LED at the bottom of the Femtio. The first four are used to show battery charge levels. Pressing the power button once will light these LEDs to indicate various charge levels (0% – 25% when one light flashes, 25% – 50% when one light is on while second one flashes, 50% – 75% when two lights are on and third one flashes, 75% to 99% when three lights are on and the fourth one flashes, and 100% when all four lights are on).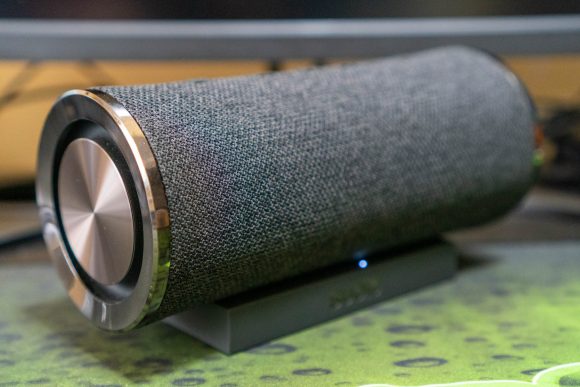 The last LED indicates if the Femtio is on, and whether it is in Bluetooth pairing mode.
On the back of the stand, you'll see a USB Type-C charging port and 3.5 mm audio port hidden under a rather stiff rubber flap.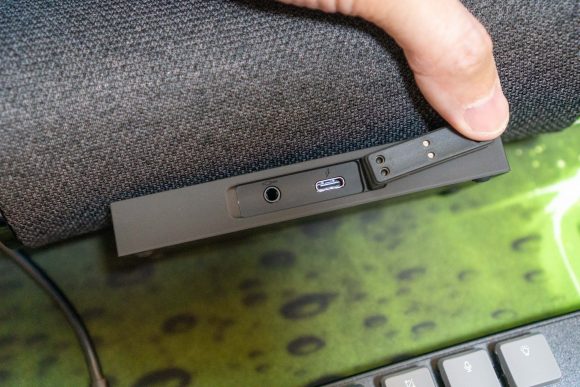 The Sudio Femtio supports Bluetooth 5.0. Pairing is easy, with the device automatically going into pairing mode whenever no Bluetooth device is connected. Pairing a new device requires you to disconnect an existing connection by holding the Bluetooth button. The Femtio supports Bluetooth 5.0.
The Femtio can't connect to multiple Bluetooth device simultaneously. So, if it is presently connected to one laptop, you have to disconnect it (either from Femtio or the laptop), before connecting the next device.
The built-in battery lasts for up to 14 hours. USB Type-C charging is convenient. You could possibly take the Femtio out, like to the pool, since it has IPX6 water-resistance.
The two 10 Watt drivers produce a good sound volume, and of decent quality. I'm particularly impressed by the strength of the bass that a small speaker like the Femtio can produce. While the bass packs a decent punch, it does get a little too boomy for my liking. The mids are reasonably strong, though they sound a little muddy. The trebles are light and pleasant, though not quite as bright as I would have liked. Overall, the sound signature of the Femtio leans on the warm, more bassy profile.
A cool bonus feature the Sudio Femtio offers is Dual Play, which allows you to connect two speakers with one source device. This can get you a louder, more immersive, and captivating sound experience.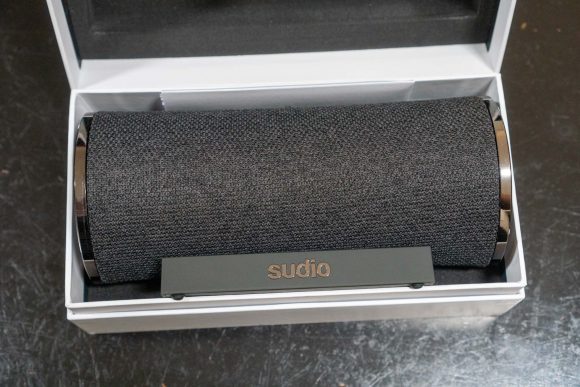 The Sudio Femtio comes in a nice box, and includes only just a short USB Type-A to Type-C cable for charging, and a few pieces of documentation.
The official retail price of the Sudio Femtio is S$189, and you can get it in Black (as reviewed here), Silver, or Anthracite colours. You can get 15% off with the wireless15 discount code (good for all products) when you shop directly with Sudio.
Summary
The Sudio Femtio is a chic looking Bluetooth 5.0 speaker with IPX6 water-resistance.
Pros:
Stylish and beautiful design
Good sound volume, strong bass
Good battery life
Cons:
Bluetooth connects to only one device at a time