Google announced a few products at their Launch Night In hardware event last week. The much anticipated Pixel 5 was announced, but unfortunately won't come to Singapore. The sole product coming here right at launch is the Nest Audio smart speaker.
The Nest Audio can probably be best described as a Nest-branded direct successor of the original Google Home the company launched in 2016. It's bigger, has more powerful sound, and has greatly improved sound quality.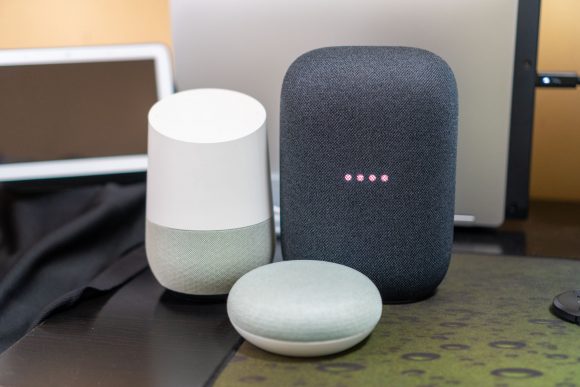 For those who already own a Google Home, or even the Home Mini or Nest Mini, the Nest Audio is no stranger. It does about the same thing and has the same controls. Compared with the Google Home, the Nest Audio has 75% more loudness and 50% more bass. If you liked your Google Home, you'll probably like the Nest Audio more.
Covered entirely in fabric, the new Nest Audio looks and feels more homey than ever. There are two colour options, Charcoal (black, featured in this review) and Chalk (white). Other markets get more colours: Sage (green), Sand (pink), and Sky (blue). I wished we had more colours here, but that said, the two colours we have are neutral enough to work in most homes.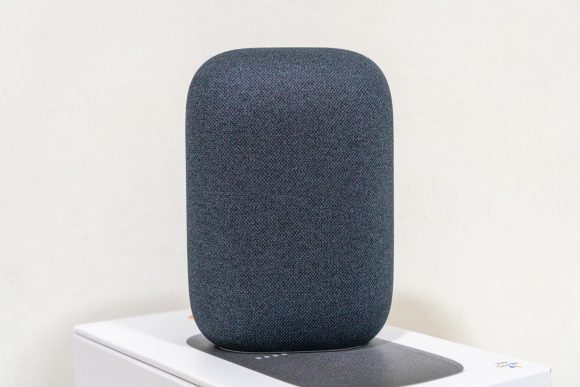 The Nest Audio measures 175 x 124 x 78 mm (HxWxD), and weighs a 1.18 kg. It's rather hefty for its size, and its size, while not large, is comparably larger than the Google Home.
There are three capacitive touch areas at the top-front. They have no visible markings. There are also no LEDs automatically lighting up to indicate the touch areas when your hand approaches, like on the Nest Mini. You just got to know where they are. These touch areas provide basic controls: left and right to adjust volume down or up, and the centre one to play and pause audio.
There is just one physical switch, located on the back of the Nest Audio, to turn off or on the microphone. This physical hardware cut-off for the microphone should provide some assurance to privacy-conscious individuals.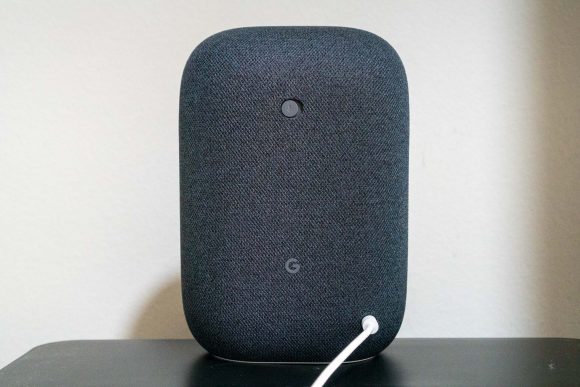 For everything else, you use your voice to control the Nest Audio. This is a Google Assistant device, after all.
Power for the Nest Audio comes through a DC barrel jack. It's a pity to not see USB Type-C power delivery being used.
There are four LEDs on the front of the Nest Audio. These serve to provide various feedback indications, such as to show that it's awaiting your command after it detects your "Okay, Google" activation phrase. They light up in orange if you've muted the microphone. When you're adjusting volume, the LEDs indicate the volume level.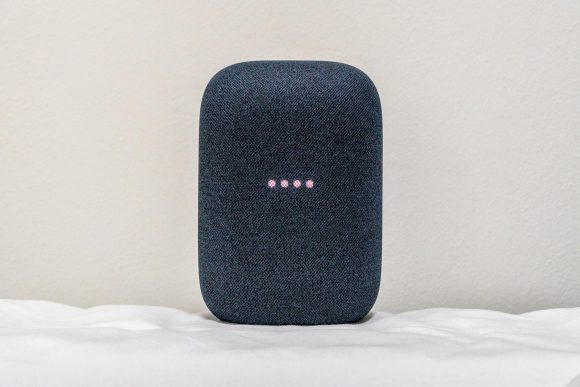 Internally, the Nest Audio packs a 75 mm woofer and a 19 mm tweeter. It has three far-field microphones. Its smartness is powered by a quad core A53 1.8 GHz processor, and an on-device high-performance machine learning hardware engine.
Apart from dual-band 802.11b/g/n/ac Wi-Fi, the Nest Audio supports Bluetooth 5.0, and has Chromecast audio built-in. You can directly play audio over plain old Bluetooth from a source device to the Nest Audio.
I'm quite wowed by the Nest Audio's sound quality. Its 75 mm woofer can put out quite an impressive amount of bass. With the volume turned up, you can feel the pounding. The bass is deep, rich, and energetic.
The midrange is clear and detailed. Vocals come out strong. The clarity in this frequency range is most important for listening to Google Assistant's responses, podcasts, and the like.
The trebles are bright and sweet. The overall listening experience is very pleasant and enjoyable.
I should take a moment to mention that the Nest Audio isn't designed to be a personal desktop speaker, like how one might use the Nest Mini. I originally begun my testing with the Nest Audio directly in front of me, and it just didn't sound right. The bass was overpowering, and it drowned out everything.
However, once I set the Nest Audio on a shelf just under 3 metres away, the Nest Audio sounded absolutely beautiful. The bass was just right, perfectly balanced with the mid-range and trebles. Music sounded so good I ended up listening on for far much longer than I needed to. This speaker isn't set out to compete with audiophile-grade gear, but it does a really awesome job at its price point.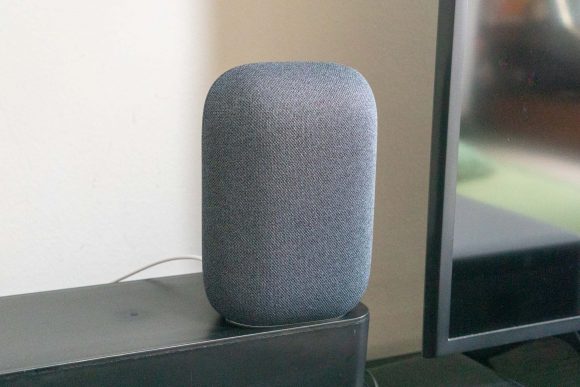 The Nest Audio can be used as a single speaker, or you can pair it up with a second Nest Audio for left and right channel separation. You can also setup a group comprising the Nest Audio and other Nest devices, including the Nest Mini and Nest Hub, and even your TV via a Chromecast, for awesome sound all throughout your home.
The whole home audio experience allows you to "move" audio from one device to another, such as when you might want if you move from one part of your house to another. Using Google Assistant, you could just say something like "move the music to the study speaker".
The new Media EQ feature in the Nest Audio adapts to the content you're listening to. Lows, mids, and highs are automatically adjusted so nothing comes across overbearing or lacking, making the Nest Audio sound great for all genres of music. Furthermore, the Nest Audio can automatically raise or lower the volume depending on background noise levels so you can always hear Google Assistant.
The Nest Audio plays music from popular music services like YouTube Music,
Spotify, Pandora, Deezer, Sirius XM and more. You can also cast high-quality audio from hundreds of compatible apps from your phone, tablet, or laptop.
The Google Assistant experience is really awesome. The far-field microphones easily hears your every command, without you needing to project your voice towards the Nest Audio. On-device machine learning engine enables the Nest Audio to respond faster, up to twice as fast as the original Google Home.
With Google Assistant, the Nest Audio can do a whole lot more than just control music with your voice. You can control your smart home devices, manage your calendar, update your shopping list, set timers and alarms, search the web, and many more.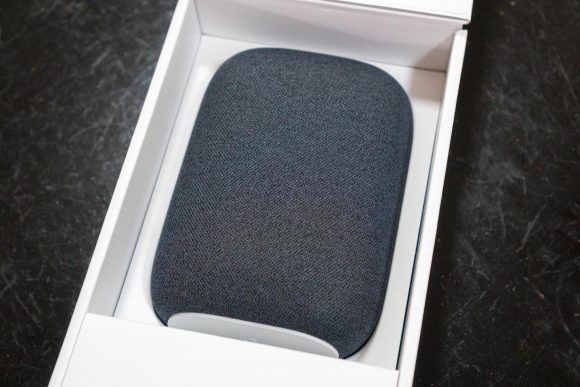 The Nest Audio is the best sounding Google smart speaker to date, perhaps aside from the Home Max, which wasn't sold in Singapore. Even if all you ever use of it is as a wireless speaker, the Nest Audio is still a great recommendation. In fact, it's arguably the best sounding speaker I've heard at this price point.
Then, the Nest Audio having Google Assistant baked into it just makes it a better value than ever. The smartness of Google Assistant, together with the excellent microphone pick-up and speedy response from on-device processing, feels almost like I have a human assistant at my beck and call.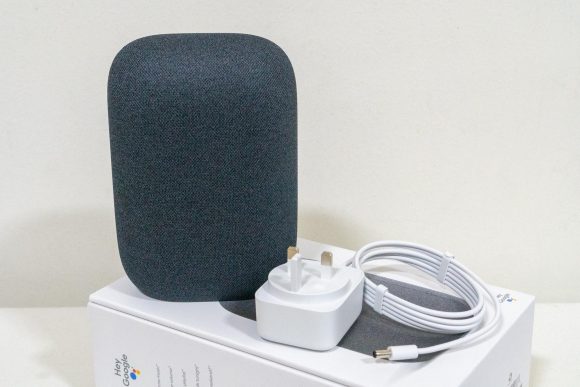 The only other item supplied with the Nest Audio is its 30 Watt 24V wall power adapter.
The Nest Audio is now available online on the Google Store at S$139. It will be available in-store at Courts and Challenger from 15 October 2020.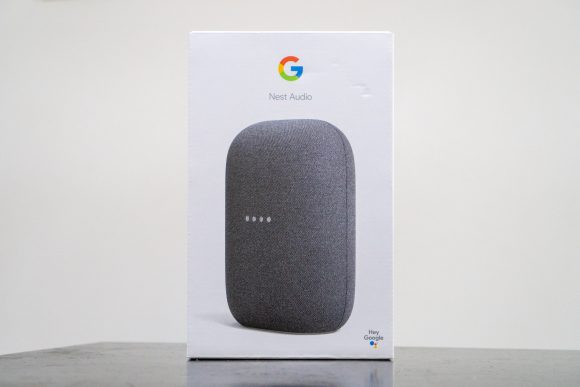 Considering that the Google Home launched in Singapore at S$189, the Nest Audio's launch price is quite attractive.
Summary
Google's Nest Audio delivers superb audio quality, and comes with Google Assistant always available at you beck and call.
Pros:
Superb audio quality
Google Assistant always instantly available
Nice design fits well in the home
Can be used as a Bluetooth wireless speaker
Cons:
Doesn't use USB Type-C PD for power