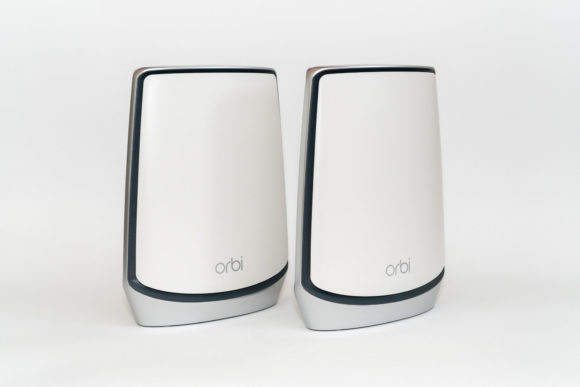 With work-from-home becoming quite common place now, having whole-home Wi-Fi that is just "okay" isn't good enough. You need great Wi-Fi everywhere at home. That's why you might want a premium Wi-Fi 6 mesh system like Netgear's Orbi RBK852.
Netgear is well-regarded for many of their high-performance Wi-Fi products. Their latest Orbi RBK852 takes whole-home mesh Wi-Fi to a new level. It supports the fastest Wi-Fi 6 speeds, the latest WPA3 security, and strong whole-home mesh Wi-Fi coverage. I am quite impressed with the performance I observed in my Wi-Fi benchmarks. The Orbi RBK852 does carry a high price tag, but it may be worthwhile to some people, especially if they are work-at-home professionals who demands high performance Wi-Fi.
The model name RBK852 actually refers to a two-unit mesh bundle, comprising the RBK850 main router unit and one RBS850 satellite unit. Netgear also sells 3 unit and 4 unit bundles known as the RBK853 and RBK854 respectively, though the later may not be available in all markets. You can also buy the RBS850 satellite individually.
Both the Orbi RBK852's main and satellite units look mostly identical, bearing an elliptical cylinder design that evolves from preceding Orbi mesh systems. The units are quite large, measuring 254 x 190 x 71 mm (HxWxD), and also a little hefty at 1.3 kg.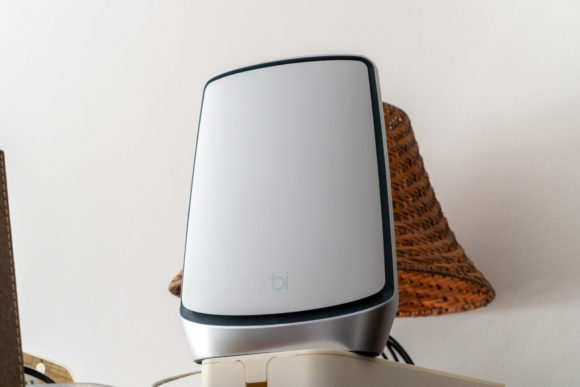 The large size means Netgear can put sizable antennas inside the Orbi RBK852. There are eight high-performance antennas, so thank goodness they don't protrude out like spider legs. The unit will not look unsightly or unnecessarily obtrusive in any living space.
There is a subtle LED located near the bottom to provide status indication. They are off when everything is working fine, unlike most routers that always give off some light no matter what.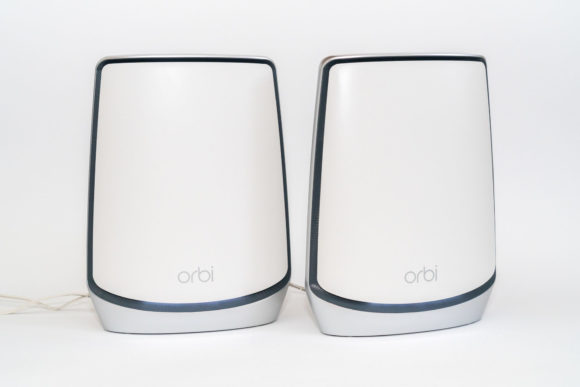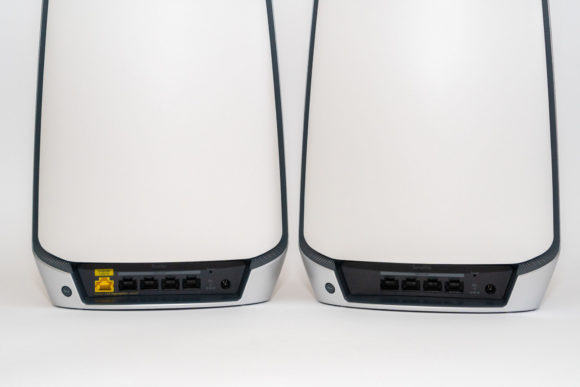 You can't tell the main router from the satellite unit from the front. However, once you look at the back, they are easy to tell apart. The main router is the one with the yellow WAN port. This port supports up to 2.5 Gbps, one of the key differentiating features from earlier Orbi models. Unfortunately, the 2.5 Gbps speed isn't useful in Singapore's fibre broadband environment.
Both units have 4x Gigabit Ethernet LAN ports. There's also a sync button no the left, and the DC power barrel jack on the right. There are, surprisingly, no USB ports, so you cannot attach storage or other devices for sharing over the network.
The Orbi RBK852 supports tri-band Wi-Fi 6 operation with 4×4 data streams. It supports beamforming and MU-MIMO features. The 2.4 GHz band supports speeds up to 1200 Mbps. The first 5 GHz radio that serves Wi-Fi devices supports speeds up to 2400 Mbps, while the 2nd 5 GHz radio is a dedicated backhaul between main router and satellite unit, supporting speeds up to 1200 Mbps.
Those are nice features to know, but perhaps the most important thing to most people is about the real-world speeds that the Orbi RBK852 can achieve. I ran my own benchmarks using iperf3, a popular bandwidth testing tool used by networking professionals, an the Dell XPS 13 7390 2-in-1 which supports 802.11ax. I'm impressed.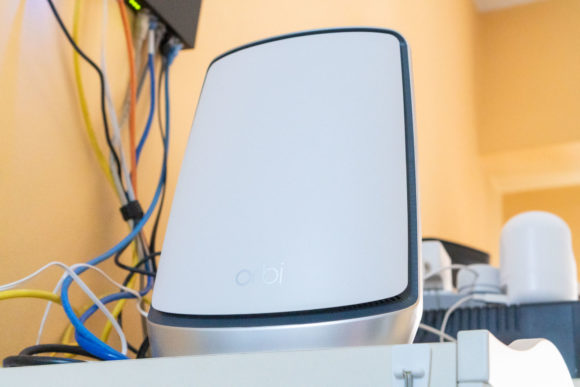 Sitting 1.8 metres away from the main router unit, I get 834 Mbps and 745 Mbps download and upload speeds respectively. From 5 metres away, I get 780 Mbps and 614 Mbps download and upload speeds respectively, only a marginal drop.
The next test via the satellite unit yields some surprisingly very good results. The laptop is 2 metres from the satellite unit, which itself is about 8 metres from the main router and just slightly out-of-sight, I get 790 Mbps and 691 Mbps speeds for download and upload. It's seems like the extra hop through the satellite had little impact on the Wi-Fi speeds.
These are the kind of real-world speeds you can get, and they are very good. Most people don't need so much speed. YouTube and Netflix videos, even at 4K resolution, do not require that much bandwidth. This speed is good for people with unusually heavy data transfer needs, such as perhaps a creative professional working at home, shuffling around large media files between a laptop and a NAS.
This is the first Wi-Fi 6 router I'm reviewing, so I don't have any other own benchmarks to compare with. I've an old chart in a post from about 2 years ago where I tested several mesh systems, including another Netgear Orbi model from then. The Netgear Orbi RBK852, quite expectedly, performs very favourably in comparison. It's also significantly faster than the Google Nest Wifi, which I had reviewed earlier this year.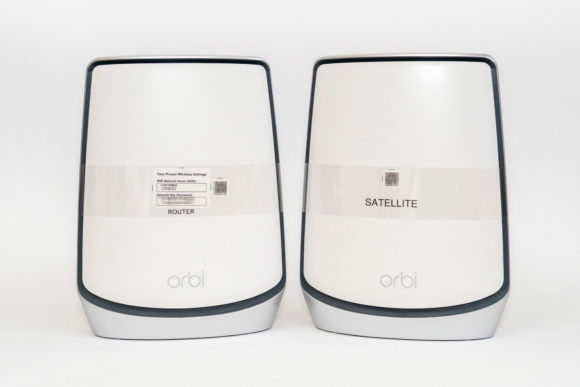 Setting up the Netgear Orbi RBK852 using the mobile Orbi app is easy. The step-by-step guided setup is simple to follow. The app gives you access to the most oft needed features. This includes access to Guest Wi-Fi configuration, and checking on the security status of your network.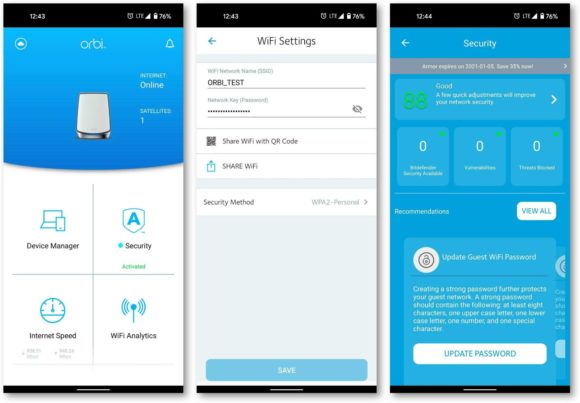 There is also the traditional web-based interface. You will need this to access more features of the Orbi RBK852. This include firewall settings, DMZ server, port-forwarding, MAC access, Dynamic DNS, OpenVPN, etc. There are also some prosumer features such as VLAN configuration. To help different groups of users, the web interface is divided into basic and advanced sections, so you can navigate within whichever you are more comfortable with.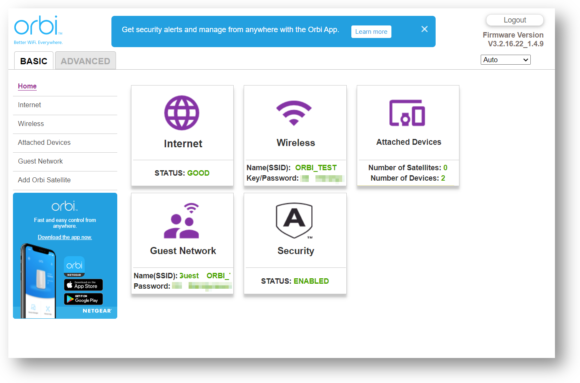 I'm surprised, however, to see that the Orbi RBK852 doesn't allow the 5 GHz and 2.4 GHz radio bands to be configured independently, such as to use different SSIDs on each of them. Some of us prefer to use different SSIDs for each band to better manage Wi-Fi connections.
Other features, such as QoS for traffic prioritisation and parental controls, common in many other routers, are absent in the Orbi RBK852.
You also cannot tweak or optimise advanced Wi-Fi parameters, such as changing the channel width or signal transmission power. These are often not available in many other Wi-Fi routers too. However, considering the Orbi RBK852's premium price tag, I expected more capabilities from it.
The Orbi RBK852 does have one nice feature that is often needed in more advanced home networking setups — AP mode. In AP mode, the Orbi RBK852 functions as a simple bridge that extends an existing home network. This is in contrast with the standard router mode where the device sits between an uplink Internet connection and a home network.
When operating in AP mode, many router capabilities are, understandably, not available. For example, the firewall is irrelevant in this mode, and QoS capabilities are not available. This is fine since these features are usually handled by the device that handles the router role. Worth emphasising, the Orbi RBK852 mesh still works in AP mode. Many other mesh Wi-Fi systems lose their mesh capabilities when configured in AP mode.
Netgear offers their Armor security package with the Orbi RBK852. This is a paid subscription service, but one month is included free of charge, so you can try out and see if it is something you want take up. With a single subscription, you can protect unlimited number of devices, including phones, laptops, and other IoT devices at home. On Android and Windows devices, Armor offers additional features to help you locate lost devices, remote device lock, and remote data wipe. Bitdefender VPN is included in the subscription, which you can use when you're out connected on a public Wi-Fi network.
I feel that while Netgear Armor is nice, many users might already have something else they are using, and if Armor isn't free, then there's not much incentive to adopt it. However, there may be others who would be happy with the protection, and ease of management, provided by Netgear Armor though their mesh Wi-Fi system.
The Netgear Orbi RBK852 is not something for casual users. Price-conscious consumers will like prefer to go for other more affordable mesh Wi-Fi systems.
For prosumers who want a really fast, powerful, and simple to use mesh Wi-Fi system for their home, the Orbi RBK852 is easy to recommend. This is especially for those who really need the Wi-Fi speeds that the Orbi RBK852 can offer throughout the home. I can see work-from-home professionals, such as those in the creative sectors, who regularly need to transfer large files across the network. People who find that they've been tethered to a wired Gigabit Ethernet LAN point may now find that Wi-Fi 6 with the Orbi RBK852 is a pretty good alternative.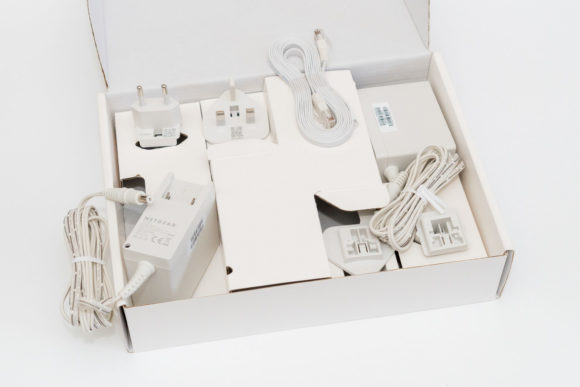 Apart from the main router and satellite unit, the Orbi RBK852 ships with two power adapters, with two sets of plug heads for EU and UK plugs, and 1 LAN cable.
The Netgear Orbi RBK852 (one main router and one satellite unit) retails at S$1,099. The 3 unit bundle, RBK853 (one main router and two satellite units), retails at S$1,499. The satellite unit itself, RBS850, retails at S$549. You can purchase online directly from Netgear. You can also get the Orbi RBK852 from Amazon Singapore and other electronics retailers like Harvey Norman.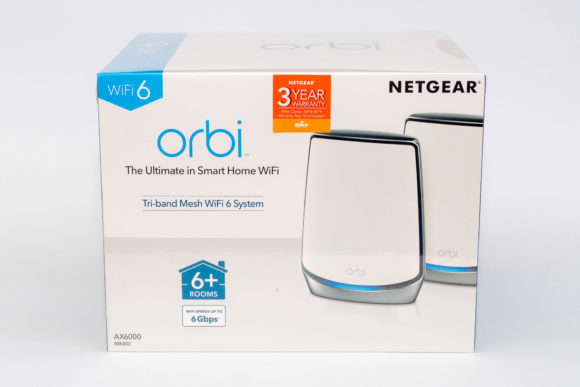 Summary
Netgear's Orbi RBK852 2-unit mesh Wi-Fi system offers incredible Wi-Fi 6 speeds, latest WPA3 security, and superb whole-home coverage.
Pros:
Incredible Wi-Fi speed
Great alternative to wired Gigabit Ethernet LAN
Excellent whole-home coverage
Easy to install and setup
Support for AP-mode
Cons:
Missing some advanced features like QoS and parental controls