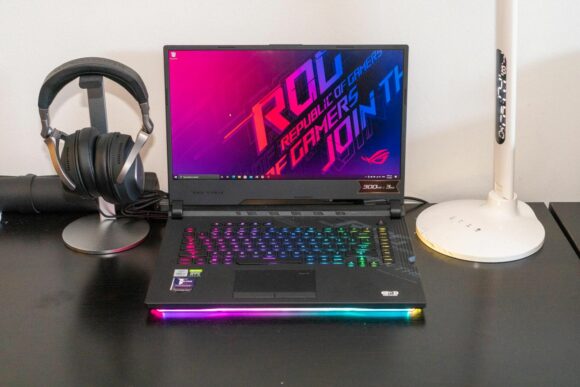 ASUS has a laptop for every type of user. In fact, just in the category of gaming laptops alone, they already have a great variety of them. The latest ROG Strix Scar 15 GL532 isn't just one made for serious gaming, but still one that can be carried to work or school.
The ASUS ROG Strix Scar 15 does't have the latest graphics chip from NVIDIA, but it is still well positioned to rival desktop gaming computers. Its RTX 2070 Super is a powerhouse. It has some stellar features, such as a screen with 300 Hz refresh rate, the fastest you can get in a 15-inch laptop. It's also decked out in RGB lighting that win the approval of gamers, and finer design details that will tickle the fancy of ROG fans.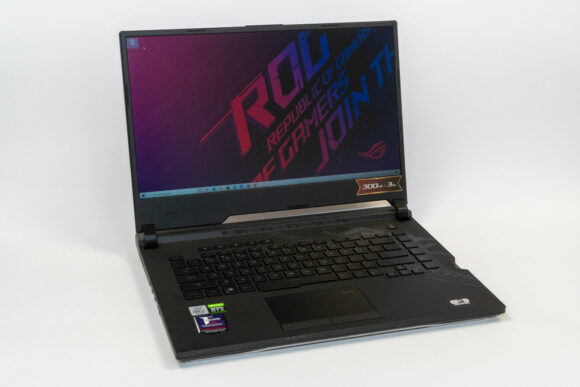 Here are the key technical specifications of the ROG Strix Scar 15:
Intel Core i7-10876H 2.3 GHz Processor, up to 5.1 GHz, 16 MB cache
Discrete GPU: NVIDIA GeForce RTX 2070 Super with 8 GB GDDR6 VRAM
Memory: 16 GB DDR4 3200 MHz
Storage: 1 TB M.2 NVMe PCIe 3.0
Display: 15.6-inch Full HD 1920×1080 resolution, 300 Hz refresh rate
Wi-Fi: Wi-Fi 6 (Gig+), 2×2, with RangeBoost
USB Ports: 1x Type-C USB 3.2 Gen 2 with DP and G-Sync; 3x USB Type-A 3.2 Gen 1
HDMI Ports: 1x HDMI
Dimensions: 360 x 275 x 24.9 mm
Weight: 2.57 kg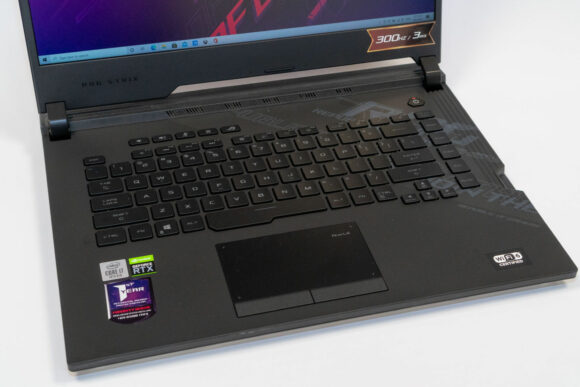 There is one glaring omission in the technical specifications: Thunderbolt. Perhaps the thinking is that with the RTX 2070 Super already built-in, there's no need for an e-GPU, one of the reasons that one would require Thunderbolt for. Furthermore, given the power drawn by the ROG Strix Scar 15, you could not survive on a single docking cable, if one thought the Thunderbolt cable could conveniently serve. Still, I feel it is disappointing to not see Thunderbolt on this laptop.
A lesser omission is the integrated webcam. However, ASUS does include an external FHD @ 60 fps external camera. The camera quality is quite good, and I can only imagine that ASUS wanted to offer a good camera but could not fit it in the bezels.
The unmistakable ROG design is evident all over the Strix Scar 15. I'm not just talking about luminous logo and RGB lights, which are aplenty around the front and side of the base. It goes further. There's this print design that ASUS calls "Cybertext" found across the keyboard deck. It lends a sort of sci-fi vibe to the laptop without overdoing on flashy lights.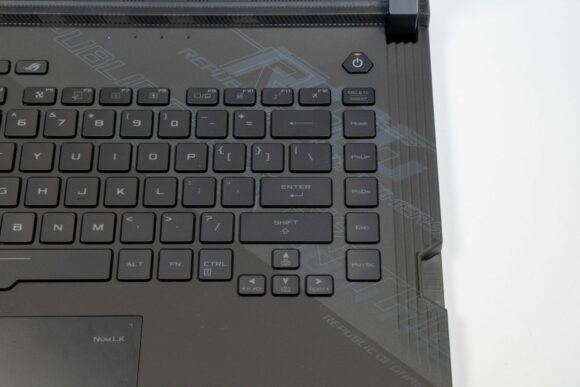 While we're on the keyboard deck, the chiclet keys are spaciously laid out that are very comfortably to type on. The keys are light, but has good tactile feel. The arrow keys are easy to find, and there are other dedicated navigation keys too.
Like we've seen on other ROG laptops, there is an extra dedicated row of hotkeys at the top, which include the all-important microphone mute and volume keys. There's also a direct short-cut to Armoury Crate, ASUS' settings app to control and customise settings on the ROG Strix Scar 15.
Of course, as you'd expect of a gaming laptop like this, each key is individually RGB-customisable.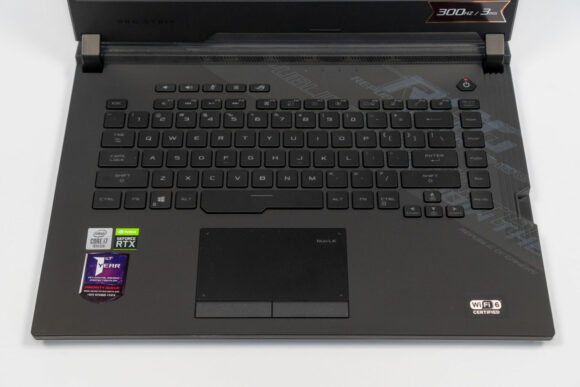 The good-sized touchpad works well. It also comes with a feature seen in many other newer ASUS laptops — it can double-up as a numpad. This is activated simply by holding the top right corner for a moment. Unfortunately, unlike ZenBooks, you can't use the touchpad as a touchpad when it is in numpad mode.
You might notice a notch on the right side of the keyboard deck. This is a for a proprietary storage that ASUS calls Keystone 2. IT is a proprietary NFC key which allows for easy transfer of system and game profiles between supported ROG laptops and desktops.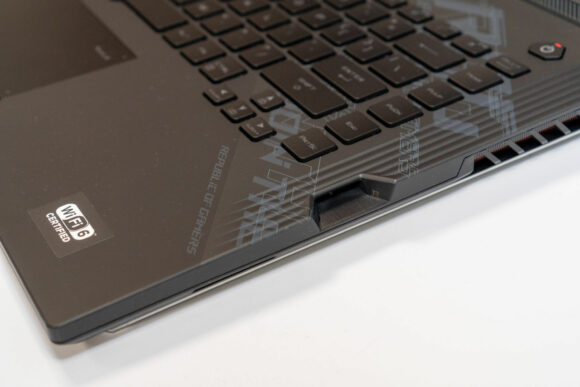 I personally feel this is an unnecessary gimmick. But hardcore ROG fans may just disagree, because it's certainly more than just simply a storage. It's good that it is there if you need it.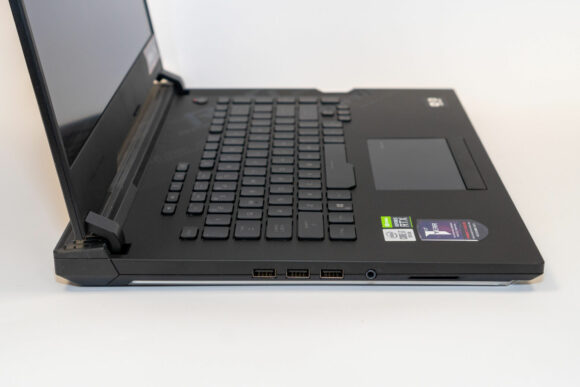 Here's how ASUS has laid out the ports in the ROG Strix Scar 15. On the left side, you'll find 3x USB Type-A ports and one 3.5 mm audio jack.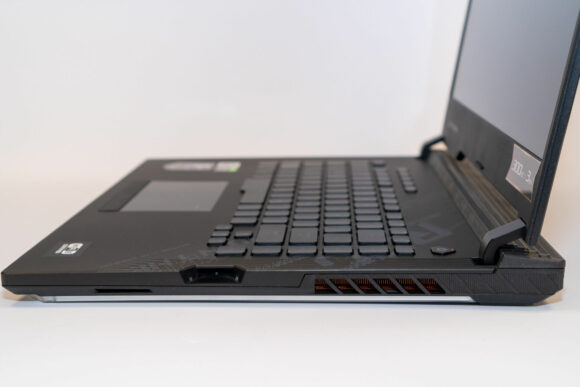 The KeyStone 2 port is on the right side, where you'll also find large vents to aid in thermal management.
A little bit unusual in recent laptops, but you'll find ASUS has placed some ports on the back. You'll find an RJ45 Gigabit Ethernet port, a HDMI port, USB Type-C port, and a DC power jack. You'll also see large vents on both sides to help keep the innards of the ROG Strix Scar 15 cool.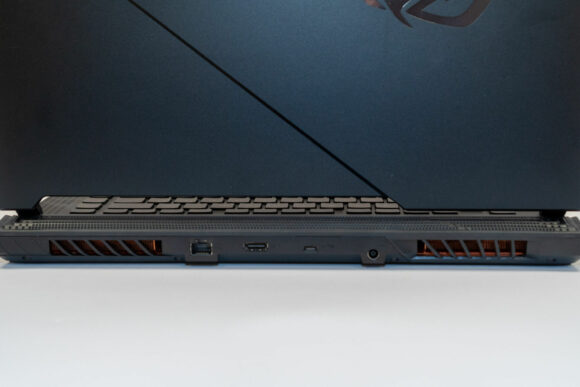 The display, not surprisingly, with its 300 Hz refresh rate, is superbly smooth. Serious e-sports players will definitely enjoy the fast 3 ms response time, and with all the graphics prowess in this laptop, there is no sign of stuttering or screen tearing.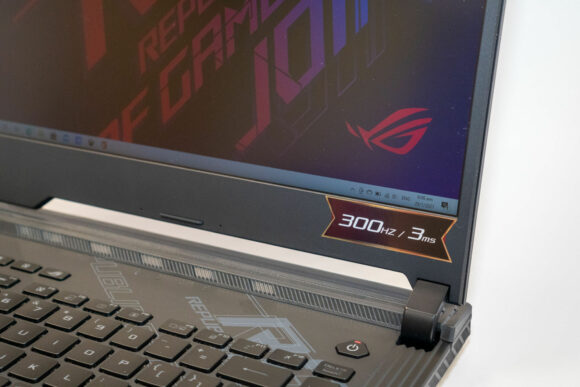 The performance on the ASUS ROG Strix Scar 15 is impressive. PCMark 10 Extended benchmark scores are as follows:
Overall: 6885
Essentials: 9404
Productivity: 8723
Digital Content Creation" 5262
Gaming: 14058
The overall results are pull out slightly ahead of the ASUS ROG Zephyrus S15 GX502 which has the same processor but fitted with the RTX 2080 Super Max-Q and with more RAM. The ROG Strix Scar 15 is just slightly behind in the gaming component of the benchmark.
In Geekbench 5 scores, the ROG Strix Scar 15 scores:
Single-core: 1349
Multi-core: 6991
Compute (integrated): 6088
Compute (discrete GPU): 91845
The discrete GPU score in the ROG Strix Scar 15 has a notable lead over the ROG Zephyrus S15 GX502!
Cinebench R23 score is 9895.
3DMark scores are as follows:
Time Spy (Extreme): 7861 (3817)
FireStrike (Extreme): 17952 (9424)
All these scores show the ROG Strix Scar 15 is somewhat comparable with the ROG Zephyrus S15 GX502, despite the latter having more RAM and an RTX 2080 Super Max-Q in the previous review. You'll find the ROG Strix Scar 15 keeping up with the latest AAA games at high frame rates even with the more demanding graphics settings.
Moving on to some other tests. My Spyder5PRO colorimeter test finds the screen to provide 95%, 67%, and 72% sRGB, NTSC, and AdobeRGB colour gamut coverage respectively. The maximum screen brightness at just 256.7 nits is middling, good enough for indoor use, but tough when you have challenging lighting conditions.
Noise level during intense loads reach around 54 dB, not unusual for a gaming laptop at full throttle. You can customise the thermal performance through the Armoury Crate app.
On PCMark 10's battery test with the Modern Office profile, the ASUS ROG Strix Scar 15 runs for just 2 minutes shy of 7 hours. I thought this is fairly decent for a gaming laptop. It may not be good enough for all-day office use without a power brick, but it should easily get you through long meetings.
For comparison, the ROG Zephyrus S15 GX502 ran for 315 minutes, so the ROG Strix Scar 15 can count as good.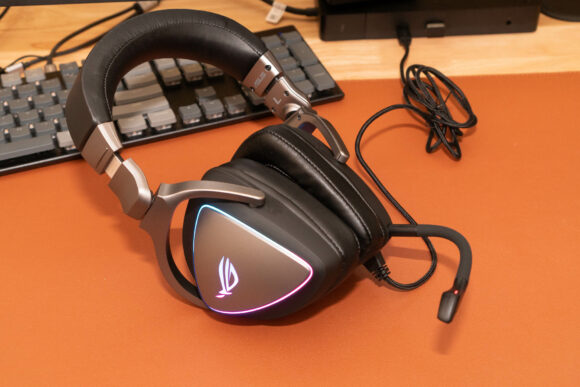 ASUS includes a couple of accessories with the ROG Strix Scar 15. There is a good, nice, gaming headset, complete with lights for the gaming look. Then, there's the aforementioned webcam. You couldn't possibly game with the touchpad, so the ASUS Impact Gaming Mouse is also included. Finally, to carry everything around, you get a backpack included too.
The whole ASUS ROG Strix Scar 15 kit will set you back S$3,998. The good news is that's the list price. The current street price, direct from ASUS Store, is S$3,198.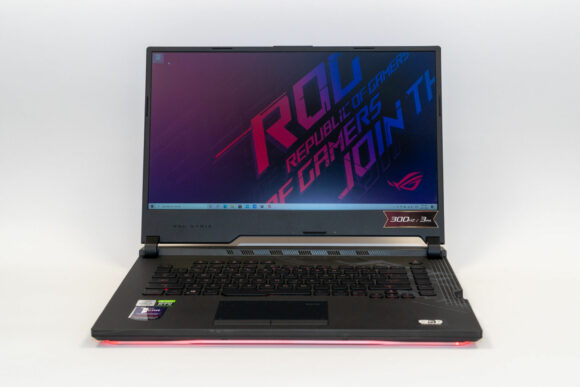 Summary
The ASUS ROG Strix Scar 15 is a great gaming laptop with outstanding overall performance.
Pros:
Attractive ROG design with plenty of RGB lights
Excellent overall performance
300 Hz refresh rate
Comfortable keyboard
Cons:
Notably lacking Thunderbolt support