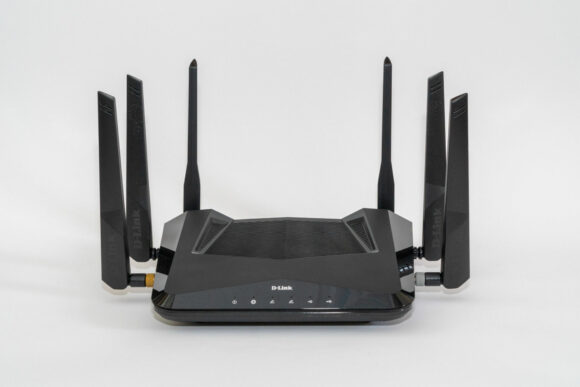 Between work from home days and dozens of smart Wi-Fi devices, we find ourselves needing powerful and fast Wi-F routers to connect our smart homes. D-Link's new EXO AX5400 brings Wi-Fi 6 technology. With faster speeds, greater capacity, and less network congestion, the EXO AX5400 wants to be the ultimate router for a connected home.
The D-Link EXO AX5400, also known by the model name DIR-X5460, not only has the fastest speed using Wi-Fi 6 (802.11ax) standard, but also supports WPA3, the latest in Wi-Fi security standards.
With up to 6 simultaneous streams, the EXO AX5400 can handle up to 5400 Mbps of dual-band wireless performance. It supports up to 4800 Mbps on the 5 GHz band, and up to 600 Mbps on the 2.4 GHz band.
The EXO AX5400 supports MU-MIMO, which allows simultaneous communication with more than one device. This is very useful in a device-dense environment where multiple devices are competing for bandwidth. As part of the Wi-Fi 6 standard, the EXO AX5400 also supports OFDMA, which reduces latency on small data packets.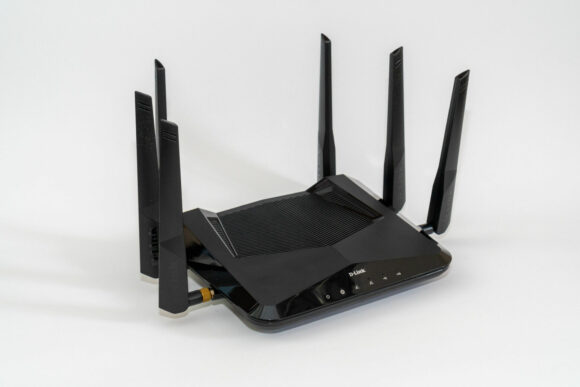 The physical device looks a little unwieldy with its 6 external antennas. While this might not look great as a centrepiece in your living room, I think the big external antennas help improve Wi-Fi coverage and signal strength. This helps the EXO AX5400 provide connectivity in device-dense environments, such as smart homes with plenty of Wi-Fi enabled IoT gadgets.
On the back of the EXO AX5400, you'll find the usual Gigabit Ethernet WAN port for your Internet connection and 4 Gigabit Ethernet LAN ports for connecting wired devices in your home. Beside them, there are two USB ports for connecting peripherals. Only one of them is USB 3.0, good for connecting mass storage devices; the other is a USB 2.0 port, good for slower speed peripherals like printers.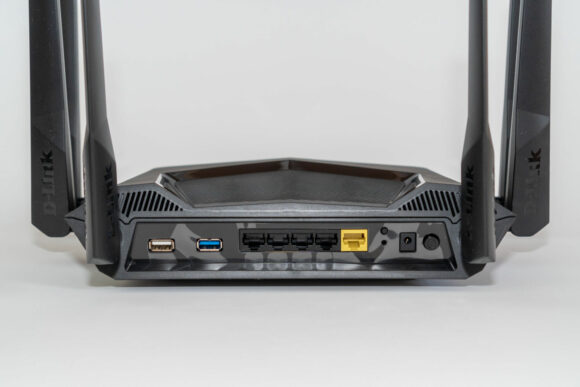 Also on the back, there is a WPS button, a recessed reset button, a DC barrel jack, and a power push-button.
There are a bunch of LED status indicators on the front.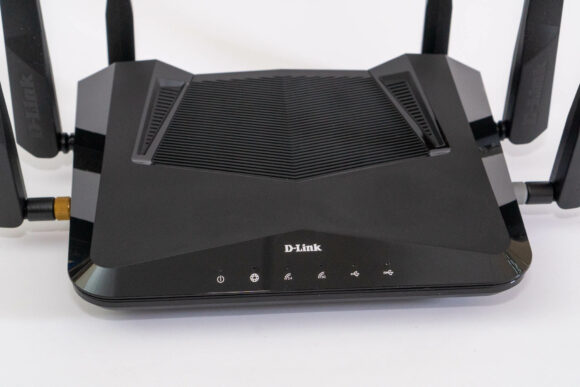 Setup, like with other D-Link Wi-Fi routers, is fairly straight-forward. You can use the D-Link Wi-Fi app, available on both Android and iOS, which provides guided step-by-step instructions. Also like other D-Link Wi-Fi routers, there is a web-based management interface, which gives you access to the more advanced features of the EXO AX5400.
In terms of features, the EXO AX5400 has all the basic features you'd expect from any capable Wi-Fi router. This includes support for guest networks, QoS, parental controls, and firewall. It can do port forwarding, as well as designate a DMZ server to receive all inbound unblocked traffic.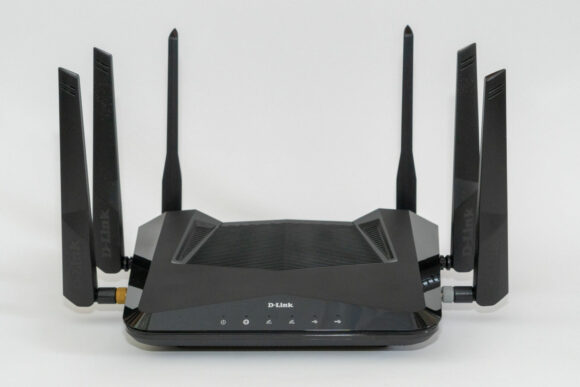 The EXO AX5400 supports Google Assistant and Amazon Alexa integration. This is cool, but as I've said before of this feature in my other reviews, it's mostly gimmicky. It's a nice show to impress visitors to your home by turning on and off Guest Wi-Fi with your voice. It can do other things too, such as rebooting the router. You'd likely find you don't quite really need this.
D-Link describes the EXO AX5400 as a mesh router. It supports the "D-Link Wi-Fi Mesh", which lets you add other compatible D-Link Wi-Fi Mesh devices, presumably like the D-Link COVR-X1870 Review I recently reviewed. I've yet to test this; stay tuned for an update. This would make the EXO AX5400 a great Wi-Fi 6 router to get started with as a base unit, then add on other mesh units if you find that you require stronger Wi-Fi coverage.
The D-Link EXO AX5400 stands out as a capable Wi-Fi 6 router with the latest in Wi-Fi speed and Wi-Fi security standards. It is designed for a modern smart home with high device-density and numerous devices competing for bandwidth.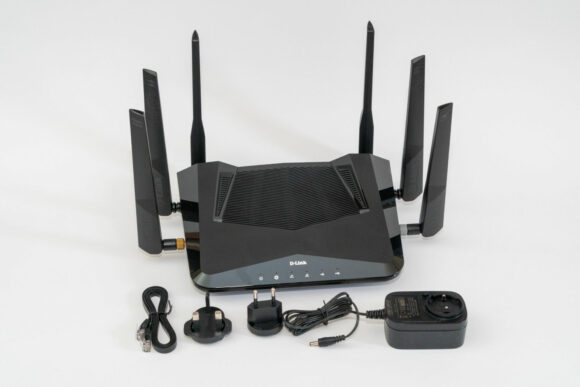 Included in the EXO AX5400's retail box, you'll find a power adapter with both UK 3-pin and EU 2-pin plug heads. There's also an Ethernet RJ45 cable.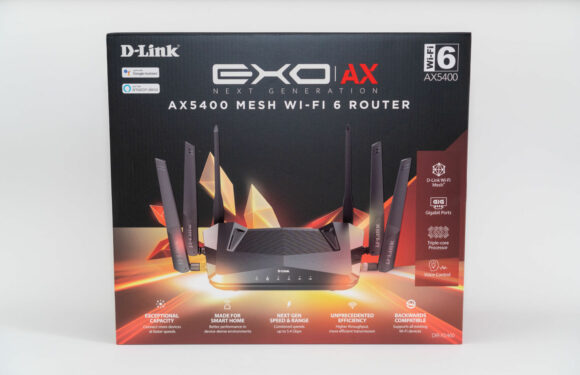 The D-Link EXO AX5400 DIR-X5460 retails at S$259, and it is availalbe from the D-Link Lazada Store, D-Link Shopee Store, Hachi.tech, and other major retail stores. You may snag a lower street price. For example, ValueClub members can get this router for just S$188 from Hachi.tech, which is a really good value.