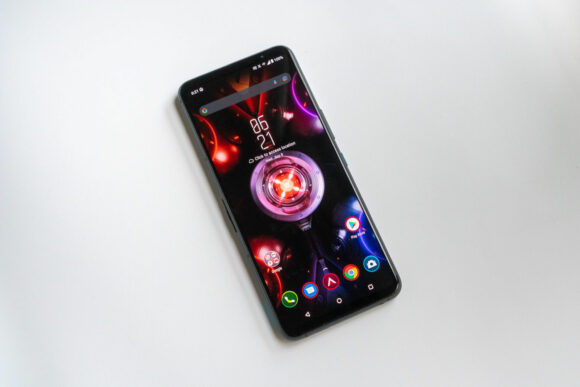 When it comes to serious mobile gaming, you don't really have a lot of choice. So in some ways, it's easy for ASUS' new ROG Phone 5 to come up on top with the best gaming experience you can get in a smartphone. Yay for mobile gamers.
If I may quickly sum up the ASUS ROG Phone 5, it basically has an excellent display, superb speakers, a very powerful processor, and great battery life. Where it falls short, unfortunately, is in its camera, which is decent, to be fair, but just not in the same league as other flagships.
The ASUS ROG Phone 5 is built for gaming, so let's talk about what matters to gaming first. Powered by Qualcomm's latest Snapdragon 888 SoC, it is not surprising that the ROG Phone 5 delivers the best performance. This is especially so when it has special optimisations to extract all the performance capabilities of the Snapdragon 888. Yes, this means, while running the Geekbench 5 test, for example, the ROG Phone 5 automatically turns on X Mode, a special mode that improves performance.
With X Mode turned on, the ROG Phone 5 single and multi core scores of 1130 and 3695 respectively, and compute score of 4697.
As you'd expect, without X Mode turned on, the ROG Phone 5 is just on par with other smartphones with Snapdragon 888 SoC. The Geekbench 5 tests came back with single and multi core scores of 1123 and 3096 respectively, and a compute score of 4325.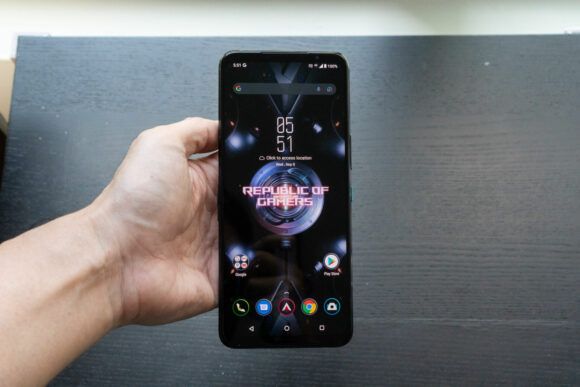 The ASUS ROG Phone 5's expansive 6.78-inch AMOLED display is really good. The 1080 x 2448 Full HD Plus resolution display is sharp, bright, and has very vibrant colours. The display can get as bright as 800 nits typically, and peak at 1200 nits. I couldn't measure this, but I can tell you it's absolutely super bright.
The 144 Hz refresh rate is definitely something to swoon over. It's definitely a wow factor for gaming. The display is HDR10+ certified, so there's something there for media enjoyment too.
For gamers again, the 300 Hz sampling rate on the touch screen allows your finger responses to register more quickly than other smartphones. This little difference could mean the difference between a kill and getting killed. Or whatever it is that you need in the game you play.
There are some included software features which are targeted at gaming. The Armoury Crate software, for example, serves as a repository for your games and allows you customise how your phone runs for each particular game. The aforementioned X Mode enhances performance.
The camera, on paper, has pretty good specifications. The main setup on the back features triple sensors: 64 MP f/1.8, 26 mm (wide), with PDAF; 13 MP f/2.4 11 mm (ultrawide); and 5 MP f/2.0 macro. You can record video up to 8K @ 30 fps, or 4K @ 30/60/120 fps. It even goes down to 720p @ 480 fps.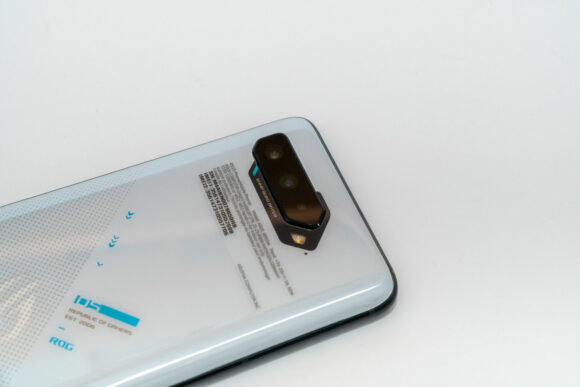 The selfie camera on the front, sitting in a bezel above the display (no display notch or holepunch!) has a sensor with 24 MP, f/2.5, 27 mm (wide). It takes 1080p video at 30 fps.
The ROG Phone 5's cameras aren't bad. If you are a casual user (or gamer, for that matter) who simply wants to take photos from time to time, the ROG Phone 5 will do a decent job. You get the usual stuff like background blur, good colours, respectable performance in low-light, and various video options like slow-motion. Just don't give this to a photography-enthusiast to critique.
Getting back to gaming again. There are two ultrasonic buttons along the top and bottom end of the right side. Held in landscape mode, these work like left/right shoulder buttons.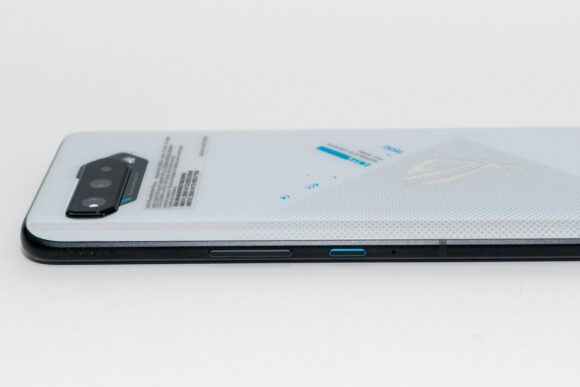 That's not all. How about cool RGB lighting on the back of the phone? It's just limited to a coloured logo which can be configured to do various things, like strobe and breathe, depending on what is happening on the phone. Or, just do its thing to dance with music.
There's also a port on the left side, or the "bottom" when held the ROG Phone 5 is held in landscape orientation, for connecting accessories. The AeroActive Cooler 5, for example, features two extra buttons that work like underside paddles, while also working as an active fan capable of keeping the phone cool under intense load. I normally don't like the idea of paying more for accessories, but at S$69, I think the AeroActive Cooler 5 is reasonably priced for the added gaming benefits it offers.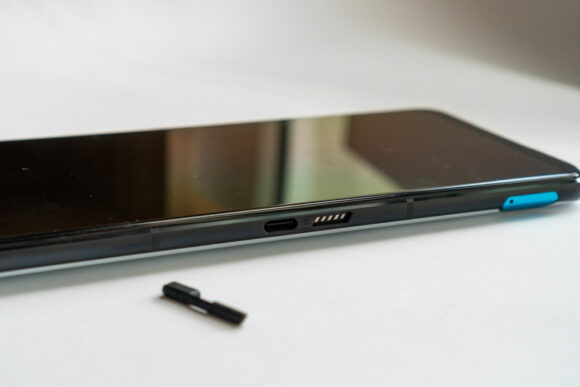 The speakers on the ROG Phone 5 are so good, they don't sound at all like smartphone speakers. The first time I heard some sound effects coming from it, I thought it came from somewhere else. The two front-firing stereo speakers produce sound with a decent beat of punch, even at the low-end, considering that we're talking about a smartphone here. The sound can get pretty loud, yet still remain crystal clear.
While on the topic of sound, I suppose it is a notable feature nowadays to mention the presence of a 3.5 mm audio jack, which is located at the bottom alongside the USB Type-C port.
The ASUS ROG Phone 5 I have for this review comes with 16 GB of LPDDR5 RAM and 256 GB of UFS 3.1 storage. There is no microSD card slot. It runs the latest Android 11.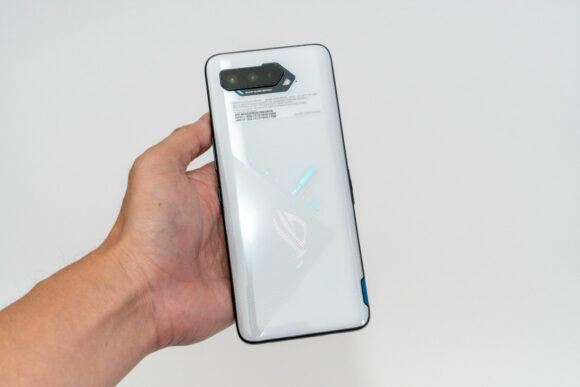 This is a 5G phone, featuring dual nano-SIM, dual standby. It has Wi-Fi support up to 6E, which is one step ahead of Wi-Fi 6 (802.11ax). This is an even newer standard, using the 6 GHz frequency band, providing extra bandwidth and efficiency than Wi-Fi 6 which operates at 5 GHz. Bluetooth is supported up to 5.2, with LE, aptX HD and aptX Adaptive.
Battery life on the ROG Phone 5 is quite stunning. The 6000 mAh battery lasts a really long time, especially if you are just casually using the phone, easily pushing to almost 2 days. Even with a mix of gaming and video, the ROG Phone 5 easily lasts at least a day. Then, charging up this 6000 mAh battery is also just as impressive, because ASUS includes a 65 W charger. You can take the battery from nearly flat to 70% in about half hour, and to full-charge in an hour.
With dimensions measuring 172.8 x 77.3 x 10.3 mm and weighing in at 238 grams, the ROG Phone 5 is a big phone. It's inevitable given the size of the display.
ASUS' ROG Phone 5 has very impressive hardware specs. Everything from display, speakers, processor, Wi-Fi, and gaming features, they are all excellent. I don't want to say this is a photography-oriented smartphone, but seriously, the hardware specs of the cameras are good, and the output isn't bad at all.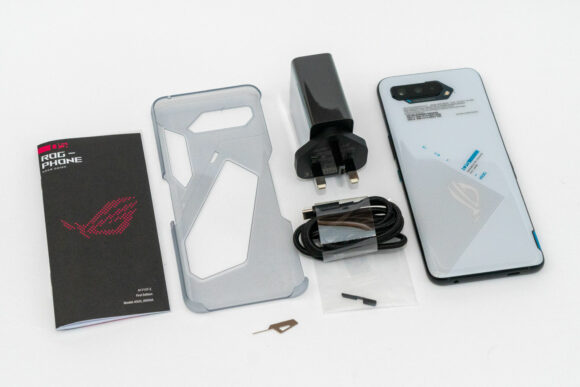 In the box, the ASUS ROG Phone 5 comes with the usual basic accessories, plus a basic case to give you some protection from the get-go.
Finally, the price. Listing at $1499, for the configuration in this review, the ASUS ROG Phone 5 is premium-priced, but it is reasonably so. You'll certainly snag a discount on the street, or through online retailers.
Conclusion
The ASUS ROG Phone 5 is easy to recommend as the smartphone to get for people who want a flagship mobile device for gaming. It has every bell and whistle a gamer could want.