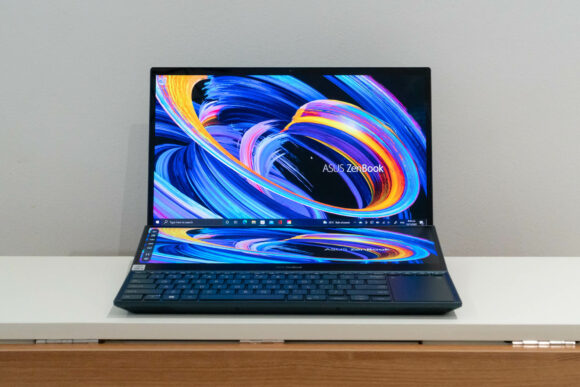 The original ASUS ZenBook Pro Duo that first launched in 2019 was absolutely stunning. It was the first laptop to legitimately have two proper touch screen displays. ASUS is back with an update, and the new ZenBook Pro Duo 15 UX582 brings a refresh that is sure to wow content creators.
The dual screens are the most distinguishing feature of the ZenBook Pro Duo. It is a feature that, two years on, is still pretty unique to ASUS. This is no toy like the Touch Bar on MacBook Pros, which Apple has since abandoned. It's also not like the ScreenPads, or touchpad displays, on some ASUS laptops, the usefulness of which I'm still a little undecided.
This is a big, premium, mobile workstation that isn't quite designed for typical casual users. The primary target would really be content creators, the people who are most likely to benefit from dual screens, discrete GPU, and great performance capabilities, and whom would be willing to pay for them.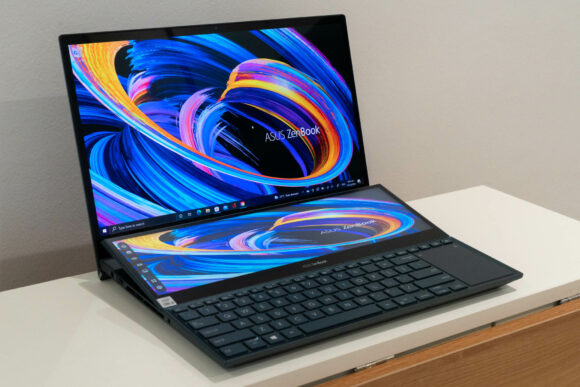 In case this is all new to you, the ZenBook Pro Duo 15 UX582's second screen, occupying the top half of the keyboard deck, is a fully capable 14-inch matt-finish touchscreen display using an IPS panel with resolution of 3840 x 1100. ASUS calls this second screen the ScreenPad Plus. I think the name doesn't do justice to its capabilities, because it merely sounds like a "plus" version of those touchpad displays. This ScreenPad Plus also supports stylus inputs.
While the ScreenPad Plus is a fully capable second screen, ASUS provides some tools that will help enhance your experience with them. There are several features built specifically for the ScreenPad Plus. ScreenXpert, puts customised controls on the ScreenPad Plus depending on apps that you launch. For example, you can have specific controls to go with Adobe Premiere (as in photo below), Photoshop, Lightroom Classic or After Effects.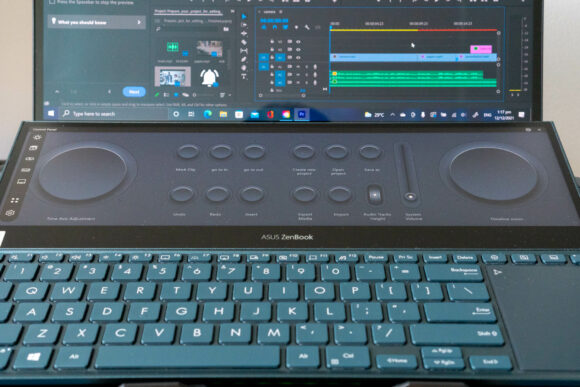 It feels as if you have dedicated input hardware for these apps. Since these are, afterall, software drive, you can customise the controls, and you can create completely new ones for any other app you care about.
Even if you don't care about those customised controls, there are other features that will simply help you use the ScreenPad Plus more optimally. For example, you can create preset window combinations.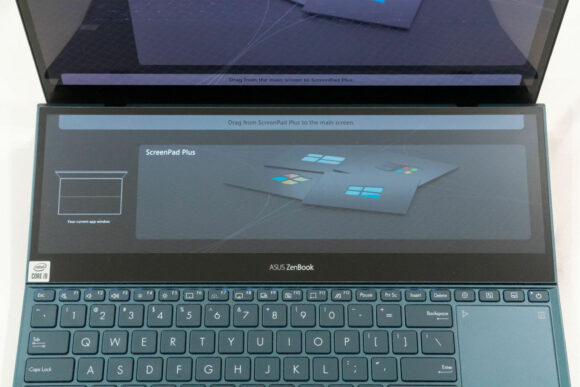 Apart from windows management, there are other utilities like a handwriting app, Spotify control centre, and a Corel Multicam (screen and webcam recording) app.
All these features are grouped into an easily accessible menu which can easily reposition, and include quick access to important tools like brightness control.
If I had to compare, ASUS' ScreenPad Plus has value-add features which are far more useful than what you get on Apple's Touch Bar, while at the same time allowing you to use it as a plain and simple secondary display if you so prefer that.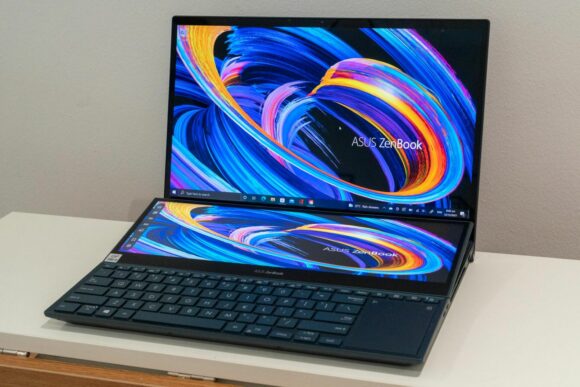 The ASUS ZenBook Pro Duo 15 UX582's main gloss-finish screen is no less spectacular than the ScreenPad Plus. It is a massive 15.6-inch OLED display with 4K 3840×2160 resolution, VESA Certified Display HDR True Black 500, and PANTONE Validated. The clarity and colours of this display is absolutely stunning. It is like night and day.
My Spyder5PRO tests support the observation. In terms of colour gamut, the ZenBook Pro Duo 15 scores 100%, 92%, 97% and 93% on sRGB, NTSC, AdobeRGB, and P3 coverage respectively. True to its OLED capabilities, the blacks are absolutely devoid of any light even when the display is set to 100% brightness.
With 383.7 nits of maximum brightness (550 nits according to ASUS' specs), the screen is quite workable in bright environments. It could work outdoors too, though you may have to contend with some reflections from the glossy screen.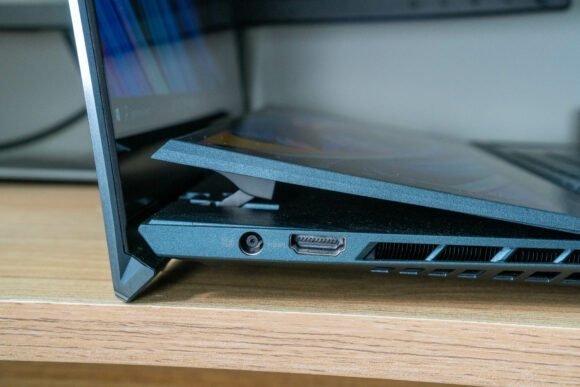 The new ErgoLift stand not only props up the back of the laptop chassis when the screen is opened, but also raises up the ScreenPad Plus so that the secondary display is further tilted. This accomplishes several things. First, the laptop benefits from better cooling due to an increased airflow around the chassis, resulting in more sustained maximum performance.
The tilt also improves the ergonomics of the keyboard, as well as enhance visibility of the secondary screen. More importantly, with the ScreenPad Plus raised up, the secondary screen appears to merge into the main display, creating an effect of seamless borders between the two display.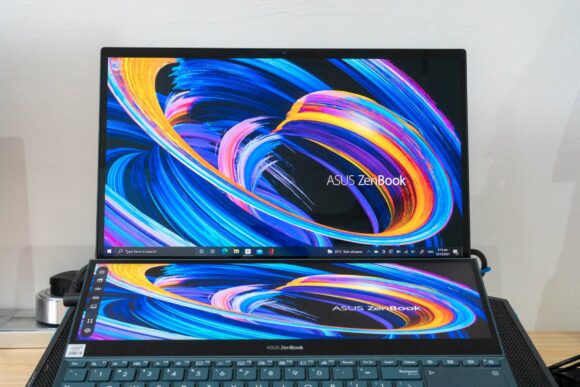 The result of the two displays coming together looks really good. There's no other dual screen you can get on-the-go that looks as good as what the ZenBook Pro Duo 15 pulls off. What ASUS has done here is really cool.
As mentioned earlier, this is a fully legitimate secondary screen that Windows 10 (or even Windows 11) will know how to use, exactly like any other dual screen setup. This is nothing like the Touch Bar gimmick, no need for app support.
However, ASUS provides some tools to help optimise the use of this secondary screen. The point here is about making it easy for use to fully reap the benefits of a rather unique touch-enabled (and stylus-enabled) secondary screen.
So, for example,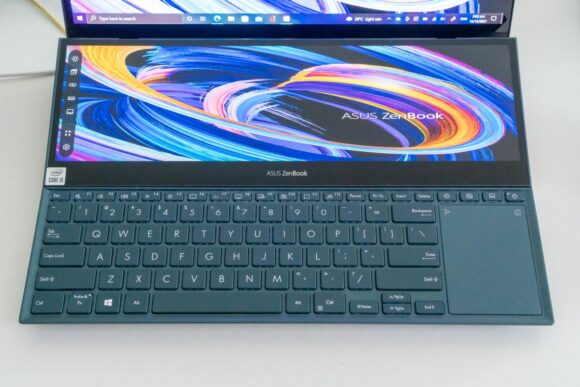 With the ScreenPad Plus occupying the top half of the keyboard deck, the keyboard itself and the touchpad has to share the lower half of the deck. Usually such a side-by-side layout of keyboard and touchpad results in a bit of a squeeze. Thankfully, this ZenBook Pro Duo 15 is a large laptop, so the keyboard still retains a decent size, comparable to what you'd get on most 13-inch laptop.
The backlit chiclet keyboard have a good 1.4 mm key travel. They are decent to type on, not best in class, but definitely above average.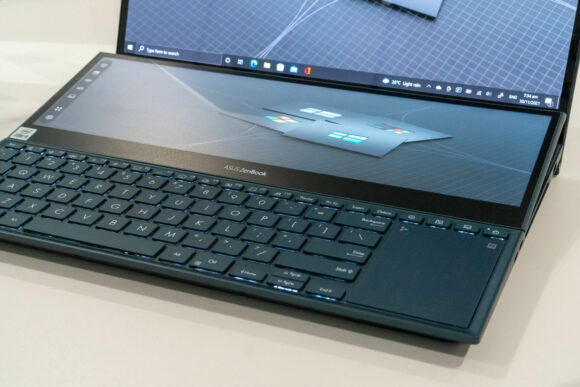 The tochpad on the side, however, does feel crammed. At just 4.2-inch diagonally across, the squeeze is exacerbated by its portrait orientation. I suppose this is inevitable. If you want a decent secondary screen, something has to give. I expect that most serious users are going to use an external mouse, or just use touch or stylus on the displays directly. So, as much as this touchpad isn't very satisfying, it isn't a serious problem that impairs use of the laptop.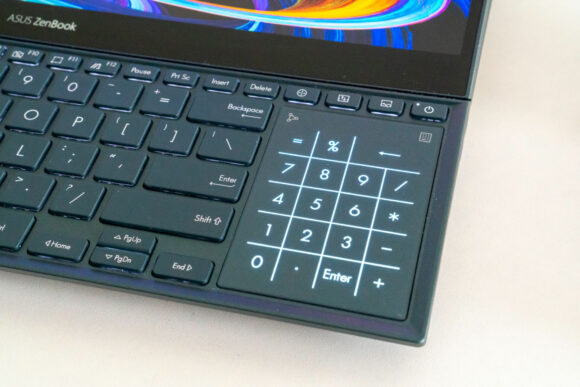 The touchpad doubles up as a number pad. If you have some serious data entry needs involving lots of numbers, I'm sure this will work better than number keys on the main keyboard.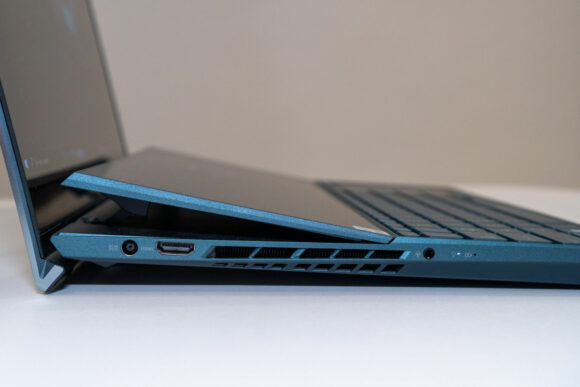 The ZenBook Pro Duo 15 has a decent repertoire of ports. On the left side, there is a DC barrel jack for power, a HDMI 2.1 port, and a 3.5 m combo audio jack.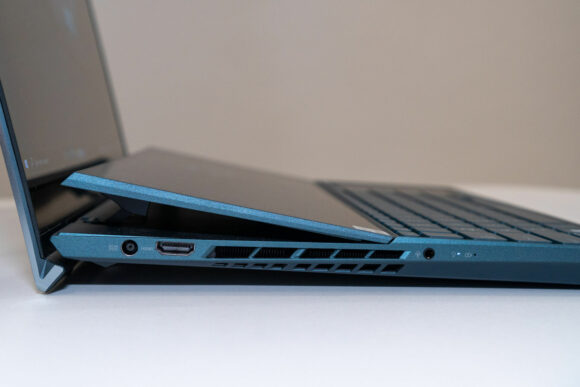 On the right side, there is a USB 3.2 Gen 2 Type-A port and 2x Thunderbolt 3 ports with alternate mode display. This is a large laptop, and I had hoped there might be more ports, but unfortunately that's all there is to it. Considering that the ZenBook Pro Duo 15 is targeted at content creators, it would be nice to at least include a full-sized SD slot.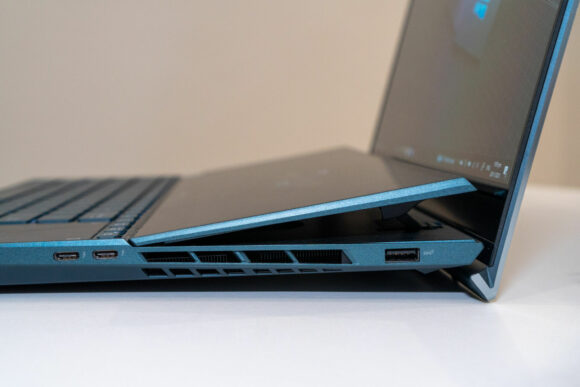 There is a HD webcam with IR and Windows Hello support positioned centered above the main display. There is also an array microphone, and good sounding Harmon Kardon branded speakers.
Under the hood, the ASUS ZenBook Pro Duo 15 UX582 is powered by Intel Core i9-10980HK 2.4 GHz 8-core processor with turbo up to 5.3 GHz, 32 GB of DDR4 memory, and NVIDIA GeForce 3070 with Max-Q.
This laptop quite expectedly performs very well in benchmarks. On PCMark 10 Extended:
Overall: 7264
Essentials: 8985
Productivity: 7117
Digital Content Creation: 7936
Gaming: 14833
These scores compare well with the ROG Strix Scar 15 G533 I reviewed earlier this year.
In Geekbench 5, the ZenBook Pro Duo 15 scores:
Single-core: 1294
Multi-core: 7292
Compute: 6215 (integrated graphics), 116272 (discrete GPU)
In 3D Mark:
Time Spy: 8116
Time Spy Extreme: 3969
FireStrike: 16726
FireStrike Extreme: 9672
FireStrike Ultra: 5392
Apart from the "gaming" score in PCMark 10 Extended, the ZenBook Pro Duo 15 generally doesn't match the ROG Strix Scar 15 G533, which is understandably so since the latter does have a slightly higher-performing NVIDIA GPU.
The ZenBook Pro Duo 15 UX582's 92 Wh battery is massive. But is is still a large and powerful laptop. In PCMark 10 Modern Office battery tests, it scored 4 hours 43 minutes. In real life, I think you can probably get by with 5 hours of casual use.
When you need to juice up, the big 240 Watt AC adapter isn't particularly clunky. I mean, if you're already carrying the laptop around, this AC adapter isn't going to make a big difference.
The ZenBook Pro Duo 15 UX582 is big. It measures 35.98 x 24.92 x 2.15 cm and weighs 2.34 kg. It is slightly thinner and slightly lighter than the original one from 2019.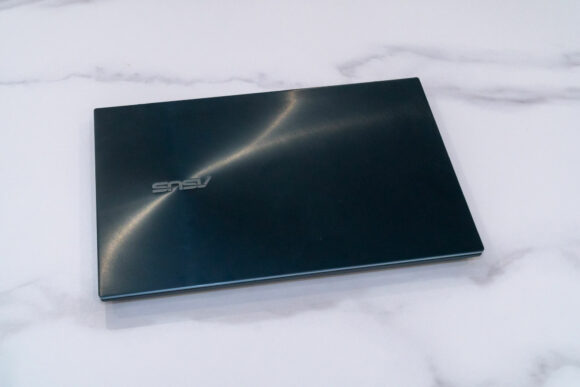 A cool feature to note is that the ZenBook Pro Duo 15 is built to US MIL-STD 810G military-grade standard, which should say something about the durability of this laptop.
The new ASUS ZenBook Pro Duo 15 UX582 is an evolutionary upgrade to the first model from 2019. The upgraded internals, the improved ergonomics of the ErgoLift, and the usefulness of ScreenPad Plus make this a really exceptional laptop. This is a premium laptop, quite clearly targeted at content creators.
Included in the retail box, the ZenBook Pro Duo 15 UX582 comes with a palm rest, stylus, power adapter, collapsible stand, and sleeve.
The ASUS ZenBook Pro Duo 15 UX582 retails at S$4,998.