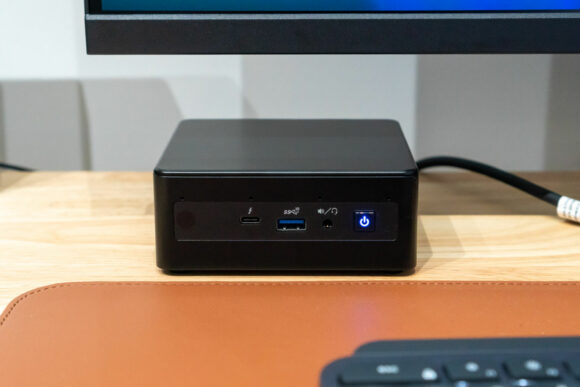 Desktop PCs come in many shapes and sizes. There are big towers, and there small ones. Then, there are truly tiny ones, like this Intel NUC 11 Performance Kit. You could almost describe it as "palm-sized", but it has all the power of a decent desktop PC.
Intel NUC, or Next Unit of Computing, is a line of tiny small-form-factor barebone computer launched in early 2013. The NUC is now into its 11th generation, powered by Intel 11th generation Tiger Lake processors.
Small-form-factor doesn't quite describe the smallness of the Intel NUC 11. Small-form-factor (i.e. SFF) PCs, and even the smaller Micro-Form-Factor (MFF) PCs from manufacturers like Dell are still a bit larger than this Intel NUC 11 Performance Kit, which measures just 117 x 112 x 51 mm. This is how it looks under my Logitech MX Master 3 mouse, for size comparison.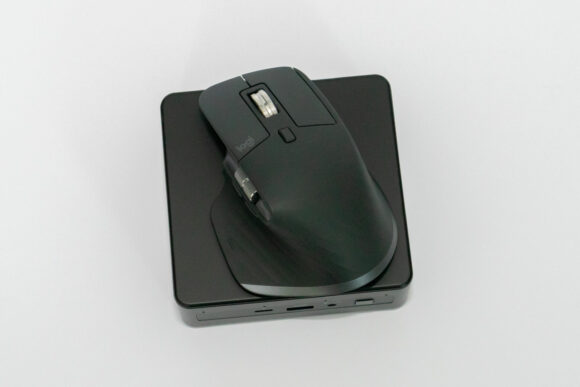 The Intel NUC 11 also goes by the name Phantom Canyon, and it's basically a series of barebone kits and Mini PCs. The main difference between them is that the former does not include RAM and storage. The line-up also features several hardware configurations known as Performance, Pro, Extreme and Enthusiast.
The Performance Kit is offered with 11th generation Core i3-1115G4, i5-1135G7, and i7-1165G7 mobile processors. The reason why the Intel NUC 11 Performance Kit can be so small is that it is essentially laptop computers, without a battery, keyboard, touchpad, and display. Apart from using a mobile processor, it also uses laptop memory, and there's very little expansion space for anything but the bare essentials.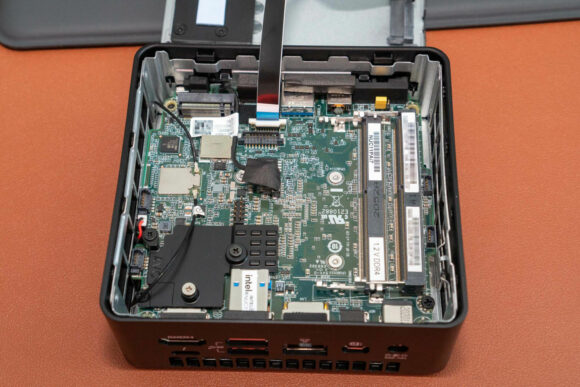 Being a barebones kit, you've got to get your own RAM. It has two slots for DDR4-3200 SODIMM (i.e. laptop memory), with a maximum support memory capacity of 64 GB. There is one M.2 slot with PCIe Gen4 x4 lanes for very fast NVMe storage. You can also attach one 2.5-inch SATA drive for additional storage. Adding these hardware components is easy, and anyone who has ever built a DIY PC should be thoroughly familiar with how to do it.
Fortunately, the Intel NUC 11 is not so space-constrained like an actual laptop, so it has a generous number of ports available. On the back, you'll find a DC barrel jack, a mini-DisplayPort 1.4 port, Gigabit Ethernet LAN port, 2x USB 3.2 Gen2 (10 Gbps) Type-A ports, Thunderbolt 3 port, and HDMI 2.0a port.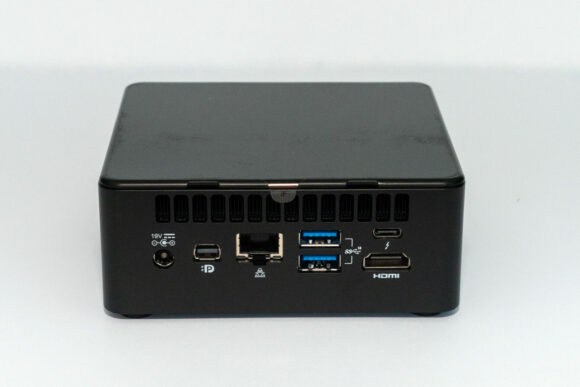 Then, around on the front, you also find a second Thunderbolt 3 port, another USB 3.2 Gen2 Type-A port, and a 3.5 mm combo audio jack. There is also a power button with status LED, and a another status LED for storage activity; both LEDs are configurable in software.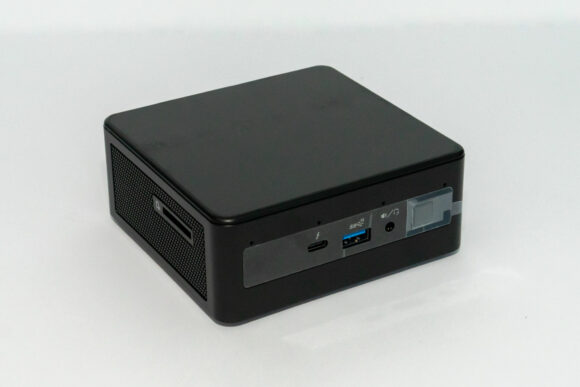 There is a full-sized SDXC slot with UHS-II support located on the left side of the chassis.
If you really want more USB ports, there are internal headers for one additional USB 2.0 port and another USB 3.0 port.
On top of the earlier mentioned Gigabit Ethernet LAN port, which is powered by an Intel i225-V controller, the Intel NUC 11 Performance Kit also has Intel AX201 Wi-Fi 6 with integrated Bluetooth 5.2.
To run some benchmarks, I added 2x 16 GB of Crucial DDR4-3200 RAM, and a 1 TB Samsung SSD 980 NVMe storage.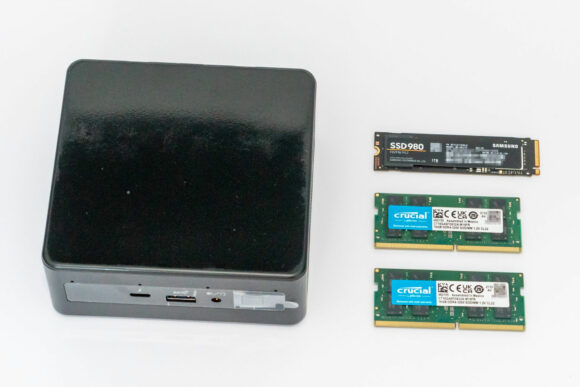 The PCMark 10 Extended benchmark scores are:
Overall: 4658
Essentials: 9537
Productivity: 9448
Digital Content Creation: 5332
Gaming: 3880
Geekbench 5 scores are:
Single-core: 1537
Multi-core: 5389
Compute: 17774
The Cinebench R23 score is: 5888
The Intel NUC 11 Performance Kit generally performs better than other hardware with the same processor, such as the ASUS ZenBook Flip S UX371, though the latter somehow has a slight edge in the Geekbench 5 Compute score. The better performance should be expected since the NUC 11 has more room for improved thermal management. The 11th generation processor with Iris Xe graphics is quite powerful, comparable with some entry-level discrete GPUs.
The retail box for the Intel NUC 11 Performance Kit includes a beefy 120W power adapter, much more than it'll really need. The NUC 11 cannot be powered from the Thunderbolt 3 ports.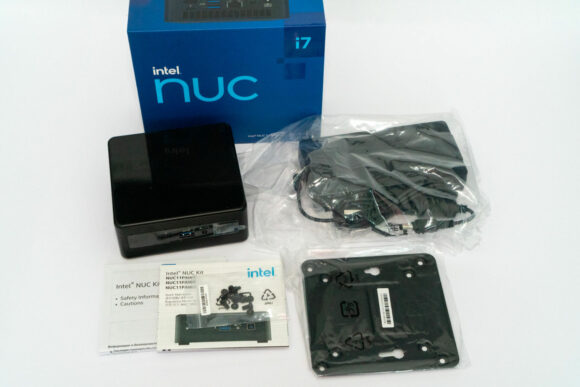 There is also a VESA mounting bracket included, in case you want to attach this to your monitor. You can tuck the Intel NUC 11 away behind your monitor for a clean, minimalistic, and clutter-free desk, especially if both your mouse and keyboard are connected wirelessly.
Since the Intel NUC 11 Performance Kit takes up so little space, putting it on the table under the monitor also works well. This way, the front USB ports are easily accessible.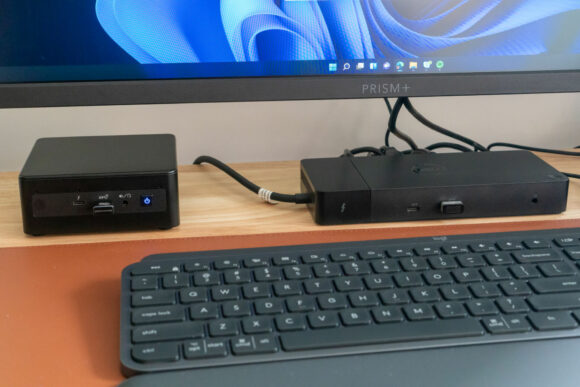 I have most of my peripherals and monitors connected to the Dell WD19TB Thunderbolt 3 Dock, which is then connected to the rear Thunderbolt 3 port of the NUC 11. This enables me to easily switch everything between the Intel NUC 11 and a laptop whenever I need to.
You can attach up to four displays to the Intel NUC 11 Performance Kit. In my present configuration, none of the display ports on the NUC 11 box itself are used. Instead, I have a 4K monitor and a Full HD monitor connected via the Thunderbolt 3 dock.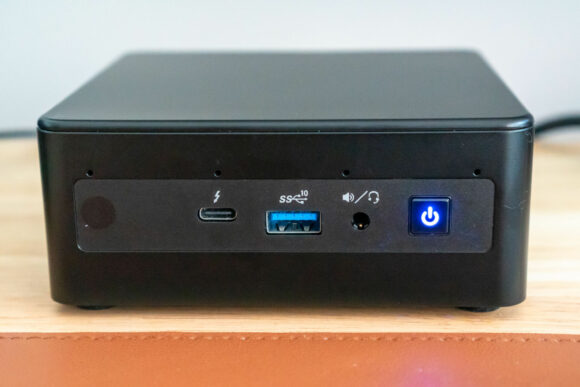 The Intel NUC 11 Performance Kit is so tiny, it's easy to take around if you ever need to. Of course, it's not quite a laptop replacement, since you'd still need a monitor, keyboard, and mouse. But it is possible that some people may find a use case for a tiny PC that they can bring around from time to time.
Why would one prefer a tiny NUC 11 to a regular desktop PC? The ability to create a modern, minimalistic, clutter-free desk setup could be one reason. This NUC 11 has enough power for regular productivity work, entertainment, and any casual use. The Iris Xe graphics might even get you some light gaming. Many people don't even upgrade their desktop tower PCs, so the limited expansibility of the NUC 11 isn't a real limitation.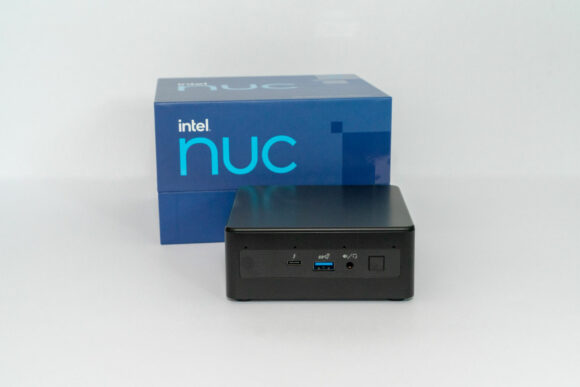 The Intel NUC 11 Performance Kit with Core i7-1165G7 retails at about $768. Lower-end configurations, like one fitted with Core i3-1115G4, retail as low as $429. Do remember that you need RAM, storage, and operating system purchased separately.