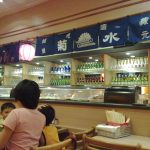 I think we seriously deserve a discount card at New Garo. We were going to takeaway a quick dinner at one of the eateries along Cheong Chin Nam Road. Probably something like chicken rice. However, we ended up dining at New Garo.We thought Vanessa was getting hungry, and rather than wait till we get back home to feed her, why not just dine there, and then, chicken rice gave way to New Garo.
It's amazing how on a Sunday evening, the vicinity can be so crowded. The public car park was so congested I was afraid we were going to get stuck in a deadlock. (I've ever been trapped in a deadlock of cars inside a HDB car park, and it was so fortunate that a parking warden happened to be around to help clear up the mess.)
New Garo was crowded too. People were even queuing to get in. Queue on a Friday or Saturday night is fine, but this was a Sunday night. Singaporeans just love to eat.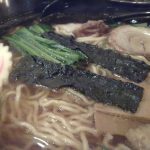 We keep ordering the same old things. Well, not quite this time around. My wife had the Tokyo Ramen. Hmm, let's just say it is not something I would recommend. I'd go for my regular Chirashi, which fortunately I did. It tastes so much better.
I think the staff was a little overwhelmed by the crowd tonight. You could see that they were struggling to cope. Sometimes I think it would be helpful to have an extra pair of hands or two around to manage the peak periods. We often have a fast dinner at New Garo. I'm sure for diners like us, they could turn our tables around much more quickly to seat more diners if only they had more hands available.
What has changed since our last visit to New Garo? Well, nothing of the restaurant itself. But something has changed with my photo-taking gizmo. Yes, the last visit it was still the N95 8GB, but this time around, it's the new N97. The photo quality is not markedly different. Just for sake of comparison, here's a photo of my Chirashi taken with the new N97, and check out my old post with a photo taken with the N95 8GB. I have other photo comparisons if you're interested to see the camera differences.