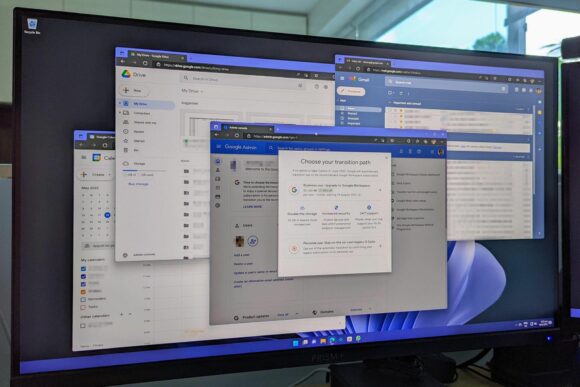 Have you been fretting over Google's announcement that they will end the free legacy version of Google Workspace and begin to charge all users? Well, there's been some good news. The legacy G Suite Free Edition will continue to be available, although only for personal use.
Earlier, in January this year, Google announced the grandfathering of G Suite Free Edition. Users had to choose a paid plan on Google Workspace by June 2022, and then provide billing details by 1 Aug 2022 or risk having their accounts suspended.
G Suite, which began life as Google Apps 16 years ago, and now Google Workspace, is a collection of various Google cloud software (e.g. Gmail, Drive, Photos, etc), which you probably already know, that use accounts identified with a custom domain name. It is popularly used by many businesses for their emails, office apps, and collaboration tools.
Many individuals also use G Suite for personal use. I, too, have been a G Suite user, with more than one custom domain name. It was something cool to have, and why not, since it was free at the start, and continued to offer a free option despite several changes to the program to target business users.
Having used G Suite with a custom domain name for so many years, this forced upgrade came as a rude surprise. Individual users who use G Suite for personal use had to consider migration plans to other platforms, or just suck it up and pay what Google demanded.
The cheapest Google Workspace plan, with 30 GB of storage, is US$6 per user per month. Those migrating from the free edition are offered the plan at no cost for the 1st three months, then US$3 per user per month for 12 months, before the full price kicks in. This quickly becomes quite costly if you have a family on the subscription. For a family with 5 accounts, the full price works out to US$360 per year.
If you compare with Microsoft 365, a family plan costs S$148 per year, for up to 6 accounts, and includes 1 TB of storage per account, as well as email hosting and all the Office productivity apps. It makes Google Workspace look somewhat expensive. But of course, it doesn't matter for people who are already heavily invested in the Google ecosystem. For example, if you use other Google apps like Photos, and collaborate a lot over Drive (Docs, etc), you're kinda stuck with Google.
Fortunately, amid all the furore brought by those who use G Suite for personal use, Google has backtracked and decided to continue offering legacy G Suite Free Edition for personal use.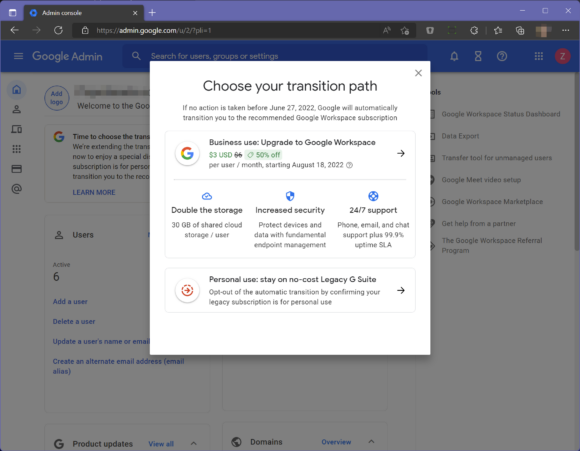 An option now shows up when you choose your transition path. Do note that you must opt-out of the upgrade by choosing the "Personal use" option. Those who already migrated to a paid Google Workspace plan can revert to free, provided they upgraded after 19 Jan 2022.
There's no telling when Google might try again to grandfather the free edition. But, let's just enjoy the freebie while it's there.