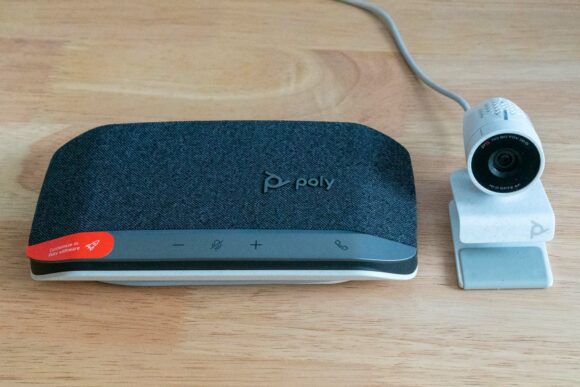 Built-in webcams, speakers, and microphones sometimes just don't cut it. If you're hoping to look and sound good during your videoconferencing calls, you may need better gear. This is what Poly's Studio P5 Kit with Sync 20+ aims to do, bringing simplicity and professionalism to your videoconferencing calls.
If you've only ever used built-in speakers and microphones, you've got to know that they really aren't the best. I sometimes even find them barely functional in an outdoor, noisy, environment. Headsets often work better, but I often long for the simplicity of a speakerphone.
Poly, formerly known as Polycom, is an expert in this area, having built videoconferencing and tele-prescence products since their founding in 1990.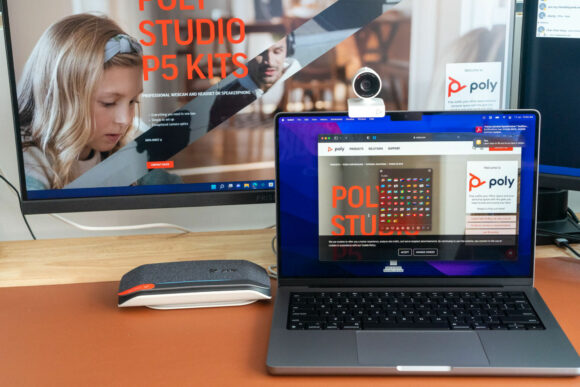 The Poly Studio P5 Kit and Sync 20+ is a bundling of two products. The Studio P5 is a professional Full HD webcam, while the Sync 20+ is a high-quality wireless conference speakerphone. These two work together seamlessly to give you a great experience in your online meetings.
Let me start with the Sync 20+ first. Audio, you may have learned by now, is critically important. You can still have a productive meeting without video, but crappy audio quite certain breaks any meeting. So this end, having a great speakerphone is really quite important. To this end, the Sync 20+ will not disappoint.
The beauty of a speakerphone is that you can just speak and hear as if you were actually physically in the meeting. Some people find headsets uncomfortable, and the wired kinds are even worse, tying you down to your desk. Of course, there are still times that a headset is necessary, such as when you need some privacy while meeting in a shared space.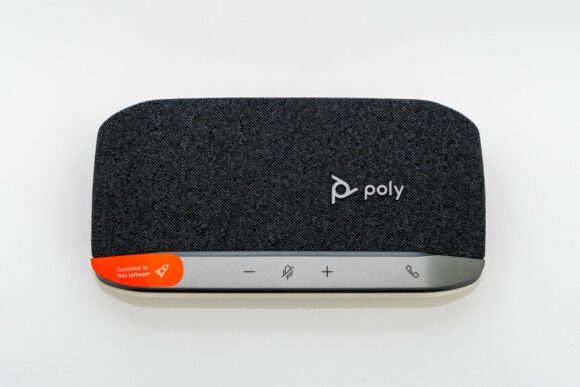 The Sync 20+ is designed for a small room. Its three steerable array microphones have excellent pick up from up to two metres away. This means you can wander around a little bit, while still being heard perfectly. The Sync 20+ is able to focus on your voice while cutting out the background noises and echoes. You can also have a few people seated around to share the Sync 20+. That's what speakerphones have been about.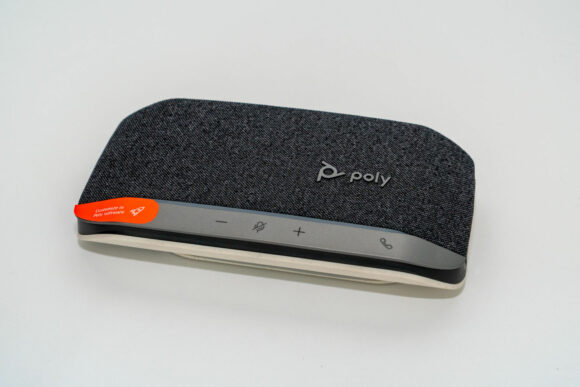 The speaker output of the Sync 20+ works very well for speech. A bass reflex system with dual passive radiators gives the sound some depth. It can get quite loud, definitely enough for a small room that it is designed for. The Sync 20+ is not going to be great for music, of course, and you should not think about trying to compare its audio quality in that context.
There are several ways to hook up the Sync 20+ to your computer. There is a built-in USB Type-A cable that is wrapped around its base, handy for your travel packing. You can also connect wireless via Bluetooth. The Sync 20+ supports Bluetooth 5.1. If your computer has no Bluetooth, you can use the provided BT600 Bluetooth adapter.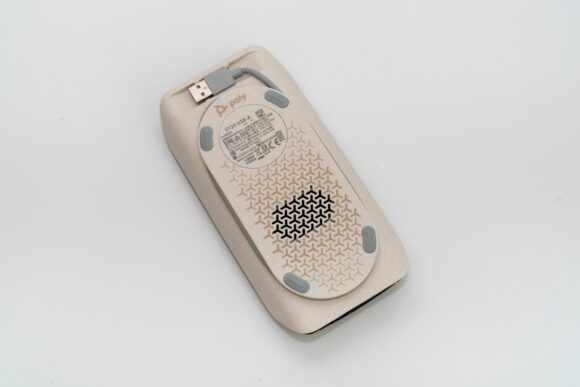 In wireless operation, the built-in battery runs for 20 hours. It is charged via the same built-in USB cable. The Sync 20+ can also charge other devices, such as your phone, via a separate USB Type-A port, which has a rubber cover, on the side.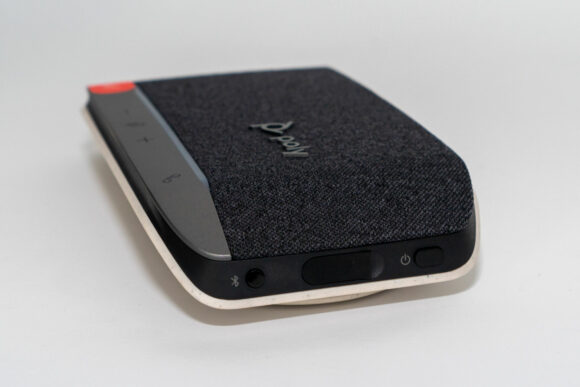 The Sync 20+ has dedicated touch button on the top for volume control, microphone mute, and a call button. There is also one last button, under the orange sticker in the phones, which serves as a programmable function button. You will need Poly's software to configure this button. By default, this button plays/pause media.
There is also a status light bar on the top. The thing I like most about it is that it shows red when the microphone is muted, so I can very easily check my mute status.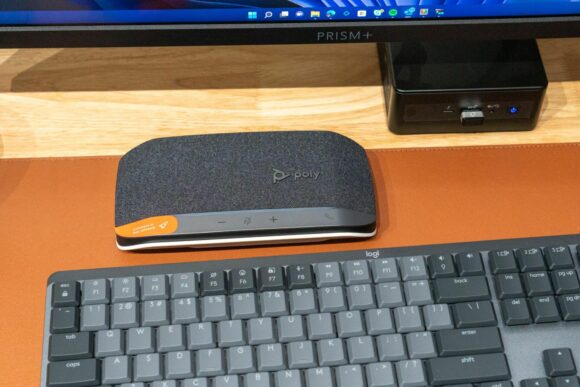 The Sync 20+ has IP64 water protection. It weighs 360 grams and has dimensions of 34 x 95 x 182 mm.
Poly has included a very nice fabric carrying case for the Sync 20+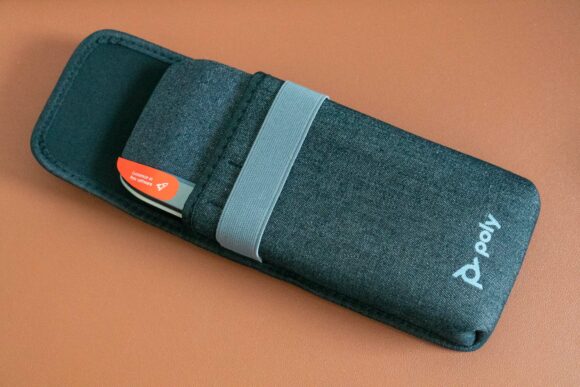 In case you're wondering, there is also a Sync 20, which is basically the same thing but lacking the Bluetooth adapter.
Now, let's move on to the Studio P5 webcam. As already mentioned above, this is a Full HD 1080p resolution webcam. The bullet-shaped device is quite compact, and comes with a clip stand for easy attachment to a monitor or laptop screen. The stand allows the webcam to swivel if needed, giving you a lot of flexibility in how to position and point the camera.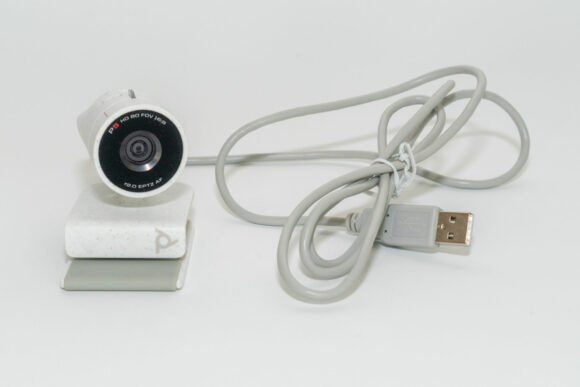 A USB Type-A cable is fixed to the camera. The Studio P5 is wired-only, and does not support Bluetooth. Interestingly, it does have a cavity accessed from an underside removable cover for storing the Bluetooth adapter from the Sync 20+. This is a great storage solution for travelling, because otherwise the Bluetooth adapter is begging to get lost.
A really nice thing about the Studio P5 is that it has both a privacy switch and mechanical privacy cover. The outer ring at the front can be twisted to activate the privacy mode. Even before the mechanical cover has completely obscured the camera, the webcam is already disabled, and the status indicator on top turns red.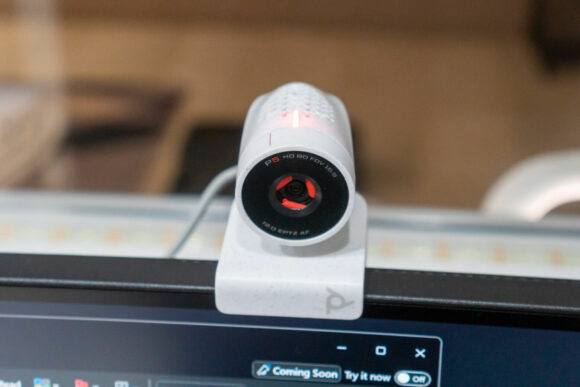 It's easy to tell right away that the webcam is disabled. But if you want to be absolutely safe, you can twist shut the mechanical cover fully. This way, you can be absolutely sure that the webcam is physically blocked.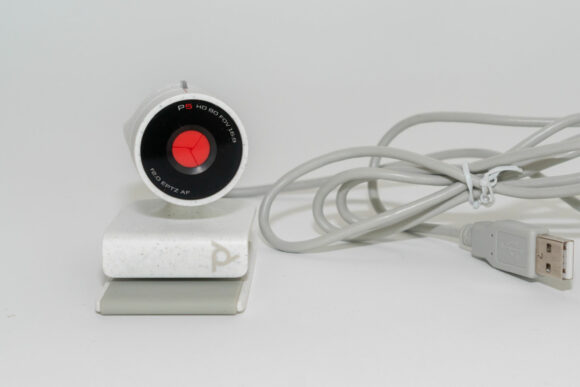 The Studio P5 camera supports 720p mode as well (on top of the Full HD 1080p), 30 fps, auto-focus with 4x zoom / EPTZ. It is an 80° field of view. The camera quality is decent. I personally don't find it better than the Logitech C922 Pro that I use. Here's how the two cameras look side-by-side.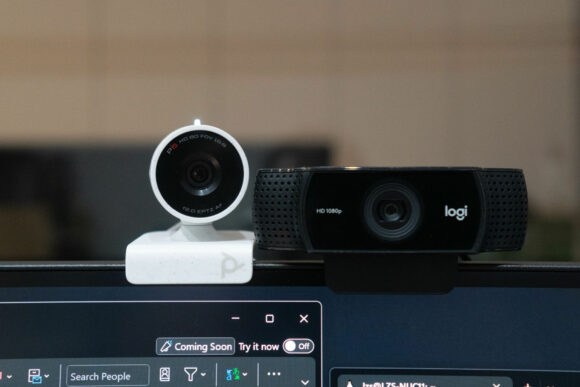 While the C922 Pro has stereo microphones (which I don't use), the Studio P5 has a single directional microphone. Of course, I recommend using the Poly Sync 20+ for audio. The camera's microphone isn't going to be great, and you'll need a proper speaker anyway.
The Poly Studio P5 webcam produces decent image quality under good lighting conditions. The colours do come across a little dull, and overall the image is a little bit soft. Exposure is on point. Same photo below taken from the Windows Camera app.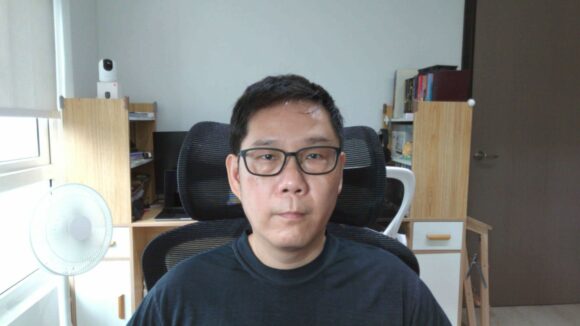 It seems to be under poor lighting conditions that the Studio P5 performs better. Image does get quite a bit more grainy, but the picture is much better exposed and overall is more usable than the C922 Pro.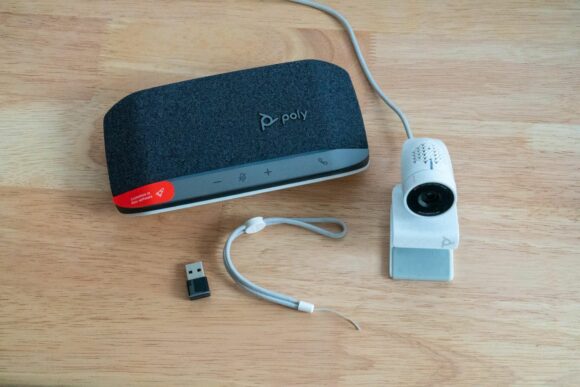 The Poly Studio P5 Kit with Sync 20+ comes with everything you need for your professional online meetings. Its portability makes it ideal for taking along on your travels. This simple to use webcam and speakerphone will help you to always look and sound your best, and also easily hear the remote party.
Personally, I find the Sync 20+ to be the real hit here. Audio is important, and I love the freedom of not needing to wear a headset during my videoconferencing calls. The microphone picks up my voice well while suppressing background noise, and the far end audio comes across clearly. The 20 hour battery life means I never have to worry about recharging even with a whole day of back-to-back meetings.
Poly doesn't sell the Poly Studio P5 Kit with Sync 20+ bundle to end users through retail channels at the moment. However, you can just buy the two parts individually. The Studio P5 is available at around $214 (e.g. from Lazada). The Sync 20+ sells for about $269. Other Poly gear is available through their online Lazada store and online Shopee store.