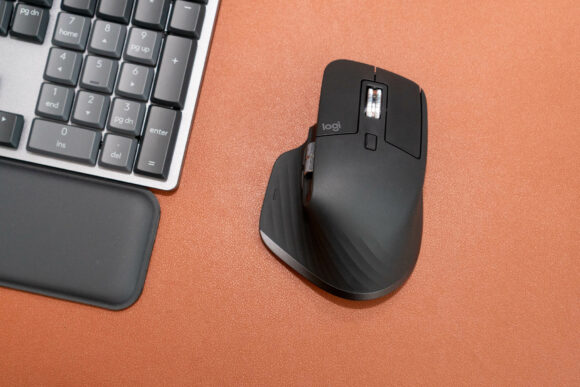 Alongside the new MX Mechanical Keyboard, Logitech also launched the new MX Master 3S mouse. This is the successor to the MX Master 3, which is itself already an amazing productivity mouse for PC and Mac users. How does the MX Master 3S fare?
I've owned and used the older MX Master 3 mouse for a while, and I'll be upfront to tell you that I think they're the best productivity mouse I've ever used. I don't know why I didn't get around to writing a review about it. It is so good that there's a problem with it. You gotta buy two of them; one to use at home, and another for the office. They are so good I must have them at both places, and I don't want to bring them back and forth. (I know some people who buy three of them… the third one for mobile use.)
All the older mice in the MX Master series have been pretty good, but it is the MX Master 3 that hit the level of goodness that I didn't wish anything more of it. It felt good, all the buttons were in the right place, and it was just so nice to use. But of course, Logitech couldn't just stop. So here we have an improved mouse, the MX Master 3S, and I was really excited to meet it.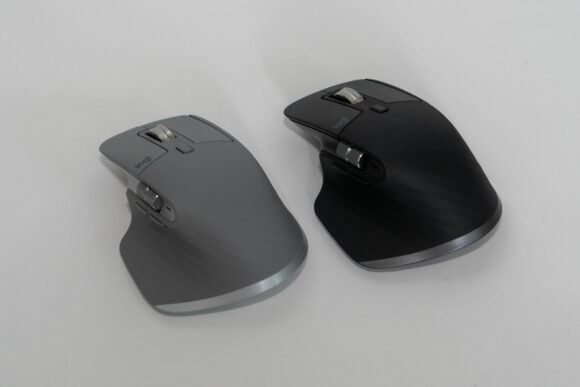 Let me just cut to the chase for people who are already familiar with the MX Master 3. The new MX Master 3S is largely the same mouse, differning in just a few aspects: a new 8,000 dpi sensor (up from 4,000 dpi), quieter button clicks, and now supports the new Bolt receiver (instead of Unifying receiver). Whether MX Master 3 users will find the new MX Master 3S a worthwhile upgrade, well, I'll come to that later.
The MX Master 3 and MX Master 3S are so similar you would be hard pressed to tell the difference between them. (The older MX Master 3 is pictured on the left in the above photo.)
For others unfamiliar with the MX Master series, this is Logitech's premium productivity mouse series. The MX Master 3S is wireless, supports Bluetooth and Bolt receivers, can pair with and easily switch between up to three computers, and has an ergonmic design with extra buttons and phenomenal scroll wheels. Using an app, you can change what the wheels and buttons do, and these can be customised on a per-app basis.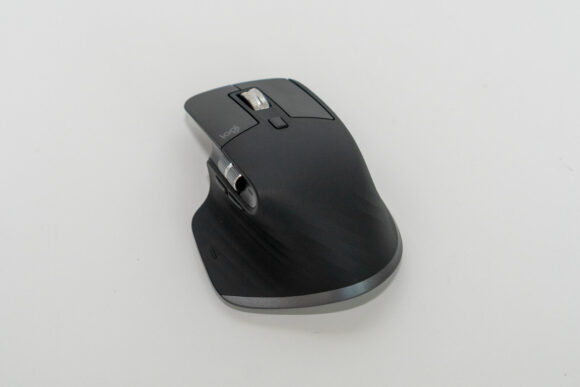 I used to be on the fence about having too many buttons on a mouse. But when you put all the buttons and wheels in the right places, I think a few more of them can be absolutely useful.
The MX Master 3S has a total of six buttons, not including one scroll wheel that can itself be clicked like a button. First, there are the two standard left/right buttons at the top, then there are two thumb buttons on the left side, another thumb button on the bottom of the thumb rest, and finally a button behind the top scroll wheel.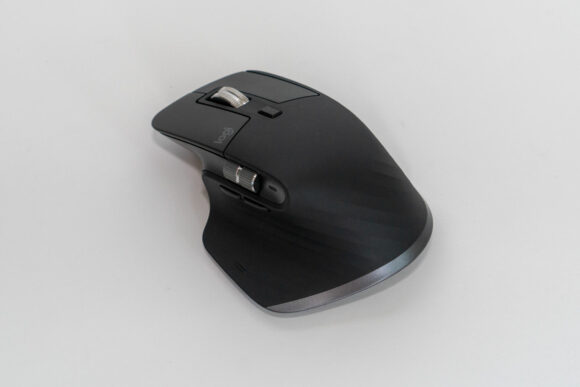 Then, there are two scroll wheels, one on top for vertical scroll, and another thumbwheel at the side useful for horizontal scroll. These scroll wheels are the nicest wheels I've scrolled on any mouse. The grooved metal piece is a joy to twiddle.
Like the MX Master 3 before, the main scroll wheel on the top can switch between ratchet mode, where the wheel moves a click at a time for precise movement control, and freewheel mode, where the wheel spins freely.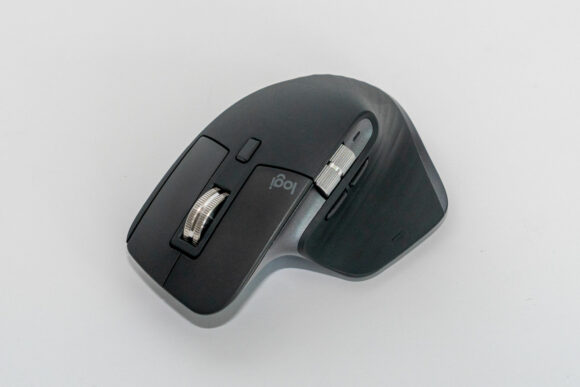 While this mode change can be done with a mechanical switch like in some other mice, the MX Master 3S uses an electromagnetic mechanism to control the mode. This means mode changes can be activated electronically. It can even change on the fly, a mode Logitech calls SmartShift: flick the wheel forcefully enough it spins in freewheel mode, and once it slows down you can control it precisely in ratchet mode. I really love this. Flick to rapidly scroll through long webpages or documents, while still easily control the scroll precisely when I need to.
Scrolling on this wheel can be so addictive that I find myself scrolling just for fun. If you need a fidget toy, this can be it.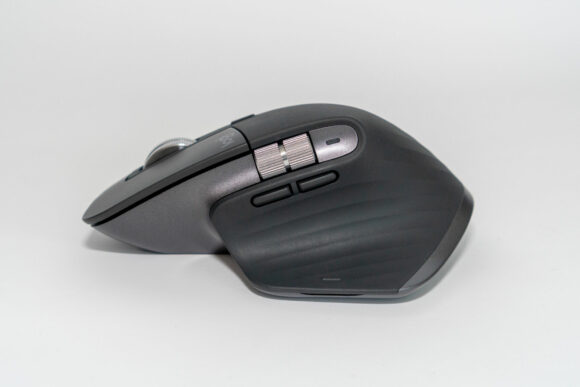 The thumbwheel on the side is a bit more traditional, though still very excellent in its more basic way.
The MX Master 3S is really nice to hold and use. The ergonomic shape fits comfortably under my palm, and the slight outward tilt doesn't force me to rotate my wrist unnaturally. The entire body of the mouse is covered in a lightly textured soft rubbery material that feels good to hold. Button clicks are quiet, quite notably for the main left/right buttons, because those on the MX Master 3 click with much more audible feedback. Funny that while "quieter" is being marketed as better, it did feel more "plasticky and cheap" in my first impressions. Over time I got used to the quietness and didn't think much about the buttons, while the old MX Master 3 started to feel noisy when I went back to it.
The 8,000 DPI Darkfield sensor enables the mouse to work on just about any kind of surface, even glass. The sensor is configurable from 200 DPI upward. 8,000 is very sensitive, a bit too much for me. But it may be nice for people with gigantic screen real-estate, like maybe a triple-monitor setup, who don't want to have to move their hands too much to get from one corner to the opposite corner of their desktop.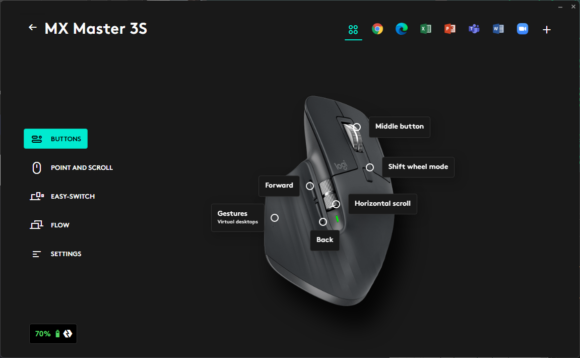 This MX Master 3S is highly customisable. The default modes are as pictured in the above screenshot. That button behind the main scroll wheel is assigned to shift wheel mode by default. You can change it to some other action. Logitech can recommend some sensible ones, but the full list of has over 40 options.
As aforementioned, you can configure the mouse behaviour on a per-app basis. So, for example, the horizontal scroll wheel could be used for horizontal scroll in Excel, which is great for navigating very wide spreadsheets, but used to navigate between browser tabs in Chrome and Edge.
The mouse pairs with three devices using either Bluetooth or the new Bolt receiver. The selection is located under the mouse. This may seem rather inconvenient to reach, but Logitech does have a great software solution — Logitech Flow.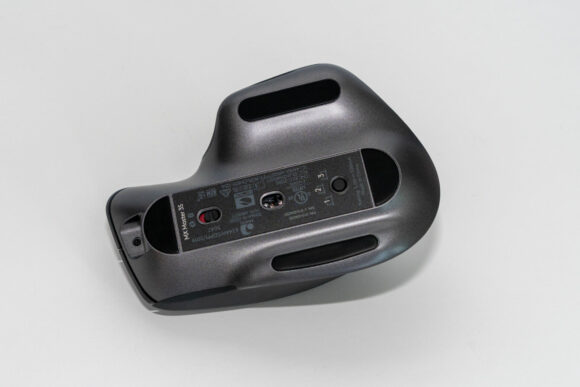 The Logitech Flow feature allows you to easily switch between computers. When configured, you can simply move your mouse cursor off the edge of one computer's screen, then continue onward to the next computer's screen. Your Flow-enabled mouse and keyboard (such as the MX Mechanical keyboard) will just switch over to the next computer automatically. It's just like as if you were working with multiple screens on the same computer.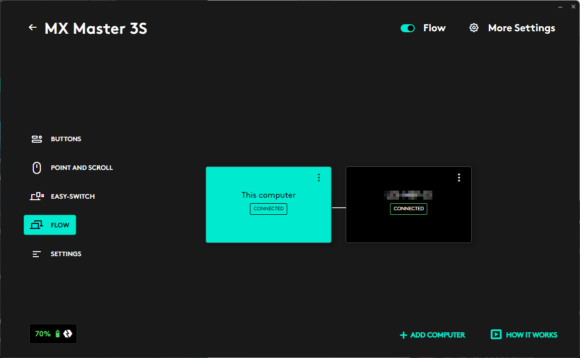 That's not all. Logitech Flow also allows you to copy and paste data between computers. That's right, you can copy text or images from one computer and paste it into another computer, without having to transfer through the cloud. This is truly convenient if you need to work with multiple computers at the same time. Good to know that Logitech Flow works with both Windows and macOS systems.
The built-in battery in the MX Master 3S is rated to last 70 days of use. Charging is via the USB Type-C port located on the front.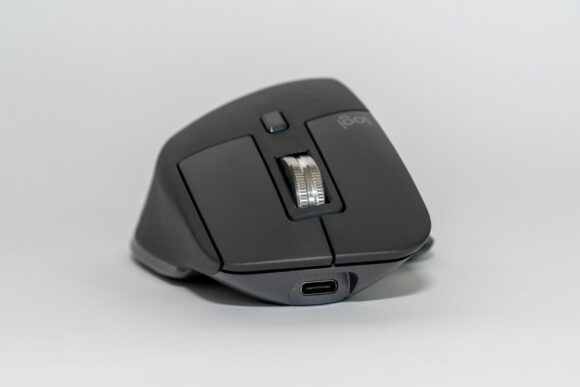 Good to know, if you run out of battery, you can still use the mouse while it is being charged. The mouse still has to work over wireless (Bluetooth or Bolt) and does not function as a wired USB mouse.
The new Bolt wireless connection is a nice feature to have. According to Logitech, Bolt is designed to be more secure with full encryption. It also provides a much more robust wireless connection even in congested Wi-Fi environments. You may also get lower latency, up to 8x. That's great. A Bolt receiver is included in the retail box.
The downside is that the MX Master 3S dropped support for Unifying receivers. If you have some legacy device using a Unifying adapter, unfortunately, with the MX Master 3S, you now need another dongle.
Of course, you could just use Bluetooth, so no extra dongle is needed. But there will be some people, like me, who prefer, and even occasionally need, to use the wireless dongle.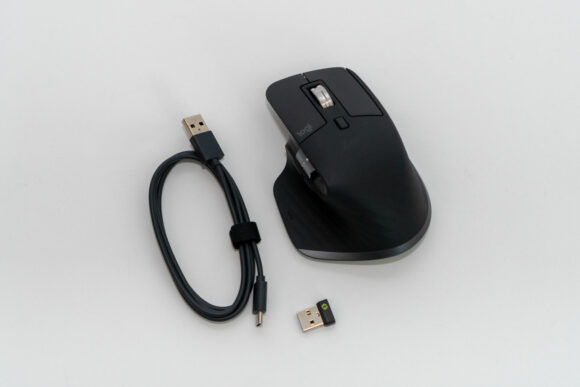 Apart from the Bolt dongle, a USB Type-A to Type-C cable is also included in the retail box.
I've been extremely satisfied with the MX Master 3, and I've found the MX Master 3S to be equally as great a mouse. Logitech hasn't changed a whole lot of things so these two are far more similar than they are different.
This means that I recommend the MX Master 3S as the most awesome productivity mouse. It is comfortable to use and very customisable. Perhaps the most important of all is that it can make a huge difference in helping you work more productively. You might even want to pair it with the MX Mechanical or MX Keys Advanced keyboard for the best premium experience.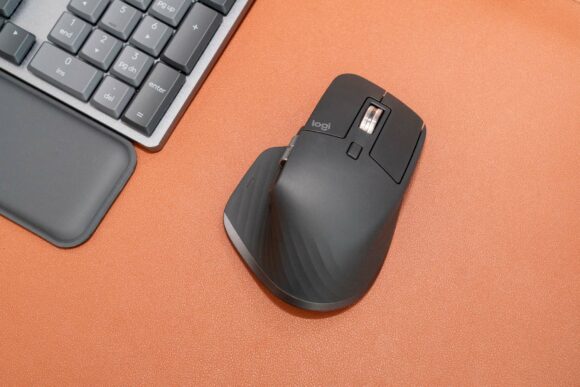 For someone who already has the MX Master 3, I don't think there is much point to upgrade to the MX Master 3S, unless the clicky buttons on the old mouse are bothersome, or the new 8,000 DPI sensor is really that important. Or you simply must have the best security, most robust wireless connection, or the latest gadget.
The MX Master 3 also still remains a great choice if the MX Master 3S seems a bit too pricey, especially since the former will now be available a steeper discounts.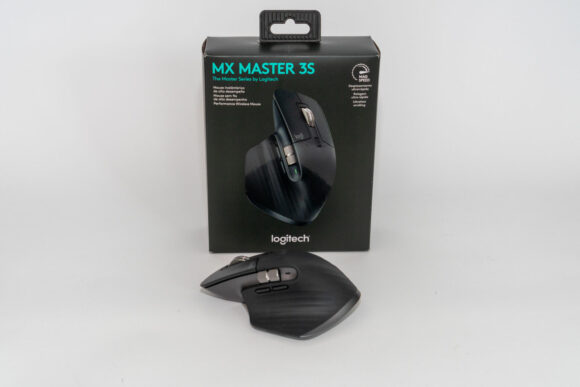 The Logitech MX Master 3S retails at $169. It is available in Graphite (as reviewed here) or Pale Gray colour. You can often catch deals and bundles for significant savings through online platforms like Lazada.
Conclusion
The Logitech MX Master 3S is a pretty awesome mouse that can make a great difference to your productivity.
Pros:
Excellent scroll wheels, awesome ratchet/freewheel modes
More buttons to do more things
High customisable, even on per-app basis
Comfortable ergonomic feel
Cons:
Quieter clicks not for everyone
Button for switching between device is under the mouse