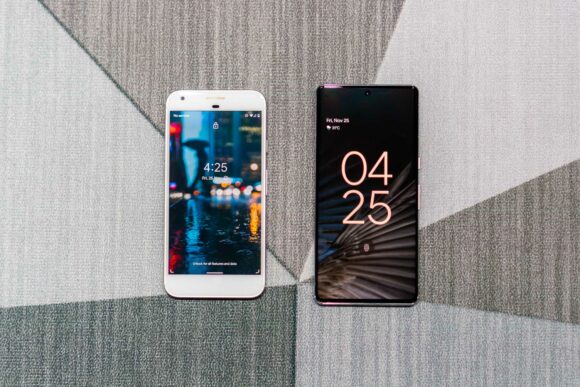 It's taken Google quite a few years. Even more, if we counted from the era of Nexus smartphones. But better late than never. This year, Google launched the Pixel 7 and Pixel 7 Pro. Finally, I think Google has a a pro smartphone to face off with the best the competition has to offer.
This post isn't meant to be a review of the Pixel 7 or Pixel 7 Pro smartphones. I will probably recap some points but there are plenty of other excellent detailed reviews you can find on the Internet. Instead, I wanted to look at how Google has finally got everything right with the Pixel 7 Pro, and the road they've taken to get here.
A quick bit of history. Google's smartphone aspirations started with the release of Android in 2008. At that time, you could buy Android development phones made by HTC (Dream in 2008 and Magic in 2009).
Then, from 2010 to 2015, Google worked with hardware partners to make and sell Nexus-branded smartphones. These are smartphones for normal consumers to use, not just developer toys. There were 8 models, from the Nexus One to the Nexus 6P, and they were made by manufacturers like HTC, Samsung, LG, Motorola and Huawei.
From 2016, Google decided they would make the smartphones themselves. This began the era of Pixel smartphones. Google released a pair each year, one with a smaller screen and another with a larger screen. In 2019, Google also begun releasing a budget-friendly model in-between their major releases.
The Pixel 6 and Pixel 6 Pro, released in 2021, used for the first time Google's own processor. They called it Tensor. It's a milestone. If one wanted to make comparisons with Apple iPhones, this is the point when Google has reached the same ranks. Now for the first time, Google made the software, the hardware (well, mostly), and built their own main processor.
Last year, I was tempted to say that the Pixel 6 Pro has finally made it. Everything that there was to complain about in earlier Pixel smartphones were, to a large extent, addressed in the Pixel 6 Pro. Except that, unfortunately, soon after the launch, a myriad of software glitches surfaced. The experience was marred for some users.
Personally, I thought, as with any 1st generation product, in this case Google's first attempt at using their own processor, the Pixel 6 Pro might also have some teething issues. Interestingly, the Tensor chip itself didn't seem to be a problem, though it wasn't able to compete with the best of Snapdragon and Apple A-series processors.
So, this year, we have the Pixel 7 and Pixel 7 Pro. They have the new Tensor G2, which still doesn't outperform the latest from Snapdragon and Apple. But, I think, some people are willing to look past the traditional benchmarks. The most important question is if the smartphone performs like you'd expect of a premium flagship smartphone.
I think the simple answer is, yes, the Pixel 7 is every bit you'd expect of a premium flagship smartphone. Let me just focus on the Pro variant. The Pixel 7 Pro has made some meaning improvements over the Pixel 6 Pro. The latter was already great, despite the post-launch software problems. It's now about 2 months since the Pixel 7 Pro's launch, and it looks like Google has managed to avoid the same problems from last year.
For years, Google has tried to use software as a key selling point to make up for the, often, pretty good but clearly not best-in-class hardware. Its computational photography, for example, was designed to deliver impressive results from hardware that was lack-luster. It works to some extent, but at some point, you really need better hardware.
So, it finally came to be. Google realised they needed to build their own Pixel. They needed to make their own processor. Also, seriously, you cannot just keep re-using the same camera from 3 years ago. While the Pixel 6 Pro fixed all that, still we want more zoom, and we want more ultra-wide.
Reviews of the Pixel 7 and Pixel 7 Pro have been positive. It's come back strong on photography, especially with the Pixel 7 Pro's 5X tele-photo zoom lens now providing great close-up shots alongside the 0.5X ultra-wide. Battery life is good, with no problems lasting all-day. The display is so bright (up to 1000 nits) that it'll work comfortably even under the sun.
This would be the first time one can quite comfortably recommend the Pixel 7 Pro to any casual consumer who wants a premium flagship smartphone. There are no more compromises. Just like how the iPhone 14 Pro is likely to be easy to recommend to iPhone users, the Pixel 7 Pro is the one to recommend to Android users.
This year, the Google Pixel 7 Pro finally earns the spot to represent the best of Android smartphones.