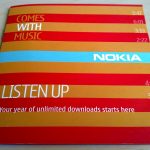 The Nokia 5800 XpressMusic I got last weekend enabled me to try out Nokia's Comes with Music for the first time, and also to explore more of the Nokia Music Store than I did before. I'm also quite familiar with Apple's iTunes Store, which does a lot more than selling music. The two stores are used primarily to support and push the sales of products from their respective companies. What do I think of the two stores?
First of all, as a late entrant into the market, I must commend Nokia for creating a reasonable competition to other old-time online music stores. They still have lots of catching up to do with Apple iTunes Store. But the Nokia Music Store is certainly no weak competition.
I've no idea how many songs the Nokia Music Store has or how it compares with Apple iTunes Store. Perhaps someone who knows the current numbers can update me. On the surface it does look like the Nokia Music Store has all the major music labels. It does have an advantage over Apple iTunes Store: Asian music.
But perhaps the inclusion of Asian music is due to the presence of the Nokia Music Store in Singapore. Apple iTunes Store, sadly, was not available in Singapore until the official availability of iPhone here, and then, it was only to offer iPhone apps. I.e., the iTunes Store here primarily sold apps, not music.
In the US, the Apple iTunes Store sells many things: music, video (movies, TV shows, etc), books, apps, etc. You could even rent videos. The Nokia Music Store, on the other hand, sells music only. Nokia's equivalent of the App Store would be Ovi Store.
The Nokia Music Store features are basic, and those basic things are equivalent to what Apple iTunes Store offers. For example, 30 second track preview, top charts, etc. A nice thing is that you could browse the Nokia Music Store through a web browser. There is also a native application which is needed to sync with phone, burn CD, etc. But otherwise its interface to the Music Store itself looks awfully the same, perhaps it is just an embedded MSIE engine. The whole Nokia Music Store feels slow. Perhaps Nokia doesn't have so good Internet connection to push their content as Apple do.
Nokia Comes with Music is really fun. This is something that Apple has not gone into. Basically, the Comes with Music service give you one year of unlimited free music downloads from the Nokia Music Store. When the one year is up, your free downloads end, but all the music you've already downloaded is yours to keep forever.
However, because the music from Nokia Music Store is DRM protected, there are some restrictions with where you can transfer your music. For the Comes with Music service, you can transfer to one PC and one phone. Sadly, you cannot burn to CD.
If you buy music from the Nokia Music Store (not using the Comes with Music service), you are allowed to burn the music to CD. That would mean you can at least play the music elsewhere by taking the CD around, or even ripping the CD back to a computer.
Nokia Music Store sells music for S$1.99. The Apple iTunes Store, starting this year, has three price tiers for their music: US$0.69, US$0.99 and US$1.29, depending on the popularity of the music. US$1.29 still works out to be around S$1.99, so that means you can generally buy music cheaper from the Apple iTunes Store… except that there is no Apple iTunes Store in Singapore (and ways to circumvent this will usually end up costing more).