If you patronise Toast Box frequently for their coffee, this could be a good offer to get. To celebrate the opening of their 100th stores worldwide, Toast Box has launched a limited edition 100 stores worldwide Kopi Card. It's both a NETS FlashPay card, and also a special stored value card for purchasing discounted coffee from Toast Box.
I've not seen or come across such a branded NETS FlashPay card to date. On the one hand, it functions as a regular NETS FlashPay card into which you can top-up cash value, and use to pay at merchants that support NETS FlashPay. This includes the paying of fares on our public transport (busses and MRT). At the same time, the card can also store specific credits for the merchant issuing the NETS FlashPay card.
For the case of the Kopi Card from Toast Box, the card stores credits for buying regular size coffee.
The Kopi Card initially costs $18.80, which includes 12 credits for regular coffee. Each regular size coffee costs $1.80 when you pay by cash. With the Kopi Card, that means each regular coffee costs only S$1.57.
Subsequent 12-credit top-up of the Kopi Card costs $16.80. Basically, think of the $2 extra for the initial purchase of the card as the cost of the card itself. So subsequently, each regular coffee costs $1.40.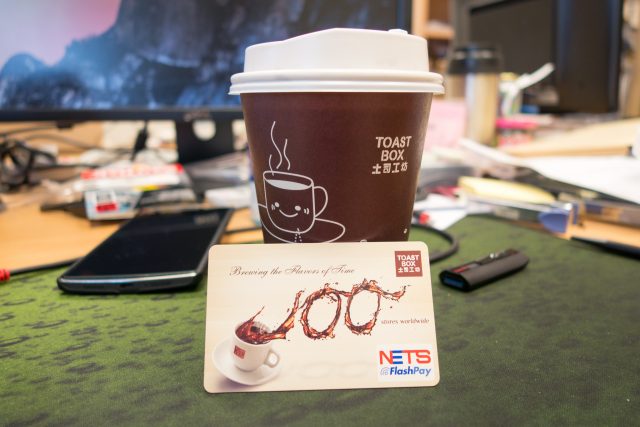 Better yet, from now until 31 March 2015, the top-ups are discounted 10%. That means each regular coffee thus costs $1.26.
You can upgrade to the large size coffee by paying an extra 30 cents when you use this card. Usually, the large size coffee costs 40 cents more ($2.20) than the regular size coffee.
Sounds like a great deal, if you patronise Toast Box regularly. This Kopi Card replaces the old coupon booklets that Toast Box used to sell.