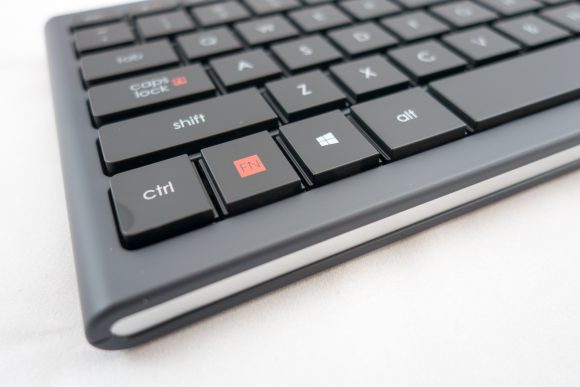 There is no shortage in the types and designs of keyboards. Keyboards that are designed to be used in the living room, particularly those that you won't feel embarrassed about taking centre stage with your movie night guests around, now those might not be so plentiful. The Logitech K830 is one of those keyboards that fill this need for a HTPC in your living room.
Keyboards are an important accessory to a computer. Many people have a special relationship with their keyboards, if not just because they spend enormous amounts of time with them. I'm sure you must have heard of people who upgrade their desktop computers but retain their old keyboards.
Living room keyboards, however, serve a different purpose. Of course, I'm assuming it is a HTPC that you're hooking it up to, one that you used for media consumption, and not a work computer that happens to occupy an awkward spot in your living room.
Most keyboards, to be honest, aren't designed to look good. Keyboards are usually designed for function, ergonomics, or budget. As a Mac user, I might want to point out that the Apple Wireless Keyboard does actually look pretty nice. But it, too, doesn't seem appropriate for a HTPC, and that's not just because Apple doesn't make HTPCs.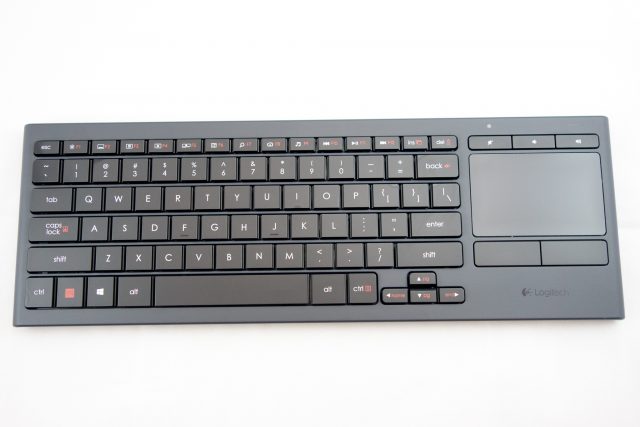 So here Logitech stepped in to offer the K830. It's a combo keyboard with an integrated trackpad. Yes, you need an integrated trackpad, otherwise you'd have to wield another another gadget in your living room, and have yet another gadget go missing. This is a full-sized keyboard, so it's really comfortable and spacious to type on.
The total width comes in at 367 mm, and about 125 mm deep. It's about 16.5 mm high. It weighs 457 g. Yes, almost half a kg. It does feel hefty. Sometimes, hefty can mean solid and robust. In the case of the K830, it's made of plastic, so the heft doesn't quite commensurate with the build material. In fact, I think the heft actually helps make the K830 feel more premium than the plastic body lets on.
The keys are made of plastic too, and they do feel a bit wobbly to type on. In my opinion, they don't offer the best typing experience. The saving grace is that, as a keyboard designed for your living-room HTPC, hopefully you don't type much on it.
A really nice thing is that the keys are illuminated, so you can see them easily in the dark. There are two levels of brightness (apart from "off"), so you can control the level of illumination you desire. In fact, the soft glow of the backlit keys does make the keyboard look quite classy.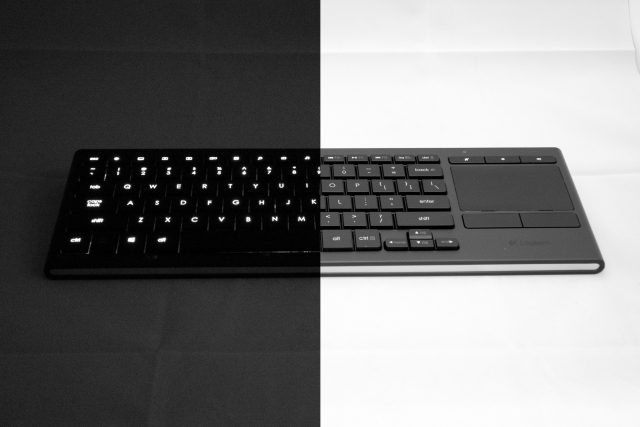 The K830 keyboard is wireless, but not Bluetooth wireless. It uses Logitech's own wireless technology, and works with the included Unifying receiver that plugs into the USB port of your computer. Many desktop computers don't have Bluetooth, so it's more practical for Logitech not to go Bluetooth with the K830. On the other hand, you'd better not lose that Unifying receiver. If you leave it permanently plugged into your computer, I suppose it should stay safe.
The K830 has a wireless range of up to 10 m, good for most homes, unless you actually have a movie theatre inside your house.
You don't need AA or AAA sized batteries with the K830 keyboard. It has a built-in Lithium ion battery, which is charged via a Micro-USB port on the back of the keyboard. Logitech says the batteries are good for 10 days with 2 hours of use per day (i.e. 20 hours of use), with the backlight on at full brightness, after 3 hours of charging. That doesn't sound impressive at all. However, considering that you should not need to use your HTPC's keyboard all that much, I suppose in practice the keyboard will last for many days before requiring a recharge.
Overall, the Logitech K830 looks really nice. It looks nicer than it actually feels, no thanks to wobbly keys and a plastic body. The backlit keys are really beautiful.
The Logitech K830 costs S$139. It comes with a Unifying receiver, a USB range extender (i.e. an extension cord), and a Micro-USB cable for charging.
Conclusion
The Logitech K830 is built for your HTPC, and has the looks worth to belong in your living room.
Pros:
Beautiful design
Classy backlit keys
Cons:
Plasticky construction and wobbly keys