If you hate fumbling for keys to open your door, or worse, having to pass keys around for someone to get into your home while you're out, then perhaps you need a smart lock. Igloohome, a Singapore-based startup which raised US$1.25M in seed funding earlier this year, has a solution that's really simple, novel, and affordable.
Note: There is now an updated version of this lock. Please check out my new review of the Igloohome Smart Deadbolt Lock 02!
The Igloohome Smart Lock allows you to unlock the door with a PIN code on its keypad. You can also unlock the door via Bluetooth using their igloohome app on your smartphone. There's still a physical key available as a backup.
What makes the Igloohome Smart Lock really interesting is that you can create one-time PINs and time-limited PINs anytime from your smartphone. The lock does not need Internet access, and you do not need to be next to the lock to program the PINs. You can also issue similar Bluetooth keys for others to use with the igloohome app on their smartphones.
The remote, adhoc, creation of PINs and Bluetooth keys means that you can grant unexpected visitors access to your door even when you're away from home.
I was really excited when Igloohome offered to install their Smart Lock on my door. I've been thinking about getting a smart lock, and this came at just the right time.
To get started, you need to choose which type of Smart Lock to install. The two types are:
Latch type: This is mostly suitable only as a replacement of a Passage Set on an existing door, or for installation on a new door.
Deadbolt type: In most other cases, the deadbolt is used as an add-on to an existing door that has a mortise lock, or, replacement of existing deadbolt.
Igloohome provides diagrams, photos, and plenty of details to help you decide which lock type is right for you. If in doubt, of course, you can ask them. They will ask for photos, anyway, if you are planning the installation on your existing door, so they can check that it is workable.
After you purchase the Smart Lock, you will be sent a link to schedule an installation appointment, as well as to upload the aforementioned photos of your existing door. Installation is free at this time, and although you could have installed the lock yourself or have someone else do it for you, I'd recommend going with their installer. Igloohome's installer doesn't just install your lock, they also provide you a very useful crash course on using the new lock.
The installer arrived right on the dot for my 9am appointment. He brought his tools and, of course, the Igloohome Smart Lock.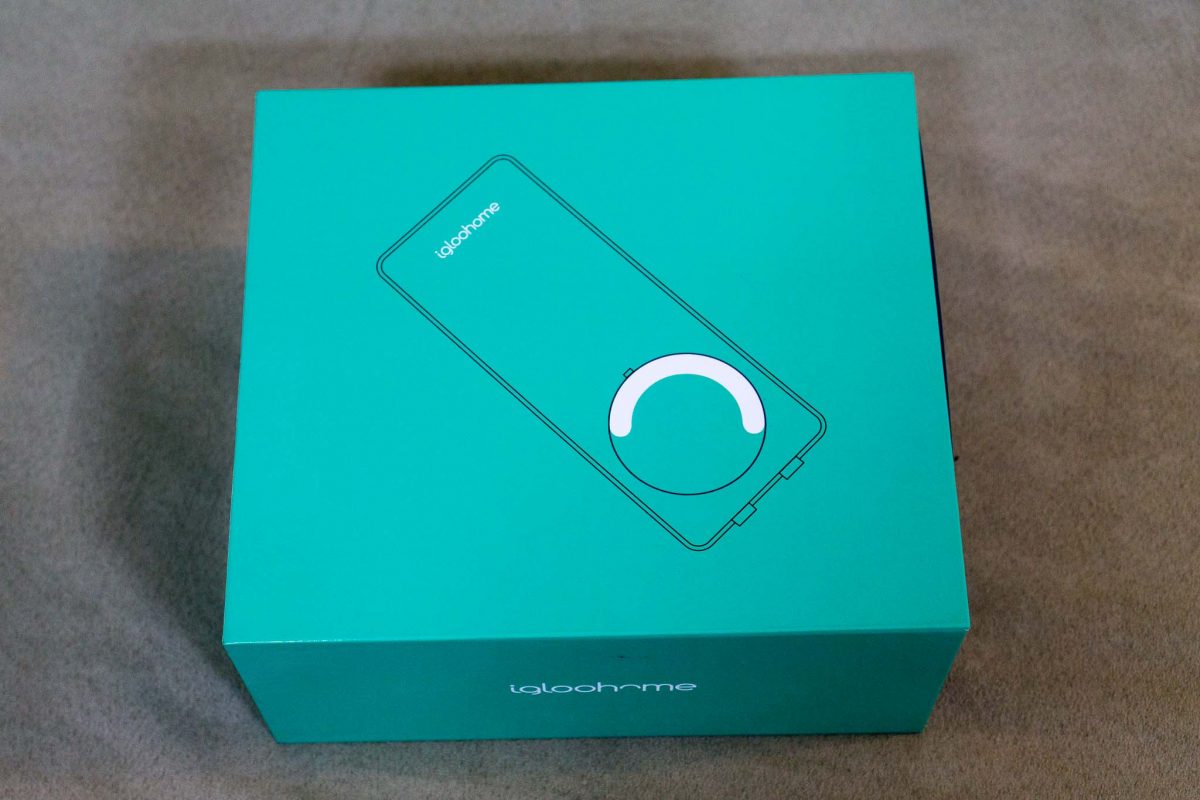 While the installer busied himself prepping for the installation, I snooped around the contents of the box. Batteries are included in the box. I was told not to use rechargeable batteries, because their nominal full-charge voltage of 1.25V or so per cell is not sufficient for the near 6V demanded by the Smart Lock.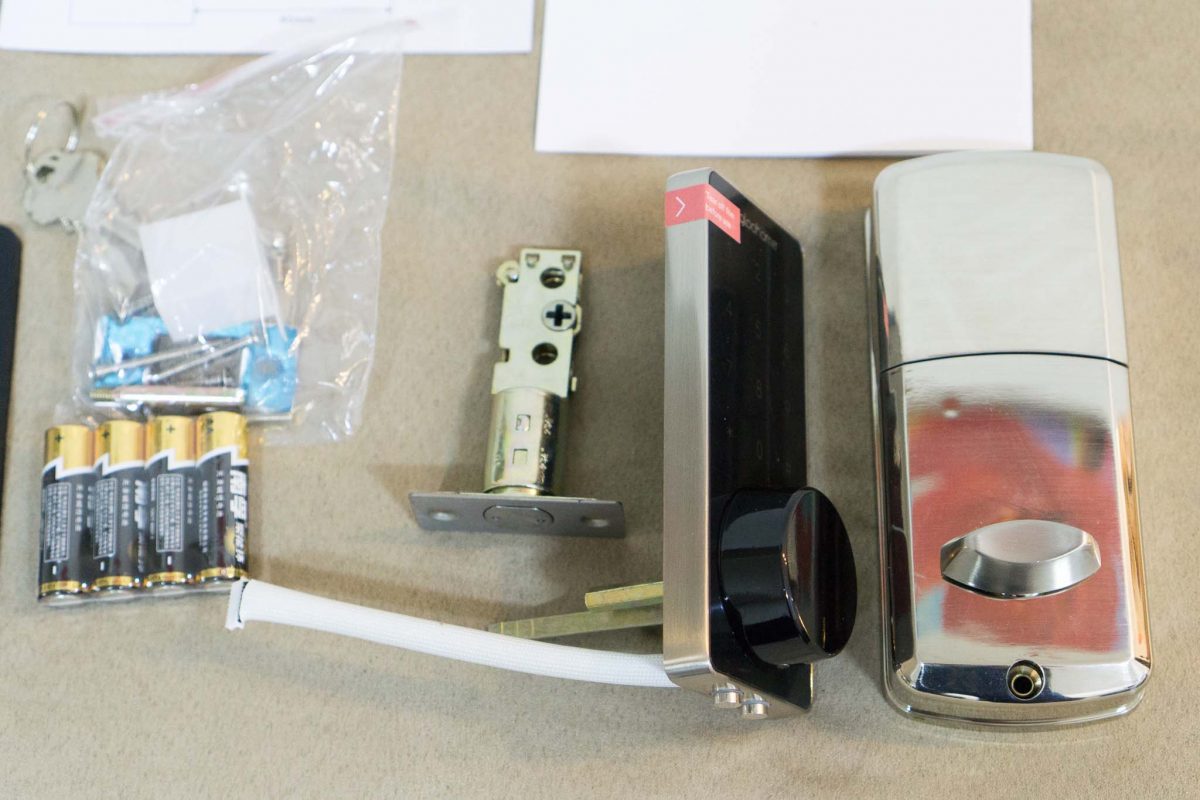 Installation intructions are provided, including a drilling template, but as mentioned earlier, I'd recommend that you leave the installation to Igloohome to do. Even for a professional who installs this lock day in and day out, it still took him over a half-hour to finish the job.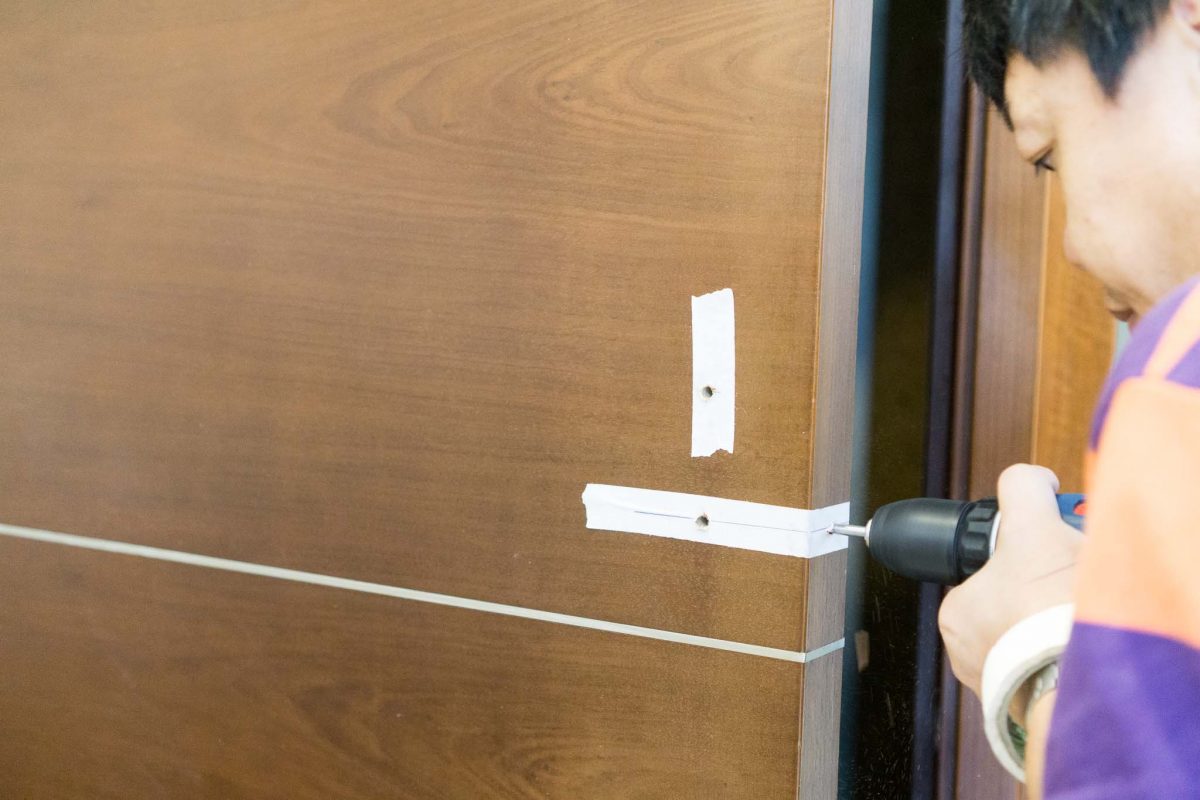 As you can tell, I have an existing mortise lock on my door. The Igloohome Smart Lock deadbolt is installed as an additional lock. The existing mortise lock handle will still be used to open the door, but we will not use its lock anymore.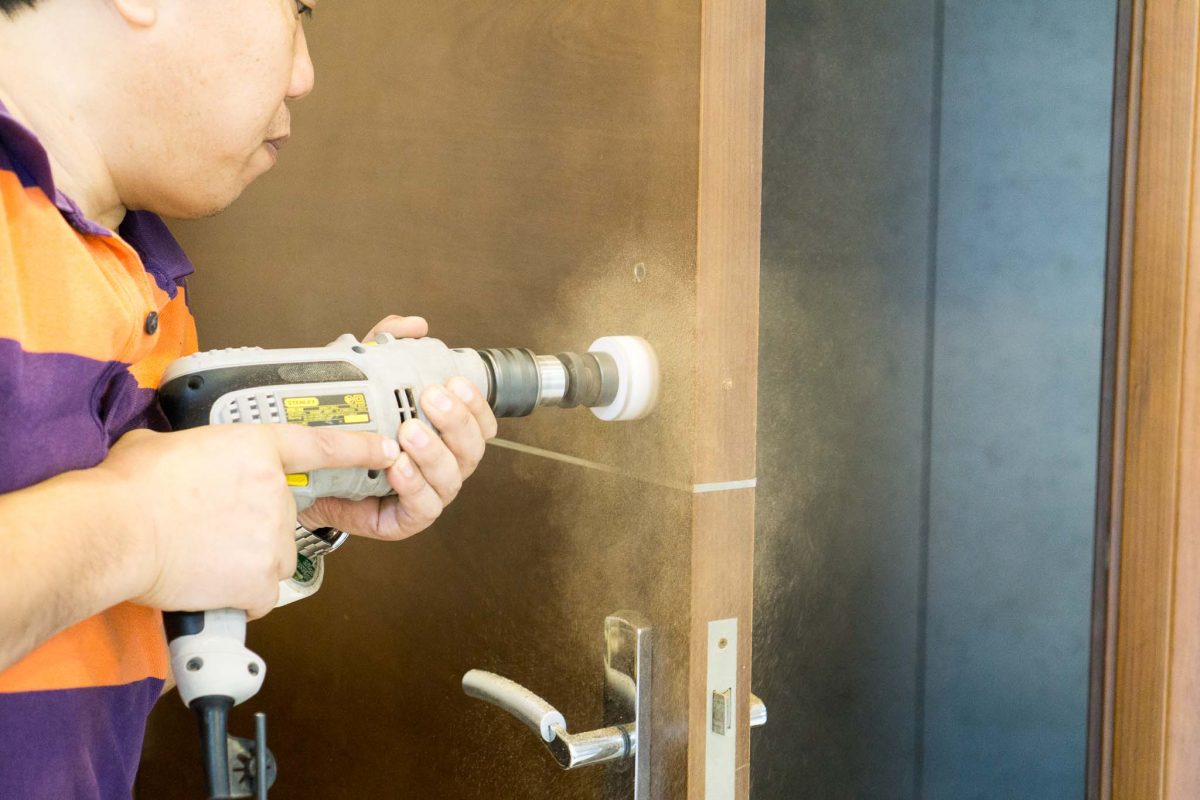 Drilling into wood leaves a lot of fine sawdust flying in the air. The installer will do cleanup, but if you are very particular about dust in your home, I'd suggest you set aside some time for your own cleaning.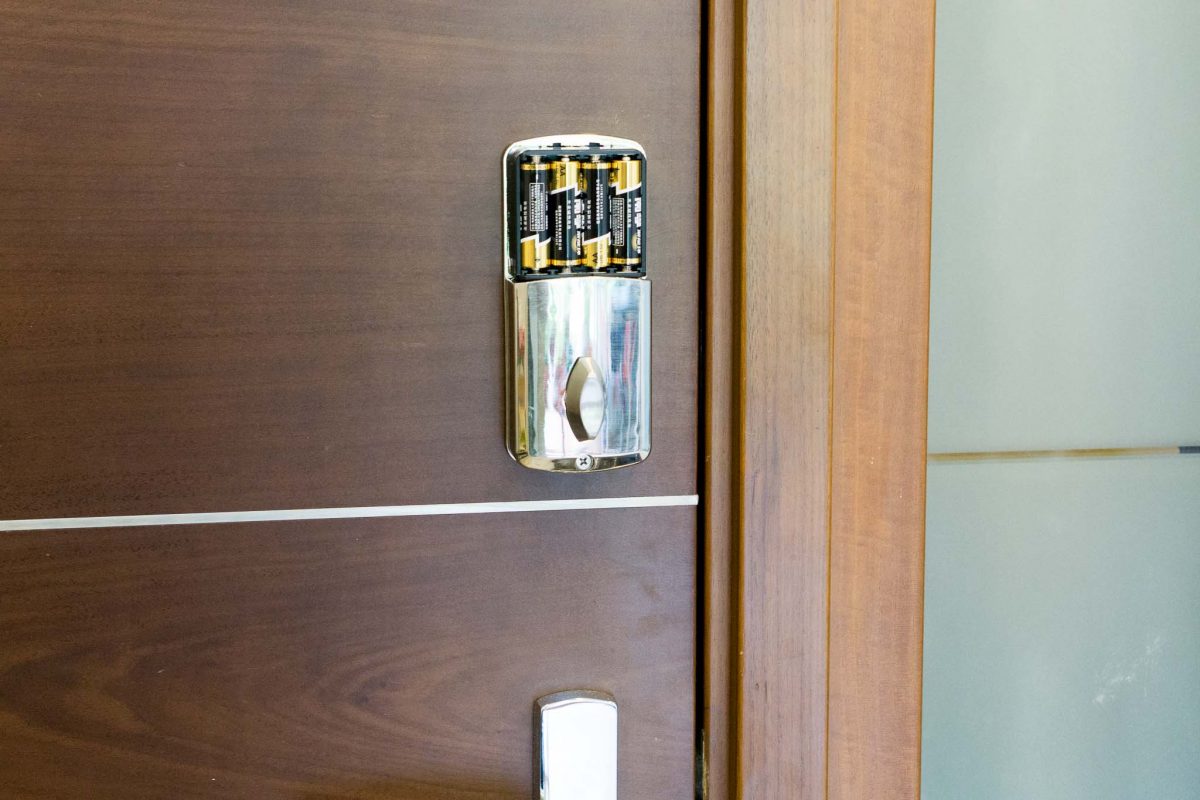 Batteries for the Smart Lock are under a removable plastic cover on the inside. They are expected to last 6 months. If the battery power is low, you will get an audible alert when you lock with the keypad. The smartphone app will also receive the updated battery status when it's used to unlock the door.
If the batteries do run out completely, you can still power the Smart Lock with a 9V battery through the pair of 9V battery contacts under the external side of the lock. Just remember to somehow have a 9V battery handy. Of course, you can also use the physical keys.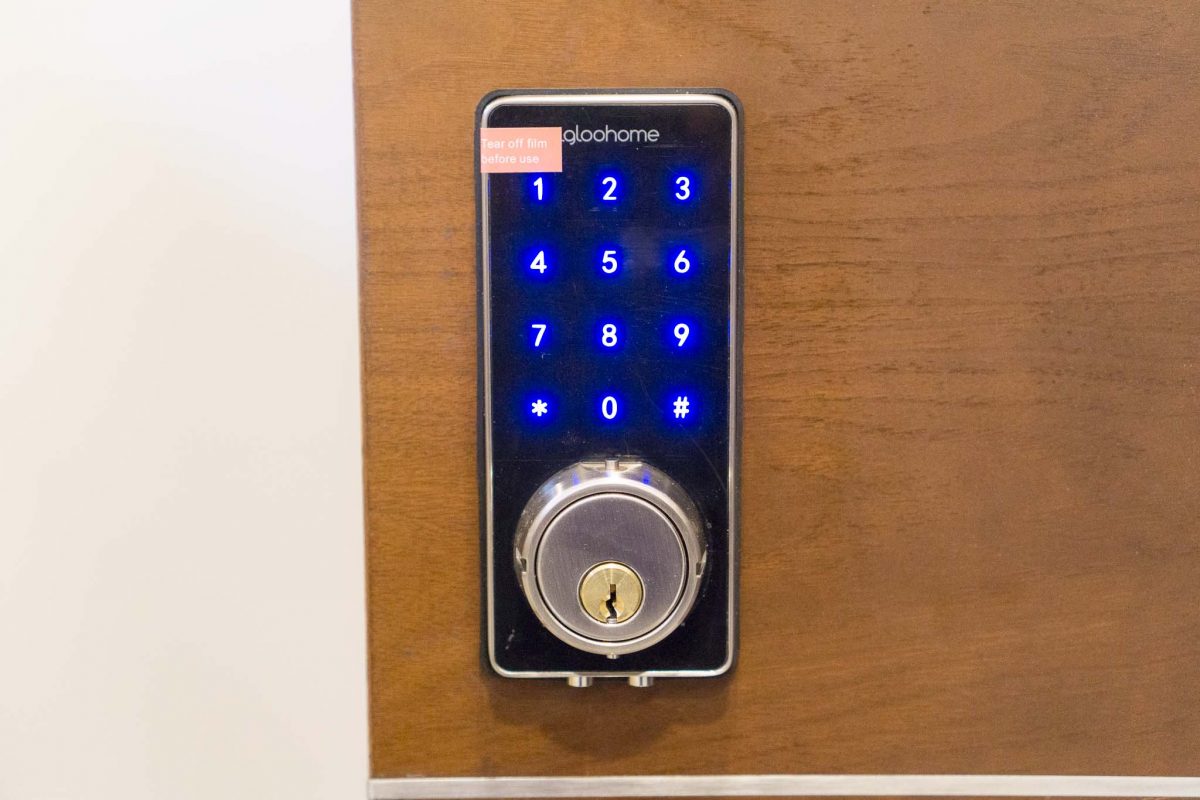 After the Igloohome Smart Lock was installed, it was time to setup my smartphone. Installing the igloohome smartphone app, available for both Android and iOS, is no problem. The trouble started with trying to add the new Smart Lock to my phone (or account). We tried numerous times, but my Nexus 6P refused to communicate with the Smart Lock.
We gave up and used my Nexus 7 (2013) tablet. It, too, refused to communicate with the Igloohome Smart Lock.
The setup worked on the installer's iPhone though. We made do with that so as to continue with explaining the use of the lock. The lock itself is associated with your Igloohome account, so it is alright to have the lock setup with one phone, but later use another phone to unlock, or to use other app functions. Unfortunately, my Nexus 6P still failed to unlock the Smart Lock most of the times.
In the subsequent days, I found that the Igloohome Smart Lock worked perfectly well with the Leagoo Shark 1 smartphone I also have. It also worked quite well with my older OnePlus One. The takeaway here is that the Igloohome Smart Lock may be a bit picky with what phones it'll work with. Igloohome does have a list of officially supported smartphones, so perhaps it will help to check if your phone is there. It's probably best that you have an iPhone, because the Smart Look seems to work most beautifully with iOS.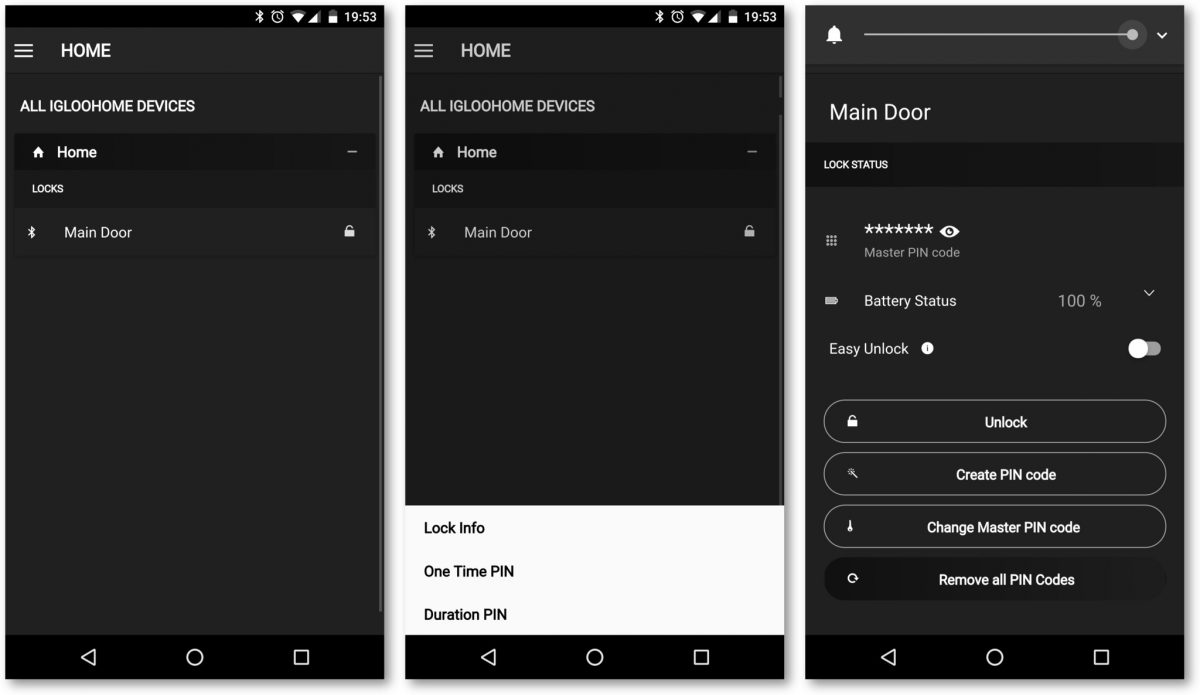 Igloohome is actively developing and improving the smartphone app. They originally targetted to serve Airbnb hosts, and their app had thus looked rather awkward to home owners who just want to use the lock for themselves. Well, the app looks better now. In fact, while preparing to write this review, they have a significant change in UI again. The screenshots above are the "before", and the next are the "after".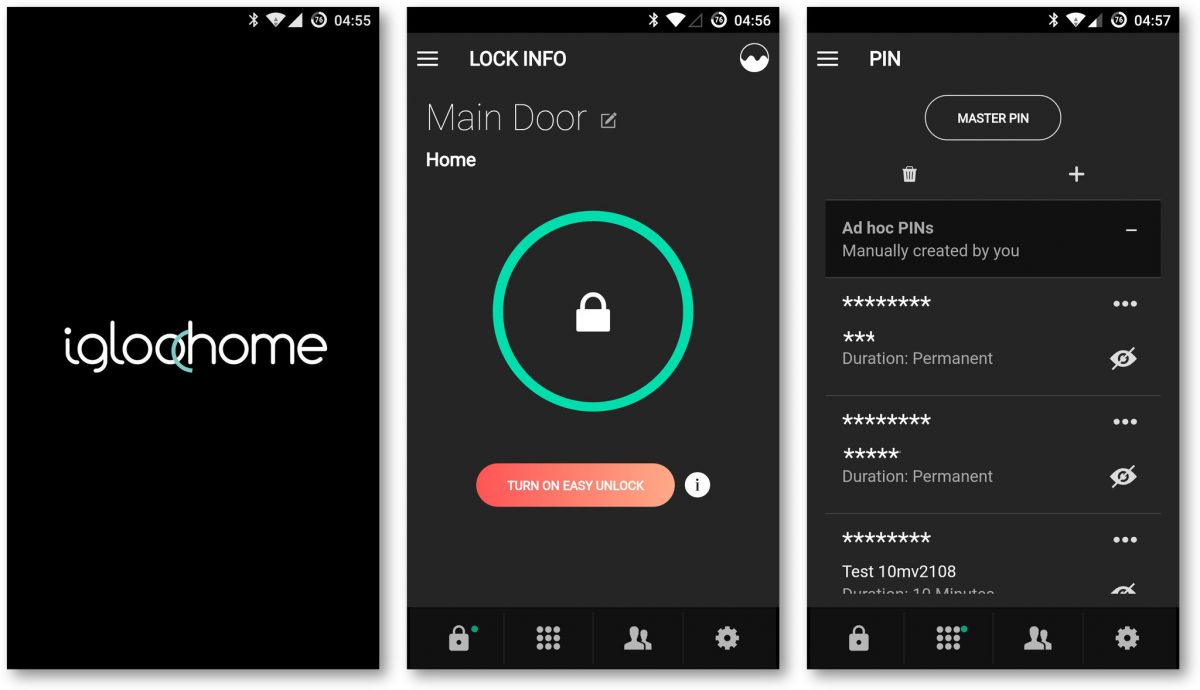 The splash screen slows things down a little when you want to quickly get into the app, which you need to unlock you door. You see, the app must be opened for the Bluetooth unlock to work.
The crash course given by the installer is invaluable. This lock has plenty enough features that they aren't all self-explanatory. So here's a brief outline about using the lock.
When you first setup the Igloohome Smart Lock, you'll need to create your Master PIN. This is a 7 to 10 digit number that will always work on your lock, unless you reset the Master PIN.
The Smart Lock also pre-generates about 300 PINs, referred to as ad hoc PINs. You can reset all the ad hoc PINs. Resetting ad hoc PINs do not affect the Master PIN, and vice versa.
The pre-generated ad hoc PINs are used to issue PINs for your guests. The smartphone app allows you to create time-limited PINs, with validity such as 10 minutes or 1 day. These time-limited PINs start their countdown time from the first time they are used.
The pre-generated ad hoc PINs can also be used to issue one-time PINs (i.e. they work only one time) and permanent PINs (they will work without time limit). Of course, once you reset the pre-generated ad hoc PINs, all these PINs are invalidated.
While you can remove these issued PINs from your app display, they aren't actually removed from the Smart Lock. You you need to cancel someone's PINs and prevent them from unlocking your Smart Lock, you must reset all the ad hoc PINs.
Resetting the Master PIN and ad hoc PINs require Bluetooth proximity to the Smart Lock and an Internet connection. Issuing ad hoc PINs, however, can be done remotely without proximity or any communication with the Smart Lock.
The way the ad hoc PINs work are quite novel. Igloohome, unfortunately, doesn't release details about their inner workings (I asked). As an IT security person, I would have liked some transparency in the security protocol. I would surmise that the ad hoc PINs are created from a list of hashes seeded by a secret. Resetting the ad hoc PINs simply changes that one secret. The specific PIN limitations (e.g. one-time, time limited) are encoded with codes from the hash list to produce the actual PINs issued to guests.
Ad hoc PINs are 8 digits to begin with. Users, however, can change the 8-digit PIN into any 6-digit PIN of their choice. This is done on the Smart Lock keypad itself.
For better security, you can press random digits before your actual PIN. The Igloohome Smart Lock knows to ignore the extra numbers, even though the PIN could be of varying lengths (e.g. Master PIN is 7 to 10 digits).
Igloohome recently added support for Bluetooth keys. Previously, the Bluetooth unlock works for the lock owner (or on any smartphone signed in to the owner's account). Guests must use PINs to unlock the Igloohome Smart Lock. Now, you can create Bluetooth keys to be sent to other users, who then receive the keys into the igloohome app on their smartphone, and subsequently can use their smartphone to unlock the Smart Lock.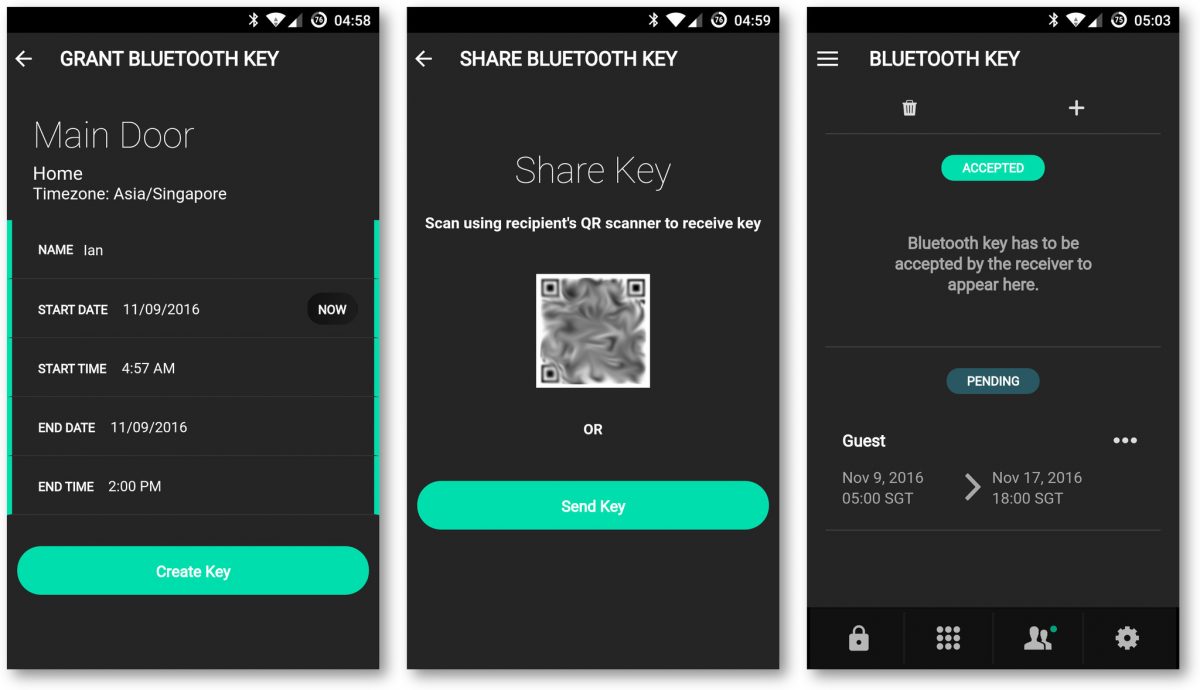 Since the Igloohome Smart Lock doesn't connect to the Internet, you don't have real remote control and status update of the lock. Sure, being able to issue PINs remotely is a cool feature. But remember you couldn't cancel one specific PIN without resetting all PINs? Well, the locks independent operation also has other limitations, such as the inability to remotely lock or unlock, or to just to check on the lock status (i.e. is it locked or unlocked).
Although the Igloohome Smart Lock doesn't have other high-end features like fingerprint scanner or RFID proxity tags, it's simple PIN-based unlocking, ad hoc PIN issuance, and Bluetooth unlocking make it a very functional and practical lock.
Presently, the Igloohome is running a promotion of the Smart Lock at S$288, inclusive of free installation. The price is the same for both the deadbolt and latch versions, and the price is good until the end of November 2016.
Conclusion
The Igloohome Smart Lock is really affordable and value for money. It's mostly a simple lock with basic features, but has a very novel feature that allows for the creation of ad hoc PINs for guests without needing to communicate with the lock.
Pros:
Can use Bluetooth, PIN, or physical key
Supports permanent, time-limited, or one-time PINs for guests
No need for Internet access apart from initial setup/pairing
External battery terminal for emergency power
Cons:
Needs to work with more smartphones
No transparency on security protocol
Update (2017-03-27): There is now an updated version of this lock. Please check out my new review of the Igloohome Smart Deadbolt Lock 02!