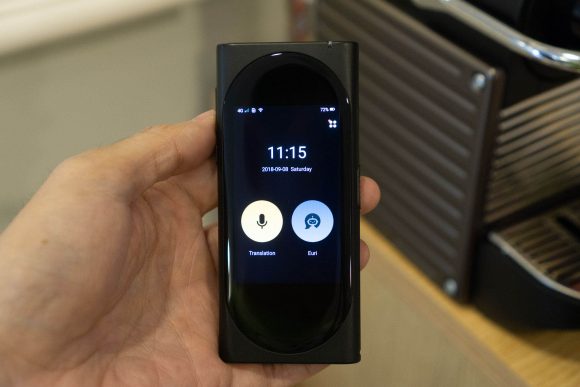 A new kid on the block, the Langogo AI-powered pocket translator will be launching on the Indiegogo crowd-funding website. Langogo wants to be your ultimate travel companion, providing fast and accurate AI-powered translation and global Internet access with hotspot capabilities. Here's a heads up on the Langogo.
Another translator? It seems like a tough sell. But Langogo thinks they have a good value proposition, at least with frequent travellers finding themselves needing to converse in foreign languages they don't speak. Still, you might want to know, why wouldn't you just use a smartphone?
It turns out that Langogo does have a few key selling points. Its AI-powered translation engine claims to offer accurate and natural-sounding translations in over 60 languages. It can automatically detect and translate between two selected languages, without having to switch the direction of translation back-and-forth. This is very convenient for conducting conversations naturally.
Not ready at this time, but Langogo will have conversational AI to help you with trip advice, navigation, weather, and exchange rates, among others. This is expected to arrive at end-September, too late for this review.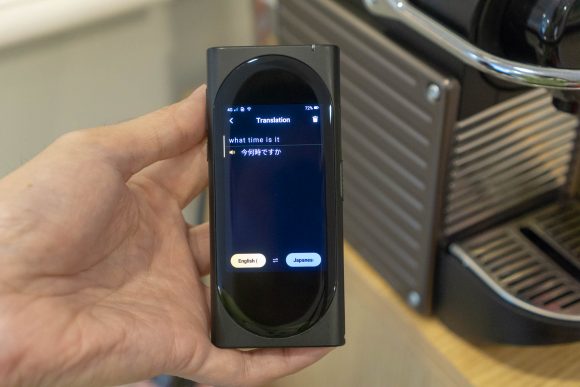 The physical Langogo device resembles a smartphone, with dimensions of about 121 x 54 x 12 mm. The front face has a touchscreen LCD with a diagonal size just under 3.5 inches. The display glass covers a lot more than just the LCD portion, with a semi-circle extension at the top and bottom to give the device a more aesthetic appeal.
Touch input on the Langogo's screen isn't great. I found the touch sensitivity was a bit cranky, and the position calibration was also a little off. Thankfully you don't really have to use the touch UI much.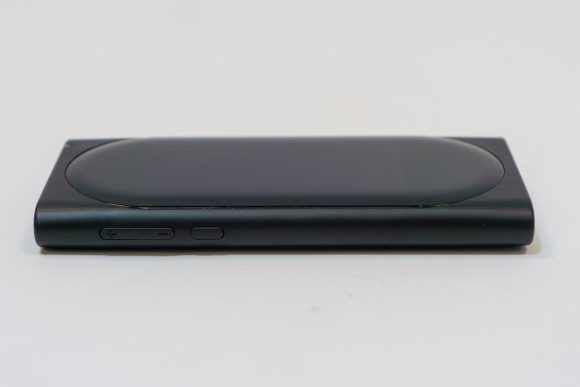 You'll find the volume rocker and power-wake switch on the left side of the Langogo device. The right side has a SIM tray and a function button that activates the translation feature. You just need to hold that button while speaking, no need to fuss around with the touch display.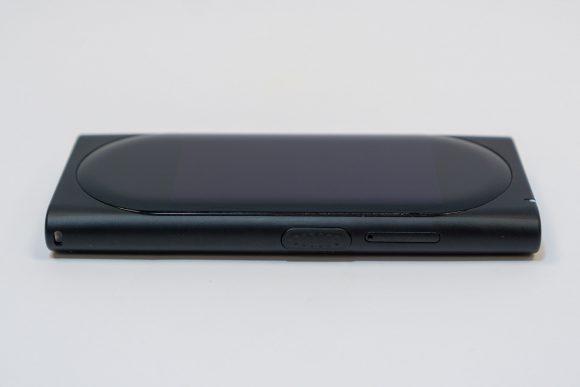 At the bottom, you'll find a USB Type-C connector. It's used to charge the Langogo device, or you can connect a wired USB Type-C headphones. Sorry, no 3.5 mm audio jack here.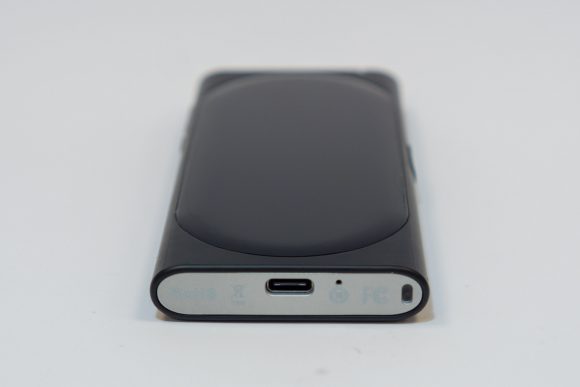 There's some sort of sound chamber at the top, but it doesn't seem like where sound is emitted from. Instead, audio comes out from two speaker grills at the back of the device, one each near the top and bottom. Audio is sufficiently loud and clear, nicely suited for spoken words.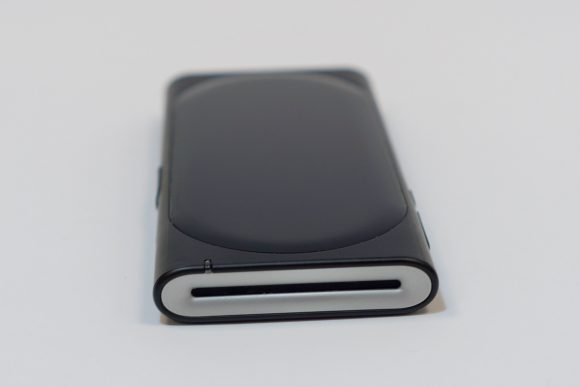 The Langogo has a dual-microphone array and a noise cancellation chip. Speaking to the device works quite effectively at arm's length away, no need to bring the device to your face. This is very important, because you'll typically be using the Langogo to translate conversations between two persons, so you'd expect to hold the device between the two of them.
Language translation works very fast and reasonably accurately. For my testing, I mainly translated between English and Chinese. I also tested a little of Japanese. The Langogo easily translates in less than a second, as claimed. It's faster than using Google Translate.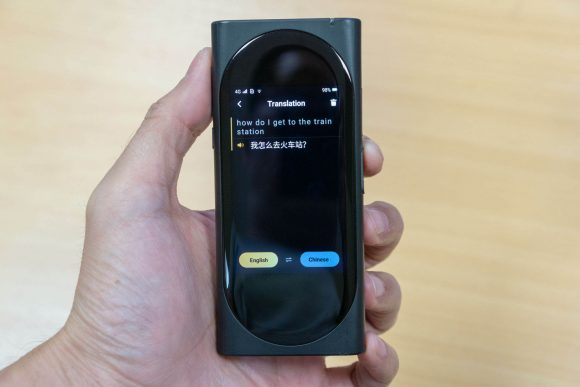 The speed is important if you expect to use Langogo in real-life conversations. You don't want to wait awkwardly each time after uttering a sentence or two before hearing the translated output. Imagine how it would be if you're trying to buy something, and even bargain, at the local market.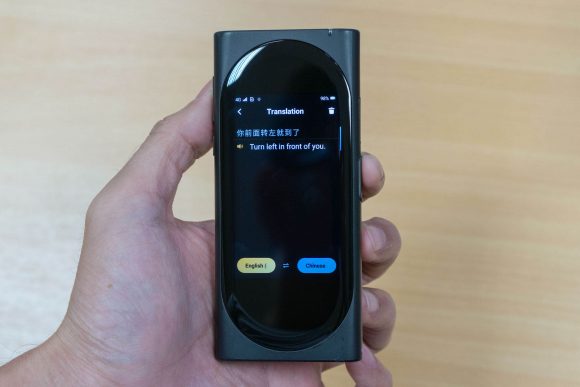 The text-to-speech output is surprisingly natural sounding. Again, this can be particularly helpful when you're trying to converse with a stranger. You don't want a device that is hard to understand in these circumstances.
The Langogo's display shows both the text of the language it heard, as well as the text it is translated to. You can read off the screen to make sure the Langogo heard you correctly, or that you heard the Langogo correctly.
Langogo handles over 60 languages, including English, Chinese, Malay, Thai, Tamil, Hindi, Japanese, Korean, Catalan, Danish, German, Spanish, Finnish, French, Italian, Norwegian, Dutch, Polish, Portuguese, Russian, and Swedish.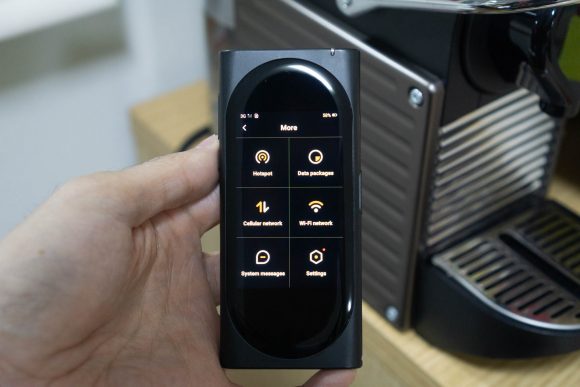 The translation does require Internet connectivity. Here's the next big feature of the Langogo. It has its own cellular connectivity, with cloud-SIM technology built right into it. You don't need another SIM card for Langogo, and it doesn't need to tether to your smartphone. On the contrary, Langogo can serve as a Wi-Fi hotspot for up to six devices, which means your smartphone can wirelessly tether to it.
The Langogo's cloud-SIM connects to 4G networks in 74 countries, including:
Argentina, Australia, Austria, Bahrain, Bangladesh, Belgium, Brazil, Bulgaria, Canada, Chili, Columbia, Croatia, Cyprus, Czech, Denmark, Dominican Republic, Ecuador, Estonia, Finland, France, Germany, Greece, Hong Kong, Hungary, Iceland, India, Indonesia, Italy, Ireland, Israel, Japan, Kazakhstan, Kirgizstan, Laos, Latvia, Lithuania, Luxemburg, Macao, Malaysia, Malta, Mexico, Montenegro, Netherlands, New Zealand Norway, Pakistan, Panama, Paraguay, Peru, Philippines, Poland, Portugal, Porto Rico, Romania, Russia, Saudi Arabia, Singapore, Slovakia, Slovenia, South Korea, South Africa Spain, Sweden, Switzerland, Thailand, Tajikistan, Taiwan, Turkey, UAE, United Kingdom, Ukraine, United States, and Vietnam.
Data plans can be bought directly on the Langogo device itself. Right now there isn't a way to purchase data plans through a web browser on your smartphone or PC. Data plan rates are probably not as attractive as what you may get with local prepaid SIM, but the selling point here, I suppose, is convenience. Here are some examples of the rates:
USA 300 MB / 1 day: US$5.20
Japan 300 MB / 1 day: US$4.20
Singapore 300 MB / 1 day: US$4.20
Thailand 300 MB / 1 day: US$2.60
17 Asia-Pacific Countries 4096 MB / 8 days: US$27.80
There are plenty more, including numerous one-country/multi-day plans as well as multi-country/multi-day plans. You can use the data for both Langogo's own translation and future AI assistant consumption, as well as for Wi-Fi hotspot use.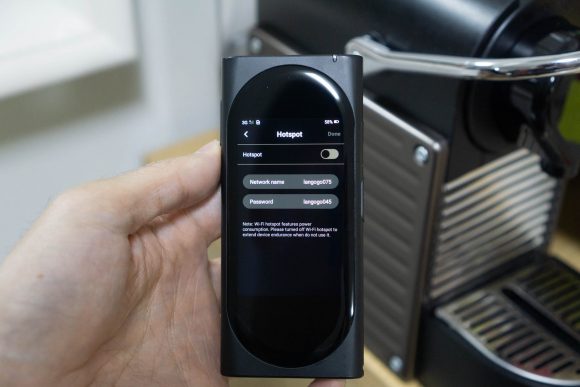 You may remember the SIM tray I mentioned earlier. You can use your own SIM card with the Langogo too, if that's what you prefer. The Langogo device supports multiple cellular network standards, including a variety of 2G, 3G, and 4G networks.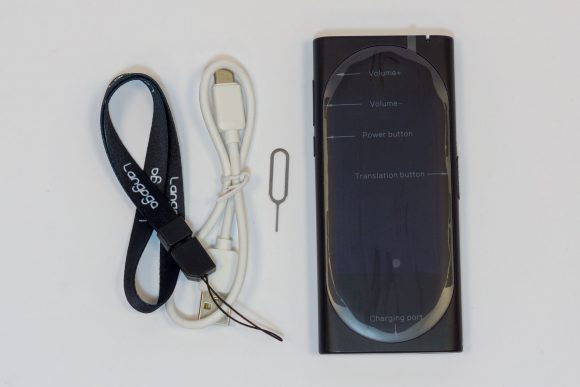 The Langogo is shipped with a SIM-eject tool, USB Type-C charging cable, and a lanyard.
I can't say about the AI assistant since it isn't ready right now, but already as it is, the Langogo is a handy travel companion whenever you head to some part of the world where you don't speak the local language. The built-in cloud-SIM and Wi-Fi hotspot features are nice extra conveniences.
There are no doubt many free smartphone apps, but I think an important selling point about the Langogo is how it can translate very quickly and read out in a natural-sounding voice. It is as if you had a personal human translator by your side.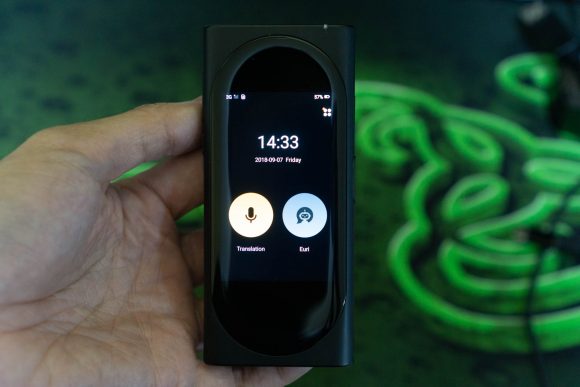 Langogo will be launched on the Indiegogo crowd-funding site on 10 September 2018. I'll update the link when the campaign goes live. (Update: Visit the project page now at https://goo.gl/rhY7N9) The starting price is US$139 for the Super Early Bird perk, so if you are interested in the Langogo device, make sure to lock in your pledge early!
Conclusion
The Langogo is a handy travel companion providing fast, natural-sounding, conversational translation between over 60 languages, with Internet connectivity and Wi-Fi hotspot support in 74 countries.
Pros:
Fast, real-time, translation
Hears spoken language over ambient noise
Natural-sounding text-to-speech
Internet in 74 countries
Cons:
Touchscreen response is not good