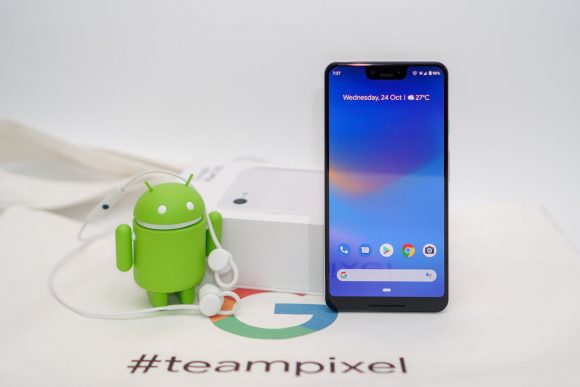 There's a lot to like about Google's latest Pixel 3 smartphones. They are excellent in many ways. This review is for the Pixel 3 XL smartphone, but as you may know, the smaller Pixel 3 has pretty much identical specifications, save for obvious physical size, display size, notch, and battery capacity. Hence, most things I saw about the Pixel 3 XL will apply also to the Pixel 3.
I earlier shared my quick hands-on review of the Pixel 3 XL. By now, much has been said about the new smartphones. In fact, so much has leaked about them that we pretty much knew about the new Pixel 3 smartphones before Google's actual announcement. I've used the Pixel 3 XL for over two weeks, so I have more to share about it in this review.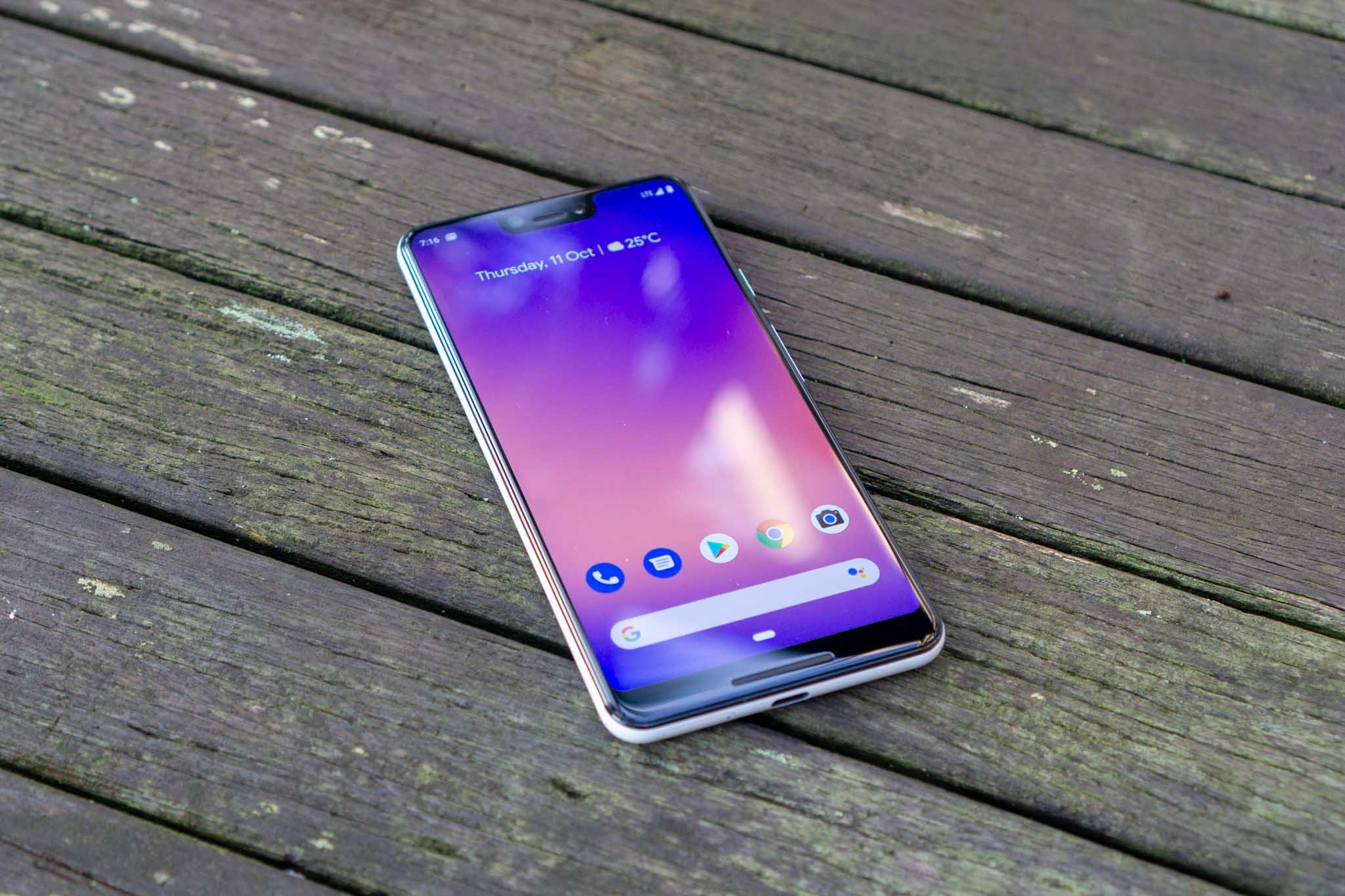 The Pixel 3 smartphones are the 3rd generation of #MadeByGoogle hardware. There hasn't been any substantial design changes. All three generations of Pixel devices sport the same style. While some people may think the design has gotten a little stale, I personally find that the Pixel 3 devices have become significantly more refined and polished. The same "look" looks better. That polish is quite evident, with all glass front and back, using Corning Gorilla Glass 5.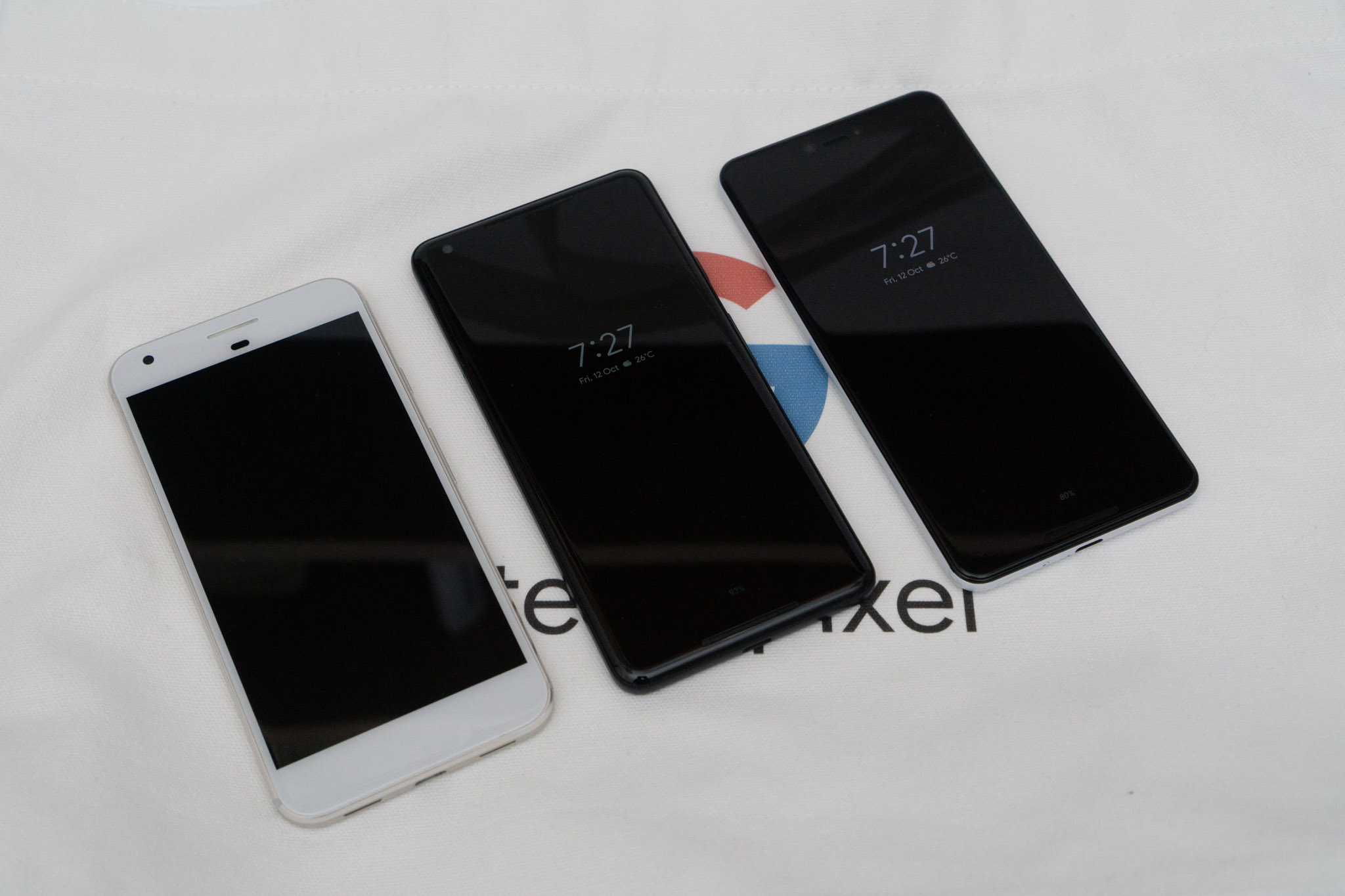 The two devices are identical in physical dimensions, so much so that cases made for the former will fit the latter, as long as they aren't overly exacting in their fit and you don't mind the cutouts not being perfectly aligned or centred. Despite that exacting overall form, there are still several ways to tell them apart, not least the notch on the front.
Since I've already started mentioning the notch, let me talk about that now. Many people have said the notch is superbly ugly. It's not the greatest aesthetic feature, that much I agree. But I wouldn't go so far as to say it's ugly, or somehow encumbers my enjoyment of the Pixel 3 XL. I'll give Google the benefit of doubt that they needed the space there.
I'll be happier if there was some symmetry in the notch height with the bottom chin. They need to shave off at least 1 mm from the notch. The notch looks as awkward to me because it is deeper than the chin. No, please don't fix that by enlarging the chin.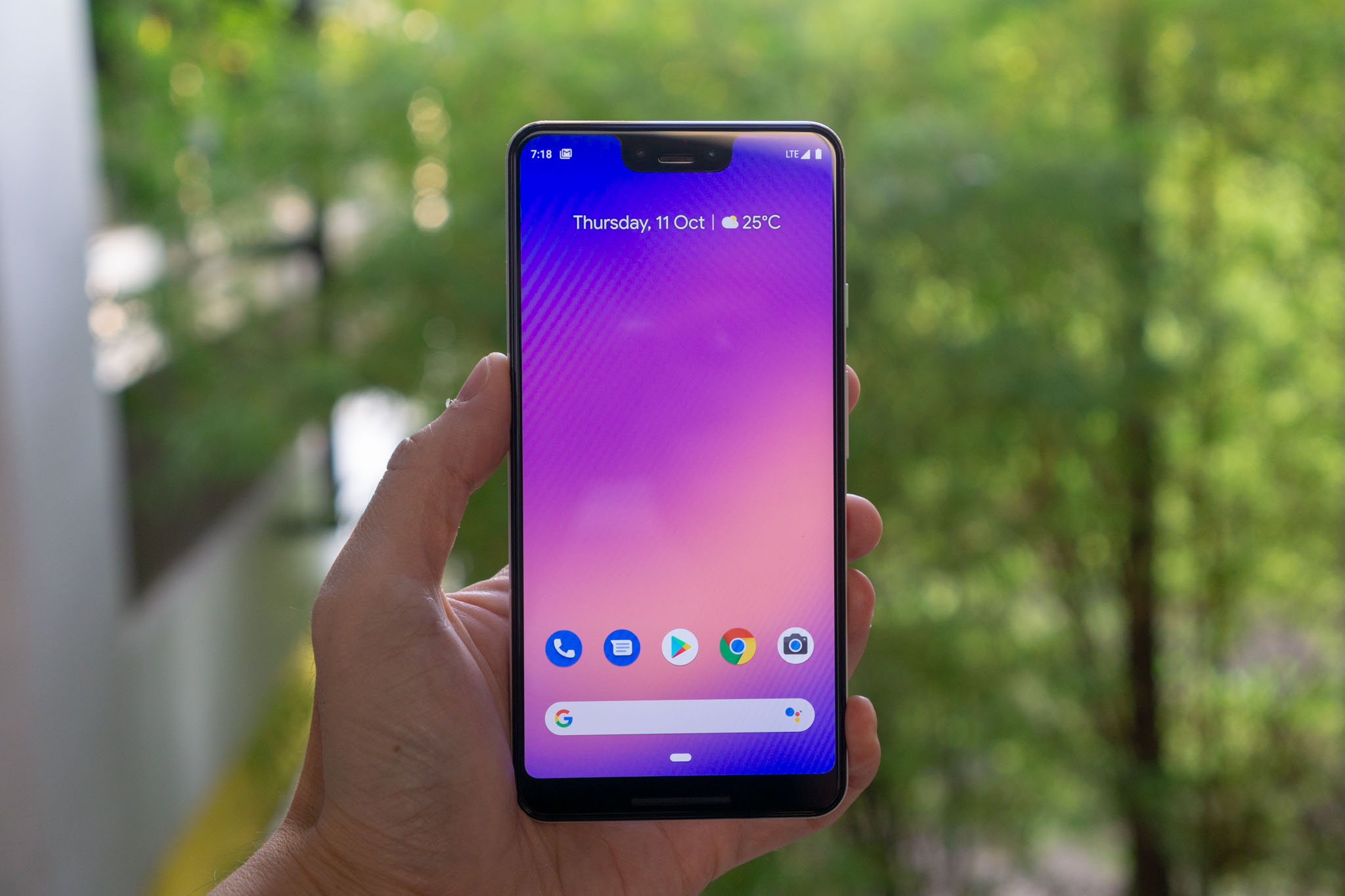 After having used the Pixel 3 XL for some time now, I've to tell you that the notch hasn't negatively impacted my experience with the device. You'll get used to it, and you'll pretty much forget that it's even an issue.
The 6.3-inch display on the Pixel 3 XL is gorgeous. (It's about 6-inches, similar to the Pixel 2 XL, if you discount the notched portion.) I actually didn't realise how good it was until I switched back to my Pixel 2 XL one of the days. I know the Pixel 2 XL's display may be a low bar to benchmark against, but I didn't have any issues with mine, so forgive me for wanting to compare with it. DisplayMate has handed the Pixel 3 XL the Best Smartphone Display Award, a testimony to the quality of its display, now supplied by Samsung instead of LG. That aside, I've found the 1440 x 2960 resolution display to be bright, very sharp, and colour accurate.
Google seems to have given in to the preferences of most users for extra vibrant, saturated, colours, now making Adaptive colour mode the default. Google has tuned the new Adaptive colours to limit over-saturation of skin tones and reds in particular, so it may not look as saturated as on other smartphones. In other words, Adaptive mode saturates colours, but does not go overboard.
I'm very happy with Natural colours. I much prefer to see colours accurately rather than some unrealistic representation of them. It seems so unnatural to me to have just taken a photo and then finding that photo displayed on-screen looks "more vibrant and saturated" than the actual scene before my eyes.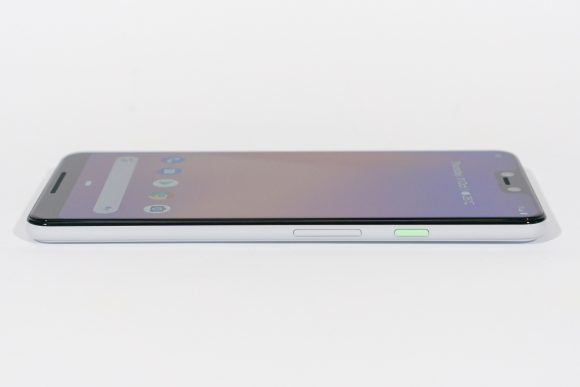 The power button and volume rocker are in roughly the same spot on the right side of the device. (It's a tiny bit higher than on last year's device.) On the Just White Pixel 3 XL I have in this review, the Mint-coloured power button adds a dash of intrigue. It's a bit subdued from the Orange seen in last year's Clearly White Pixel 2 XL.
There's still no 3.5 mm audio jack. It's now quite common to see that missing in many new smartphones, so perhaps some of us might have accepted that as normal. We still have a USB Type-C port at the bottom, with Power Delivery support enabling charging at up to 18 Watts.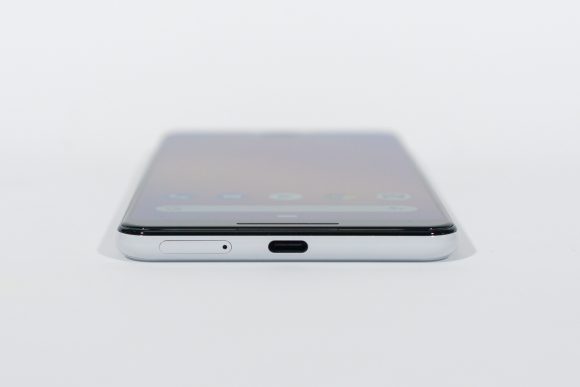 The SIM tray has moved to the bottom of the Pixel 3 XL. I'm disappointed to see it still accommodates only one nano-SIM card. I'm fine not having micro-SD, but dual-SIM is really useful to have. Google just doesn't seem to understand how much of a thing dual-SIM is in this part of the world. (Apple too.)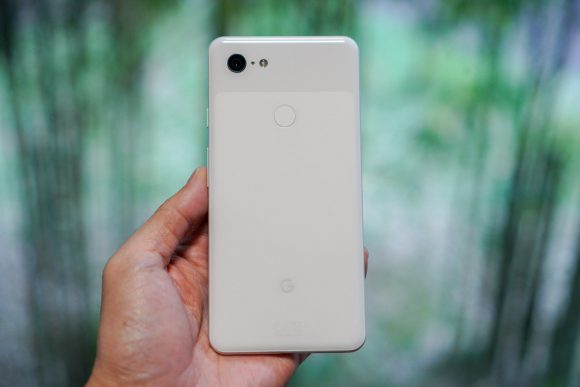 The Pixel 3 XL's back is very interesting. It's an all glass back now, but that two-tone design from the use of glass and metal in the last two generation of Pixel smartphones is still retained. Google has achieved this by using textured glass, save for the top sixth portion that continues to be smooth glass.
The textured glass is unique. It's still slippery, though not as much as the metal in the previous two generations of Pixel smartphones. What really helps make the Pixel 3 XL feel less slippery in your hands is the coated metal around the sides of the device.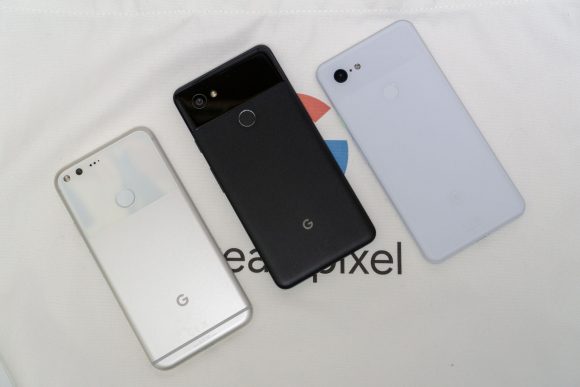 You'll notice that the top glass portion of the Pixel 3 XL is just a little smaller compared to that on the Pixel 2 XL. Like the power button, the camera, flash, and fingerprint sensor is just a tiny bit higher up in the Pixel 3 XL.
The fingerprint sensor on the Pixel 3 XL continues to be the best-in-class. It's very accurate, and very fast. Having reviewed so many smartphones (and notebook computers) with fingerprint sensors, I've not found any device that allowed me to breeze through the fingerprint registration process as quickly and smoothly as the Pixel smartphones do. Unlocking the Pixel 3 XL always works spot-on.
That camera on the back is a big highlight of the Pixel 3 smartphones. Google obviously thinks their hardware, software, and AI are so superior that there's no need for an additional camera (or two).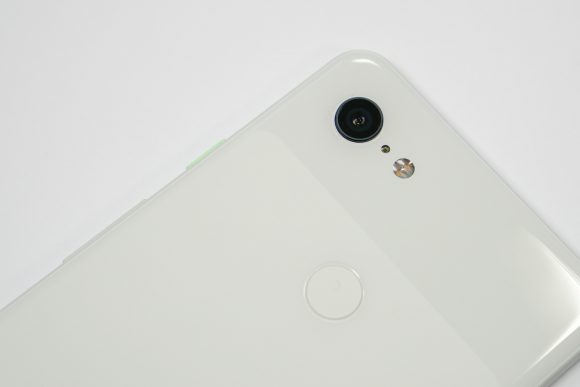 To Google's credit, their single camera is superb. Photos coming out from the Pixel 3 XL's camera are excellent, and I'm thoroughly delighted. I'll leave you to look up other detailed in-depth Pixel 3 camera analysis. I've included a couple of sample photos taken with the Pixel 3 XL below (click on the photo itself for the full-sized unedited JPEG).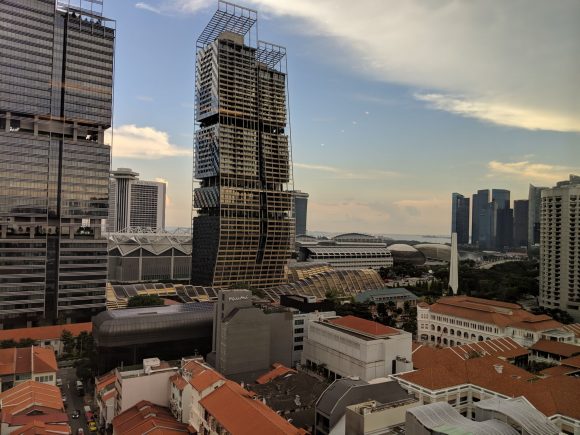 The single camera on the Pixel 3 XL has 12.2 MP resolution with f/1.8 28 mm lens, optical image stabilisation, and dual pixel PDAF. The camera's large 1/2.55-inch sensor with a 1.4 µm pixel size is comparable to the main cameras on competition flagships from Apple and Samsung.
The extra cameras on the other smartphones, however, give them an advantage. Google's software and AI may be great, but unfortunately, in some cases, such as telephoto zoom, the optical advantage of a real lens is hard to beat.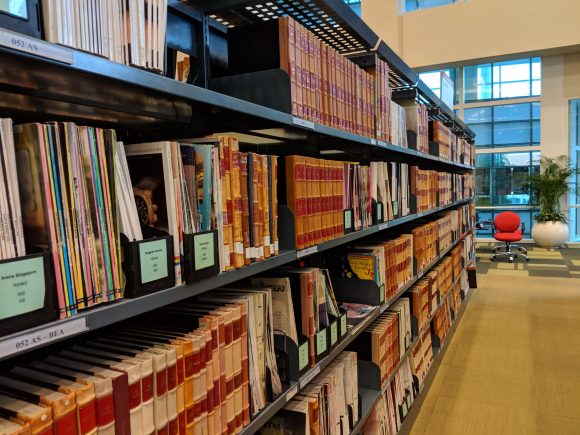 There's definitely usefulness for extra cameras, and Google obviously agrees since they've done that with their front camera setup. I'll just assume that Google considered their options, and figured the cost (monetary and otherwise) of an extra rear camera wasn't worthwhile.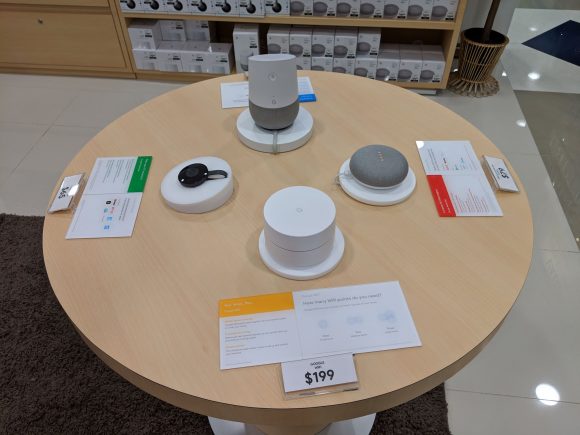 There are several new features that the Pixel 3 XL camera will bring us.
Night Sight lets you take natural-looking photos in low-light conditions without using a flash. Google provided a sample comparison between the iPhone XS and Pixel 3 cameras, showing how the latter was able to brighten shadows that could hardly be seen in the former. Night Sight is not available just yet, but it should be arriving real soon now.
Playground replaces AR Stickers. The new animations are now called "Playmojis", and you can quite impressively interact with them. In addition to the Star Wars themed characters launched last year, we now have a
Marvel-themed playmoji set.
Motion Auto Focus enables you to keep moving subjects in focus. This will make it far easier to take photos of young children and pets who won't keep still for your perfect shot.
Top Shot uses AI will help you capture the perfect shot. If you missed the perfect timing, Top Shot will recommend the best one from a series it has been recording automatically, making sure that everyone is smiling, eyes wide open, and facing the camera.
The improved Panoramic mode finally takes panoramas just like most other smartphones, just pan around the phone naturally. Previously, the Pixel camera required you to pause and aim the dot and circle as the viewfinder directs you. As one who likes taking panorama shots now and then, I'm really happy to see Google getting this done right.
Photos taken in Portrait mode can now have the degree of bokeh or even the location of focus adjusted after the fact.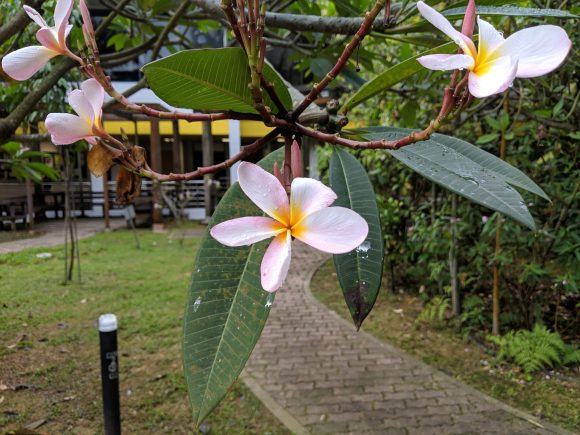 On the front, the normal selfie camera is joined by an extra-wide camera for wefies. The standard front camera has 8 MP resolution, f/1.8 28 mm lens, and PDAF. The wefie camera has the same 8 MP resolution, but goes with an extra-wide f/2.2 19 mm lens.
That extra-wide lens is important, because it enables you to get more people and more background scenery into your shot, all without needing an long selfie stick. If you do have a selfie stick, then you get even more into your photos.
A photo storage exclusive to Pixel smartphones, Google offers free unlimited original quality photo storage in Google Photos until January 2022. Photos you've uploaded up to then will continue to be available thereafter.
For videos, the main camera on the back supports up to 4K @ 30 fps or Full HD @ 30/60/120 fps, with really smooth stabilisation. The front camera supports up to Full HD @ 30 fps.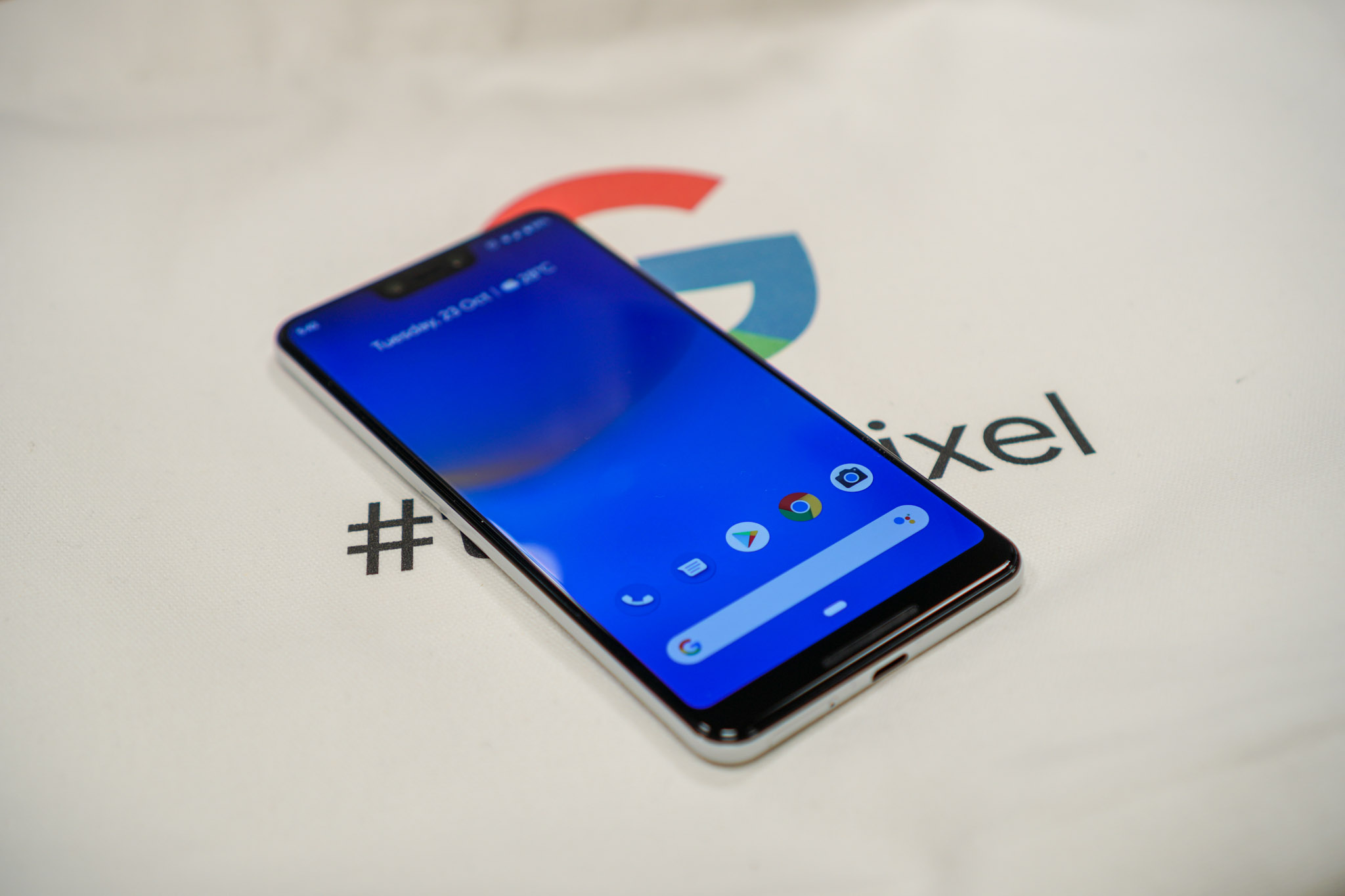 Under the hood, the Pixel 3 XL is powered by this year's top-of-the-line Qualcomm mobile platform, the Snapdragon 845. The powerful octa-core processor has 4x 2.5 GHz Kryo 385 Gold and 4x 1.6 GHz Kryo 385 Silver cores.
The 4 GB of RAM on the Pixel 3 XL seems a bit measly, especially when compared with many other smartphones with 6 GB and even 8 GB of RAM these days. I feel the amount of RAM isn't much of an issue per se. Other users have been reporting memory management issues, but I haven't experienced any problems myself. The most important thing is for the Pixel 3 XL to work well, and it does, for me.
Like having more cameras, more RAM is always better, if only for future-proofing the device, especially if you want to use the Pixel 3 XL for at least 2 years.
You can get the Pixel 3 XL with either 64 GB of 128 GB of storage.
I'm surprised with the mixed results I'm getting with performance benchmarks. The Pixel 3 XL scores quite poorly Geekbench 4 scores, getting 2366, 8314, and 13718 for single-core, multi-core, and compute tests. The OnePlus 6 and LG G7+ ThinQ, with the same Snapdragon 845, are appreciably better in the single-core and multi-core tests. On the PCMark Mobile benchmark however, the Pixel 3 XL's 9013 score is comparable to the OnePlus 6 and LG G7+ ThinQ.
The Pixel 3 XL's 3430 mAh battery, a tiny bit smaller than last year's device, lasts me through an entire day, plus easily another half, with moderate use. It's Geekbench 4 battery score at 4381 is among the best I've tested.
For connectivity, the Pixel 3 XL supports 802.11 a/b/g/n/n/ac dual-band Wi-Fi with MIMO. It also has Bluetooth 5.0, and positioning support with GPS+A-GPS and GLONASS.
We also get Qi-compatible wireless charging on the Pixel 3 smartphones this year. Google also sells the Pixel Stand, which supports 10 Watts fast-wireless charging using their own proprietary standard, and adds other cool tricks to the Pixel 3 smartphones.
Other hardware upgrades include improved IP rating, now to IP68, which means it is good underwater up to a depth of 1.5 metres for up to 30 minutes. The two front-facing stereo speakers are 40% louder than before, according to Google. I've found the speakers to deliver better bass, and music sounds a lot fuller.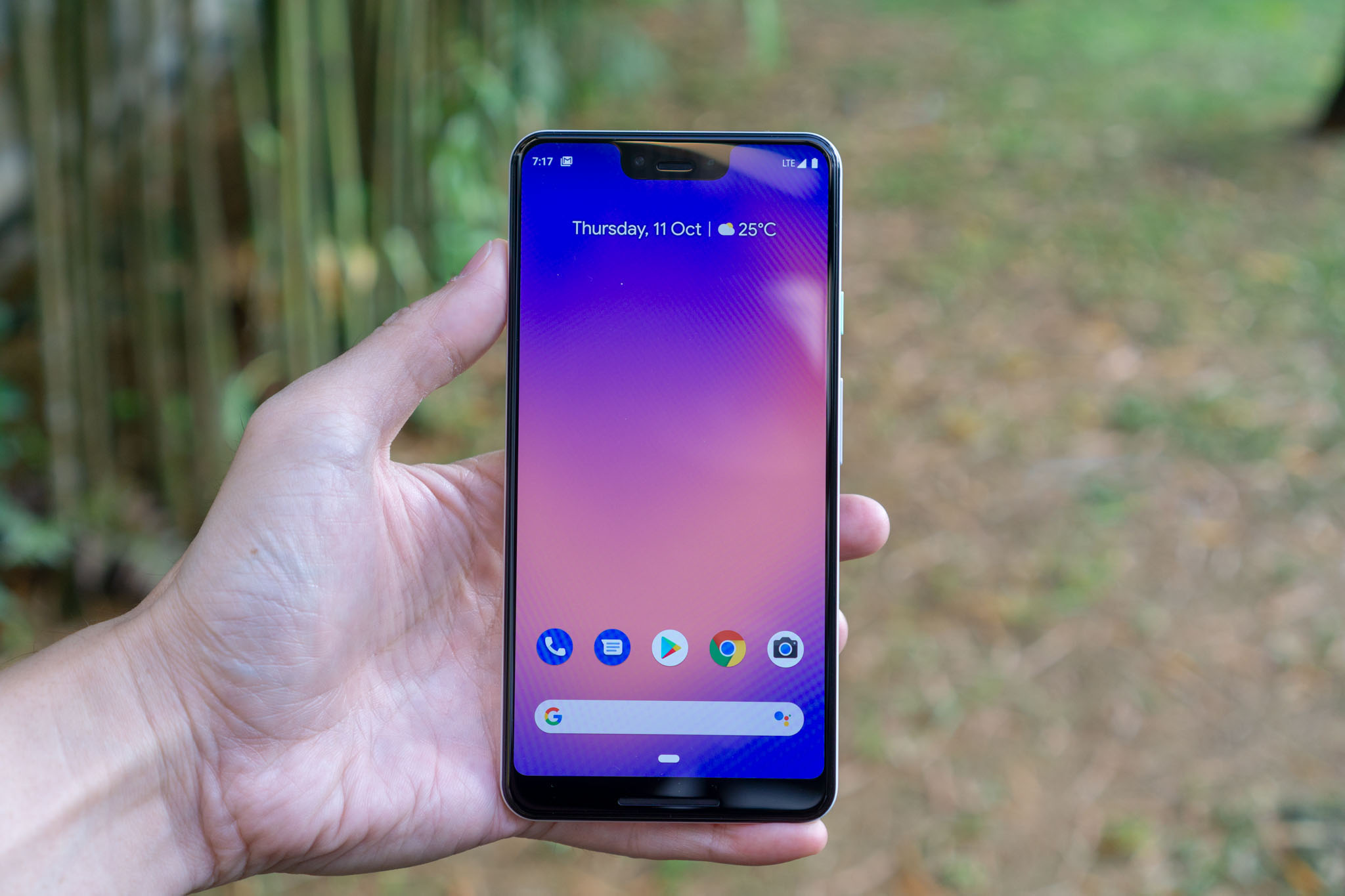 Out of the box, the Pixel 3 XL ships with Android 9, so you can enjoy all the latest that Google has to offer. The new gesture navigation system is the default. The entire software experience is awesome, and there is nothing I can legitimately complain about. Since this review is about the Pixel 3 XL, I won't go into too much details about Android 9. However, do know that Android 9 itself has plenty of cool features, and that Pixel smartphones will always have the latest updates.
As Google did with last year's Pixel smartphones, the Pixel 3 XL is promised with Android version upgrades and security updates for three years, until October 2021.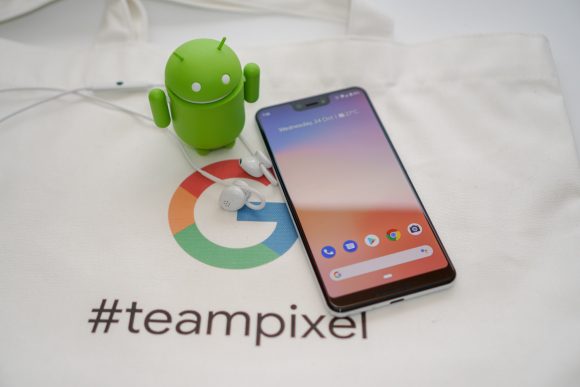 A nice bonus with this year's Pixel 3 smartphones is the inclusion of wired Pixel Buds. The Pixel Buds connect via USB Type-C, of course, so you can use them with the Pixel 3 XL. You still get a digital 3.5 mm headphone adapter in the box. Apart from listening the music, the Pixel Buds will enable two-way live translations using Google Translate, so you can converse reasonably well with another person in a foreign language.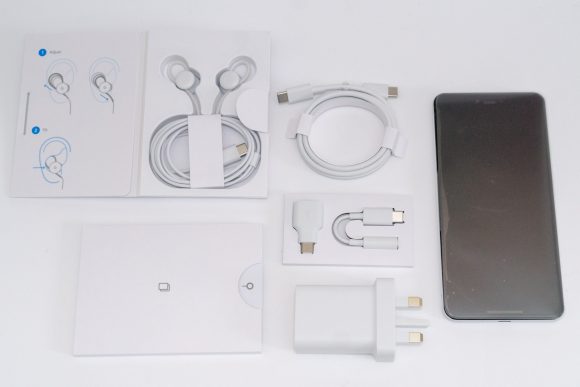 The Pixel 3 XL is all-around an excellent smartphone. It's not just better, but also more refined and polished. I love the feel of the device, especially the soft-textured glass on the back. The display is gorgeous, and the camera continues to be awesome.
Yet I'm also disappointed by a few misses, notably the support for dual-SIM which is very popular in this part of the world. I wished Google would just take the leap and bring their flagship smartphone up-to-speed with every meaningful feature the competition has. It was only with the Pixel 2 smartphones we finally got water-resistance. Only with this year's Pixel smartphones did we finally get a sensible Panorama mode, and that's despite the camera being such a heavy focus in these devices. Facial recognition would be nice to have, though for me it's only that dual-SIM support, something that seems relatively simple, which will complete the Pixel 3 XL.
For Android fans, especially those of the pure Android experience, the Pixel 3 XL is undoubtedly the smartphone to get. There're enough good reasons even to upgrade from last year's Pixel 2 XL. The Pixel 3 XL is also all-around an excellent choice for anyone looking for superb camera capabilities, excellent performance, and a polished, well-built, premium smartphone.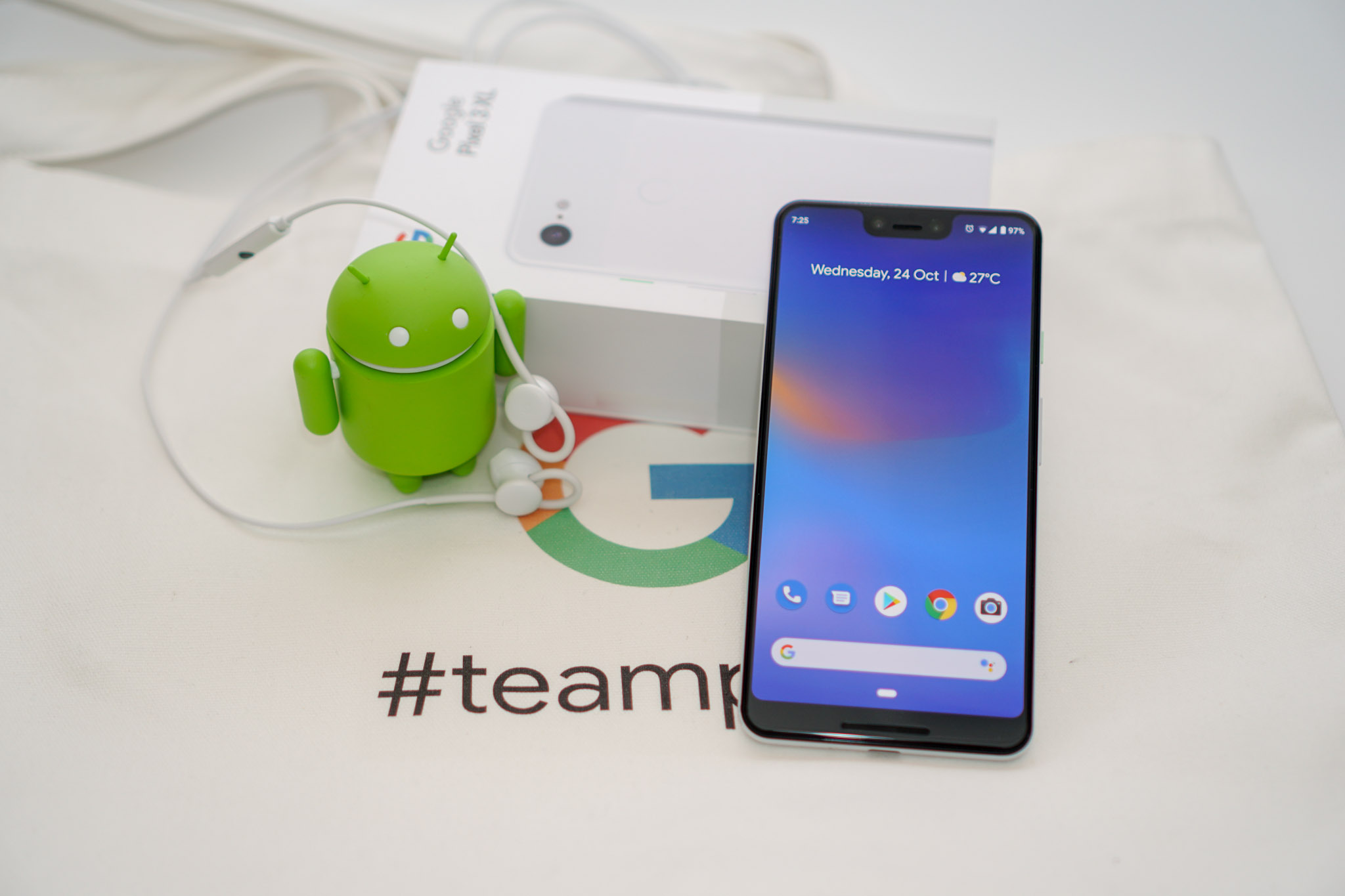 The Pixel 3 XL retails at S$1399 and S$1549 for the 64 GB and 128 GB versions respectively. You can buy them directly from Google Store, or from SingTel or StarHub. The Pixel 3 XL will be available from 1 November 2018, but you can already pre-order now. All colours (Just Black, Clearly White, and Not Pink) and all storage capacities are are available from Google Store. Availability varies at the telco partners.
Conclusion
The Pixel 3 XL brings us the best Android experience in a smartphone that is more refined and polished than ever. It's camera capabilities continue to be truly awesome, the display is gorgeous, and is all-around an excellent flagship smartphone.
Pros:
Very refined and polished design
Superb display
Awesome camera
Best Android experience
Excellent performance
Cons: