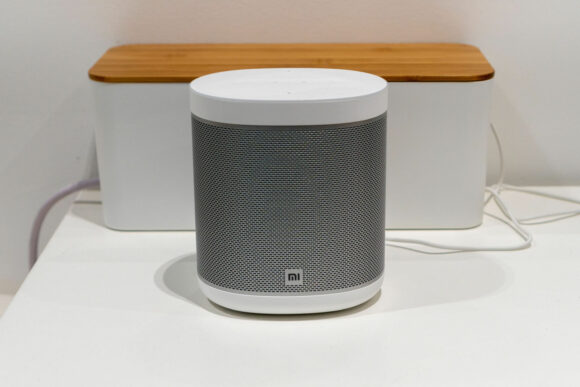 If you're invested in a Google home ecosystem, smart speakers with Google Assistant are extremely useful. There are, of course, options from Google themseves, like Google Home, Nest Mini, or Nest Audio. Then, there are 3rd party ones, like this Mi Smart Speaker from Xiaomi.
Google offers limited options when it comes to smart speakers. Then, there's also the question of cost. The Nest Audio sounds really good, and makes a nice upgrade from the Nest Mini. But I wasn't willing to pay the price of the Nest Audio. Hence, my search into Google Assistant enabled smart speakers from other manufacturers.
One of the quesiton that probably comes to mind, with a 3rd party speaker like the Mi Smart Speaker, is if it works exactly like the real Google smart speaker? Do you set them up the same way?
The short answer, yes. Just forget that it's Xiaomi, or has a "Mi" in the product name. For all purpose and intent, you use it and set it up just like any Google smart speaker.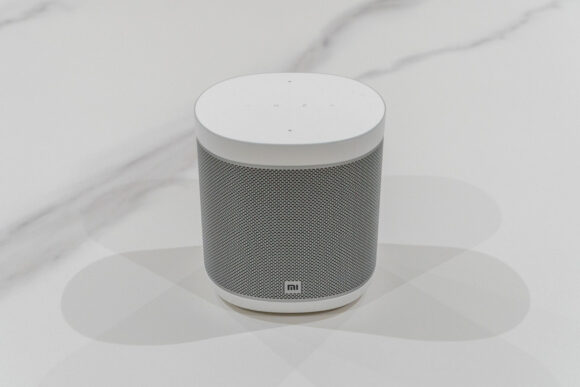 The Mi Smart Speaker is slightly more stout compared with the Nest Audio. It measures 151 x 131 x 104 mm (HxWxD). It weighs 853 grams, about 300 grams lighter than the Nest Audio.
A metal grill covers all-around the sides. There are 10,531 holes in there, I'm not sure how it is so significant that Xiaomi needs to mention that number.
Behind that grill is a 2.5-inch full-range driver that puts out a good 12 Watt of audio output. This enables the Mi Smart Speaker to comfortably produce loud, coherent, sound that easily fills a room. It does sound quite good, with a decent bass level, though maybe not quite reaching the same quality as the Google Nest Audio.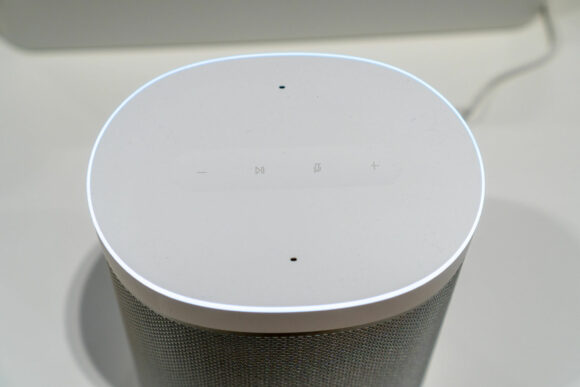 There are touch-sensitive controls located at the top of the speaker, faintly marked so there's no need to guess where they are, unlike with Google's smart speakers. You get the volume down and up, play/pause, and microphone mute buttons.
The two holes at the top are far-field microphones. They work quite similarly to Google smart speakers, though I think the far-field pickup of Google smart speakers work better.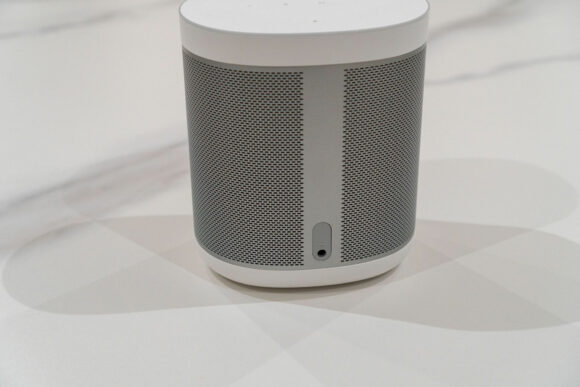 The DC-in barrel jack is on the back. Yes, that means you will need their power brick to work the Mi Smart Speaker. I suppose putting a USB Type-C port for power will up the cost, so this could be a decision that was meant to keep the price low.
Setup, as aforementioned, is the same as with Google's own devices. At the "Setup a new device" screen, you'll choose "New device", instead of "Works with Google". The latter is often used for 3rd party devices, like, for example, other Xiaomi devices which connect through the Mi Home app. The Mi Smart Speaker is added via "New device", exactly like how the Nest Audio or Nest Mini is added.
Once setup is done, you just say "Okay Google", or "Hey Google", to get the Mi Smart Speaker to listen for the rest of your command. This is, again, just like how you'd use the Nest Audio or Nest Mini.
The Mi Smart Speaker also supports Bluetooth. Pairing Bluetooth devices is done through the Google Home app, just like with Google's own smart speakers.
Using the Google Home app, you can also control vartious settings like tuning bass and treble, adjusting the "Hey Google" sensitivity, and adding to speaker groups. You get the idea. This is pretty much a Google smart speaker, except that it comes from Xiaomi.
The Mi Smart Speaker retails at S$69, and you can buy it from the Mi Store on Lazada.