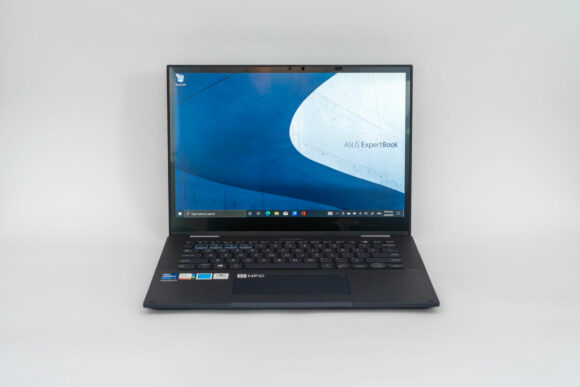 If you keep refining a laptop design and features over and over again, eventually, you will get something that is pretty awesome. This seems to have happened with ASUS' latest Expertbook B7 Flip. ASUS has put together everything any business user could ever want in a premium 14-inch two-in-one convertible device that is quite awesome.
The Expertbook B7 Flip pretty much checks all the boxes. It might not have the absolute best of every technical specification, but this laptop has just about every feature you could think of. Whether that may be portability, flexible use cases, ports, connectivity, or security features, ASUS doesn't seem to have missed out anything in this convertible device.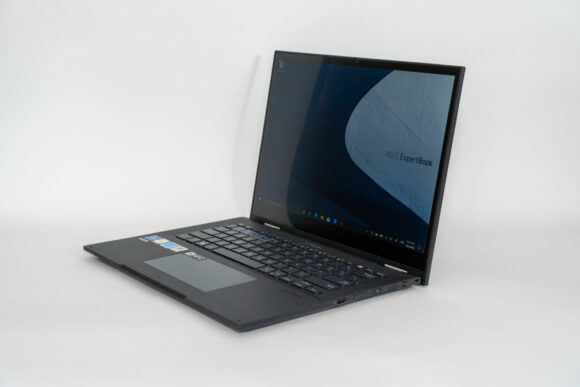 Let's start with form factor. It's not the lightest or smallest laptop ever out there, but at 1.43 kg and dimensions of 320 x 234 x 18 (to 19) mm for a convertible device packing a 14-inch display, this is really small and light. It's easy to take everywhere and easily fit into most things designed to contain laptops.
Opening up the laptop, you'll see that ASUS continues to use their ErgoLift design where the display cover lifts the back of the laptop up, improving ergonomics with the tilted keyboard angle as well as enhance airflow for better cooling.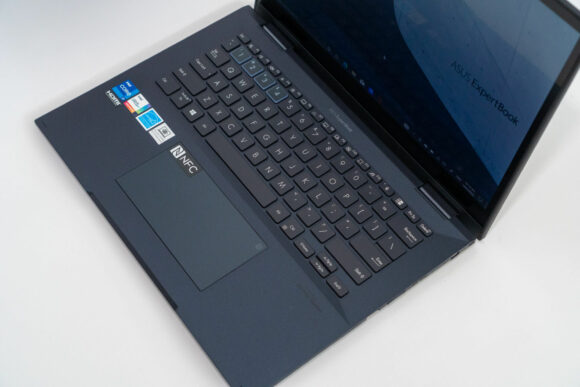 Of course, being a convertible, this time, you can continue pushing the display backward until it flips over 360°. Use it as a tablet, tent mode, or whichever way you like. It'll be a cool trick to show off at your next business meeting, or adapt to your usage style at home.
There are many good things about the Expertbook B7 Flip's screen. First, that it is covered by tough Corning glass. Then, that the glass is anti-glare. This makes the display much easier to see outdoors compared with the glossy screens often seen in other laptops.
I also really like that ASUS has chosen to go with a 16:10 aspect ratio, which works much better for productivity. This IPS display is not 4K, which I don't miss particularly. The FHD+ resolution, with 1920×1200 pixels, works well enough.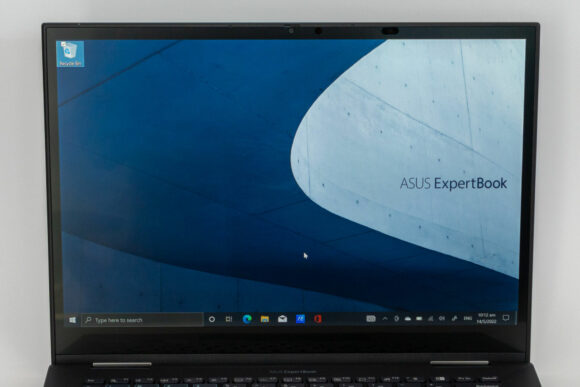 The specifications say this IPS panel can put out 500 nits, though I measured it to be somewhat less. Colour accuracy is just fine, coming in at 99%, 68%, 74% and 75% for sRGB, NTSC, AdobeRGB and P3 colour gamut coverage respectively in my Spyder5PRO tests. This may not be impressive for creative work, but certainly passes the mark for business users.
Then, let's not forget about touch and pen support. This is a convertible device, so of course touch and MPP 2.0 pen input is supported. The MPP 2.0 ASUS Pen is included in the box. While there is no slot in the Expertbook B7 Flip to accommodate the pen, the pen can be magnetically attached to its side.
The nicely centered webcam at the top has 720p resolution. It is good for Zoom calls and other videoconferencing. It has an integrated physical camera shield, great for those who worry about their privacy. There is also IR support, so you can use Windows Hello facial recognition to login to the Expertbook B7 Flip.
If privacy is something very important to you, the display has one more trick up its sleeve. The Expertbook B7 Flip includes an integrated privacy filter. The privacy filter makes the display much dimmer when viewed from the side, so it is harder for someone beside you to snoop on what you're doing. It is, however, not as good as a proper privacy filter like the ones from 3M I reviewed some time ago, but it being integrated into the screen is definitely much more convenient and looks much better.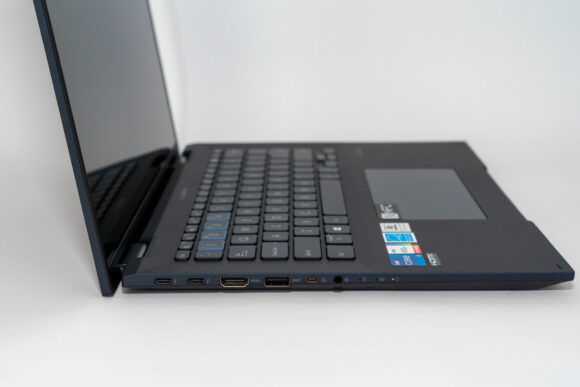 The port situation on the ASUS Expertbook B7 Flip is impressive. Starting on the left side, there are two Thunderbolt 4 Type-C ports with Power Delivery 3.0. Next, there is a HDMI 2.0b port, a USB 3.2 Gen 2 Type-A port, a Micro HDMI port for Gigabit Ethernet connectivity, and a 3.5 mm combo audio jack.
On the right side, there's one more USB 3.2 Gen 2 Type-A port, volume rocker and power button (with fingerprint reader), a Nano-SIM slot, and Mini DisplayPort, and a Kensington Nano Lock slot. Oh yes, and then, maybe a little hard to see in the photo below, but there is a smart card reader slot under the volume rocker, power button and Nano-SIM slot.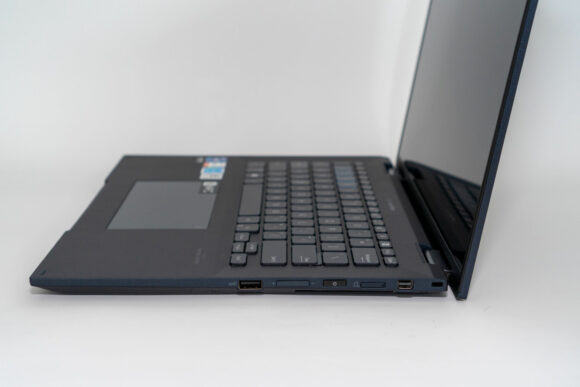 I think the stuff on the right side is pretty exciting. Nano-SIM? Oh yes, the Expertbook B7 Flip includes 5G cellular connectivity. Smart card reader? Well, this could be something that certain businesses may find really useful and important. Then, the Mini DisplayPort might not be all that common around nowadays, but I'm going to say that having that option around may be useful to have. It's also very nice, to me, that the fingerprint option is available, with Windows Hello support, even though the Expertbook B7 Flip already has Windows Hello facial recognition.
If I may nitpick one bit about the ports, it is that both Thunderbolt 4 ports are on the left. It would have been nice that the right side had one Thunderbolt 4 port so you can have the flexibility to decide from which side you would attach the cable.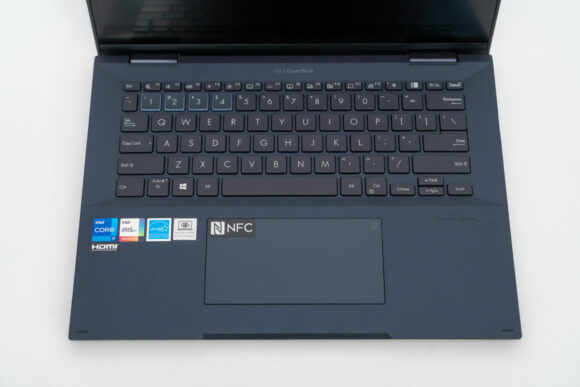 The keyboard is decent with about 1.5 mm of travel. The keys are backlit. The keys layout is perfectly normal with properly laid out inverted-T arrow keys. It is important to some people, like me, that the keyboard is arranged "normally" without any keys in unusual places and also without extra keys in the main typing area.
The touchpad is not huge, unfortunately, but it is otherwise fine to use. Like with many other ASUS laptops, this one also supports an integrated NumberPad. This enables you to more easily enter numbers, and even though real keys are going to be better, I reckon this NumberPad is better than nothing.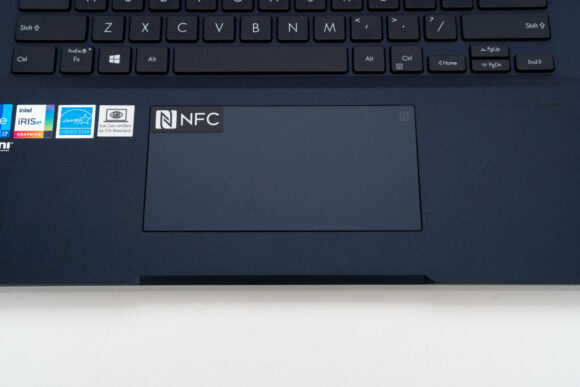 Perhaps the standout feature of this keyboard deck is that it is spill-resistant. ASUS has defined this quite succinctly: it will cope with up to 78 cc of liquids without harm. Nice if you have a tendency to spill drinks.
While on the topic of spills, the Expertbook B7 Flip is designed to withstand some abuse. There are laptops (including those of ASUS') built to MIL-STD 810G standard, but this Expertbook B7 Flip takes it up one notch to MIL-STD 810H. To be honest, I don't know what the difference is, and while it is always nice to know you'll get something better, I suppose at the end of the day, know that you perhaps have a little more protection against accidental damage.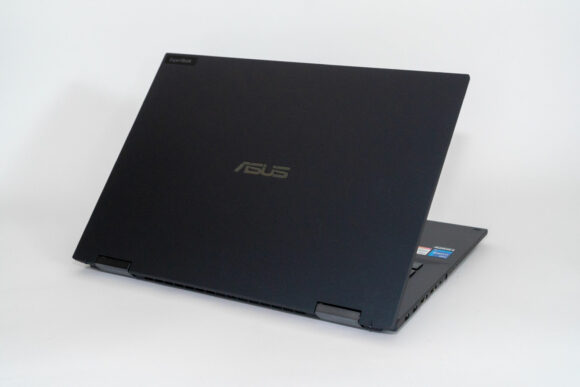 On a side note: ASUS does say this Expertbook B7 Flip will take 30K hinge open-close cycles, 15K insertion-removal cycles for USB-C, 28 kg pressure on the display panel, 10M keystrokes on the keyboard, 18 harsh knocks at 40G/11ms with power on, 120 cm drop while powered on., 10-500 Hz physical vibrations for 60 mins, 95% RH at temperatures of 30° to 60°C, operating at 15,000 feet altitude, operation at extreme temperatures (up to -46°C, 49°C, for 3x 24 hour cycles). In short, this gadget is ready for an adventure.
For connectivity, the Expertbook B7 Flip has dual-band 2×2 Wi-Fi 6, Bluetooth 5.2, and the aforementioned 5G support.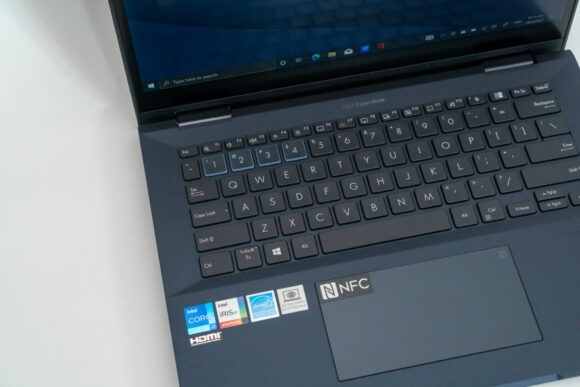 For audio, there are two Harman/Kardon certified speakers, and two multi-array microphones. ASUS' two-way AI noise cancelling technology helps with voice pickup during videoconferencing calls.
Under the hood, the Expertbook B7 Flip as configured in this review unit is powered by Intel Core i7-1195G7, 16 GB of RAM, and 1 TB of M.2 NVMe PCIe 3.0 SSD. It has a 63 Wh 3-cell Li-polymer battery.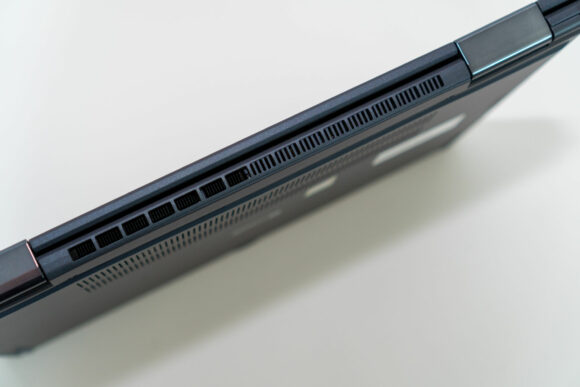 PCMark 10 Extended benchmark scores are as follows:
Overall: 4263
Essentials: 10273
Productivity: 7054
Digital Content Creation: 5097
Gaming: 2650
Geekbench 5 scores are:
Single-core: 1567
Multi-core: 4434
Compute: 13687
I could not get Cinebench R23 to run on this device. The benchmark keeps crashing for some unknown reason. The two benchmark results above, however, does place the Expertbook B7 Flip well amongst similar 11th generation Intel Core processors.
The PC Mark 10 Modern Office battery test ran for 11 hours and 47 minutes, which is one of the best I've seen in any Windows laptop I've reviewed. To date, only the Dell Latitude 7400 2-in-1 and Dell XPS 13 2-in-1 7390. (Interesting that all the top scorers are convertible devices!) I'm absolutely impressed with the battery life. This is one laptop/convertible that you can bring around a whole work day and not have to worry about having to find a power socket.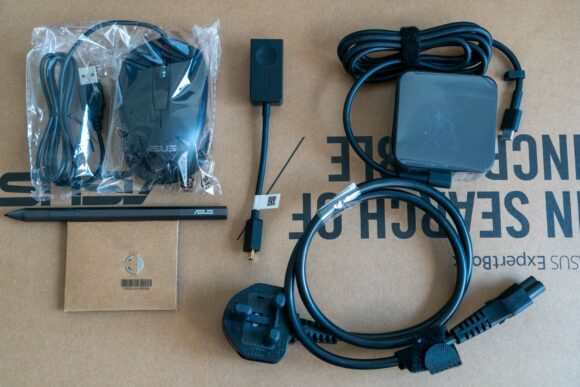 In the box, the Expertbook B7 Flip comes with a USB-C charger, Micro-HDMI dongle for Gigabit Ethernet connection, an MPP 2.0 ASUS Pen, wired mouse, and SIM eject tool.
The ASUS Expertbook B7 Flip is an awesome two-in-one convertible device. It has plenty of ports, both facial and fingerprint recognition, 5G connectivity, integrated privacy filter and webcam shield, and its battery life is fantastic.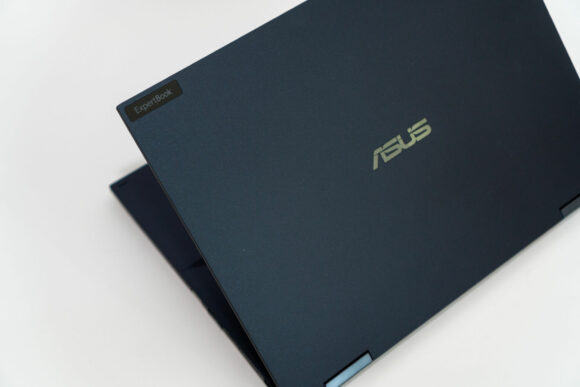 Every time I review a great laptop, I always find at the end that there could be one or two more things which would be really nice to have to make the laptop awesome. Well, the ASUS Expertbook B7 Flip has reached that level for me; I can't think of anything to legitimately fault it for.
This ASUS Expertbook B7 Flip B7402FEA-LA0339R with Core i7-1195G7, 16 GB RAM and 1 TB storage retails at $3,598.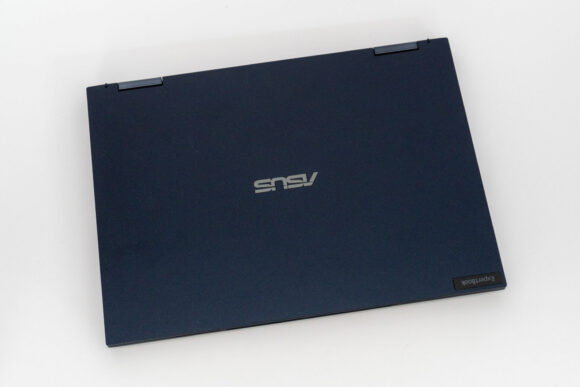 There are two lower-spec models. The B7402FEA-LA0166R with the same processor but lesser RAM at 8 GB, and lesser storage at 512 GB, that retails at $3,298. The last model B7402FEA-LA0338R downgrades the processor to Core i5-1155G7, and retails at $3,198.
Conclusion
The ASUS Expertbook B7 Flip B7402 is a really awesome two-in-one convertible targeted at business users which checks just about all the boxes there are to check.
Highlights:
Fantastic battery life
Plenty of ports
Both facial and fingerprint scanner
Integrated privacy filter and webcam shield
Rugged build