ASUS' new ROG Zephyrus S GX531GX is an impressive gaming notebook. Packing NVIDIA's RTX 2080 graphics, this Zephyrus S GX531GX is extremely powerful. Yet, while we often expect gaming notebooks to be large and clunky beasts, this notebook is unusually thin and svelte.
By thin, and svelte too, I know most of us will be thinking the likes of ASUS' ZenBook line of notebooks. The Zephyrus S GX531GX isn't anything like the ZenBook 13 UX331 or ZenBooh Pro UX550, but with a thinness of just 16.1 mm, it still belongs in ultra-thin category. Gaming notebooks tend to be ginormous. The massive ROG GX700 I reviewed in 2016 is an extreme example. The Zephyrus S GX531GX's slim form factor is quite an achievement.
There are numerous design elements that make the Zephyrus S GX531GX outstanding. Much of it has to do with the innovative ways that the notebook keeps itself cool. These features are critical to the success of this notebook given the amount of high-performance hardware crammed into so small a space.
In terms of the overall look and feel. ASUS has gone with a simple, slighted muted, design for the Zephyrus S GX531GX that doesn't scream its gaming inclination. That's not to say this notebook is unattractive. From the exterior, the black slab may look unassuming, but the ROG logo on the lid is unmistakable, and the red accent around the sides hints of some adrenaline rush.
With dimensions standing at 360 x 268 x 16.1 mm (WxDxH), and weighing 2.1 kg, the Zephyrus S GX531GX isn't hard to carry around. While I won't ordinarily call this an ultra-portable, I think it can at least count as an ultra-portable of gaming notebooks. The large power adapter you almost certainly have to carry around may add a bit of inconvenience.
ASUS did not choose to go with a 4K display on the Zephyrus S GX531GX. Its large 15.6-inch Full HD 1920×1080 resolution display, however, boasts 144 Hz refresh for ultra-smooth game play. The IPS display panel has 3 ms gray-to-gray response time and 100% sRGB colour gamut coverage.
The webcam nicely centred above the display offers a good Full HD 1080p resolution with 60 fps. Unfortunately, there is no Windows Hello facial recognition support. Array microphones flank both sides of the webcam.
The keyboard on the Zephyrus S GX531GX is at the front-end of the deck, where palm rests and and a track pad are typically expected to be. This isn't the first notebook to sport this arrangement, and it is necessary as part of the thermal management solution on this notebook. The textured design in this space may be interesting to look at, but they serve an important function to embed vents for ample airflow to cool the innards directly underneath. This is where the hottest components, namely the main processor and dedicated graphics processor, are located.
With the keyboard pulled all the way forward, it has to share space with the trackpad. Fortunately, the Zephyrus S GX531GX is large enough that the keyboard doesn't feel crammed. The chiclet keys are comfortable to type on. Key travel isn't plenty, but good enough, and supports n-key rollover.
The keys on this keyboard are backlit with 4 zones of RGB colours, with Aura Sync support that harmonises lighting across compatible ROG mice, headsets and other peripherals. The WASD keys are accented, and the navigation arrow keys are nicely positioned with a little bit of offset downward.
The track pad's position on the right of the keyboard feels a little awkward. You might get used to it, or you might not. Good thing, though, that real gamers probably will get an external mouse.
However, the track pad being there does cause another related problem: I often find myself hitting it when I reach for keys on that side of the keyboard, such as the Enter key or Backspace key. Again, it may be possible to just get used to it, or perhaps just get an external keyboard.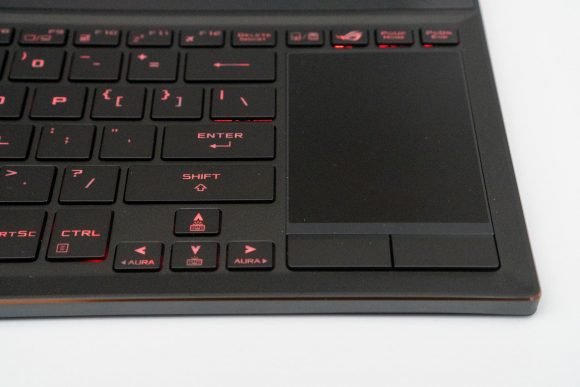 The keyboard being all the way up front also makes it hard to use the Zephyrus S GX531GX on your lap. It works just fine on the table. I suppose this isn't a serious issue since this notebook is for gaming, and you're probably not going to be gaming with the notebook on your lap.
While it may seem like I've a lot of issues with the keyboard and track pad being where they are, we need to recognise that their arrangement is necessary to keep the notebook cool. The Zephyrus S GX531GX can emit a lot of heat, evidenced by the abundance of thermal management solutions all over the notebook, such as the large vents on both sides of the notebook and the back.
The Zephyrus S GX531GX also has a nice trick that creates an opening at the back of the notebook when the display is opened. This is not a simple matter of raising the back, like what the ZenBook S UX391 does. With this Zephyrus S GX531GX, the back is literally opened. The main chassis separates from the bottom plate at the rear, so as to create a gap for air flow, and perhaps as a side benefit, a more ergonomic, sloped, keyboard deck.
There is a fair selection of ports around the Zephyrus S GX531GX. On the left side, you'll find the DC power jack, USB 3.1 Gen 1 Type-C port, two USB 0.0 Type-A ports, and a 3.5 mm audio jack.
On the right side, there's a USB 3.1 Gen 2 Type-C port, and a USB 3.1 Gen 2 Type-A port. The USB Type-C port on this side also supports DisplayPort 1.2 and Power Delivery. I'm slightly disappointed that ASUS couldn't just make all the USB ports on the left side be of the same spec as those on the right side.
Finally, there's a HDMI 2.0b port on the back with support of 4k Ultra HD displays up to 60 Hz.
Noticeably absent from the Zephyrus S GX531GX is the support for Thunderbolt 3. This should have been something expected from any powerful top-of-the-line notebook.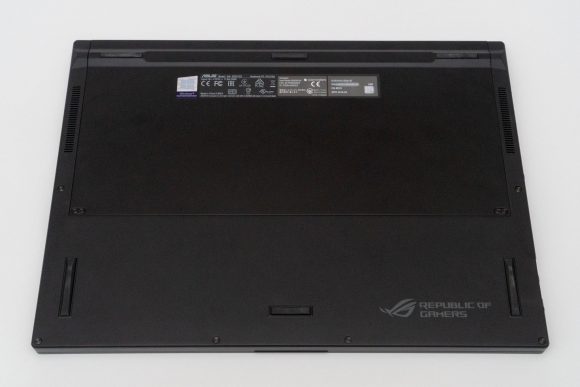 Under the hood, the Zephyrus S GX531GX is powered by an 8th generation Intel Core i7-8750H. This processor has 6 cores, 12 threads, and a base processor frequency of 2.2 GHz with turbo up to 4.1 GHz. There is 24 GB of DDR4 2666 MHz memory, and a M.2 NVMe PCIE 3.0 x2 512GB SSD. The graphic prowess of the Zephyrus S GX531GX comes from an NVIDIA GeForce RTX 2080 Max-Q with 8 GB of GDDR6 VRAM.
For connectivity, the Zephyrus S GX531GX has Intel 802.11ac (2×2) Gigabit Wi-Fi and Bluetooth 5.0.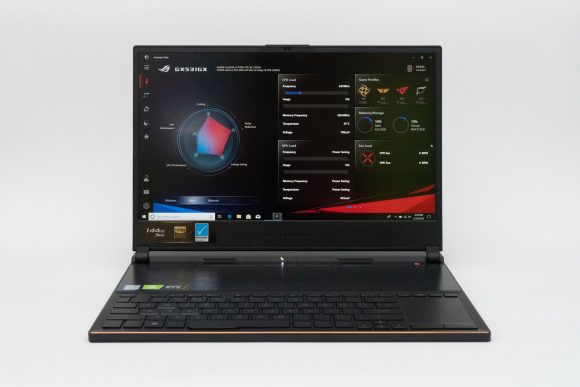 Performance on this notebook is nothing short of excellent. In PCMark 10 Extended tests, the Zephyrus S GX531GX scored:
Overall: 7069
Essentials: 8635
Productivity: 8103
Digital Content Creation: 7011
Gaming: 13749
Geekbench 4 scores are:
Single CPU: 4999
Multic-core CPU: 22146
Compute: integrated graphics 38559, dedicated graphics 238758
The 3DMark scores are very impressive:
Time Spy: 7198 (Extreme: 3257)
CloudGate: 32996
Sky Diver: 37022
FireStrike: 16820 (Extreme: 8703; Ultra: 4520)
To date, I've not tested any notebook near as powerful as the Zephyrus S GX531GX.
Battery is an area that the Zephyrus S GX531GX suffers, scoring just 114 minutes in PCMark 8 Home Conventional Battery tests. The 60 Wh battery capacity is surprisingly small, but upping the capacity to 70 or 80 Wh won't turn this notebook into a road warrior anyway. You will definitely need to lug the power adapter wherever you bring this notebook.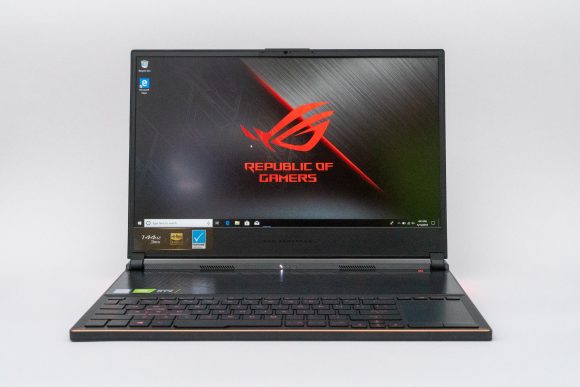 There is no doubt that the Zephyrus S GX531GX will run any intensive game title you care to throw at it with ease. It has the best of NVIDIA's gaming graphics available right now, and matches it with an excellent 45-Watt 6-core Intel processor.
When pushed, the Zephyrus S GX531GX can make quite a bit of din with its fans. I measured around 55 dB, with temperatures reaching 53°C above the keyboard area. The noise can be a bit of distraction, but won't be a problem if you wear a headset.
Given the way the keyboard is and trackpad is laid out, I would prefer to use the Zephyrus S GX531GX on a desk with an external mouse. This is not an issue for gaming. Trying to work with this notebook on your lap may be a little difficult. Considering the limited battery life, you probably should also expect to need to be plugged in to a power source most of the time. None of these will matter to most gamers, so that's fine, since this notebook is one definitely designed for gaming.
The ASUS ROG Zephyrus S GX531GX retails at S$4,498. It's quite a price to pay, but you get awesome performance in a slim notebook that isn't difficult to carry around.
Conclusion
The ASUS ROG Zephyrus S GX531GX is an impressive, powerful, 15-inch gaming notebook that somehow manages to fit in a slim and svelte body.
Pro:
Very impressive performance
Slim design
Great 144 Hz display
Ingenious cooling design
Cons:
Battery life is very short
No Thunderbolt 3