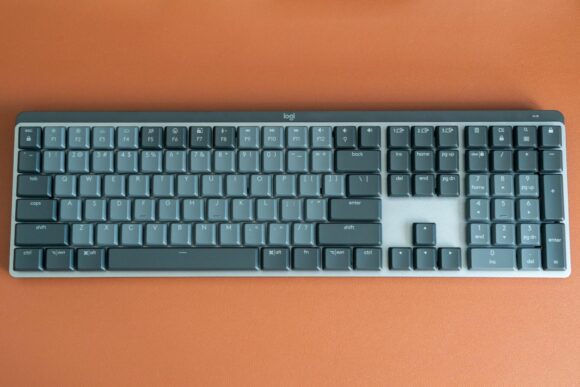 Logitech makes an awful lot of keyboards. Some are for productivity, others for gaming. Some of these are very good. Like the MX Keys, for example, which is truly marvellous. Now, they've an update to that keyboard, the MX Mechanical, which takes things to a new level of awesome.
The new MX Mechanical keyboard is the latest addition (together with the new updated MX Master 3S mouse) to Logitech's premium wireless MX Master series of accessories. I reviewed the MX Master 3 previously, a fantastic mouse whose only fault would be that you'd have to buy two of them, because you'd want one for the office and another for home. The MX Keys (or sometimes called MX Keys Advanced, or MX Keys Wireless Illuminated Keyboard) is a similarly fantastic keyboard, though I somehow didn't get around to writing a review on it.
For those familiar with the MX Keys, the new MX Mechanical keyboard is basically a mechanical version of that keyboard. They both share a similar design and similar features. The main difference is that while older one uses low-profile membrane switches, the new MX Mechanical, obviously, uses low-profile mechanical switches.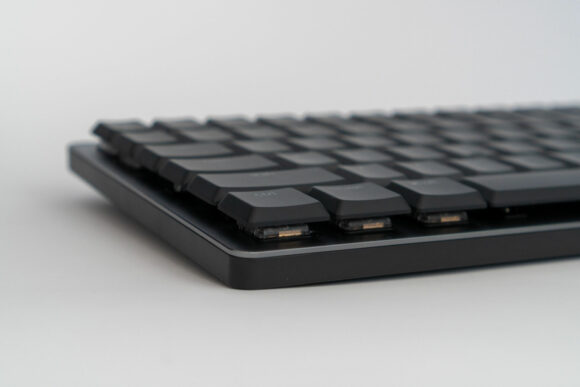 The MX Mechanical is available in a full-sized keyboard with 110 keys, or a smaller 74-key version aptly named MX Mechanical Mini. Both offer three switch types: Linear, Tactile Quiet, and Clicky. I have the full-sized Tactile Quiet version in this review.
For a spacious full-sized keyboard, the MX Mechanical is fairly compact with little extra space in the frame holding the keys. Its full dimensions are about 433 x 132 x 27 (to the highest key caps) mm, and weighs 861 grams. (These are my own measurements, and they seem to differ slightly from Logitech's official specifications.)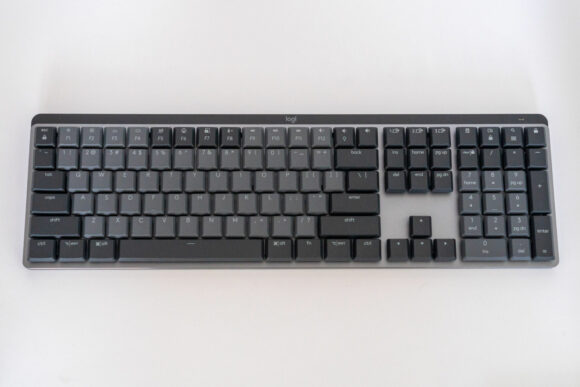 The keyboard is laid out in a mostly standard arrangement. You may notice that the function key row does have two extra on the right. (The MX Keys Advanced has just one extra to the right.) Those extra two keys are assigned to volume up and down, which means you have a sort of direct volume controls on this keyboard.
Here's a photo comparing the MX Mechanical (top) and MX Keys (bottom).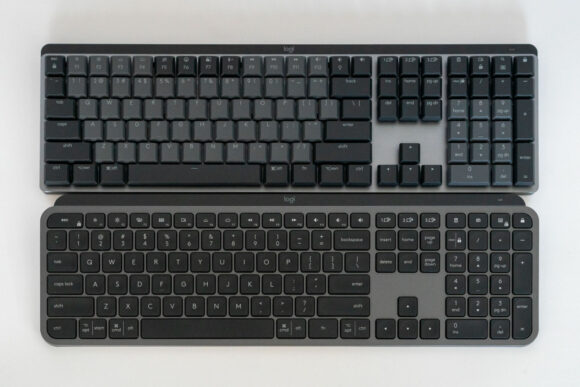 The keyboard is backlit, like the old ones, and again, just white. I suppose the lack of RGB says this keyboard is for work. You can choose between six different lighting effects, but these are preset and cannot be further configured. This is good enough for me, no complaints about it.
Logitech uses Kailh's low-profile Choc V2 switches in this keyboard. There is 1.3 mm of pre-travel and 3.2 mm total travel (according to Tom's Hardware, I couldn't find where Logitech stated this). My Tactile Quiet seems to be quite smooth all the way down, and I can feel the tactile bump subtly only if I were specifically trying to look for it.
The deep travel is comforting and enjoyable. In comparison, the MX Keys has a total of 1.9 mm total key travel. The Keychron K1 v4, another low-profile mechanical keyboard, has 2.5 mm total key travel.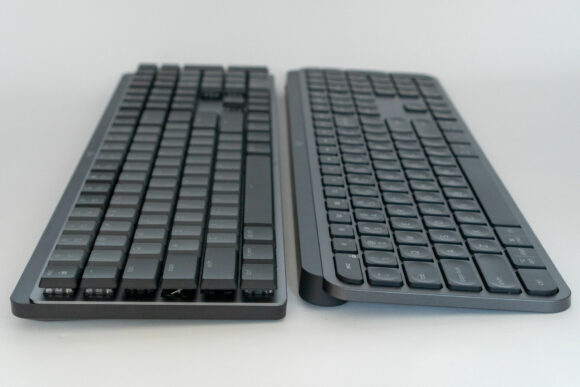 The MX Keys were very enjoyable to type on. Even though its shallowness does have the vibe of a laptop keyboard, it still worked awfully well for me. But if you're the type that absolutely needs to have that key travel distance, well, I think the MX Mechanical's 3.2 mm travel should be more than enough to do the trick, while still counting as a low-profile keyboard.
You also have the option to tilt the MX Mechanical keyboard, thanks to the extendable feet on the back of the keyboard. These feet raise the keyboard so that the top row of keys are 8 mm higher. This brings the original tilt of about 6 mm (difference from front row to back row) to 14 mm with the feet extended. This tilt is useful, depending on how you sit and how your keyboard is positioned.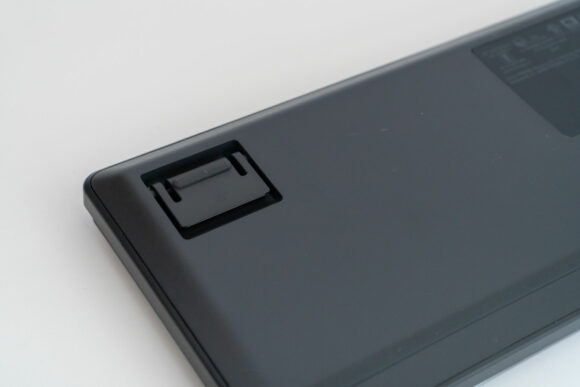 There are also rubber feet back and front, so the keyboard won't slide around your desk.
The MX Mechanical can pair with three computers simultaneously, just like the old MX Keys keyboard. They both support Bluetooth connection, but while the MX Keys also pairs with Logitech's Unifying Receiver, the new MX Mechanical drops that in favour of the new Logitech Bolt Receiver. I'll come to that in a minute.
You can switch between computers using dedicated keys. Logitech calls these Easy Switch keys, and I think they first appeared in the MK850, a keyboard that I also like a lot. This is very important to me, because it means I don't have to fumble function shift keys, and switching between computers extremely simple and direct.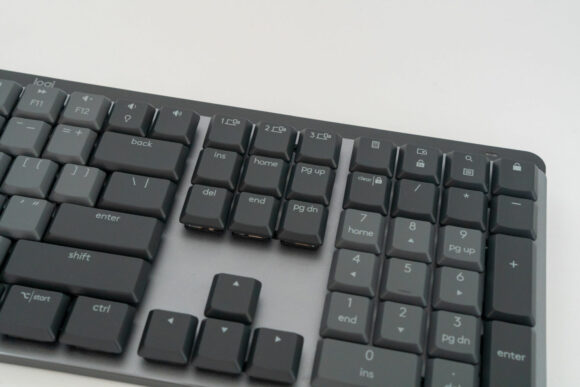 Even more convenient than using these direct Easy Switch keys is another feature, Logitech Flow. This is a software feature that allows you to use a supported keyboard and mouse across multiple PCs, similar to software like Synergy (if you've heard of it).
To use Logitech Flow, you need the Logi Options+ software, which is also required to configure various things with the MX Mechanical. The same software is also used to configure many of Logitech's keyboard and mice, including other accessories in the MX Master series.
Once setup, the Logitech Flow feature allows you to move a mouse pointer off the screen of one computer and onto the the screen of the next computer. The keyboard switches to whichever computer the mouse pointer lands on. You can even cut-and-paste items across the connected computer's operating system's clipboard.
Logitech Flow is easy to setup, but it works only with a limited number of Logitech keyboards and mice. The MX series of keyboards and mice are all supported.
There are no batteries to change on the MX Mechanical keyboard. The built-in 1500 mAh Li-Po battery is spec'ed to last 15 days, or up to 10 months with backlighting turned off. The keyboard conserves battery by using hand proximity sensor to activate the backlight, and additionally an ambient light sensor is used adjust the backlighting brightness.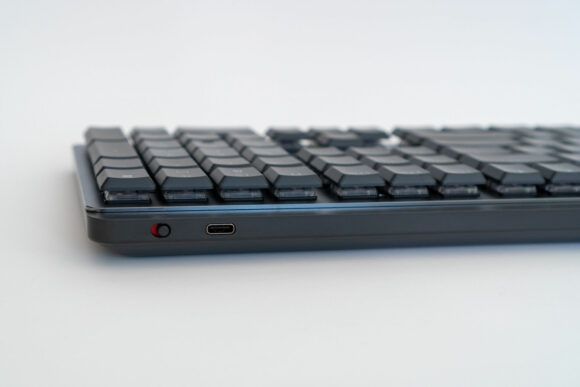 Charging is via USB Type-C port on the back of the keyboard. There's also a power switch next to the port if you need to shutdown the keyboard.
Bluetooth works well on the MX Mechanical keyboard. But if you're like me, perhaps extremely sensitive to latency, or want the keyboard to be workable even before the operating system boots up (e.g. at the BIOS/UEFI setup screen), you'll probably want to trade the Bluetooth connectivity for Logitech's Unifying Receiver.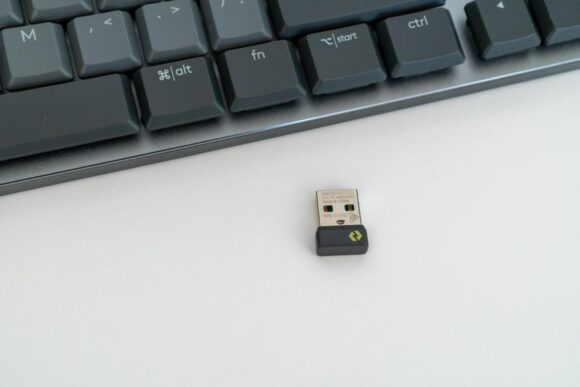 The MX Mechanical has ditched Unifying Receiver in favour of the newer Logitech Bolt Receiver. Logitech has good reasons. Bolt is still based on Bluetooth technology, but it is designed to deliver a more reliable connection even in congested wireless environments with interference from Wi-Fi access points or other wireless devices. It also leverages Bluetooth security features that enforces encryption and encrypted pairing, ensuring that a Bolt device and its paired Bolt Receiver can only communicate with each other.
Logitech Bolt has limited device support at the moment. Notably, the MX Master 3 uses the older Unifying Receiver, though the MX Master 3S launched alongside the MX Mechanical does use Bolt as well.
I still use the MX Master 3. So woe be to me. I have three dongles: Unifying Receiver for my mouse, Bolt Receiver for the keyboard, and a Plantronics headset receiver for unified communications (needed because certain features don't work on Bluetooth).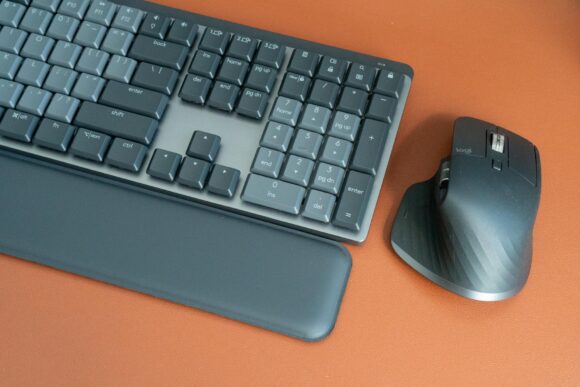 Luckily this is for a desktop PC. So all the dongles are on a USB hub.
Customising the MX Mechanical features requires the Logi Options+ software. You may already have it if you use other Logitech accessories like the MX Master 3. Using this software, you can configure backlighting, Easy Switch, or assign custom shortcuts to the function keys. Firmware upgrade is also performed through Logi Options+.
I should also mention the nice MX Palm Rest seen in some of the photos here is the same for both the MX Mechanical and MX Keys. This may be included with the keyboard, depending on the bundle or deal you're getting.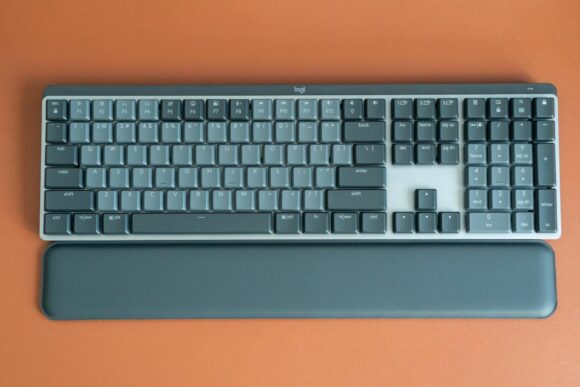 The MX Mechanical is quite awesome, and it lives up to the expectations of anyone coming from a MX Keys keyboard. The full-sized spacious layout and deep travel, at least for a low-profile keyboard, is very pleasant and comfortable to type on.
It took me only a few short hours to get from the MX Keys to the MX Mechanical with the same level of productivity. I checked with a typing test, and found that my typing speed and accuracy was just as good.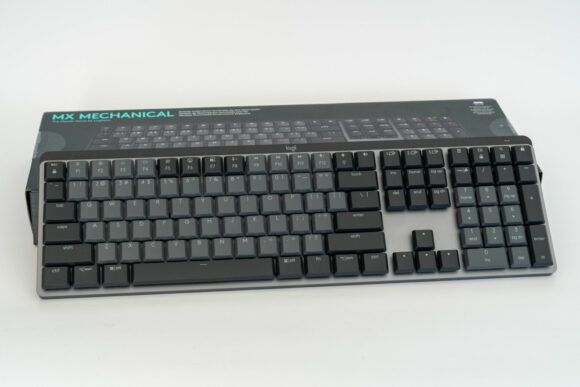 Apart from the keyboard itself and the aforementioned Bolt Receiver, you'll also find a USB Type-A to Type-C charging cable and some documentation in the retail box.
The full-sized Logitech MX Mechanical keyboard retails at $299. The smaller MX Mechanical Mini retails at $259. However, you'll find actual street prices (online) much lower, especially with bundle deals and all the monthly sales going on.